What is Polywood? Lumber & Furniture Explained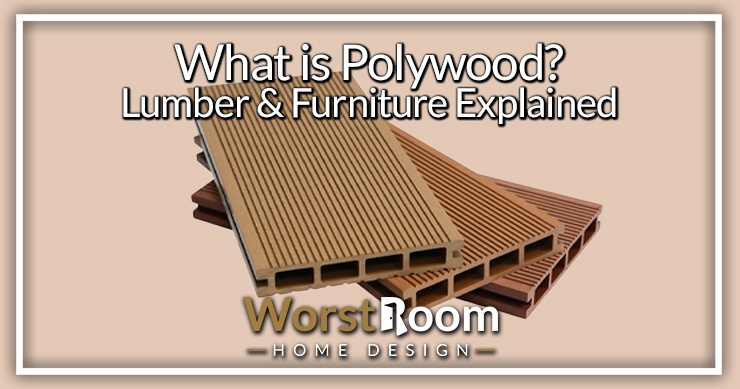 Have you ever come across striking furniture that resembles good quality wood, but it's not wood? Then you have probably seen Polywood. This material has been recognized as special by people who care about the environment, too. So what is Polywood anyways?
Polywood is a material that emulates a wooden surface. It's made using recycled plastic items such as milk jugs and similar items to create a pressed polyethene plastic sheet. These sheets are then used to manufacture durable, weather-resistant outdoor furniture.
If you are concerned about placing a durable table in your garden, then let it be Polywood. It's tough, weather-resistant, and not to mention good-looking. So let's discuss this topic more.
What is Polywood?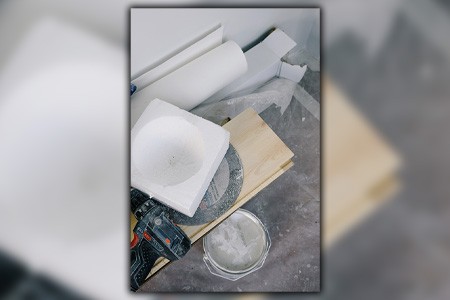 Polywood is a synthetic lumber made of plastic, which resembles the surface of the wood. Polywood is created using all recycled products such as plastic bottles, jugs, detergent holders, and other discarded items. Yes, they are crafted with recycled products, so environmentally conscious people like every aspect of it.
The good thing about this material is that its durability is simply top-notch. They are pressed to perfection and will give you a solid outcome, unlike crumbling, low-quality plastic furniture. It won't have sharp edges like plastic injection-molded furniture, either.
With Polywood, you can be assured that your furniture will be able to withstand harsh weather changes and can continue to adorn your dwelling space. Polywood furniture is suitable for all weather-type situations. No matter if it's cold or warm, this rigid plastic will last even without breaking a sweat.
It's not only for your outdoor needs, as you can also customize your indoor furniture with Polywood. They are durable and have the longevity to last for years, whereas wooden furniture might sometimes not get the job done.
What is Polywood Made Of?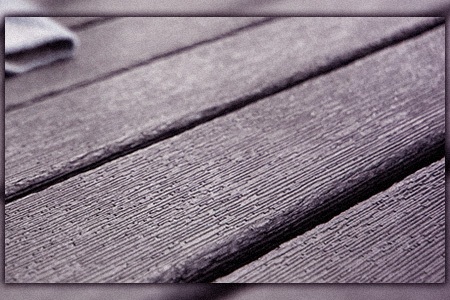 With all this talk of synthetic lumber, you're probably asking what is polywood made of? Polywood is made with 100% HDPE plastic bottles and discarded plastics. Polywood material is tagged safe for the environment because it is made to curb plastic waste and reduce environmental pollution.
At first, the recycled plastic items are collected, and then they go through a process of un-labeling. All kinds of attachments that come with it, such as stuck food, liquid, glue, etc., are also removed before they are taken through a decomposition process.
Then the factory introduces plastic pellets, dyes, and other additives to the mix and later presses them into sheet forms. These sheets are made durable so that people can trust them to make load-bearing furniture.
Is Polywood Worth It?
Yes! Overall, Polywood is a worthy material even if you don't prefer it. It is eco-friendly and has good durability and weather resistance. Adding to it, you can transform Polywood sheets into any styles of chairs, types of tables, or varieties of desks, and more importantly, it is an alternative to wood and, in fact, resembles wood.
Polywood furniture is mostly used outdoors because of its tough nature to deal with weather changes and have supreme durability. So is Polywood worth it? It really is. It can also be used in indoor spaces to complement the interior.
So should you get it? It depends on your preference. As professionals, we suggest Polywood because of its top-tier features and performance throughout the year. You'd probably like to read about Polywood vs. Trex to learn about another similar material that may catch your attention.
What Type of Furniture Can be Made Using Polywood?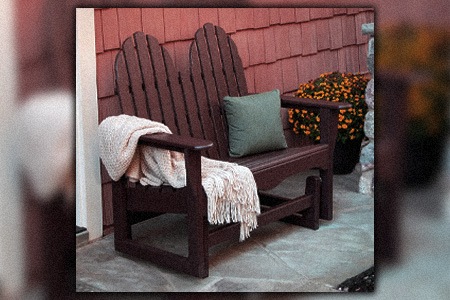 You will be surprised to know that Polywood is used to make numerous furniture variations. The hard-wearing plastic sheet is now gaining more popularity day by day because of its tough characteristics and good looks, so more furniture manufacturers are using plywood as an alternative to wood material.
Polywood is used to make items such as benches, chairs, and tables ranging from small to large sizes, Adirondack chair sets, deep seating sets, etc. You can even get it with various types of wood grain patterns to suit your peculiar tastes.
You can use Polywood furniture outdoors as they are made to tackle weather changes. They are a good choice for indoor items as well. For a change, you can also use Polywood materials to craft garden planters. The options are limitless, and you can always be creative with Polywood.
Pros & Cons of Polywood Furniture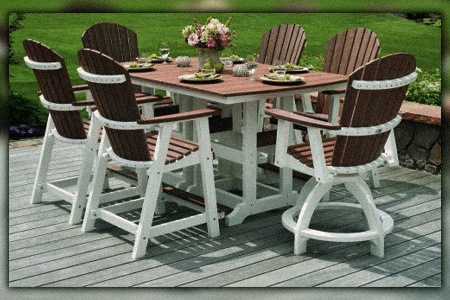 Every material has its positives and drawbacks; similarly, Polywood is no exception. It is an exceptional creation that can help you in numerous ways. Lets look at the pros and cons of Polywood furniture, starting with the positives.
Pros of Polywood Furniture
Let's check out the positives of this material and the furniture made from it first and learn about its stellar features.
Updated Design
When you talk about style and design on furniture, many of you would prefer high-end wood craftsmanship. Let us tell you that Polywood is an all-around material that has high-quality functionality with good looks. Polywood is made to resemble wood, but it's all recycled plastic.
The pressed plastic sheet has a modern touch and can make your living space look beautiful without even adding wooden furniture. As for the design, you can choose from different types of Polywood furniture. Therefore, using Polywood items, you won't fall out of style, guaranteed.
Environmentally Friendly
Wooden furniture is not environmentally harmful since wood is a renewable resource, but it's not great either. They're made using wood that is cut from trees, which causes many forests to remain perpetually young. This is where Polywood differs; it's a material that is environmentally friendly and can serve as a fantastic alternative to wood.
Those who care about the world would like Polywood because it is made using recycled materials and has the same visual appearance as wooden units. With Polywood furniture now available everywhere, you can be assured that the elements that are used to create these items are not cut out from a tree. Be in style and be helpful to the environment with Polywood furniture.
Durable
Polywood is constructed with high-density polyethylene, which is extremely solid and has good longevity. In comparison to traditional lumbar wood, a plywood unit is known to be sturdier.
Not only will it resist breaking, but it also can tackle harsh weather such as cold, snow, and even high temperature. Polywood also has UV treatment on them; therefore, it will resist fading from exposure to UV rays.
Versatile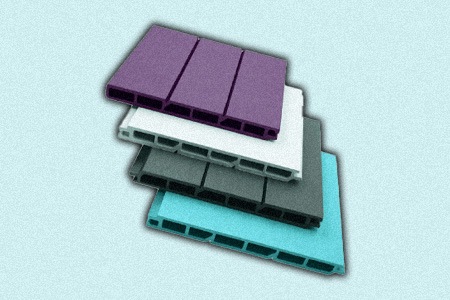 You might wonder if Polywood is versatile enough or not. Well, it is a stellar creation that has a wide range of colors and textures to choose from. You can either opt for smooth finishes or try out a more wooden appearance.
The color variations are quite pleasing, and you will be able to pick your preference without any issues. You have such a wide selection of colors that you'll have no problem. What is Polywood? One of the answers is versatility and color choices.
The good thing is that Polywood is also paintable, meaning you can add colors of your choice. The structural integrity of Polywood is top-notch and is highly workable for creating indoor and outdoor furniture like chairs, tables, benches, etc.
Low Maintenance
The factory-made furniture is already painted to perfection and won't require overcoating. Shy away from unnecessary sanding and paint work on Polywood because they are not going to require it anytime soon.
When Polywood furniture gets dirty, don't worry! They are the easiest to take care of. You can clean them using water, soap, and cloth. If the stains are too clingy, just use a little bleach and water on a soft brush to make things immaculate.
Cons of Polywood Furniture
You cannot expect Polywood to be everlasting, even if they seem to last for an incredibly long time. With time it can deteriorate, and you might need a change (or at least a painting). No material is eternal, to be honest. Polywood, on the other hand, is way better than conventional furniture materials, but it does have some drawbacks.
Heavier Than Conventional Plastic
As it is a composite of HDPE, you can expect Polywood to be a little heavier than regular plastic sheets. For example, a table might need two pairs of hands to shift it from one place to another.
Expensive
Polywood material is no regular plastic. It has effective strength and well-built construction, making it a tad bit expensive compared to other materials.
Too Hard
The HDPE sheets are very rigid and won't bend or sag over time, which you might think of as a positive sign, but not all the time. Sitting on a Polywood chair for an extended period can be a little uncomfortable, as it can be on any hard surface.
Frequently Asked Questions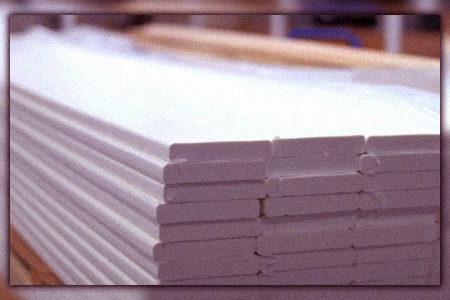 There are some common questions that arise whenever people first learn about Polywood. Let's cover those quickly.
Is it Possible to Paint Polywood?
Yes, poly wood can be painted. Just make sure you prepare the surface well before you start painting. Any types of primer will work to help the paint adhere to the surface, just make sure you match the type of primer with the types of paint you plan to use.
Polywood usually doesn't require any sanding or painting work, but if you need to apply new colors or remove some surface flaking, you can apply paint or sand the furniture lightly.
Is Polywood Weather-Resistant?
Polywood is known for its weather-resistant capability. It can withstand sun damage, snow, and wind without any hassle. Another thing to remember is that Polywood is waterproof, so you don't have to worry about splashes.
Be aware if you are using any cushions or fabric covers on your furniture, they will likely catch water if they also aren't water-resistant.
Can Mold Grow on Polywood?
Chances are yes, mold and mildew can grow on Polywood. They can grow on most furniture materials. In humid weather, Polywood can catch mildew, but the good thing is that it can be removed using regular cleaning products.
"What is Polywood" Lumber Answered!
Polywood is a material that is eco-friendly as it is made using recycled plastic. It is best suited for outdoor furniture as it is rough and can resist harsh weather. A Polywood sheet emulates a wood surface; therefore, if you are looking for an alternative to wood with better features, then this is it. It's time to be in trend and give Polywood a tryout.
If you have been searching for answers to what is Polywood lumber, then we hope this article has already answered your question. We tried to discuss its positive and negative aspects to make things easier for you. You can, of course, explore their product line at the official Polywood website.
You'll Also Enjoy: