16 Mega Mansions That are Outrageously Nice (& Priced!)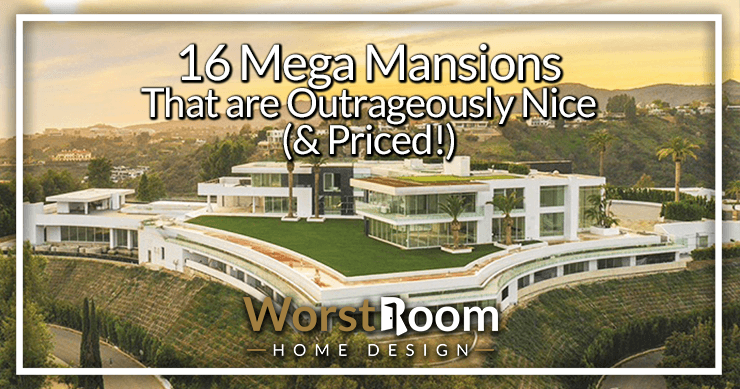 Mega mansions aren't for you or me. They aren't even for the Hollywood elite or Silicon Valley giants. They're for the absolute richest people in the world, the one-percent of the 1%. And these houses are big... stupid big.
Take a journey through some of the biggest and nicest homes on the planet. We're talking 50,000 square feet floor plans, 15 bedrooms, and 10 bathrooms.
We're talking multiple swimming pools and helicopter landing pads. We're talking about the most expensive houses in the world. Let's do this.
Mega Mansions
Where possible, we'll give you all the details we can about square footage, amenities, and sale prices. We're not going to tour the interiors here, just show you the exteriors and land so we can show you more of these luxury homes than fewer.
We saved the best for last, literally called "The One."
1. Villa Leopolda ($750 million)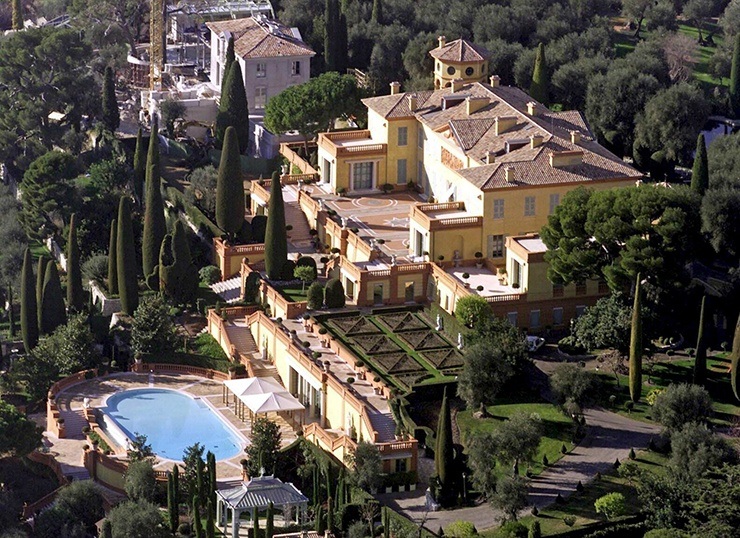 This is the Villa Leopolda in Cap Ferrat, France. It once was the most expensive real estate ever with a $750 million sale price. It's located on the French Riviera and boasts the following stats:
$750 million sale price
29,000 square feet
11 bedrooms & 14 bathrooms
2 guest houses on 20 acres of land
The landscaping, full of cyprus, olive, and lemon trees, is maintained by a staff of 50 gardeners. Even the outside has spiral types of staircases, balconies everywhere, a full kitchen, swimming pool, and fireplaces.
2. Spelling Manor ($160 million)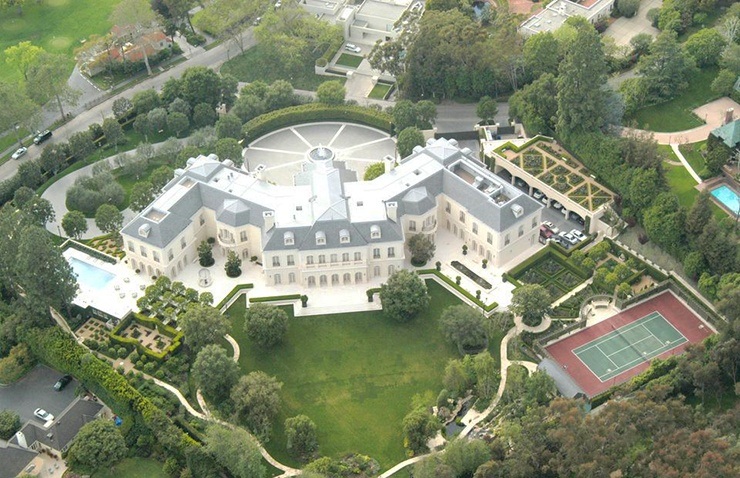 Spelling Manor is located in Holmby Hills, California. It was constructed and owned by the TV producer Aaron Spelling and was once the largest house in Los Angeles County. This classy, 123 room home comes equipped with:
$160 million
56,000 square feet of space
14 bedrooms & 27 bathrooms
6 acres of land
It has all the fun stuff like a gym, wine cellar, wine tasting room, a 3-station beauty salon, massage and tanning rooms, and more. The eclectic Spelling even had the front entrance fashioned after O'Hara Plantation from the Gone with the Wind movie.
3. Ira Rennert's Mega Mansion ($500 million)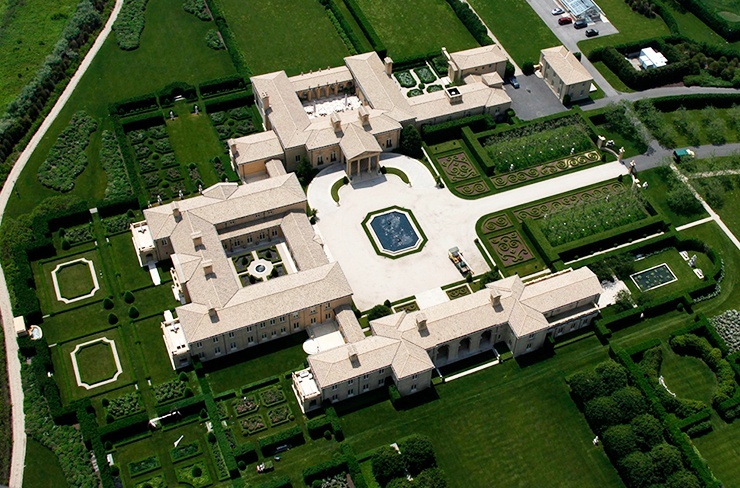 Ira Rennert earned his billions from working in the finance, metals, and minerals industries. This is his mansion in the Fair Field estate in Sagaponack, New York. It's one of the biggest houses in the United States, boasting:
$500 million value
29 bedrooms, 39 bathrooms & 3 dining rooms
63 acres of Hamptons beachfront
This huge house even has 3 swimming pools and a 164 seat theater. To top that off, it has a basketball court, big gym, 2 bowling alleys, and 4 tennis courts and squash courts. It's so big it has its own miniature power plant to keep the lights and air conditioning on.
4. Palazzate Barbados ($125 million)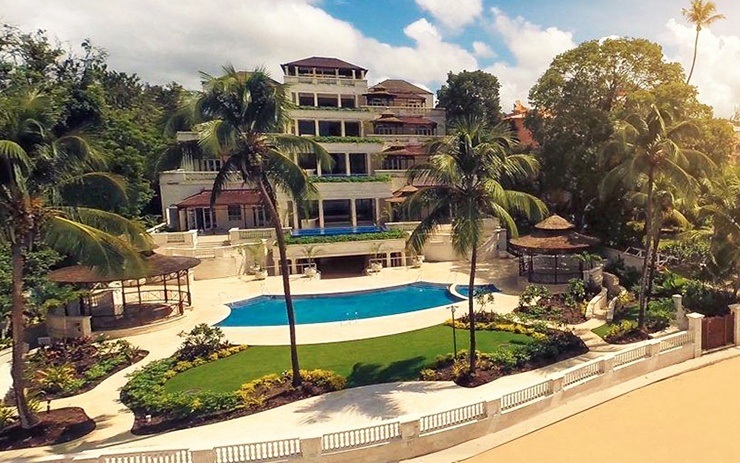 Situated on the beach of Saint Peter's Bay in Barbados, the Palazzate looks incredible. Even though it's on the ocean, you can take a dive in any of the 5 pools after working out in the 2,500 square foot fitness center.
$125 million sale price
75,000 square feet of living space across 4 homes
20 bedrooms & 24 bathrooms total
We're talking about private access elevators with biometric scanners, underground parking for 18 cars, security system throughout, spa rooms, and many more types of rooms you can't even dream of. It even has a 30,000 gallon aquarium. That alone probably costs more than my home.
5. 18-19 Kensington Palace Gardens ($70.5 million)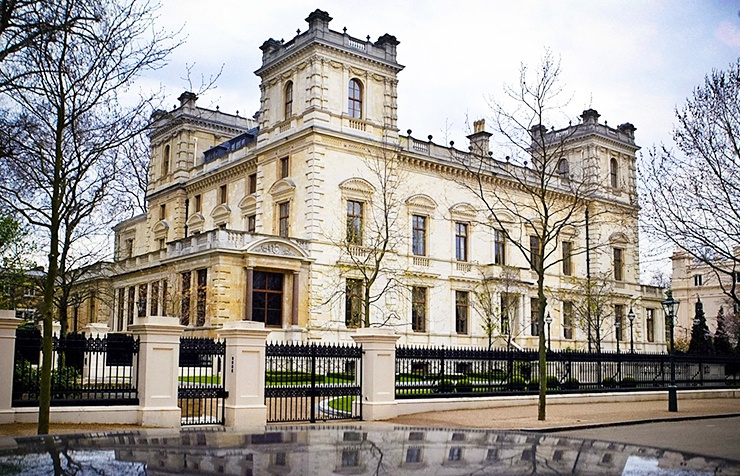 Situated on London's priciest street (the 2nd most expensive street in the world) is one of two of Lakshmi Mittal's mansions on that street. It's wild how common these types of mansions are along this street.
He earned his wealth as a steel magnate, which afforded him the ability to pay the average $107,000 per square meter. This palace is actually two separate villas on one lot.
£57,145,967 sale price in 2004
12 bedrooms
It features an indoor pool, has 20 parking spots (a big deal in such a tightly packed city), and a Turkish bath. After it's remodeling, it's unclear how many bathrooms there are or how much acreage is left on the plot, but who cares. I'm sure it's more than most.
6. Billionaire at Bel Air ($150 million)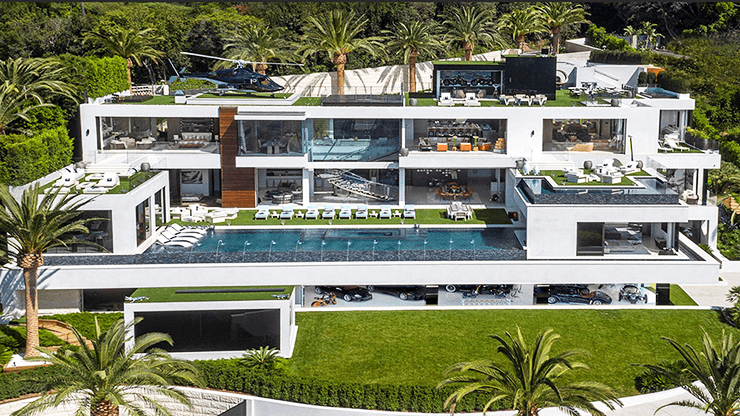 This house is what's called a speculative venture, or "spec home." The builder created it at the top of Bel Air and named it the Billionaire since that's who will be buying it. It's owned by Bruce Makowsky, the QVC handbag baron. Check out these stats:
$150 million asking price
12 bedrooms, 21 bathrooms, & 3 kitchens
38,000 square feet
It's got all of the crazy stuff you could want, like a four lane bowling alley, 40 seat 4K Dolby Atmos movie theater, 17,000 square foot entertainment deck with an 85 foot infinity pool, and even comes with a garage stocked full of $30 million worth of exotic, rare cars.
7. Bill Gate's Xanadu 2.0 ($127 million)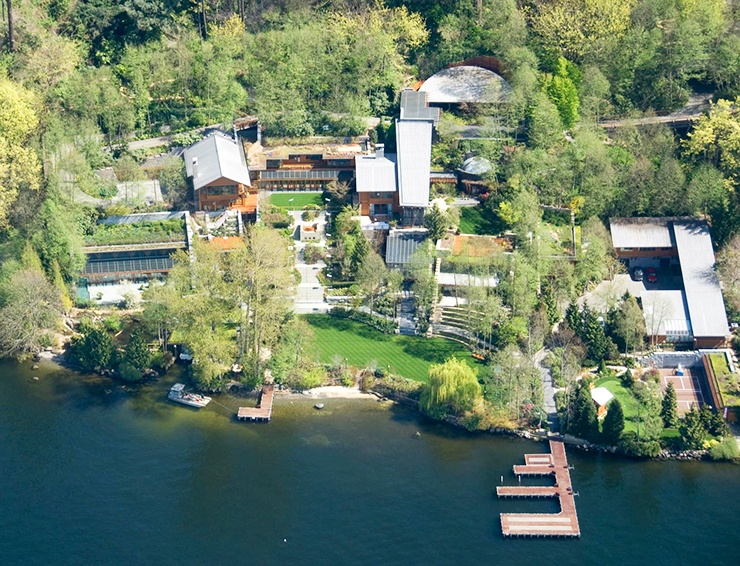 Don't let the look of this one fool you. It's owned by the 2nd richest person in the world, Bill Gates. As is fairly obvious by looking at it, it was designed and built over a period of 7 years at a cost of $63 million, piece by piece.
The lot itself costed $2 million in 1988. It's in Seattle, Washington and features:
Last valued at $127 million
66,000 square feet floor plan
7 bedrooms, 24 bathrooms, & 6 kitchens
It has a 60-foot indoor swimming pool in it's own 3,900 sq. ft. building that has an underwater music system. He even built a trampoline room with a 20 foot high ceiling.
And of course, it's filled with sensors so everything can be changed with a remote control, including the artwork on the walls.
8. Buckingham Palace ($1.55 billion)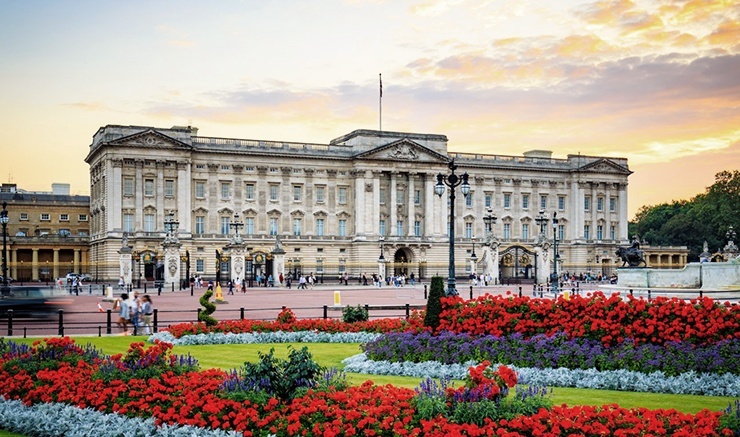 This is the pinnacle achievement of "old money," the palatial home of Queen Elizabeth II, considered the world's most valuable residence, not only due to its size but its location in London and historical relevance. It features:
Valued at $1.55 billion
775 rooms, 240 bedrooms, 78 bathrooms, & 92 offices
40 acres of land
It's maintained by 188 staff members who live there in the same number of bedrooms, the rest saved for the royals and their guests. It even has a throne room. The closest thing the United States has is the White House, valued at $425 million. You can consider this one of the types of castles, even.
9. Gemini at Palm Beach ($137.5 million)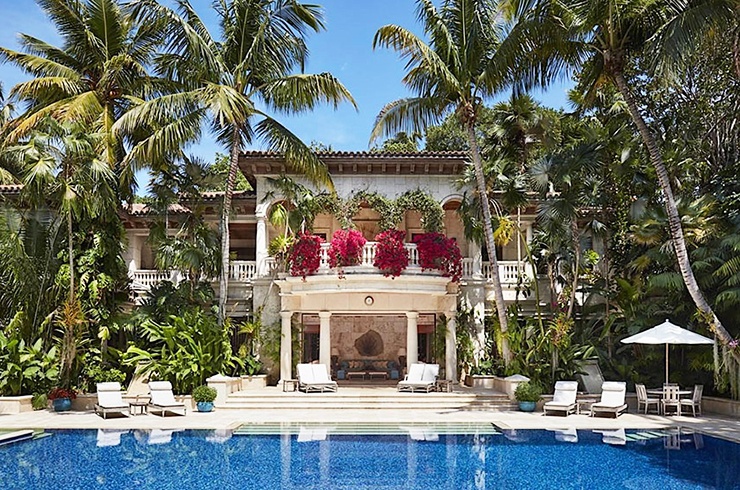 Known as "Gemini", this Palm Beach estate sits on a sizable plot of land on Manalapan island. It's owned by Robert and Dirk Ziff, passed to them by their media mogul father William Ziff, who paid only $5 million for it in 1985. It now costs:
$137.5 million
62,200 square feet of interior space
12 bedrooms & a 7 bedroom guest house
It comes with a guest residence called the Mango House as well as two more four-bedroom cottages, all beachside. But wait, there's more! There's another guesthouse with 7 bedrooms. The whole property acts more like a compound for a small village.
10. Chartwell Estate ($195 million)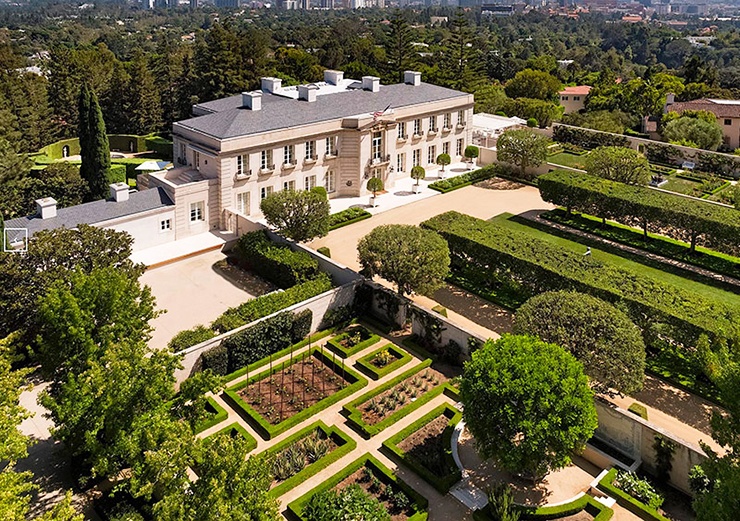 Another Bel Air mega mansion, the Chartwell Estate was priced at $350 million in 2017 but has cut it's price by over 50%. It was home to media mogul Jerry Perrenchio, the owner of Univision. It was built in the 1930's in an 18th century French neo-classical chateau style.
$195 million market price
11 bedrooms & 18 bathrooms
25,000 square feet
6.5 acre lot
It comes with a 40 car gallery, 5 bedroom guest house, 75 foot swimming pool, and a wine cellar filled with 12,000 bottles. It was used as the Clampett family mansion in 1960's The Beverly Hillbillies TV show.
11. Mesa Vista Ranch ($250 million)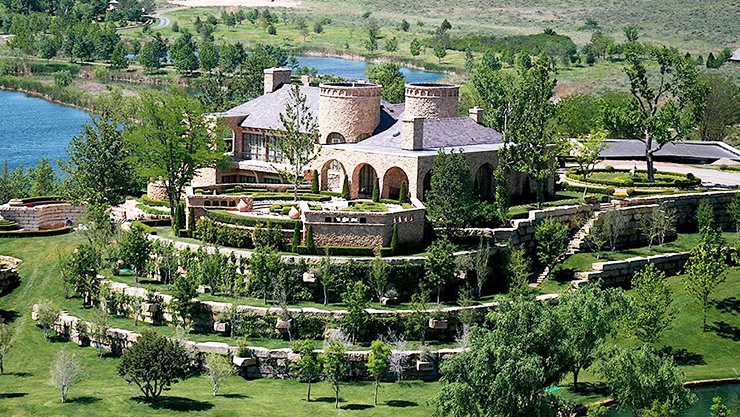 Owned for almost 50 years by the oil tycoon T. Boone Pickens, this beautiful mega mansion is seated atop a mesa in Pampa, Texas. Pickens is trying to sell it if you're interested! Enjoy a luxury property along miles of the Canadian River.
$250 million asking price
33,000 square foot under roof
65,000 acres of land!
It has several guest houses, a 25,000 square foot dog kennel, 6,000 foot airplane runway and 25,000 square foot hangar, and even a marriage and funeral chapel. The main house has one master bedroom, but the guest houses contain over 10 more.
12. Villa Firenze ($165 million)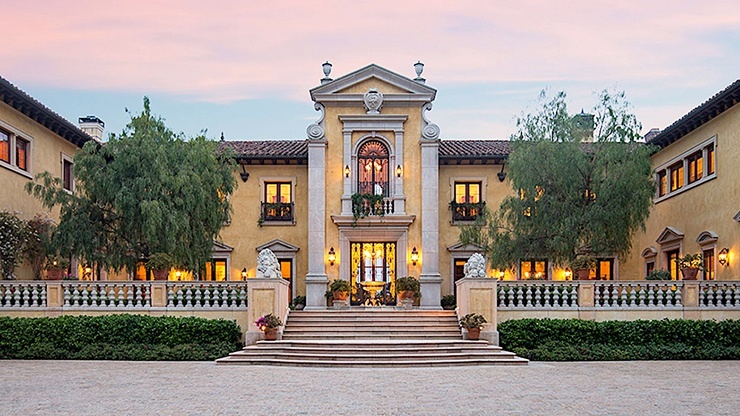 In Beverly Park, California resides the Villa Firenze, owned by Steven Udvar-Hazy, the CEO of Air Lease Corporation. It's built like an Italian palazzo, featuring two guests houses and an extra 2.8 acre adjoining lot for further development.
$165 million asking price
28,000 square feet
20 bedrooms & 16 bathrooms
7 acres of land
Buyers will enjoy their new swimming pool, tennis court, and 30-car motor court, looking out over the safe and security-enhanced Beverly Hills. And it's only the 3rd most expensive property in the estate. I like this one, reminds me of the Great Gatsby.
13. 24 Middle Gap Road, Hong Kong ($447 million)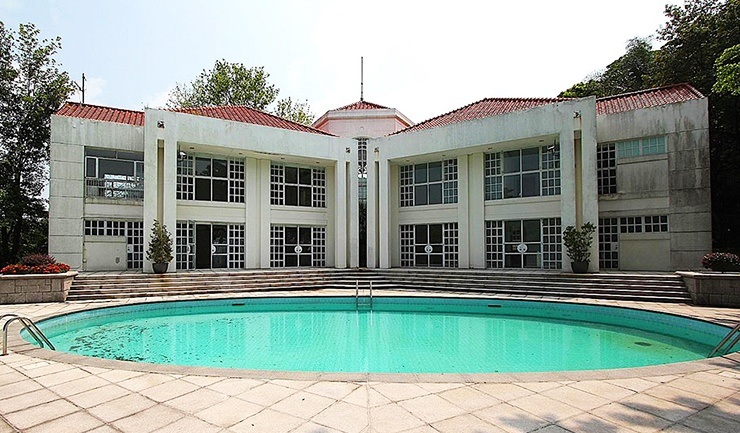 This property hosts this 1991-built colonial style mansion in The Peak on Hong Kong. The house visually isn't anything to write home about. This one is all about the location, which explains it's high price:
$447 million
6,200 square feet
4 bedrooms & 4.5 bathrooms
1/3rd acre lot
This home, though not as huge as others, is still gigantic, with a room for your live-in maid, a two car garage, and a 7,146 square foot garden. The coolest feature is the huge oval swimming pool right out front.
14. Gateway Canyons ($279 million)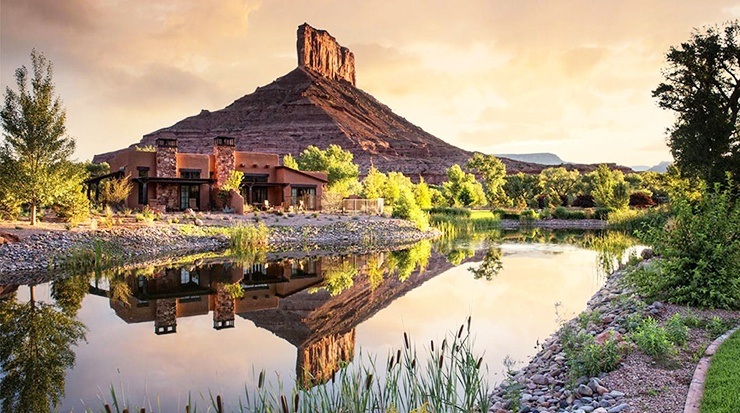 The Discovery Channel creator John Hendricks had this giant resort and compound created in the small town of Gateway, Colorado. There are countless homes and buildings on the land, but we'll focus on the main home.
$279 million for the whole resort
8 bedrooms and 8 bathrooms on 4 levels
8,700 acres of land
Besides rooms for every meal, game rooms, theaters and gyms, pools and spas, elevators, and the usual, there's also 4 types of water fountains (outdoors and indoors), 6 fireplaces, a 5 car garage, and a helipad. It'll even come furnished if you're an interested buyer.
15. Villa Les Cedres ($413 million)
The Villa Les Cedres estate in Saint-Jean-Cap-Ferrat, France was once owned by King Leopold II. On a peninsula with such limited space, the acreage is some of the most expensive on the planet. In addition to its celebrated garden hosting over 15,000 rare species, it boasts:
$413 million sale price
18,000 square footage
14 bedrooms
35 acres of land
It has a chapel, a swimming pool dug into the rocks themselves at 150 foot in length, and a stable for up to 30 horses. It's was owned by the Marnier-Lapostolle family since 1924 until 2016 when an Italian beverage mogul Campari purchased it along with other mega mansions all at once!
These older homes that aren't of the modern and minimal architecture style feature the most beautiful types of arches that I wish were still used these days.
16. The One ($500 million)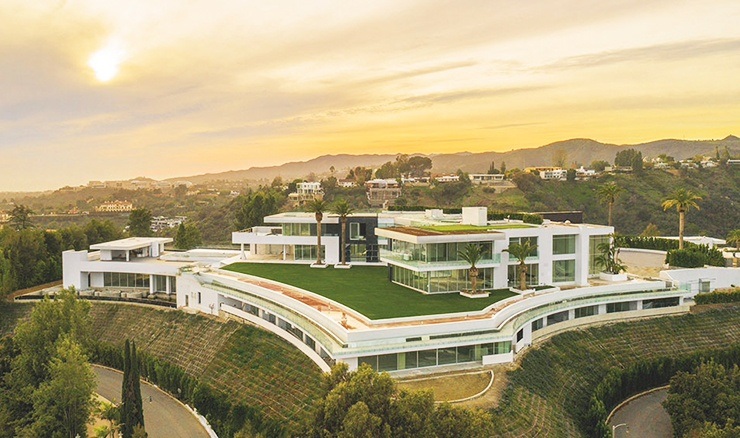 Easily the coolest and most modern house on the list, The One in Bel Air, California is possibly beyond a mega mansion. One might call it a "Giga Mansion" with capital letters. It has an unobstructed 360 degree view over Bel Air, with these incredible stats:
$500 million asking price
100,000 square foot
20 bedrooms & 30 bathrooms
4 acres of land
The master suite itself is 5,500 square feet! There's a 30 car garage, 36 seat movie theater, 6 lane bowling alley, and even a freaking nightclub built in. It will have taken 6 years to build this home, put together by Nile Niami and architect Paul McClean.
Learn more about The One at it's own website. You know it's serious when a single house has a website.
You'll Also Enjoy: