31 Fence Ideas for Privacy, Boundaries, & Unique Designs
Executing on the right yard fence ideas is the key to establishing the boundaries of your property, creating privacy if desired, and having a complementary fence design that matches the rest of your home's exterior and landscape.
A fence serves multiple purposes. We're here to give you various basic information and then provide a ton of inspirational pictures of many fence styles so you can start to form the basis of what you want and how you'll get it done.
Fence Concepts to Consider
As you browse through this article, think about your goal. Are you looking for security and privacy?
Do you just want a pretty, decorative fence around the entire border of your property? Do you need to keep children and pets from roaming free, falling into the pool, or staying out of the garden?
Beyond that, how tall will your fence be? What colors do you prefer that match the rest of your house's exterior? What materials do you like and do they watch your expectations in terms of maintenance and cleaning?
Think about those questions as you scroll the pictures below. But we'll also provide some information about the average costs of building a fence in terms of materials needed and the difference between doing it yourself or paying a company to install it.
Just remember... getting it right will be amazing. You can also risk creating an eyesore, so consulting a professional home designer might be wise, especially if you're attempting to raise your curb appeal.
Fence Costs & Fencing Materials
As you would expect, the price of fencing can vary drastically based on design and material used, if it's prefabricated or not, etc.
Estimates on the average cost, including all styles and materials, range from $13 to up to $25 per linear foot. That means it can get much higher too when you start talking about tall privacy fences, for example.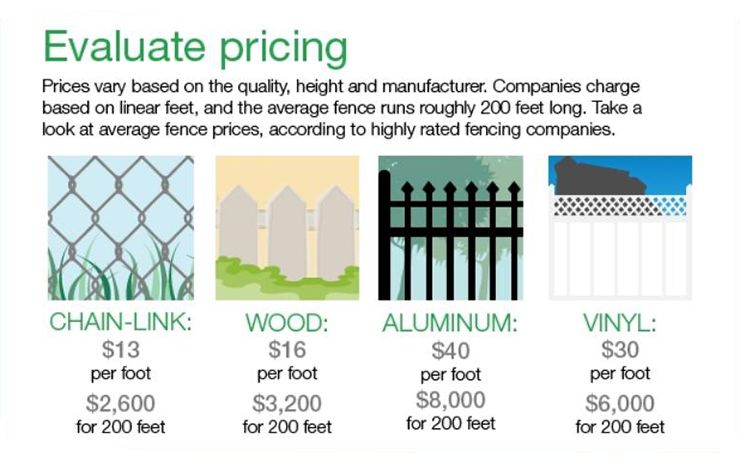 HomeGuide reports that the average homeowner will spend between $1,580 to $3,418 to install a fence. If you want to hire a professional, you'll spend about $50 to $70 an hour, which ends up being around $5 to $15 per linear foot.
If you need to level terrain, landscape grading costs an average of $125 per cubic foot! I'd be doing that myself, for sure.
A safe estimate on just the installation is about $5,000 per 1/4 acre of land.
Remember too, if you want to add a gate, you can spend anywhere from $100 to $750 per typical gate, though a driveway gate can go up to $7,500. Add in the costs for lighting, keypad entry, and other fence accessories.
These averages will vary depending on if you use any types of wood fences, chain-link, vinyl, steel, wrought iron, split rail, or any other material. If you have less acreage in your yard, you may choose to opt for a nicer material, or downgrade in order to cover more space.
Fence Ideas
From simple wooden or vinyl fences to the most elaborate styles made from molded metals, we've touched on all possible fence styles below. Once you identify what you like, you can take your investigation deeper into the details. Without further ado...
1. White Vinyl Picket Fence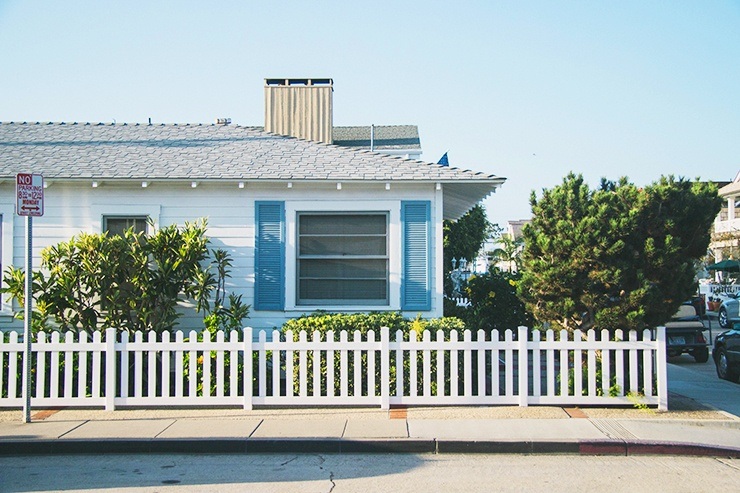 This is your typical neighborhood fence style from the 1950's, the white picket fence. It's such a classic that it still exudes a sense of friendliness and openness associated with that time period. The only difference is we can now use vinyl, which is easier to keep clean.
2. Black Gothic Iron Fence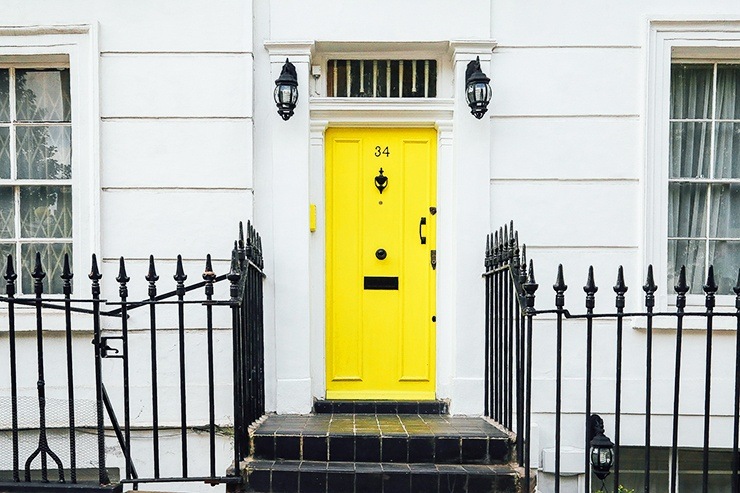 In a big city, you may prefer something a bit more indestructible like an iron or steel fence. The black gothic look also seems to say "don't mess with us here."
It can look great in a suburban area too, requiring nearly zero maintenance for years on end. The most you'll have to do in a decade is touch up the paint here and there.
3. Gabion Fence Segments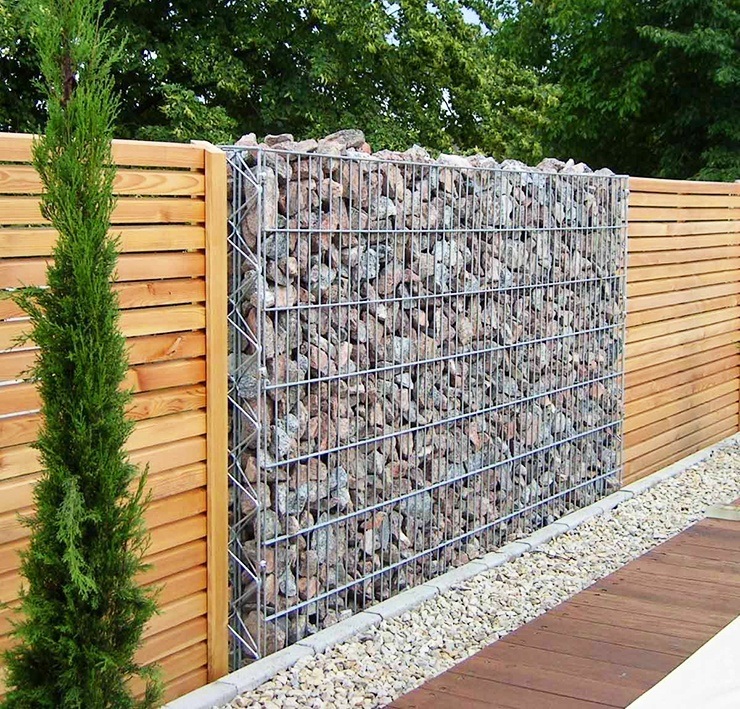 A gabion wall is a cheap method for building retaining wall alternatives, but clever landscapers discovered that using them in segments along a tall privacy fence makes for an attractive addition to an otherwise plain border.
4. Horizontal Slat Decorative Rail Fence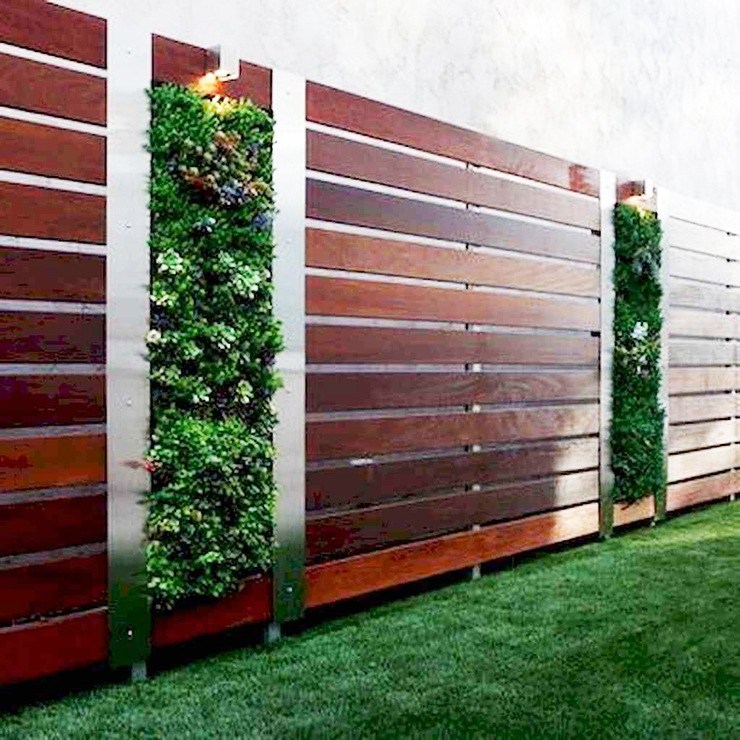 Perhaps the most attractive fencing idea on the list, this privacy barrier is created with wide horizontal slats built with hanging flower beds built in. This is incredible work that looks great even against the wall as shown in the image above.
5. High Privacy Fence with Lattice Top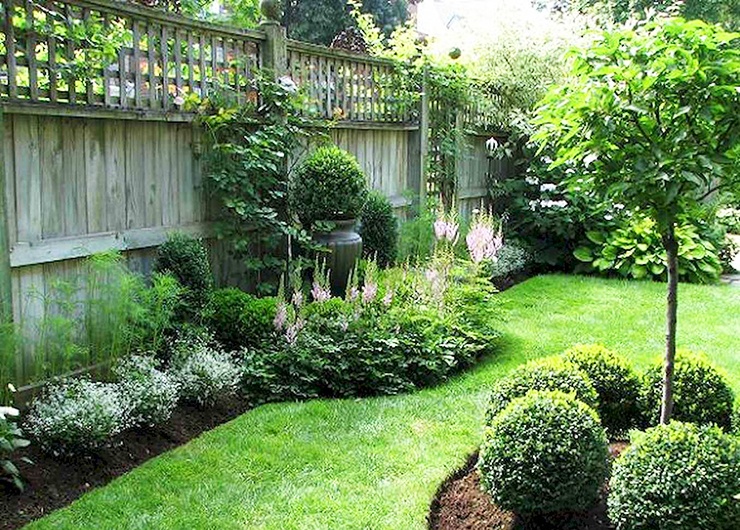 A beautiful idea that blends into the landscaping is a pressure treated wood with a flat top, which then has a lattice top along the top. It lasts for decades, allows more sunshine through later in the day, and looks sweet once vines begin growing along it.
6. Low Height Wood & Iron Fence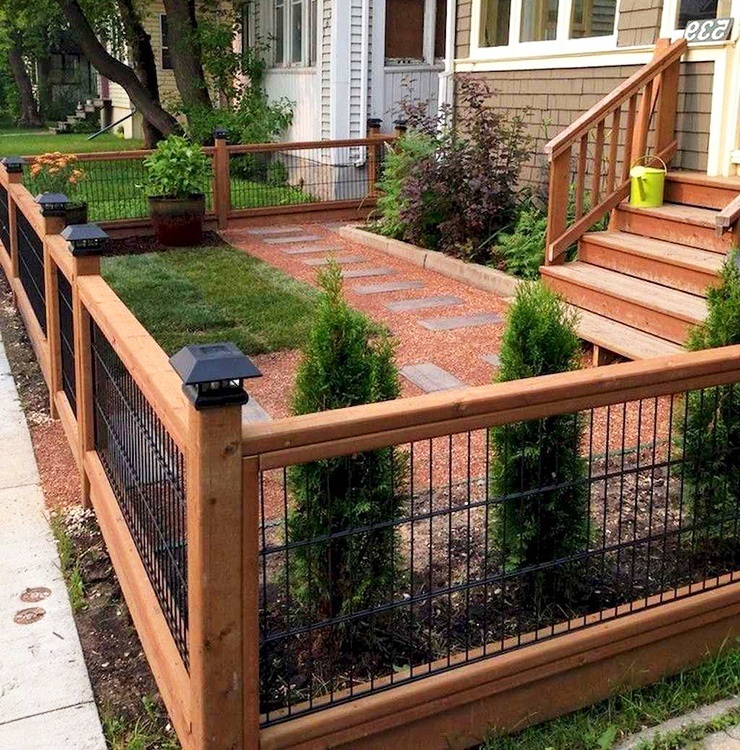 In a neighborhood with very small lots, like 1/4 acre of land with tiny front yards, these small half height fences not only look great, but provide a safe area for children and small dogs to play.
7. Wooden Bollard Fence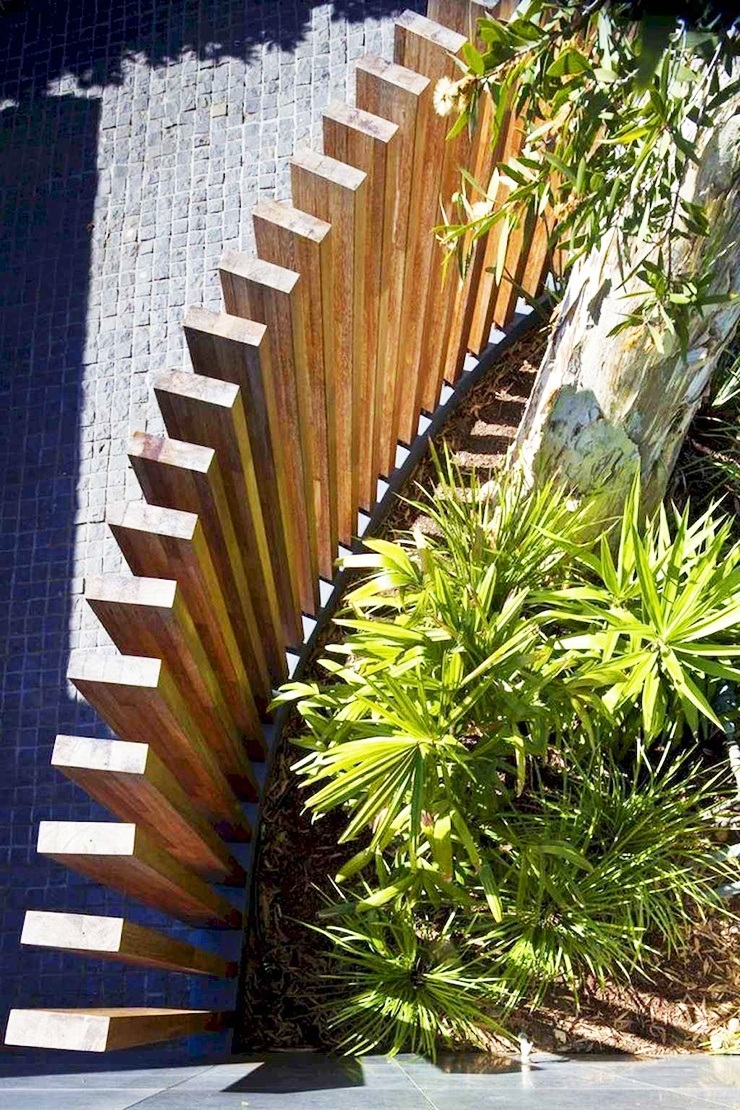 Bollard fencing is attractive for several reasons. It looks sophisticated and classy but still allows plenty of air flow and sunlight through.
Small wildlife can still pass through as well, if you're into bunnies and squirrels perusing through your backyard. They're also nearly indestructible.
8. Spear Top Ornamental Steel Fence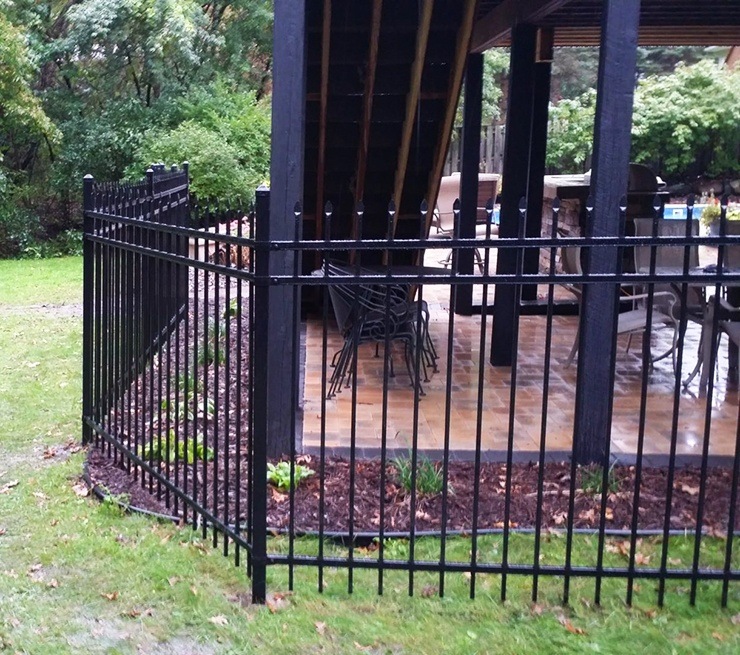 The rails on this steel fence have spear tops, though I'd recommend going with a softer, rounder top so you don't end up hurting your hands. These are easy to install due to the prefabricated nature of their construction and look better than other cheaper methods.
9. Low Cost Wood Flat Top Fence with Chicken Wire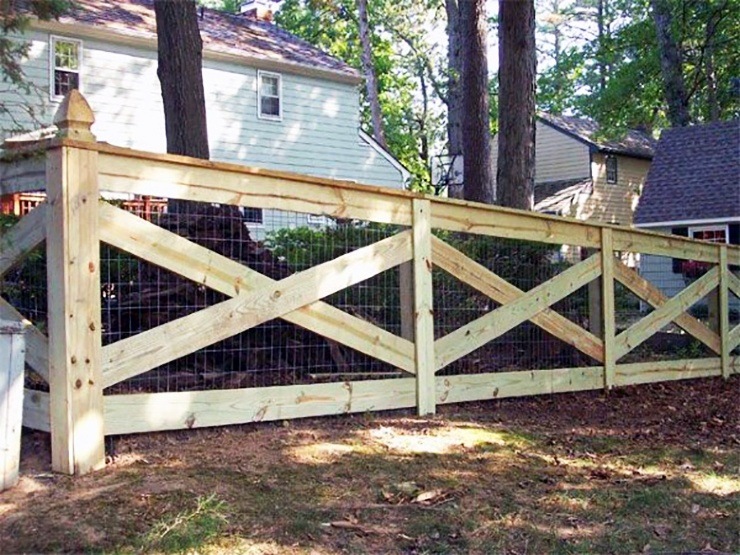 Sometimes you want a decent looking solution but can't break the bank. This type of wooden fencing works great due to needing less materials and is very sturdy. This family opted to adding chicken wire, presumably for keeping pets and kids in the yard.
10. Black Wrought Iron Fence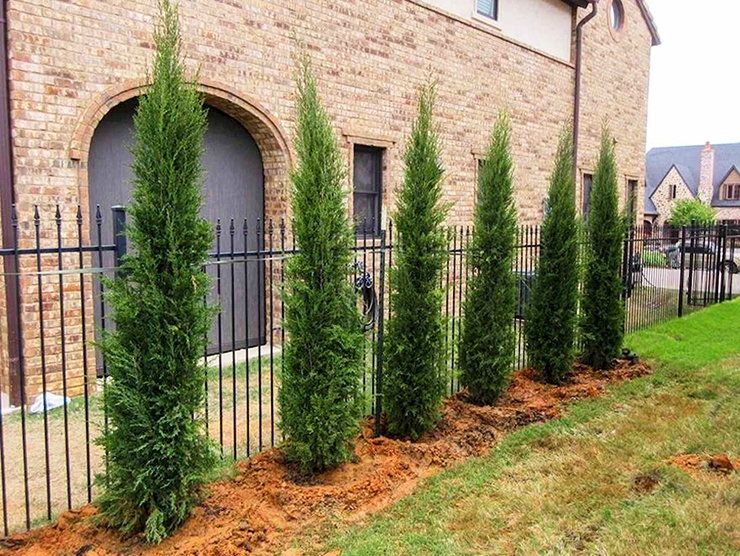 Like the #8 idea above, this wrought iron fence features spear tops and creates an obvious request to respect the property line but doesn't restrict sight or wind or tiny critters from moving freely. It's a classy look, especially around commercial property.
11. Spaced Picket Fence with Arch Top Gate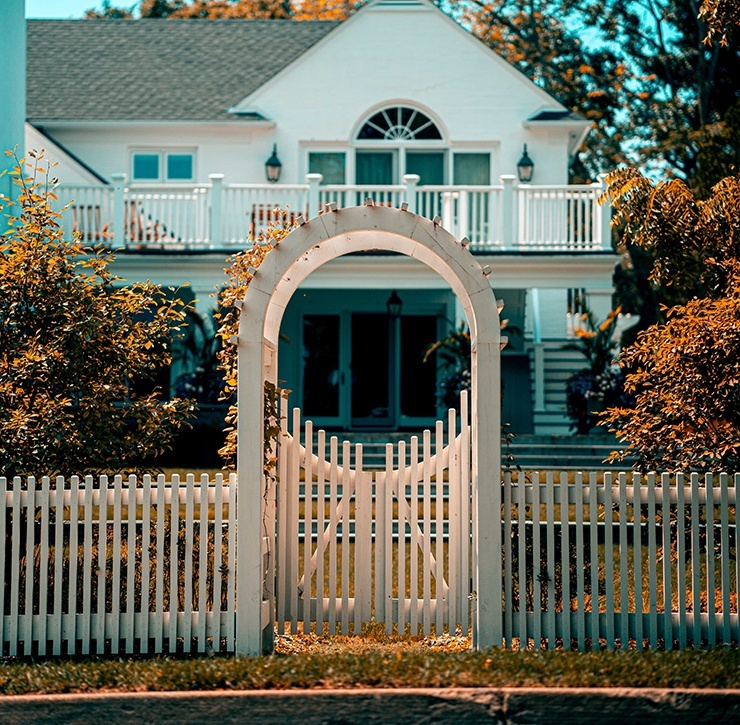 This older house, presumably downtown in some quaint city, has taken the classic white spaced picket fence up a notch. The addition of a tall, arch top gate where vines can grow looks fantastic, especially with the scallop dog ear gate. You can get really ornate gate latch types to show off as well as decorative hinges.
12. Hewn Log & Branch Fence
You may have a lot of ground to cover around your property. Maybe that's just for legal reasons like establishing the boundary and posting "no trespassing" signs. But you want it to look good too. The hewn log fence is a great choice that keeps cows and horses in their pasture as well.
13. Corrugated Metal Privacy Fence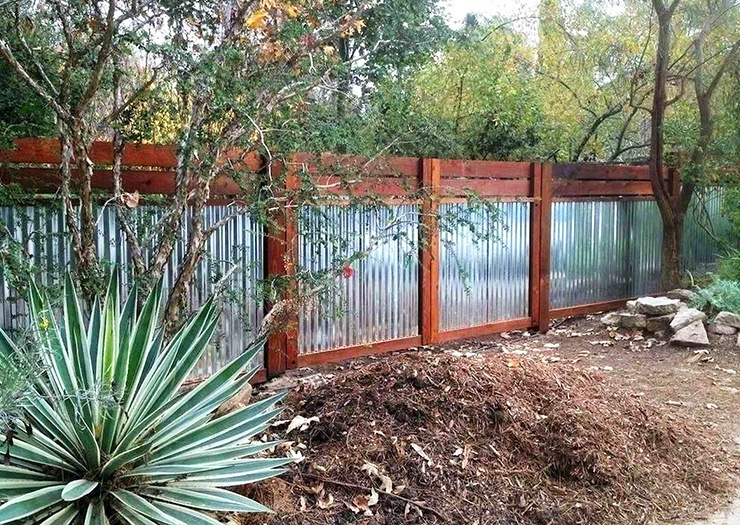 Corrugated metal fences can look pretty shabby, but when framed out by stained wood it can become visually appealing, especially in a yard that's allowed to be more natural and wild. Adding a couple of flat top rails is the extra detail here that brings the whole design together.
14. Ponderosa Rail Fence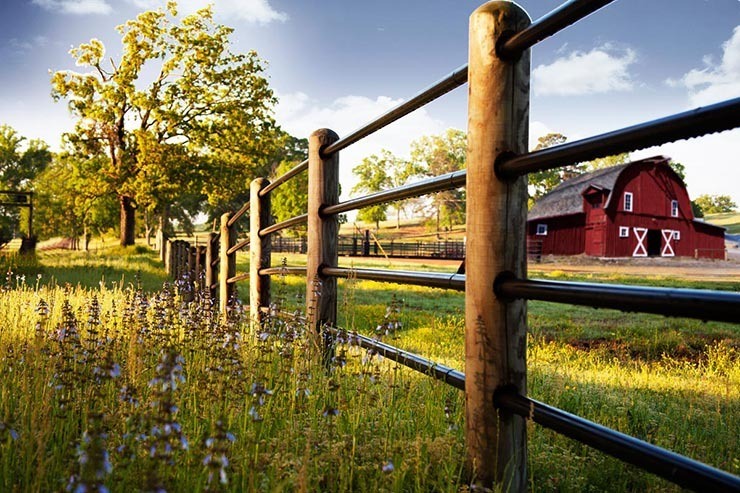 Another less expensive idea to cover a lot of ground is a ponderosa rail fence. It's basically evenly spaced posts with big holes cut through, big enough to run long metal poles through for the rails. The metal looks nicer than wood and requires less upkeep, especially along farm land.
15. Natural Wood, Low Cost Country Fence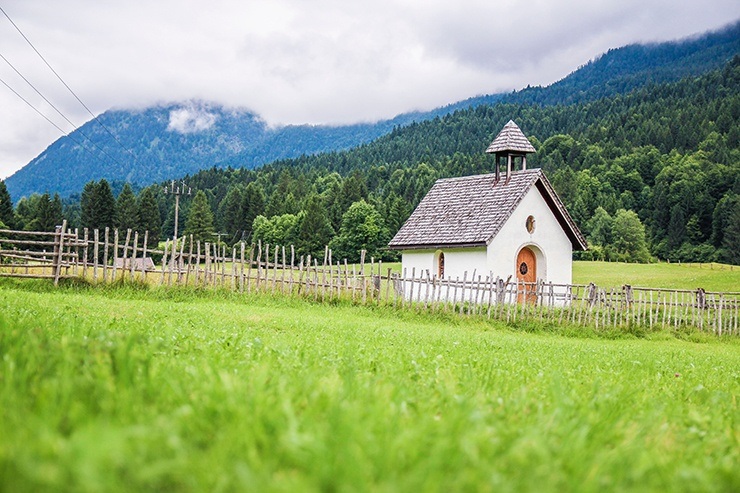 Using natural wood sourced from a nearby forest can look cool, even colonial in the country, but the problem is they require constant maintenance if you don't seal all the wood. It looks cool but I don't recommend anyone actually build one of these styles of fencing.
16. Wood Flat Top Privacy Fence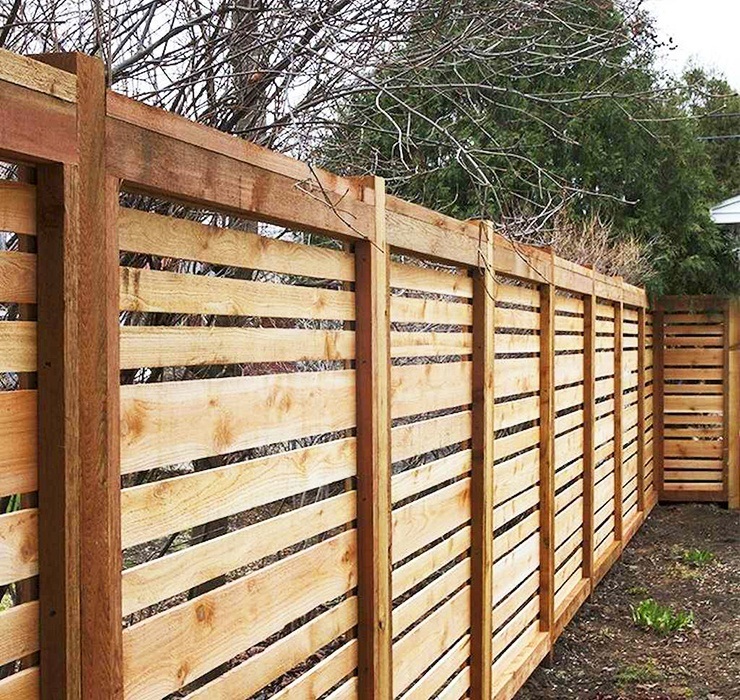 Flat top wooden privacy fences are all the rage, especially in their natural state. Personally, I'd stain the wood a darker color so it's not such an obvious feature of the backyard and to help protect the wood. They look great, though, especially with the rails spaced out a bit.
17. White Vinyl Scallop Fence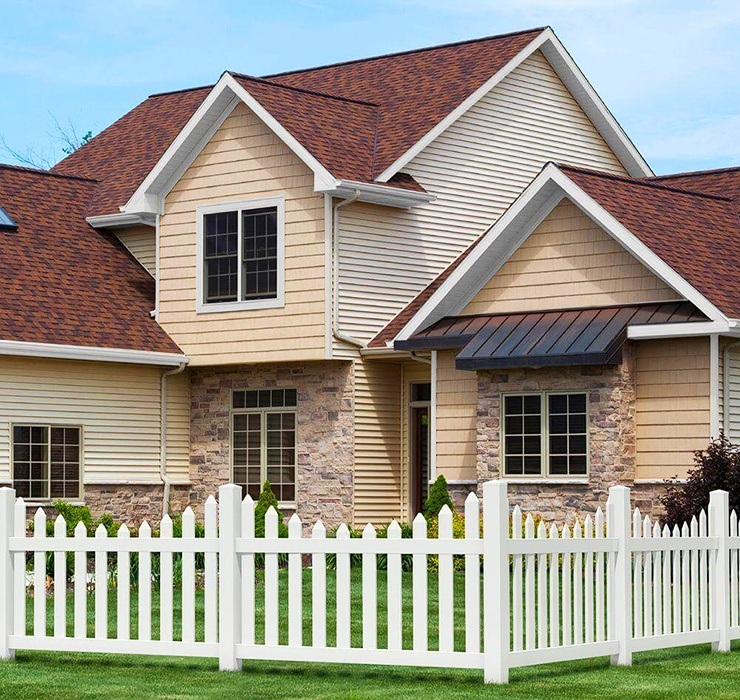 A nice twist on the basic white picket fence is to make it a scallop fence, where the center between the posts has a smooth, downward curve in it. It implies a bit more effort went into it and brings an extra element of flair to your curb appeal.
18. Shadow Box Fence with Dog Ears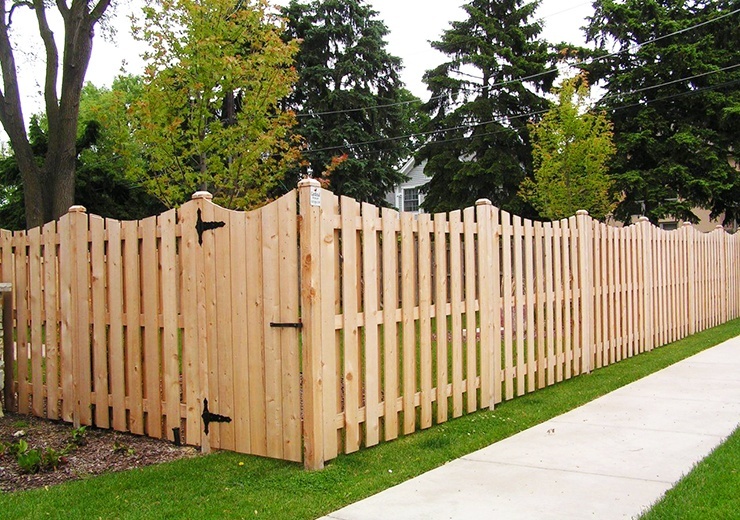 Look carefully at the shadow box fence above. Shadow box means that there are vertical slats on both sides but spaced in an alternating fashion so air, light, and even eyesight can pass through at the right angles.
You'll nearly double the amount of materials needed, but it's a nice touch. This is also a dog ear fence, meaning it's slightly less scalloped and the posts stick up at the peak of the waves.
19. Metal Flat Top Fence with Wood Privacy Wall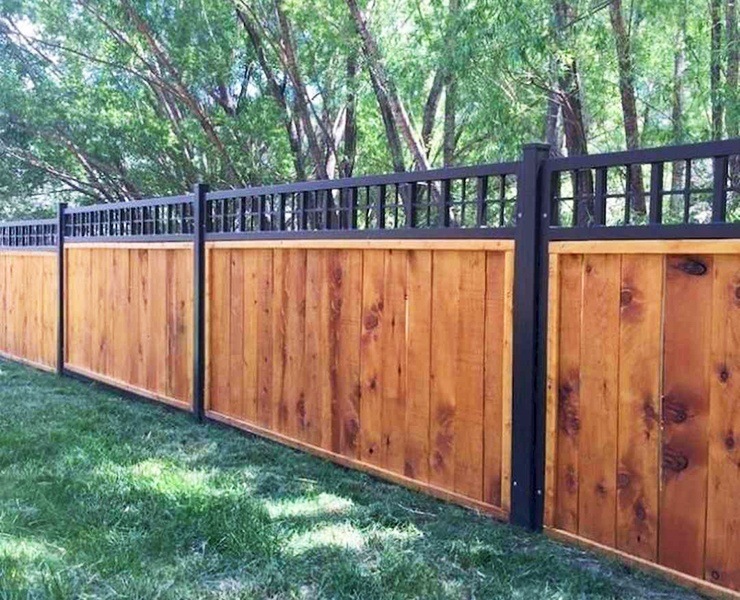 Here's another lattice top fence, but the lattice and posts are metal, with the privacy aspect being made from and framed out by wood. This is the darker staining I'm talking about.
This not only looks great but will last for a lifetime. In my mind, this is an example of building correctly the first time so you don't have to mess with it again later.
20. Grid Flat Top Climbers Fence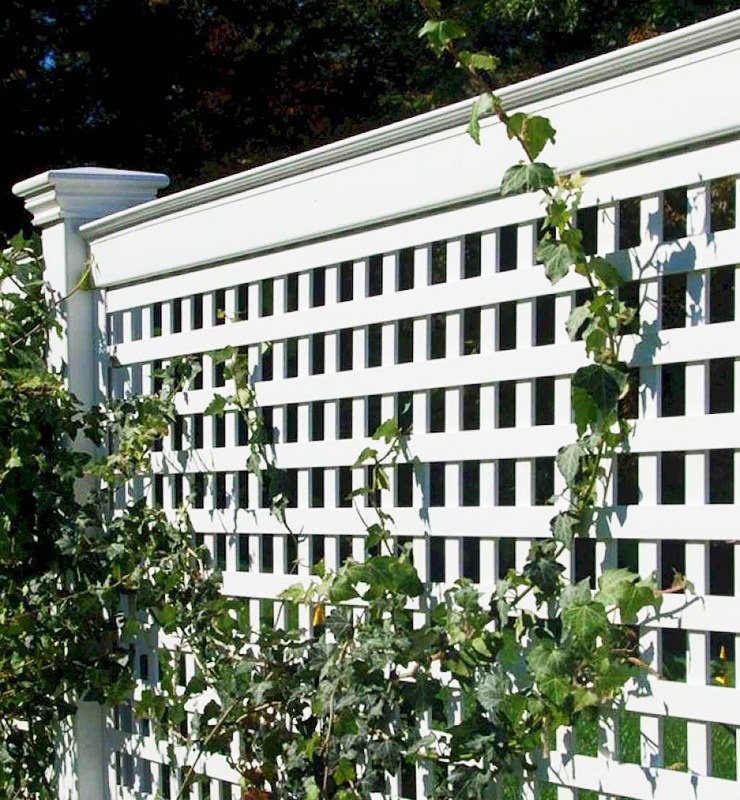 The grid built into this fence is perfect if you want to allow fresh air to flow but eventually gain all of the privacy of a solid wall. This is achieved by growing vines and climbing vegetables along the outside so vision is obscured from outsiders. This works especially well with wattle fences.
21. Simple Bamboo Slat Fence
This is an extremely inexpensive fence build that looks like a lot more effort went into it than did. Bamboo, like other wood, can be sealed from the elements so it lasts a lot longer than you'd expect.
You could even grow your own types of bamboo to pull this off if you cared to take the time.
22. Wooden Split Rail Fence for Horses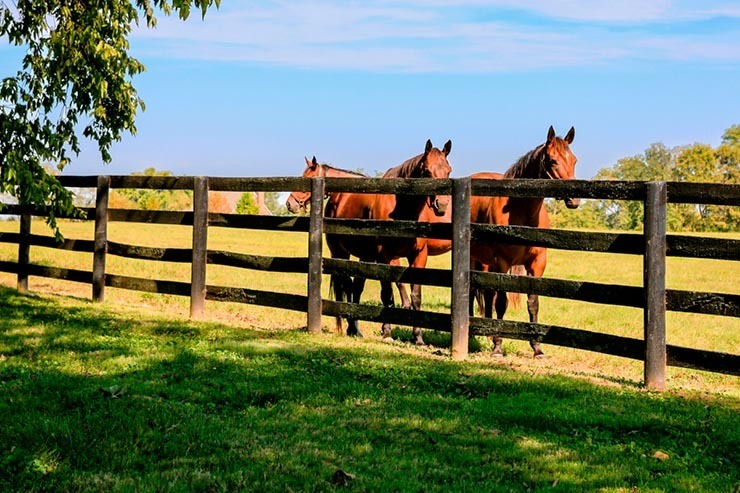 I had to include the classic split rail fence that's often used to keep in horses, cows, and even emus (I had a neighbor once that had like 10 of those birds, they were mean). These are very easy and quick to build and don't require much intervention except when the random rail board rots.
23. White Vinyl Flat Top Fence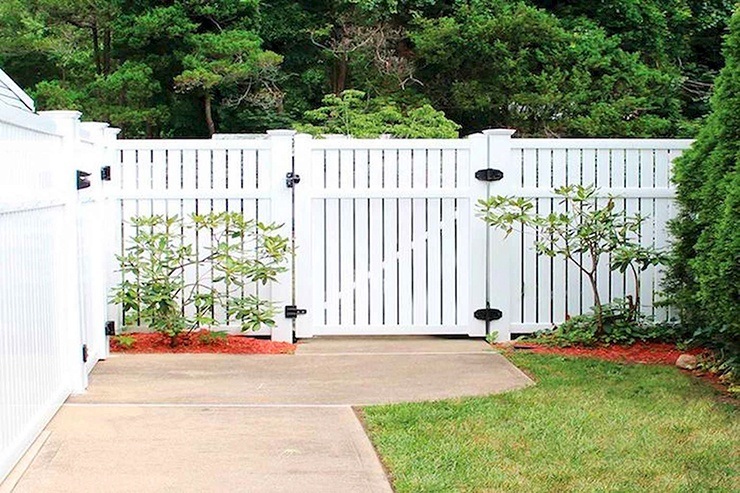 Everyone likes a white fence and doesn't want to have to clean it or fix anything, which is why you keep seeing vinyl being used as the construction material.
In this case it's a tall flat top fence, perfect for privacy and attractive. It lets bushes pop out visually when grown around the border.
24. Basic Suburban Black Chain Link Fence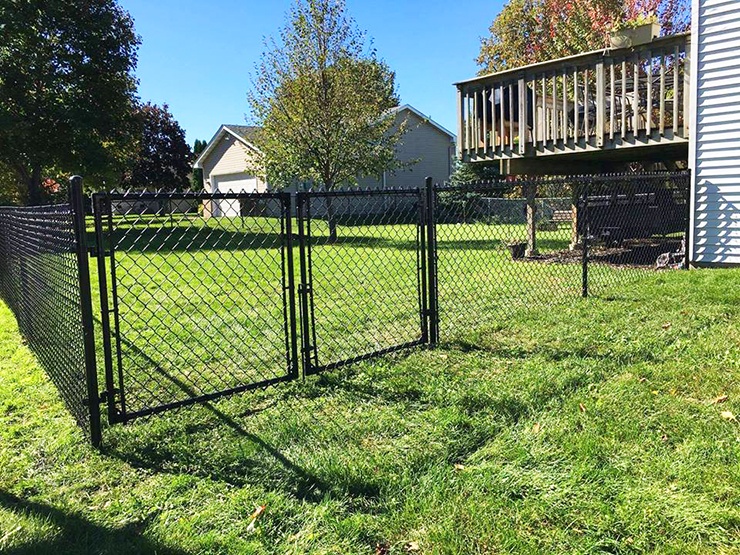 For the sake of completion, I've included a chain link fence. These folks at least got the black, soft plastic around all the metal, but in general I'd avoid chain link unless you're really pressed on the budget.
They're fast for professionals to install if you're going that route, which will be cheaper. They just don't look that great when all of these other options exist.
25. Stone Fence with Vinyl & Iron Gate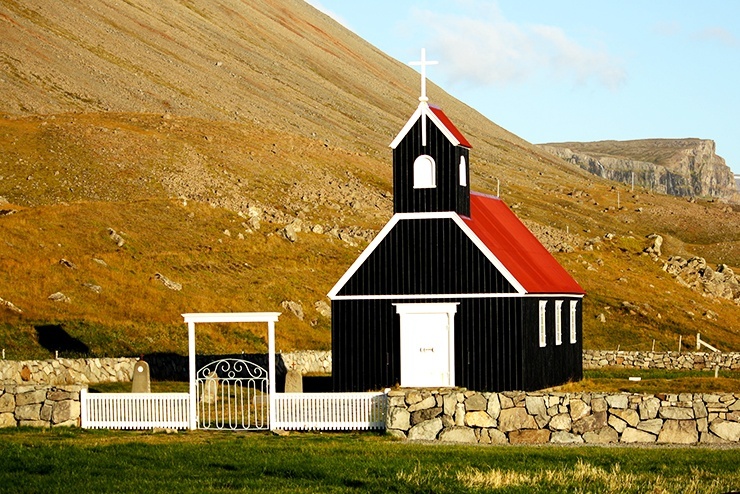 This stone fence is what I like and want to build soon. This appears to be actual stones, but you can build it out of cinder block and then use concrete to add cut stones on the outside to mimic this look (and save money, especially on transportation and labor).
The addition of the iron gate between the vinyl segments was a nice touch.
26. Wood Grain Vinyl Privacy Fence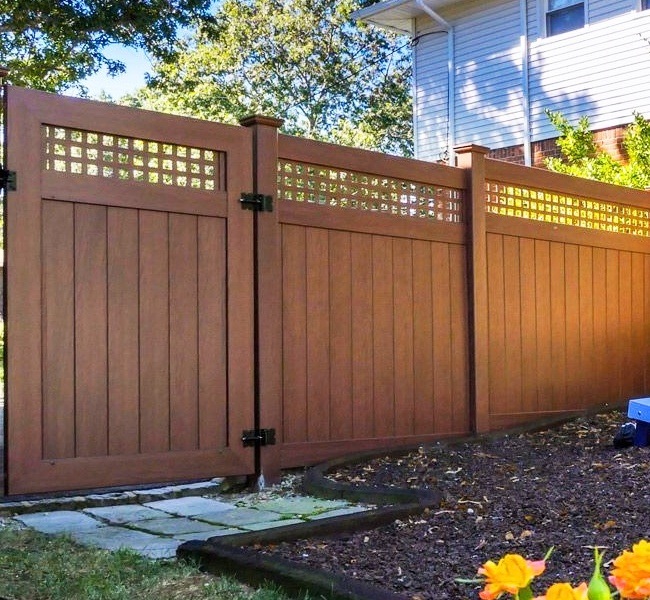 I've obviously got a thing for privacy fences that shield me from neighbors. This is a solid wall with a lattice top made from wood grain vinyl so it takes on a "real wood" appearance.
You're going to blow dirt and grass along the bottom when doing lawn maintenance so the vinyl lets you simply spray it off. The time savings on cleaning can't be understated.
27. Bamboo & Concrete Fence
Here's another bamboo fence with concrete segments (or is it the other way around?). This mixture saves money, looks great, and defends from stray vehicles.
I'd might do something a bit more decorative than blank walls but it looks okay as is. I'd install some hanging plant containers or something.
28. Simple Wire Fence with Spaced Picket Slats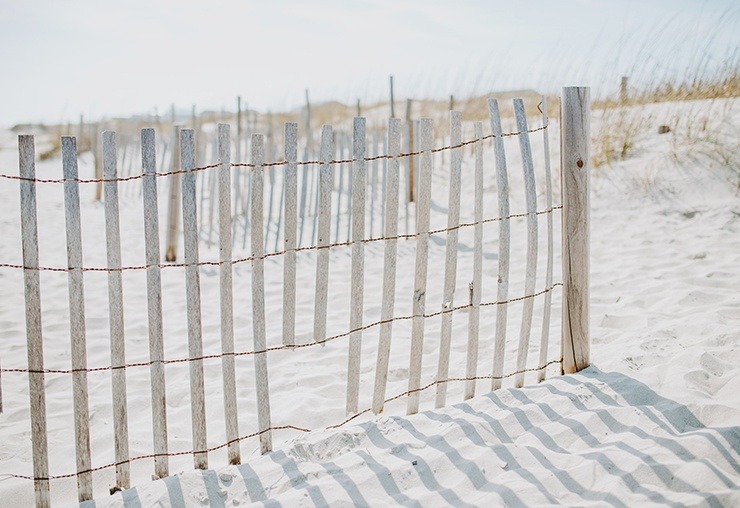 These simple types of wire fencing are included for you beachside homeowners. It looks appropriate for the environment and luckily for you is extremely inexpensive. As you can see, the wood slats can break and rot quickly, so consider using vinyl if possible.
29. Classy Wooden Horizontal Slats Fence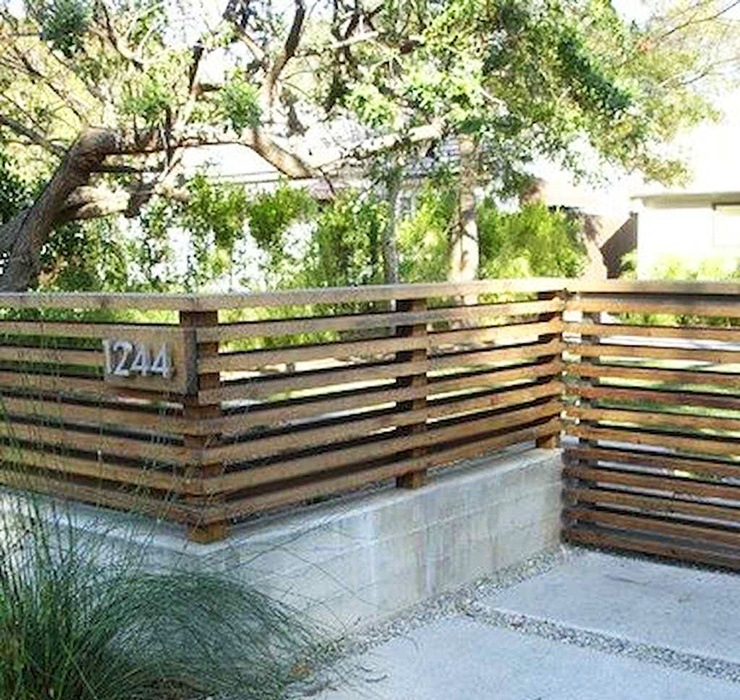 This is one of my favorite entries on the list. It's simple horizontal wood slats spaced out evenly, but it looks extremely classy. You can see through it but not perfectly. The addition of the street numbers on another board is plain but looks great in this context.
30. Cheap Repurposed Pallet Fence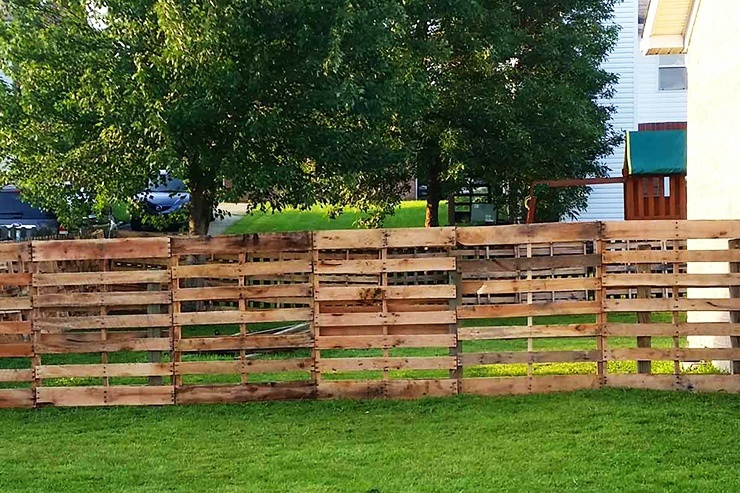 I saw this and just had to include it. It's nothing more than pallets being re-used to create a makeshift fence. This can be done in a permanent fashion that lasts for years, but I wouldn't recommend it unless you want to look goofy.
No matter how much you paint it and clean up the yard around this fence, it just looks trashy in my opinion. Don't do this to your neighbors!
31. Wooden Flat Top Fence with Brick Posts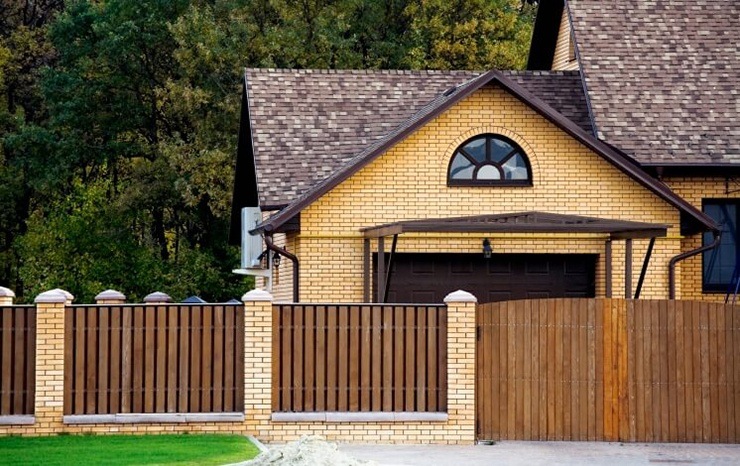 What you're looking at here is a masterpiece. The brick posts and foundation match the bricks of the house, the wood slats are in shadow box formation but there's also a flat top between the domed posts. This looks great if you want complete privacy without hurting curb appeal.
Good Luck With Your Fence Design
I hope you've enjoyed glancing at these fence ideas and they have your gears turning. I recommend settling on a fence style first and then seeking more inspiration of that type only. Then go sit on your patio and stare out at the border of your yard and it'll all start to click.
Remember, any of these can be downsized to a swimming pool fence or garden fence, too. Good luck!
You'll Also Enjoy: