15 Types of Staircases to Fit Your Decor Style Perfectly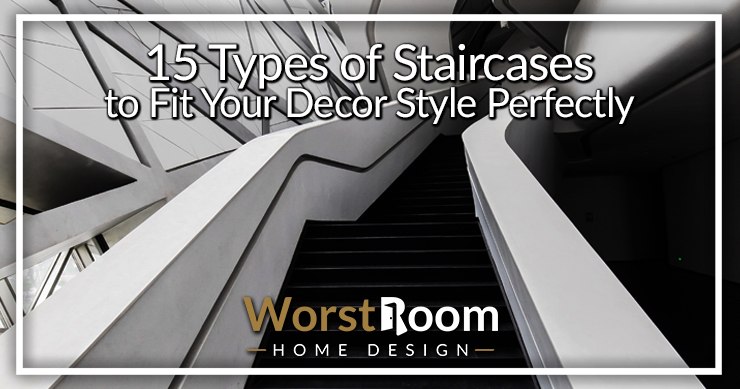 Are you working on the floor plan of your new home and just thinking- "What types of staircases are right for my house?" Then welcome aboard!
It doesn't matter why you're looking up different types of staircases because chances are you'll find the most popular ones right here.
We've covered everything from simple switchbacks to classy cantilevers and also snuck in a few examples for a modern business layout.
So, the next time your architect tries to propose a straight staircase to save their time, surprise them with a bunch of cool ideas of your own.
Alright then! It's time to spice your floor plan up with sassy spirals or those crazy Quarter-turns. Please don't ask us; we can never decide. However, we can show you 15 different staircase designs for your home and office.
15 Types of Staircases
Want to give your home the gorgeous makeover it deserves? Let's start with the stairs then, shall we? Many options have developed over the history of staircase architecture for you to choose from. You can make any of these 15 staircase designs happen from a small duplex house to a luxurious vacation home.
Straight Stairways
This is the most common types of stairs to exist in a residential or commercial setting. It takes a minimum amount of space and is relatively easier to access with handrails on both sides.
Straight staircases can be built using a lot of materials such as wood, concrete, and metal. Price-wise, these stairs are the least expensive. They showcase a linear flight, which means there are absolutely no twists and turns in this particular staircase.
Quarter Turn Stairs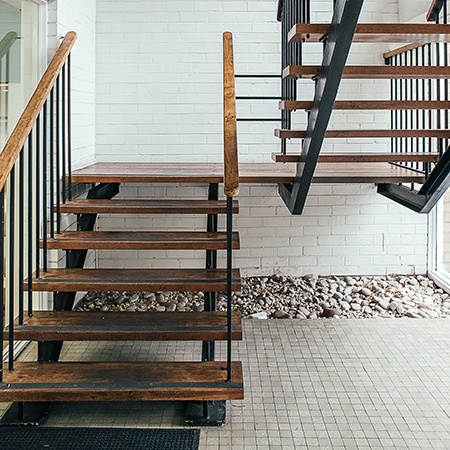 These L-shaped stairs are two flights of straight stairs with an intermediate landing. Now, these are called L-shaped stairs because there's a 90-degree turn at the intersection.
These types of staircases can continue to the left or the right from the landing area. For the record, the landing's usually of a square or a rectangular shape.
Plus, the treads are uniform across the two flights, rather than being triangular at the turn. We like quarter-turn stairs because people can rest or stop for a chat on the landing.
Cantilever Stairs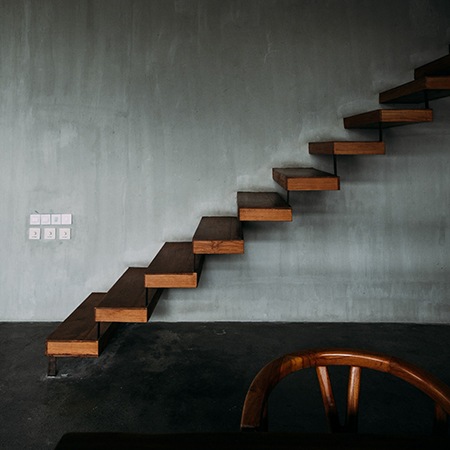 Also known as floating stairs, cantilever stairs are arranged so that their treads appear to be hovering in the air. They usually don't have balusters or handrails, let alone a newel post.
Anyone who's thinking about a minimalistic interior could look at cantilever stairs and go like, "Yes, this is it!"
These stairs are actually very secure behind their masterful illusion. A mounting piece is attached to each of the treads and then tucked inside the wall for a neat look.
Or, the stringer could be hiding below the stair treads. Cantilever stairs are excellent if you're dealing with a tight corner and want to free up space in the foyer.
Curved Staircases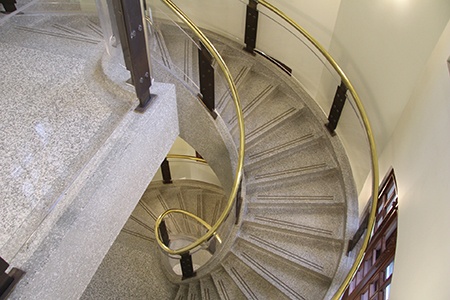 These staircases are truly extraordinary. It's easy to spot a curved stairway because, first of all, there's no intermediate landing. It's a continuous flight of stairs extending from one floor to the other. The stringer is bent to accommodate the desired angle of the curve.
Also, the first few treads are placed away from the wall in a beautiful curvature. So, the railing ends where the wall meets a tread from either side. In any case, we've never seen a curved stairway without cool newel posts.
Painting the tread and the riser in two different colors makes these types of staircases look way more elegant. You're going to need to be very accurate so invest in some quality stair measuring tools before you get started.
Switchback Staircases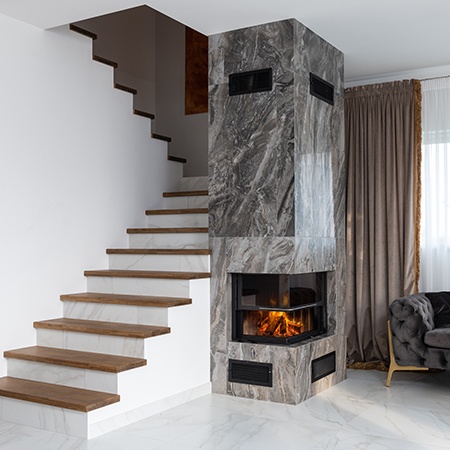 Look at the stairways of an apartment building. Nine times out of ten, they'll be the switchback style. These are U-shaped staircases with a flight of stairs making a 180-degree angle with the one above and below.
The stairs look parallel to each other from the top. Switchback stairway can be designed in traditional or contemporary fashion. They're popular because they give your foyer a nice, clean look. Want to know about more cool staircase types like this? Make sure to keep reading.
Circular Stairways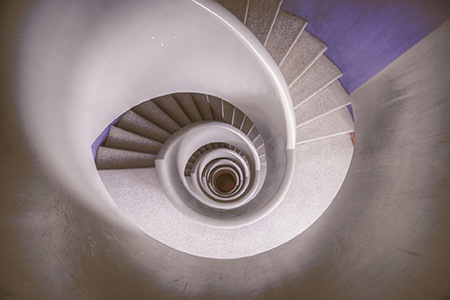 We've always considered circular types of stair an architectural beauty. They sport a relaxed curve in a large radius, with a curvy handrail and tapered treads.
Here's the thing- these models don't look circular while you're walking up the stairs. But as soon as you view it from above, it all starts to make sense. People confuse circular stairways with spiral stairways all the time.
The main difference here is the curve and feel of the steps. For example, spiral staircases are comparatively angular. Plus, it's easier to fit a spiral stairway in a small area than it is to pack a circular one.
Winder Staircases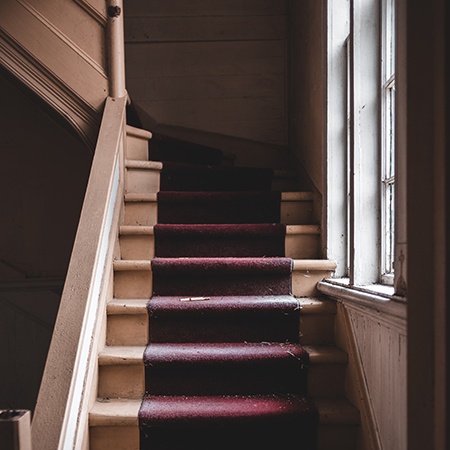 Imagine the quarter-turn stair types without the half-landing, and that's your winder stairway. They begin at the corner of your entrance hall and continue to the upper story in a curvy shape. You could say it's a combination of a curved and a quarter-turn staircase styles.
So, instead of having an even half-landing, the treads take a triangular shape and travel up in a seamless transition. They strictly border the wall, and therefore, save a considerable amount of space in city lofts.
Due to the irregular shapes at the transition point, going up and down winder types of staircases can take some getting used to.
Bifurcated Stairs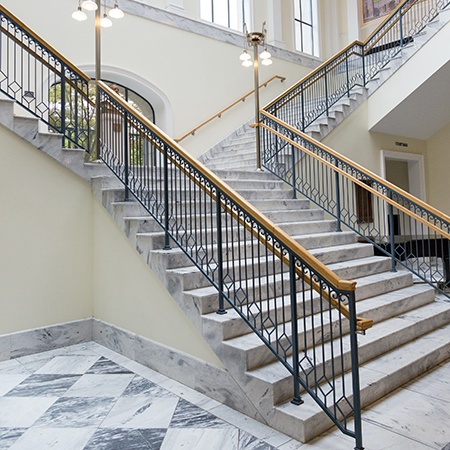 These stairs split from the landing and then follow the second story from two directions. If you look at a bifurcated staircase standing in the foyer, it looks like a Y-shaped construction. They take a lot of space.
So, you probably won't see them in a small duplex building. This staircase is somewhat a staple to luxury homes and manors. These will tend to have more stairs in a flight than average due to the elevated ceilings in these larger homes or commercial buildings.
As for their architectural features, you can expect elaborate handrails on the descending flight. The two ascending flights adjoin the wall, so there's only one handrail continuing to the top.
Dog Leg Stairways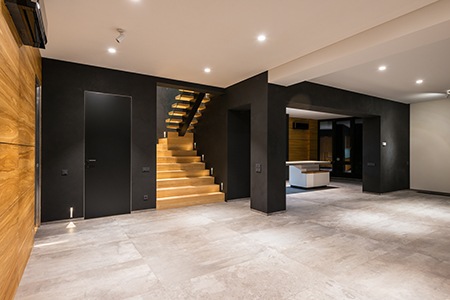 Now that you know about bifurcated staircase shapes consider dog leg stairs a knock-off. They can start at the center or the side of your foyer and travel up in a single direction.
Compared to a bifurcated staircase, dog leg stairs don't have a spacious half-landing. The space between the two flights of stairs is also pretty tight.
On the plus side, these staircases can fit into a small house. They have about 8 to 16 risers and are pitched from 20 to 40 degrees. The two flights don't need to be equal, and they usually are not.
Ladder Staircases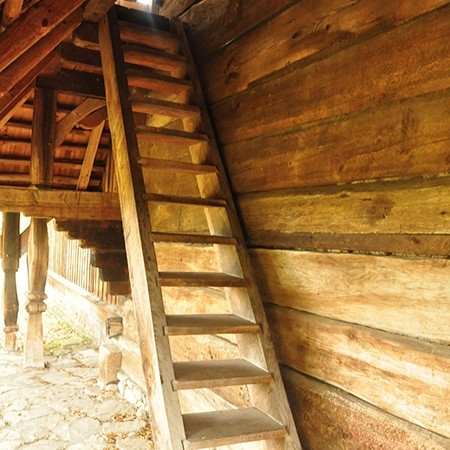 As peculiar as it sounds, ladders are also types of stairways. These particular types of staircases are a popular means of access to enormous libraries in a residential setting. However, building codes don't permit ladders to be used as a substitute for stairs.
They're better reserved for accessing docks, lofts, or the attic. If you're considering a ladder staircase for one of these purposes, don't forget the handrails. These types of ladders are steep, so you need to keep safety in mind.
They're very steep (not to mention quite space-saving) and have hollow risers, which could be a challenge for a particular age group.
Scissor Stairs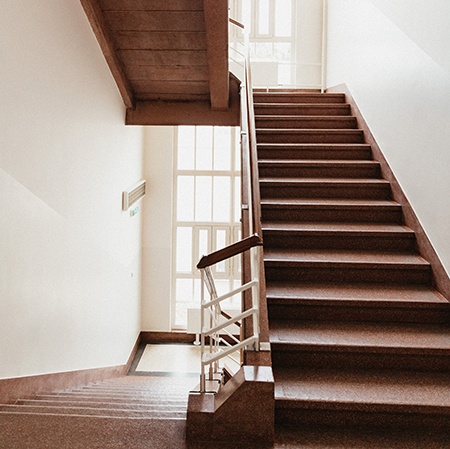 The scissor stairs are a complex design with two stairways sharing the same half-landing. It saves the cost of having a second stairwell and allows access to different areas of the building within a short time.
Spiral Staircases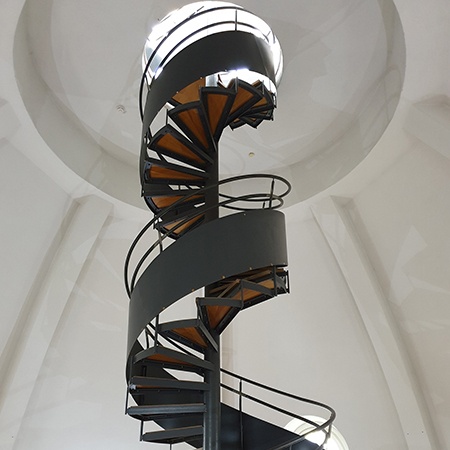 If you've watched Rapunzel, Shrek, or any animation movie in general, you're already familiar with these kinds of staircases.
There's at least one scene where an endless staircase spirals all the way up to a castle, correct? Well, it turns out spiral staircases are not so popular for residential use anymore.
First of all, they're a bit difficult to access; no thanks to the misshapen treads. And secondly, most spiral staircases are uncomfortably slim, with tall risers and super-short steps.
On the other hand, a nicely designed spiral staircase can easily be the centerpiece of your hall.
Crossover Stairs
If there's a small ditch, an elevation, or obstruction in your path and you don't want to build a bridge over it, install crossover types of staircases instead.
They're budget-friendly, often portable, and may even save you from a few bumps and oopsies. Consider using the right types of tape to increase the friction of the treads if you have these outdoors.
Stair Towers
If you're looking for a safer version of ladders, the stair tower is the way to go. The name is pretty self-explanatory; it's a whopping tower of stairs extending to multiple stories and different directions if need be.
Although, you can't get one of those inside your house because it's as big as a building. Are you surprised? Well, you definitely wouldn't be if you were a construction worker.
Stair towers are regularly used in industrial applications, allowing faster access to people so that they can go on about their duties.
Alternating Tread Stairs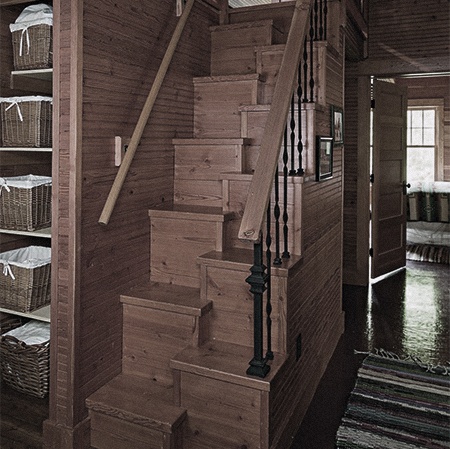 There are spaces in your house where a straight staircase types wouldn't fit. Stair types with alternating treads have half treads, so you can only put one foot down at a time.
Think of it as a real-life game of Twister, and pray that you don't miss a step. I've even seen done outdoors as stone stairs (if you want to know how to build natural stone steps, we've got you covered).
Types of Staircases for Every Decor Style
That's our take on different staircase designs. We're not gonna lie; it took some good burning of the midnight oil. But our designer background helped us round up the best, popular options.
While there are indeed more types of staircases, we personally liked those 15 designs for a duplex house. So, what are you waiting for? Give yourself a pat on the back because- at this point, you probably know as much about staircases as a professional designer. Best of luck!
You'll Also Enjoy: