13 Sleeping Bag Alternatives to Make Camping Comfier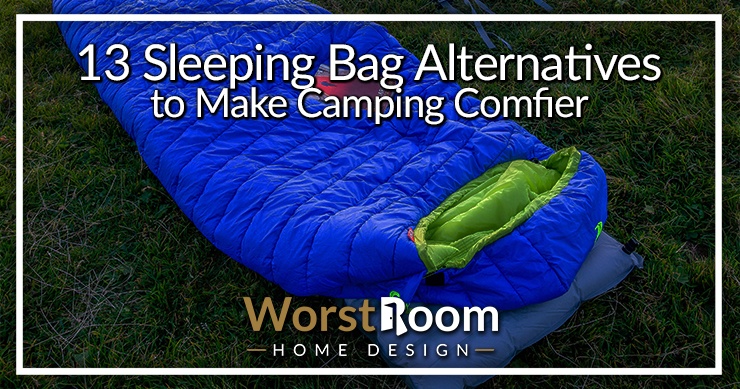 Everyone enjoys going camping with friends or family to get away from the stresses of everyday life. And sleeping bag alternatives are an absolute must-have for every camping trip.
If you forgot to pack your sleeping bag and now you're already at the campsite or don't enjoy the feel of a sleeping bag in general, we have this article for you.
This piece will include all kinds of options that can be used as a replacement for sleeping bags. So, if you're looking for the best alternative to sleeping bags, keep reading.
13 Sleeping Bag Alternatives
Sleeping bags, in their earliest forms, came about in ancient times when people swaddled themselves in animal skins to stay warms. By 1861, Francis Tuckett had the idea to started adding rubber waterproofing to textiles. Soon, sewn blanket bags with built in pillows were being created. Throughout time, many iterations and alternatives have been developed.
This section will present you with the most lavish alternatives to sleeping bags that we have discovered. We have provided detailed information to assist you in selecting the best option for your situation.
Camping Quilts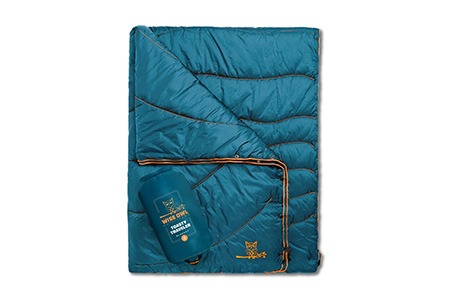 Camping quilts are an obvious replacement for sleeping bags. Although sleeping bags are well-known for delivering the maximum amount of warmth, these quilts are equally beneficial in this regard. This option is much preferable if you want to camp in freezing climates.
One of the benefits of bringing a camping quilt rather than a sleeping bag is that most quilts are ultralight, weighing as little as a pound. As a result, they're even simpler to store and transport than many lightweight sleeping bags options.
A camping quilt is one of the most excellent solutions for a lightweight replacement to a sleeping bag that can keep you warm in freezing climates. However, keep in mind that a camping quilt is intended for use in combination with a sleeping pad if you're planning to camp in icy weather.
Camping Blankets
Even though it may appear like camping quilts and camping blankets are about the same thing, they are not.
Let's start with the basics. A camping quilt is intended to substitute a sleeping bag and must be used comfortably in cold climates with temperatures as low as 40 degrees Fahrenheit.
On the other hand, a camping blanket may appear to be constructed with the same fabric as the last option and may even be stuffed with down feathers, but it is still simply another blanket.
A camping blanket is one of the fantastic sleeping bag alternatives if you need a compact piece of cloth to warm you up when camping and the temperature is between 55 and 60 degrees.
However, if you want to be the most comfortable in temperatures below 40 degrees Fahrenheit, you should invest in a camping quilt.
Travel Liners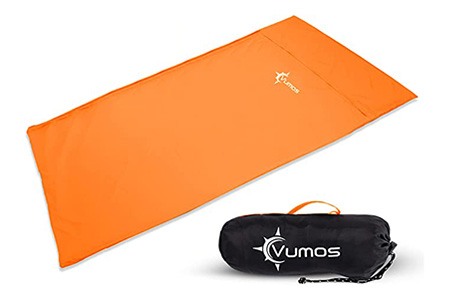 A travel liner is meant to be used like types of bed sheets within a sleeping bag. It functions a lot like a sleeping bag, but is much more thin. It's meant to provide comfort more than anything, but on nights that aren't extremely cold you can use them by themselves to stay warm enough.
They'll keep you free of mosquito bites (at least everywhere but your face)| and are very light. These sleeping bag substitutes can be rolled up tightly so they take up very little space and they're fairly cheap too. You can machine wash them and all that. They aren't insulated from the wind though.
Air Mattresses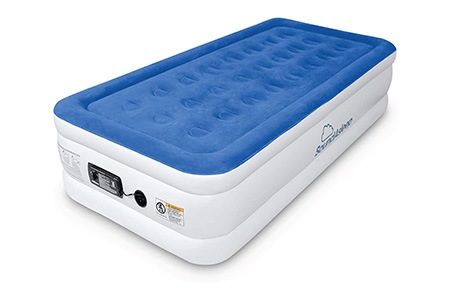 Now, this is another very obvious option. Air mattress is basically types of mattresses or sleeping pads that can be inflated.
And an air mattress is a must-have item for camping trips. This kind of mattress can easily be blown up into a suitable replacement for a sleeping bag. And when the night is over, you can deflate it easily and pack it away.
But when inflated, this choice of sleeping bag alternative is very soft and comfy and will keep you cozy throughout the night.
Because of the added comfort this provides, it is recommended that you bring at least one additional air mattress when you go camping so that you can enjoy your time away from home. It is imperative if you are going away for more than one night.
Bivy Bags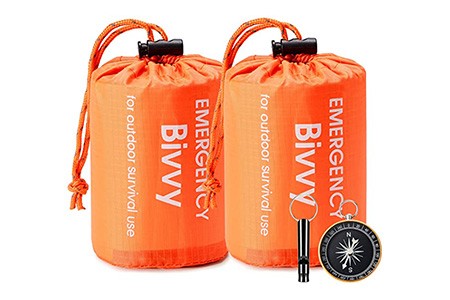 A bivy sack (bivouac sack) is more one of the direct tent alternatives. It's because these bags are far more compact and lightweight. It's best suited for people setting up camp after trekking, or perhaps those who don't intend to spend much time inside the tent other than sleeping.
Although this is a more viable replacement for a tent, it works well as a sleeping bag alternative. It works exceptionally well when accompanied by a sleeping bag liner or something of that kind to create a more comfortable and pleasant environment.
Insulated Hammocks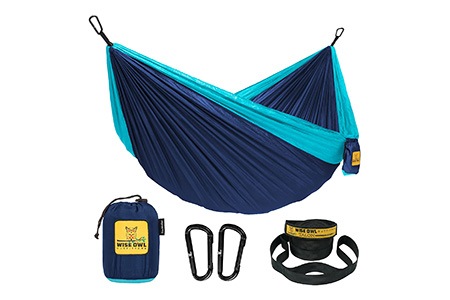 Hammocks are popular with everyone, even as sleeping bag alternatives. Whether it is a beach or a campground, everyone enjoys all types of hammocks.
In light of this revelation, we offer you the most entertaining sleeping bag option. But this isn't like any other hammock. On the other hand, this one is insulated and can be utilized to obtain a good night's sleep in the woods.
This item is available with zipping coverings. You'll be able to wrap yourself entirely at night to keep yourself protected from the outdoors. Another advantage is that you will be able to sway back and forth pleasantly before falling asleep for the night.
Its insulation allows it to be the most comfortable alternative for sleeping anywhere, at any time of day.
Backcountry Bed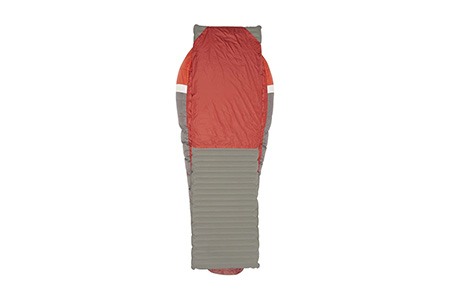 You've most likely never heard of it. Although a Backcountry Bed is technically a type of sleeping bag, it is not the same thing. That is why it has been included on our list.
This uncommon type of choice features a one-of-a-kind design that is a mix between a sleeping bag and a cocoon. It encases you in a cushioned capsule, with only your face visible. The entire bed is made out of a large quilt with no zippers.
Because of the additional layers, this is an excellent choice for colder climates. It is, however, not always convenient because it takes up a lot of room.
Woobies
It is a relatively uncommon alternative option for a sleeping bag. Most people aren't aware of this product at all.
A woobie is a special kind of cloth that offers warmth in moderately cold conditions. This versatile option is popular with many soldiers. Some accounts attribute the name of this item to military poncho liners.
These robust types of blankets are ideal for camping in mild climates. But it should not be used if the temperature falls below 65 degrees.
Nevertheless, these are excellent sturdy but lightweight sleeping bag alternatives for moderate temperatures. And you can find this easily at Amazon using the link under the image above.
Cot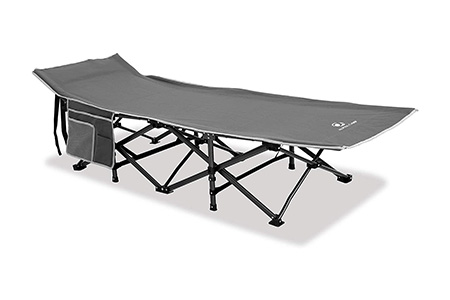 A cot is a low to the ground, collapsible bed. It's sometimes referred to as a camping bed. Sleeping cots are generally built with a metal frame that holds a tightly woven, strong fabric meant to sustain the weight of your body.
If you place a blanket, duvet, or any other material under your body as you sleep on the cot you can improve your warmth vastly so you don't lose so much heat from the air flow beneath your body. The benefit is this keeps you off the cold ground.
Some cots get pretty sophisticated with curved frames, headrests built in, storage bags on the sides, etc. The nice thing is because these are collapsible they make a decent choice for hikers on long trips. They're very ideal alternatives to sleeping bags.
Indoor Tent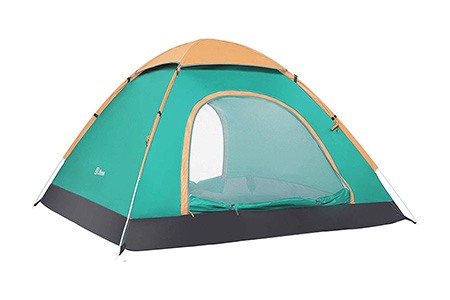 Another great alternative, although not always appropriate, is an indoor tent. An indoor tent can be used at any time, especially while you're out in the wilderness. However, this is an excellent choice for sleeping bags or even mattresses at home.
These charming indoor tents are a terrific alternative for people of all ages due to their style and functionality. But these are especially great for kids as they can use these when they have sleepovers with their friends in their rooms or even the living room.
However, if there are no other options, it can serve as a good sleeping bag substitute for sleeping bags in the wilderness. You'll need additional blankets and pillows to keep you warm and cozy.
Sleeping Pad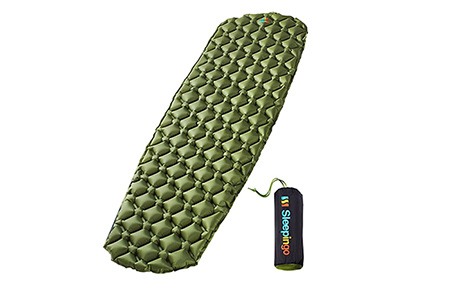 A sleeping pad, similar to a really thin inflatable mattress that doesn't inflate, is another of the sleeping bag alternatives. It works great for adding layers when spending the night on the hard, rough ground surface.
Although a sleeping pad adds insulation for your convenience, it is nothing too fancy like the previous options. However, if you want a simple option for a night out with friends, this would surely get the job done.
The best of these bed alternatives are made of foam, but the problem with foam pads is they don't roll up very tightly and can be quite bulky if you're carrying it on a hike.
Tarps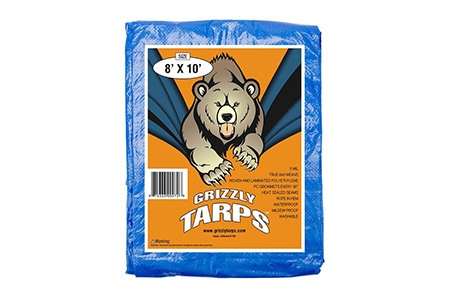 A tarp is just a piece of woven plastic material, generally composed of waterproof fabric. When camping, it is typically used to cover the most ground before building a tent.
However, if you don't have any other options, you can use them as an alternative to sleeping bags. It may not feel as warm or comfy as an actual blanket or quilt, but it will keep you warm and dry in the event of rain or harsh weather.
Blanket & Pillow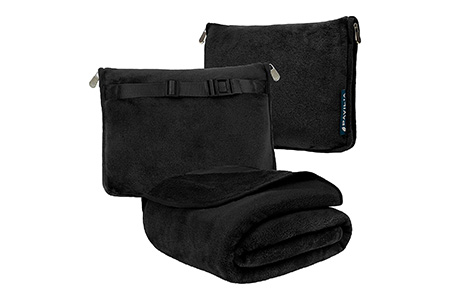 This should go without saying but if you want to keep it real simple just carry along a small pillow and a tightly packed blanket. You won't have the greatest comfort but on a warm summer night as opposed to a cold winter night, this can be plenty.
Especially if you have a tent to protect you from insects and you enjoy sleeping on firm surfaces, this is all you need to sleep like a baby. Just bring your favorite types of pillows since that'll be the core of your comfort.
Sleeping Bag Alternatives for Those Who Need Different Comfort
If you're stuck in a camping ground without your sleeping bag, you can use your tarp as your sleeping bag replacement for the night. And if you are weighing your options before finalizing a camping plan, you have plenty of choices to pick from.
Now that you have gone through our top sleeping bag alternatives, we hope you can make the right choice for yourself.
You'll Also Enjoy: