11 Types of Fireplaces to Keep Cozy All Winter Long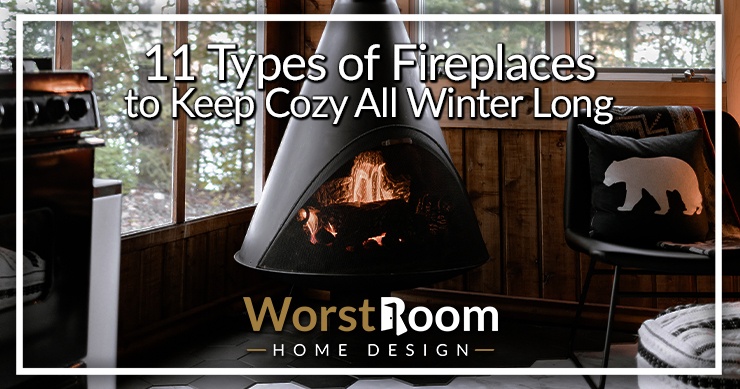 Nobody wants to feel cold when they stay at home. We want to feel cozy as the cold winter months approach, and with the aid of the different types of fireplaces we can do it easily.
Isn't there something so comfortable about sitting with your loved ones and feeling the warmth of a fire? The answer to all these questions is, you guessed it—a fireplace.
Often considered to be the heart of a home, a fireplace is also a great place to gather around with your friends and family and enjoy a serene ambience. In addition to adding value to your home, fireplaces also provide warmth and comfort.
11 Types of Fireplaces
But which fireplace should you choose for your home? We've laid out a quick guide on the different types of fireplaces that you can opt for below. These are the best and fanciest space heater alternatives you'll get your hands on.
Types of Electrical Fireplaces
This is an electric heater that has replaced the conventional fireplace in most homes. An electric fireplace, as the name suggests, is powered by electricity, and mimics the traditional coal or wood burning fireplace.
In addition to being extremely easy to use, maintain and clean, this kind of fireplace also doesn't produce any extra fumes. You don't need any types of shovels to remove ash because you aren't burning wood.
These fireplaces are also easy on the pocket and easy to install. They come with a remote that helps you control the temperatures and effects of the fire. Take a look at the common electric fireplaces you can choose from.
Mantel Electric Fireplace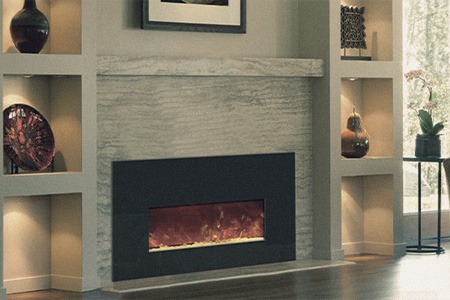 These fireplace types are similar in style to the traditional built-in wood fireplace, following the standard fireplace dimensions as well to match that aesthetic. However, they don't require any types of chimneys or access and are quite sleek in design.
Features:
Low cost of maintenance
Reduced operating costs
Safe to use
Environmentally friendly
Easy to install
Can be controlled with a remote
Cost effective
Advantages:
They don't produce any fumes or smoke
They don't require any additional venting
They are easy to maintain and clean
Electrical fireplaces are quite energy efficient since they use less electricity
These fireplaces are quite durable and last a long time
They are available in a variety of designs, sizes and styles
Electrical fireplaces are also safe to use
They are great for all kinds of homes
Types of Gas Burning Fireplaces
These types of fireplaces use gas to produce the fire and heat to warm up your homes. Along with looking like actual fires produced by wood, gas burning fireplaces also work using similar methods.
However, they do produce a small amount of smoke which can be managed by proper ventilation. This will be with either direct fireplace venting, B-vent (or natural) venting, or with vent-free designs. My own fireplace has direct venting where the fire is closed off by a glass panel and is open to the outside through a short vent directly through an outside wall.
Furthermore, gas fireplaces are also quite manageable since you can control the amount of gas you use for the flame. Gas fireplaces usually come in the following different types.
Gas Insert Fireplaces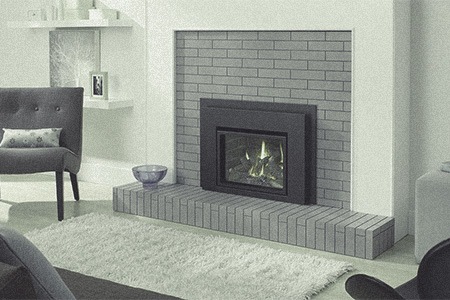 These fireplaces use inserts that can be installed into a readymade fireplace. They can also be customized to fit into any fireplace and are often a cleaner alternative to the traditional wooden fireplaces. You still need a standard height fireplace mantel to protect anything above it and help direct heat out into the room.
Gas Log Fireplaces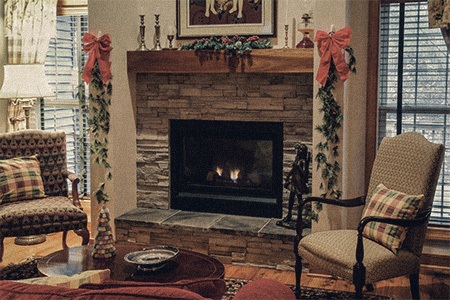 These fireplaces are usually made of ceramic. However, they can be designed to look like different types of wood, thereby offering the ambience and warmth of a fire created with wood.
Direct Vent Gas Burning Fireplaces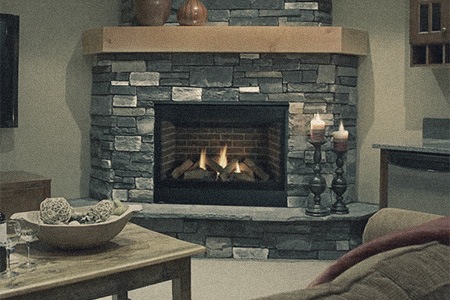 These fireplace types have a vent or chimney built inside, which draws the air from outside and exhausts the smoke and fumes out from the vent.
Features:
Uses natural gas or liquid propane
Has a sealed combustion chamber
Adjustable flame sizes
Easy installation
Extra heat retention
Easy to clean
Low maintenance costs
Controlled heat output
Advantages:
They don't produce large amounts of fumes or smoke
They are easy to maintain and clean
Energy efficient since they use natural gas or propane
These fireplaces don't require an additional chimney
They can fit in all types of rooms, houses and spaces
There is a reduced heat loss from gas fireplaces
Types of Wood Burning Fireplaces
This is perhaps the most common and classic types of fireplaces that you can find anywhere. This fireplace gives you the best of all that a classic fire has to offer.
From a warm atmosphere and sound to the smell of the burning wood, it has everything that people love about a bonfire in the woods.
All you need is a lasting supply of chopped wood for your fireplace and a source to light the fire. You also don't have to depend on electricity or gas to keep yourself warm when you have a wood burning fireplace.
However, these days you can find a number of different types of wood burning fireplaces for your home, some of which are mentioned below.
Traditional Open Hearth Fireplaces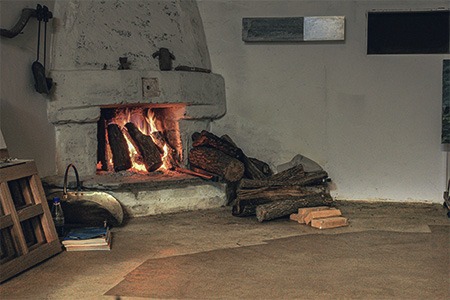 These fireplace optionss have existed for a long time now. Usually made out of brick or stone, they have the most authentic feel of a fireplace.
Fireplace Inserts
These are customized inserts that can fit inside your existing fireplace. Since they are typically enclosed, these inserts help you save on fuel and money by producing less smoke and more heating.
Enclosed Fireplaces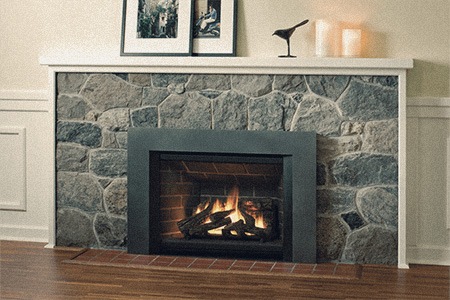 As compared to the open fireplaces, these are enclosed inside a glass panel which gives them a more modern look and design.
Features:
Oldest and most traditional forms of fireplaces
Authentic fireplace experience
Allows more heat into the room
Does not require electricity
Very energy efficient
Simple to use
Advantages:
They are very simple to use
Available in a wide variety of designs, colors, sizes and styles
They can be used even without any electricity
The ambience created by a wood fireplace is incomparable
You can also choose the type of wood you wish to burn
Types of Ethanol Fireplaces
These types of fireplaces have recently become popular due to its easy installation process and a comparatively contemporary design.
Available in different sizes, designs, and budgets, ethanol fireplace options are more environmentally friendly and easy to clean.
These fireplaces are great to install in your room or if you have a smaller and cozy living room. Some of the different types of ethanol fireplaces that you can choose from are mentioned below.
Tabletop Fireplaces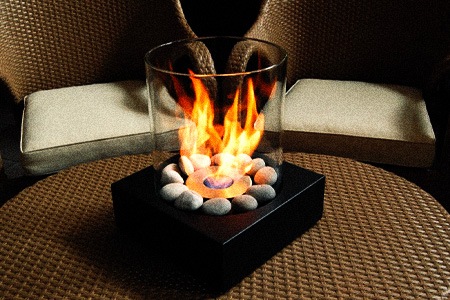 These ethanol fireplace styles are available in a wide range of sizes and can also be customized according to your preferences.
Since they are portable, you can also carry them to different areas in your home. You can also move them from one piece of furniture to the other.
Wall-Mounted Fireplaces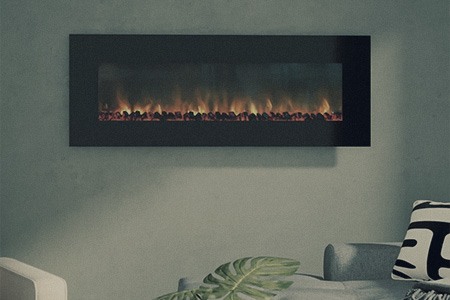 These fireplaces can be hung on any wall of your liking and are great traditional fireplace alternatives for decor in your room.
Features:
Uses liquid bioethanol instead of wood or natural gas
Easily refillable
Adjustable temperatures
Quite lightweight
Available in different budgets
Does not require any gas or electrical lines
Very easy to install
Advantages:
The assembly and installation of this fireplace is very easy
You can also build a customized ethanol fireplace
These fireplaces can be installed anywhere in your home
They are also portable and can be carried around different areas of the house
These fireplaces don't emit any smoke or fumes
They are also very easy to clean
Other Types of Fireplaces
And finally we come to the final two types of fireplaces on the market, which are gel fireplaces and outdoor fireplaces. Outdoor options can be of any of the styles mentioned above, while gel options are their own specific type.
Gel Fireplaces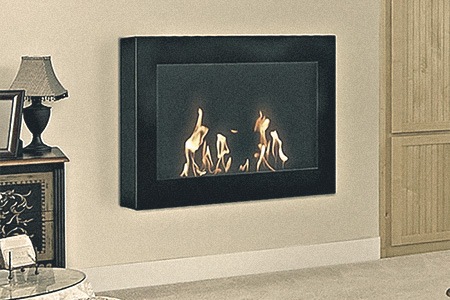 Although much less popular, gel fireplace styles also have their fair share of users. These fireplaces are probably the easiest to install and don't require the use of any venting, pipes, electrical cables and wires.
All you need is a can of gel fuel and your fireplace is ready to be lit up. These different styles of fireplaces are self-contained but have a real flame which adds to the entire experience.
Features:
Easy to install
No venting required
No need of electrical wires or lines
Very lightweight
Can double up as great pieces of decor
Can be refilled easily
Quite eco-friendly
Advantages:
These fireplaces don't leave any smoke or soot as residue
They can also be used to decorate different rooms of your house
They use pre-filled gel fuel cans in place of gas or ethanol
The fire from this fireplace is odorless
You can also clean and maintain these fireplaces easily
Outdoor Fireplaces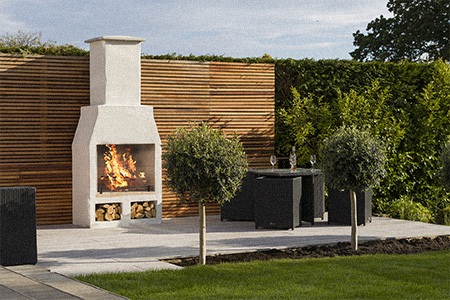 Although these types of fireplaces are quite similar to the ones you have inside your homes, outdoor fireplaces or fire pits (as commonly called) serve a lot of different purposes.
Most people also opt for outdoor fireplace types due to their aesthetic appeal. Furthermore, if you're having a party, an outdoor fireplace is a great place to sit around with your friends and family, cooking together and still enjoying the warmth. Just make sure you know how to bank a fire!
Features:
Made of stone, brick or concrete
Can be customized according to your preferences
Doesn't necessarily require any chimney
Very aesthetic
Advantages:
These fireplaces enhance the beauty of your porch or backyards
These are great to enjoy a classic bonfire with your fire pit tools
Outdoor fireplaces add value to your home
They're also a great place to entertain your guests or enjoy a campfire on a cool night
Types of Fireplaces for Every Home & Decor Style
Fireplaces are an essential element in the design of a home. While there are numerous different types of fireplaces available based on their functions, appearance as well as material, it is crucial to weigh in on all the options you have.
It's also okay to be picky about the fireplace you choose for your home while you decide on the design, budget as well as size of it. However, with the wide array of options available, you're sure to find some types of fireplaces that aren't just perfect for your home, but also warms up your heart.
You'll Also Enjoy: