16 Types of Hammocks That Maximize Relaxation
Let's face it - no beach vacation, lakeside camping trip, or even just your backyard oasis is complete without comfortably swaying in one of the different types of hammocks and dozing off under the sun.
Leisure and relaxation are synonymous with hammocks. The humble hammock actually has quite a rich history, with folks having hung in them since the thirteenth century.
Originating in the Bahamas (which totally makes sense why hammocks means beach time for most of us), hammocks, as with anything that's been around for so long, have been subject to much change and evolution.
16 Types of Hammocks
As a result, hammocks exist in many shapes, forms, sizes and types today. If you've been looking to invest in the right relaxation for yourself, start by knowing the different types of hammocks. Here's a little something to help you with exactly that.
As you go through these, consider what to look for in a hammock. You'll want to consider the size (generally single or double), and whether you're going to carry it while hiking or if it's just for camping. Think about the durability, any accessories you want in the straps, underquilt, netting, a tarp, and if you want bars that keep the fabric spread out rather than bunching up around you.
Poolside Hammocks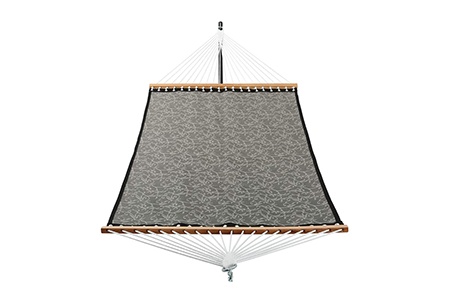 In the many years that they've been around, hammocks have become quite synonymous with water bodies, so it should really come as no surprise that poolside hammocks are a thing.
A hammock by your pool is an excellent spot to catch some glorious sun and work on your tan and should it get too hot, cooling off is only a dive away—two birds with one stone much?
What else defines a poolside hammock apart from its poolside position, you ask? For one, these hammocks are made to be mold and mildew resistant, so you don't have to bother with drying off each time you climb in.
Additionally, with a water body around, the air is going to be damper than normal—poolside hammock styles can withstand this.
Poolside hammocks generally come with spreader bars, so you can get in and out easily and not have to worry about finding the right trees or poles to put it up.
Hammocks with Spreader Bars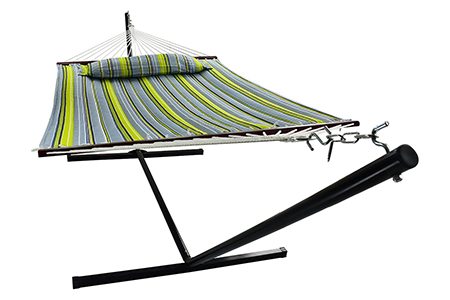 Many types of hammocks will include spreader bars, but making mention of them is important. Instead of all of the fabric tapering off to a bundled end, which causes you to sink deeply into it with fabric wrapping up around your shoulders, the spreader bars keep the fabric flat.
This also tends to help you balance the force you're applying as you climb in and out of the hammock so you aren't flipping over and landing on the ground. For many people, these hammock styles are preferable.
Mayan Hammocks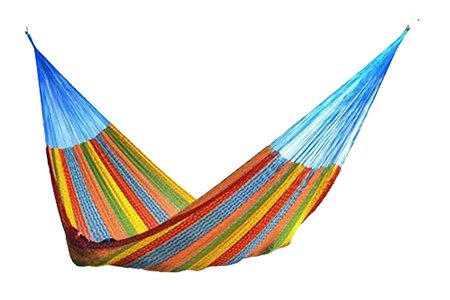 Bright, colorful, magnificent and expensive—that's a Mayan hammock in a nutshell for you. Featuring traditional designs inspired by the Mayan culture, these hammocks carry the strength and sturdiness of these age-old, time-tested patterns.
This also makes these hammock types capable of supporting more weight, despite being lightweight and finely crafted themselves.
Another great thing about Mayan hammocks is that they easily, comfortably and conveniently conform to your body's shape. They're also weather resistant and very portable and despite not using spreader bars, are very user friendly.
Generally, these hammocks are made from cotton or nylon, the former being the more comfortable option. The latter, though, is more resistant to mildew and is much more durable.
The bright colors, the comfort and the strength of these hammocks make them a very popular option among hammock buyers.
Rope Hammocks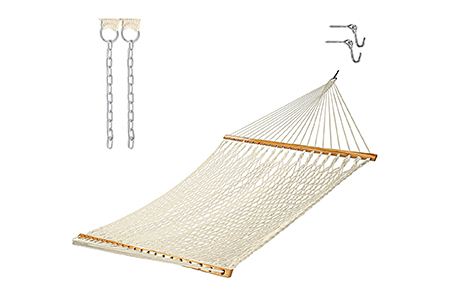 The most common type of hammocks out there, rope hammocks are the first hammocks that come to mind when someone says the word. Extremely popular, these traditional hammocks adorn a majority of the backyards in the country.
Rope hammocks are generally made from cotton or polyester types of rope and can either be hung between trees or used with spreader bars.
Polyester hammock styles are the more popular option since they are more durable, able to withstand higher temperatures and temperature fluctuations and resist mildew and mold. However, cotton is more flexible and fits around your body better.
Camping Hammocks
Hammocks aren't your best friends only when you're in vacation mode—they're also your best friends when you're trying to survive in the wild.
Built to be a combination of efficiency, functionality and comfort, these types of hammocks are compact, super lightweight and easy to carry along, whether in your car or on your back.
These hammocks are easy to set up and are generally set up between trees, with added straps as attachment points. Some hammocks come with in-built stands but may burn a bigger hole in your pocket than the non-stand variants.
Many camping hammocks also come with additional protective features such as walls, roofs, treated mosquito nets and the capacity to accommodate up to 12 members.
Made from durable nylon, you can also use a tarp for rain protection and special pads or quilts if the weather gets too cold.
Nicaraguan Hammocks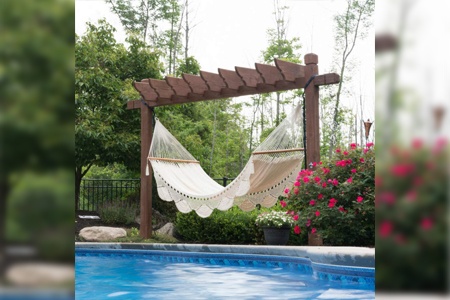 The first thing you'll notice about Nicaraguan hammocks is that they are as soft as a baby's bottom, owing to the extremely soft cotton cords they're spun with and the intricate double weaving that these cords allow.
Nicaraguan hammock types have narrower frames than normal hammocks but there's no compromise on the comfort and are still the most ancient and relaxing of the mattress alternatives.
However, there is some compromise on the durability—the cords can't take prolonged strenuous use and outdoor exposure (unless protected with a cover or hammock sock).
Quilted Hammocks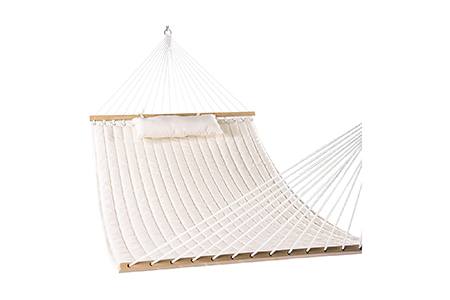 In second place when it comes to the most common hammocks in the world, right behind rope hammocks, are quilted hammocks.
These hammocks are extremely comfortable while also being pleasing to the eye. Though they share many similarities with rope hammocks, quilted hammocks are reversible, unlike their rope-y cousins.
Additionally, they provide whole-body coverage—reading a book is much more comfortable and less 'killing your neck' than on rope hammocks. However, these hammocks don't fare well outdoors.
Quilted hammocks are especially popular among those living in the colder regions, as they're built with two fabric layers. This also adds to the comfort level.
Most quilted hammock styles come with spreader bars and are very user friendly. They're also quite large, allowing entire families to lounge in them at once.
Brazilian Hammocks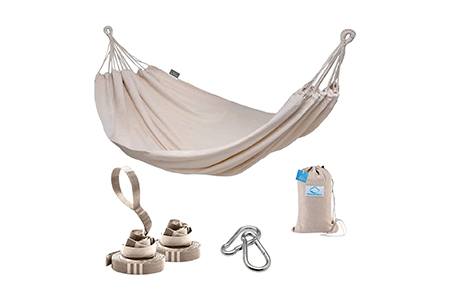 Handwoven, equally great for the indoors and the outdoors and perfect for everyday lounging, the Brazilian types of hammocks are a great addition to any patio—stylish, colorful and comfortable.
Like quilted hammocks, Brazilian hammocks are loved by families around the world. The lack of large gaps in the weave means that children don't get stuck or constantly drop their toys and there's no airflow to deal with either in this solid hammock.
However, the lack of airflow can also be a bit of a dampener, especially if you live in warm, sunny regions, so pull them out only during the cool nights.
Most Brazilian hammocks do not have spreader bars, as these bars take away the natural cocoon-like shape that you're meant to lounge in.
Swing Hammock Chairs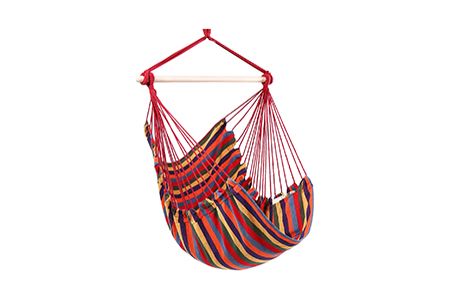 Swing chair hammocks are great space savers and while they're not meant to be slept in, they're a perfect 'reading corner' hammock.
Cushioned and comfortable, these hammock types come with or without stands (you can suspend it from a branch or other structure in the case of the latter).
Swing chairs, as the name suggests, swing. The side to side and front to back swinging is quite relaxing for adults and exciting for the little ones.
Teardrop Hammocks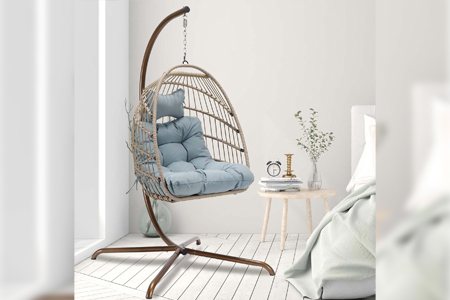 Teardrop hammocks are, perhaps, the most interestingly shaped hammocks. These are suspended by a single rope alone and look like suspended triangular tents.
These hammocks even feature windows and are built using soft, comforting material and thick cushioning.
Though they don't look very strong, these hybrid hammocks are capable of sustaining heavyweights and are also extremely durable.
Reversible Hammocks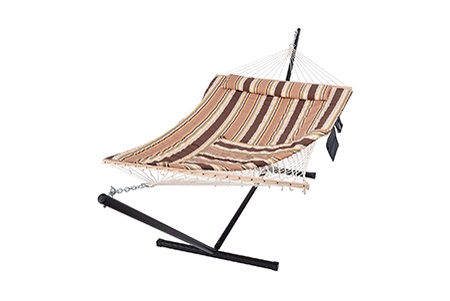 Reversible hammocks can be used on both sides, featuring fun patterns on both faces. Generally, one side features a solid color while the other features interesting patterns or artwork.
This lends these types of hammocks visual/aesthetic versatility. Many reversible hammocks are also waterproof, which enhances their functionality.
Hammocks with Stands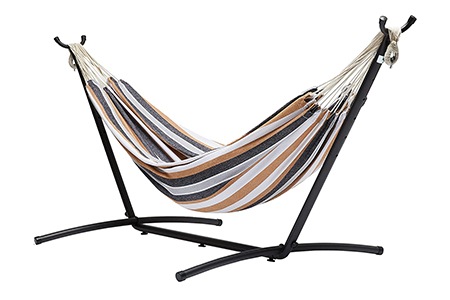 To save you the trouble of finding the perfect trees to suspend your hammock from, some geniuses out there invented hammocks with their own stands.
These are ready to use where they're placed, making them an extremely convenient option.
Portable / Foldable Hammocks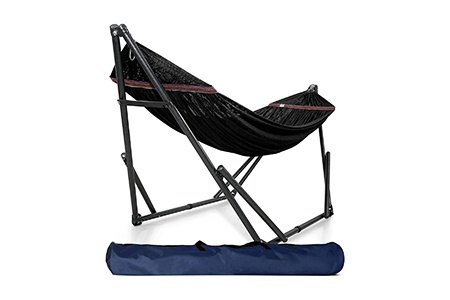 Foldable or portable hammocks are a godsend when it comes to convenience and saving space. These are just as great to be carried along on trips as they are for patios and backyards.
They're all kinds of sturdy, compact, capable of bearing large weights and life savers when you don't want to sleep on the cold, hard ground. Hammocks make the perfect bed alternatives in thees scenarios.
Hammocks with Canopies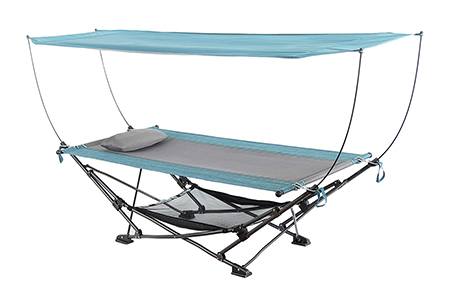 Just because there's a light rain outside doesn't mean you can't and shouldn't enjoy lounging about in your hammock.
Cue entry—hammocks with canopies. These humongous hammocks have their own in-built canopies, perfect for making the best of the cuddle weather.
Tree Hammocks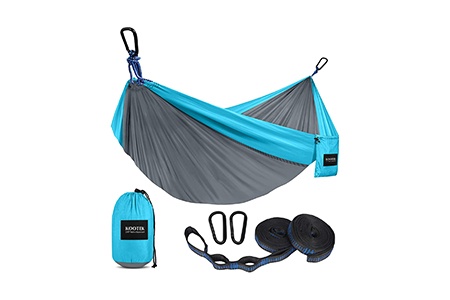 While some hammock styles come with their own stands, some are meant specifically for trees. Ergo, tree hammocks.
Naturally, these are meant only for outdoor usage. Unless, of course, you happen to have two perfectly spaced trees growing inside your house.
Parachute Hammocks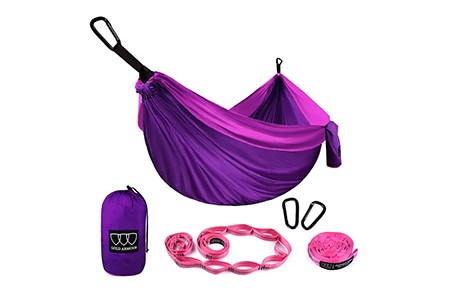 Meant to accommodate at least two people, especially when suspended diagonally, parachute hammocks are longer and wider than other hammocks.
Shaped like a boat, these hammocks are generally used for camping purposes and hence, are quite lightweight too, in addition to being comfortable and spacious.
Types of Hammocks for Any Place & Any Chill Time
As you can see, the hammock-verse is quite a colorful, diverse and well-populated one. Depending on what you're looking for, you can take a pick and will almost always surely find a hammock that perfectly suits your needs.
Take your pick from these different types of hammocks and set yourself up for a leisurely afternoon of swinging and snoozing.
You'll Also Enjoy: