The Standard Size of a Placemat in All Shapes & Sizes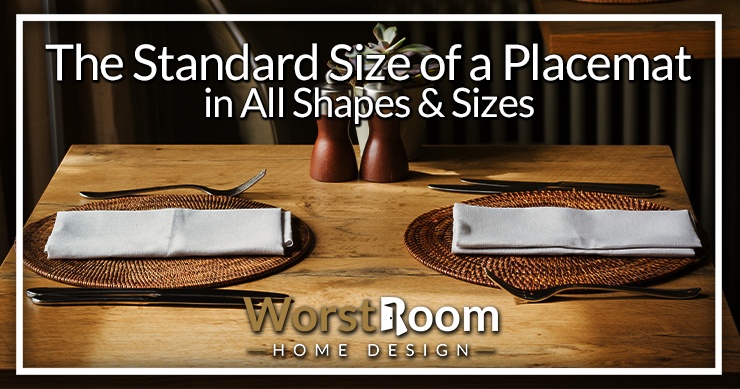 Are you thinking about sewing some placements for your next haberdashery project? Custom, homemade placemats are a great addition to dining decor at your next dinner party. But what is the standard size of a placemat? Is there even such a thing?
Placemats break up and add to the design aesthetic of a full table, protecting glass and wooden surfaces from the damage they might incur from warm plates and steel cutlery.
So, what size placemats are you considering? You have options for large, medium, or small mats and shapes like rectangles, squares, ovals, and circles. We decided to help you out and give you the standard dimensions for placemats in all categories.
Whether you plan on buying placemats or making your own, we have a detailed size guide. We'll also discuss strategies for sewing placemats, what materials to use, and your different style options for your project.
What are the Standard Placemat Sizes?
Placemats come in all shapes and sizes to suit your plates and cutlery while helping you with staging your dining room. Most stores have three sizes on offer, small, medium, and large. Choosing the right placemat for your dining room requires consideration of the size, design, style, and materials on offer.
These factors help you choose the right placemats to match your dining decor. Selecting the right placemats creates an impressive visual aesthetic when setting the table for a dinner party, Thanksgiving, or other holiday dining event.
Your placemat choice also depends on the size of your dining table and how many people it seats. Let's look at each style of placemat and what you can expect from the size curve of each shape.
Rectangular Placemat Dimensions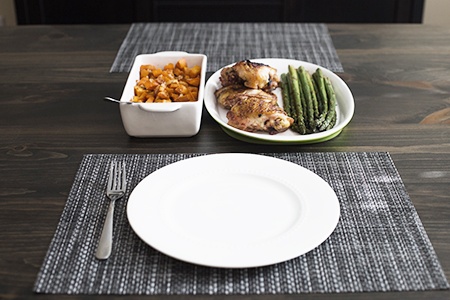 Rectangular placemats are the most popular and common shape for placemats. Chances are you use this shape at home already, and it's what you had in mind for your project. The rectangular design covers more space on the dining table and accommodates space for cutlery on larger mats.
Rectangular placemats are ideal for casual or formal dining events. They're available in a standard size curve from 12 x 14 inches, 12 x 18 inches, or 16 x 20 inches. However, depending on the manufacturing brand, you might find different sizes outside these.
Round Placemat Size Standards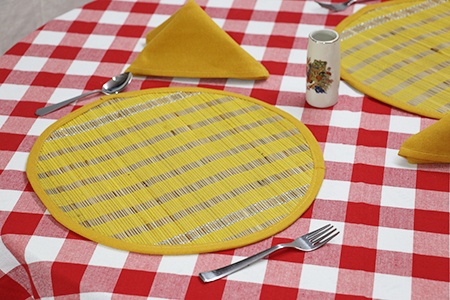 While rectangular placemats are a common choice, going with something different sets a unique dining environment that impresses. A circular placemat is less common but provides a fantastic look for a larger, wider dining table and large plates.
Circular placemats usually only have enough space to host the plates, and you'll position the cutlery off to the sides and top on the bare table or cloth napkins. Circular placemats come in a standard size breaks of between 15 inches to 12 inches, completing the look of any size dining table while complementing any plate size.
When choosing your placemat size, stick to the rule of thumb of leaving four inches between placemats to allow for even silverware spacing and to create a visual break between each place setting. So that means there may not even be a standard size of a placemat since it'll depend on your table size.
Square Standard Placemat Sizes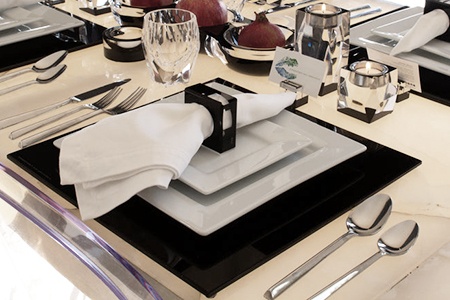 Square placemats are a more eccentric design and choice for your project. They have four equal sides, creating a similar visual aesthetic as round placemats in that they cover more area but add to the uniform look of the dining table.
Larger square placemats also accommodate cutlery placemats, while smaller designs are ideal for smaller dining spaces and tables seating four to six people. Square placemats are great for contemporary, minimalist, and edgy table settings.
The standard size curve for square placemats is 8 x 8 inches, 9 x 9 inches, and 13 x 13 inches. If you're using a 10-inch plate, we recommend going for the larger type to accommodate the cutlery on the sides.
What Are the Placemat Dimensions for Small, Medium, & Large Sizes?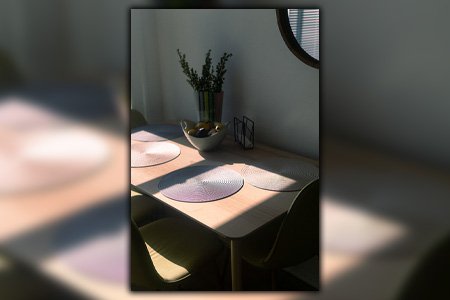 It's not simply a matter of choosing a shape and then all of the dimensions are standardized. Just like there are larger and smaller dinnerware sets, there are various sizes of placemats. Let's look at those now.
Small Placemat Standard Sizes
Small placemats are usually for kids' table settings. The kids typically have smaller plates and don't need as much room as adults. You might find smaller placemats in some restaurants serving food on side plates, such as sushi restaurants.
You have options for rectangular styles at 9 x 12 or 9 x 14 inches. Choose the right placemat to match the size of the table. For instance, if you're using it for a booth or a kids table.
Medium Placemat Standard Sizes
The next step up in the size break is medium placemats. They accommodate bigger but average plate sizes for adults, with measurements of 13 x 19 inches. Medium placemats come in a range of shapes, from squares to circles, rectangles, and even oval designs or cut-corner rectangles.
Oval placemats are a good choice for oval dining tables because they match its design aesthetic. However, they also look good on longer, wider rectangular dining tables. Standard sizes measure 14 x 18 inches.
Large Placemat Standard Sizes
If you're using large dining plates for a posh dinner party, you'll need a bigger placemat to accommodate the plate size and the cutlery. Large rectangular placemats vary between 11 x 14 inches to 18 x 16 inches for charger plates. Charger plates are the types you find in fancy restaurants, usually with an a la carte or Michelin menu. Go with one of these two as your standard size of a placemat.
What Is the Standard Size Placemat for Round Tables?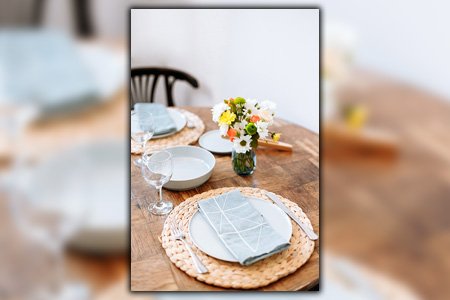 While most dining tables are square or rectangular, you might have a circular one at home. They're less common but still popular. So, you'll need a placemat size to ensure you complement the seating layout. We recommend going with circular placemats or oval designs to offset or complement the table's visual aesthetic.
The placemat size depends on how many people you intend to seat and the plate size. For standard plates and medium-sized tables sitting four to six people, we recommend going with a circular placemat with a 19-inch diameter. If you have a larger table and you're using charger plates, you might want to go up to a 24-inch diameter.
DIY Sewing Projects – Is It Hard to Sew Fabric Placemats?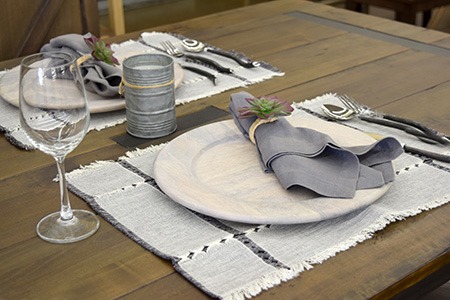 Sewing placemats for your DIY project isn't too challenging if you have experience working with fabrics and sewing equipment. However, there are different styles of fabric placemats, and some are more difficult to finish than others. For instance, a quilted placemat is no easy feat to put together. Fortunately, we'll give you some tips on how to make it work towards the end of this post.
You'll find plenty of good tutorials for placemat manufacturing on sites like YouTube at no cost. So, take the time to review a few before starting your project. The most challenging shapes to make are rectangular and oval designs, and you'll have to be careful not to pull in the edges while sewing to avoid creating a lop-sided profile.
Mis-shaped placemats stand out like a sore thumb on the dining table, and your dinner guests will immediately notice your mistake in your placemat dimensions. While most people are polite enough not to mention your error, it's slightly embarrassing when you set the table and see the difference it makes to the overall design aesthetic.
What are Quilted Placemats?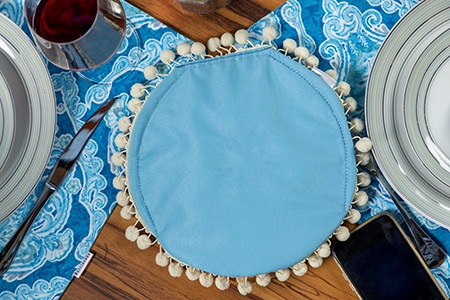 Quilted placemats are great for adding extra table protection from a hot plate. This style is more challenging to make than your standard placemat due to the quilting required to "puff" the plate area.
Quilted designs don't suit modern, contemporary dining table placemats. We recommend going with them for traditional and antique dining experiences and furnishings. The quilted placemat is thicker, giving the table more insulation against a hot plate, and they're usually available in rectangular or oval shapes.
Most quilted placemats feature a standard size of 13 x 19 inches. However, you can adjust the size as you see fit for your project. Just remember that the quilting process adds more time to manufacturing each placemat, and you can expect that to extend your project time.
Check online for a quilted placemat tutorial. If you have no experience with quilting, you'll need some help with this one, even if you're a seasoned sewer.
What are the Material Choices for Fabric Placemats?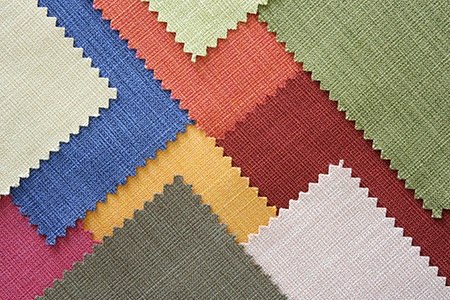 You want a material that's easy to work with, stain-resistant, and washable. We recommend going for materials that make it easy to get your edge going, or you'll end up going skew when sewing. Choose a pattern and color complementing the decor of the dining room and your table design.
It's a good idea to buy two sets of fabric. Chances are your second attempt at sewing a placemat produces far better results than your first experience with making them. Or you could get more material and make sets of different placemats or designs for other occasions during the year.
For instance, nothing stops you from making a placemat design featuring fabric that celebrates Thanksgiving, Christmas, or summer dinner parties. It depends on how far you want to go with it and the time you have to dedicate to the project.
How Much Fabric Do I Need for Large Placemats?
You'll need at least a yard and a half of material to make a set of four large fabric placemats. Typically, you'll find this is enough material to cover the manufacturing needs of a 14 x 20-inch placemat.
Scale it up to three yards if you want eight placemats. You'll need to account for both the binding and the placemat backing in your project. It's always worth making a couple extra as backups in your set if one gets ruined beyond repair. You already know someone is going to knock over some slim, unstable type of wine glass eventually.
Understanding the Standard Size of a Placemat
The key thing to realize is there is no single size or shape of a placemat and therefore no singular standard size of a placemat. But for each shape category and then size (usually small, medium, and large) you will find standard dimensions which you can then plan the rest of your dinner table setting with.
You'll Also Enjoy: