16 Types of Dining Chairs to Perfectly Enhance Your Decor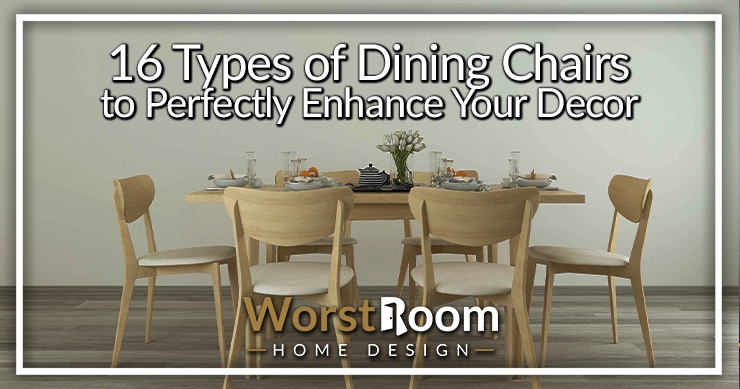 A beautiful dining room with the right types of dining chairs can always make the home feel special. To make your dining room a well-decorated space, you will need some fine quality and beautiful dining chairs to match the rest of the decor.
When you are looking for these, it can get difficult to choose the ones that are compatible with your dining room table and other elements in the room.
You'll need to go through a list of different dining chair styles and study all their features in order to find the best one. Luckily, you have us for this job, and we're better organized than the rest.
We've compiled all the different kinds of dining chairs in this guide that can help you pick the one that suits your needs.
16 Types of Dining Chairs
Dining chairs can be categorized into different types based on their styles, frame materials, and seat materials. Here's a complete description of the different types of dining chairs according to style, frame, and seat material.
Types of Dining Chairs by Design
When trying to narrow down what you want your dining room chairs to be like, you should start by choosing the number you need and of which design type you want. For instance, I recently purchased 6 side chairs and then 2 parsons chairs for the heads of the table.
Armchairs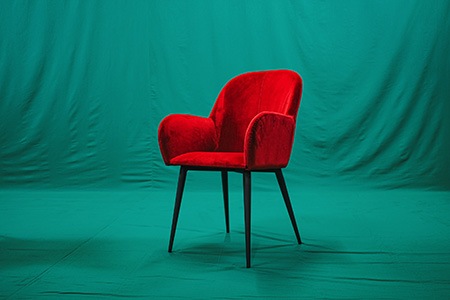 As the name suggests, this type of dining chair comes with armrests. If you want the most comfortable variety of dining chairs, armchairs are the best.
The presence of additional armrests makes the chair very comfortable for regular use. With an armchair, you don't have to lean forward to place your elbows over the dining table.
You can simply rest your arms on the armrests and sit comfortably. Although they are on the pricier side, you can't get anything better than this for your dining room.
Side Chairs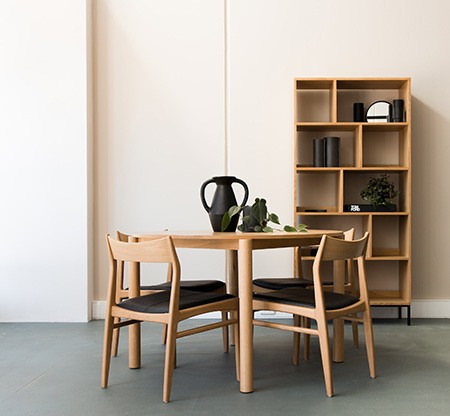 The most common chairs in almost every dining room are the side chairs. They are called side chairs since they are usually placed along the sides of a dining table.
These chairs come without any arms and can be tucked under the tables when they are not being used. Side chairs can be very convenient for easy movement since they lack arms.
Although it becomes difficult to rest your arms anywhere, they are still very flexible dining room chair styles to keep in your dining room for general seating.
Parsons Chairs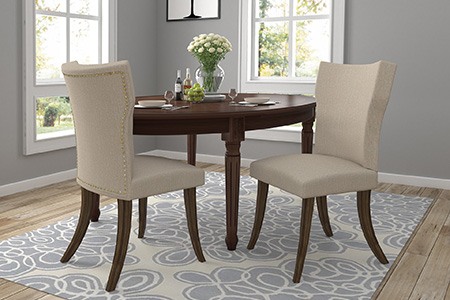 Parsons chairs are some of the most popular chairs right now because of how they fit easily with different interior designs. If you love minimal home designs, parsons chairs will look best in your dining rooms.
These chairs have a straight back and do not have any armrests. Back in the day, parsons chairs came with slipcovers. However, today such slipcovers are rarely seen in parsons chairs.
You can also find wingback chairs that are essentially parsons chairs with fins on the sides around the shoulders to the seat. These chairs were created by the students at Parson's School of Design in Paris in the 1930's and are still making the waves today.
Folding Chairs
While you may be imagining cheaper looking plastic or aluminum chairs, folding chairs come in all shapes and sizes. You can find slat back, wooden chairs with upholstered seats that fold up and you'd never know the difference at first glance.
These types of dining room chairs are really best for families who host dinners but only occasionally. Maybe two or three time a year they'll fetch these nice folding chairs out of the storage closet to set up for additional guests. Then they go right back in the closet.
Please don't think you can't find nice looking folding styles of dining chairs. You absolutely can and they're stable and legitimate, especially if you want to get them out of the way later.
Types of Dining Chairs by Seat Material
The next question in narrowing down your decision regarding dining chair styles is what types of upholstery fabric do you want to use for the seat cushions, if any at all? Here's your main options, though you can view the linked article for more fabric options if you go that route.
Leather Chairs
Leather-seated dining chairs are probably the most luxurious chairs that you can get for your home. If you're looking for durable and magnificent dining chairs, pick the ones with leather seats.
They not only enhance the beauty of your dining room, but they last pretty long as well. You can pick different kinds of leather according to color and finish for your dining chairs.
Upholstered Chairs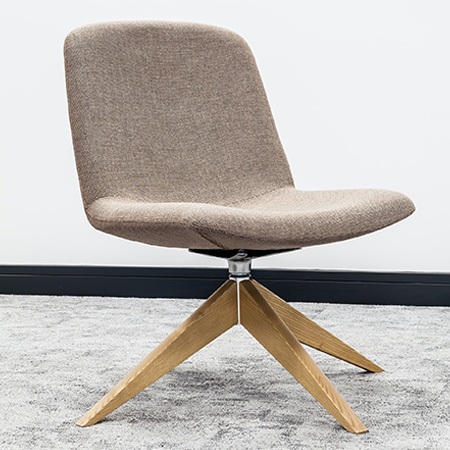 If comfort and high quality are your top priorities, we recommend going for the upholstered dining chairs. Although upholstered dining chairs require frequent cleaning and maintenance, they're still worth it.
They add a lot of glamor and luxury to the dining room and look very festive. Linen, faux leather, and velvet are some of the common fabrics that are used to upholster dining chairs. You can choose to go with solid fabrics, or you could pick embellished or patterned ones for your dining chairs.
Metal Chairs
You might think that types of dining chairs with metal seats won't be very comfortable, but it's not true in all cases. Metal seats that are completely flat can be very uncomfortable to sit on.
However, you can see many dining chairs with metal seats created in such shapes that allow easy and comfortable seating.
The shape makes these chairs very comfortable to relax in, and you won't feel that you're actually sitting on metal. You can choose the finish and color of the metal seats according to your chair or dining room decor.
Plastic Chairs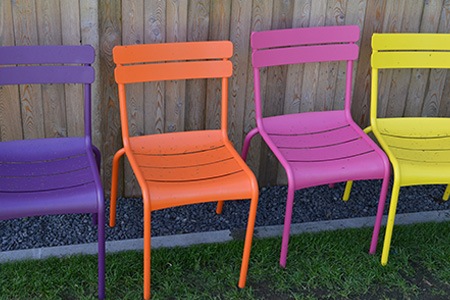 If you're worried about food spillage, plastic seats are probably the best options for dining chairs. This is applicable for families with lots of children who love making a mess when they eat. With plastic seats, you won't have to worry about frequent cleanup.
Just like metal chairs, these chairs are also molded in a shape to support comfortable seating. If you want your dining chair to last long, pick a high-quality and preferably thick plastic-type. With the right kind of plastic, your chairs will last you years.
Wood Chairs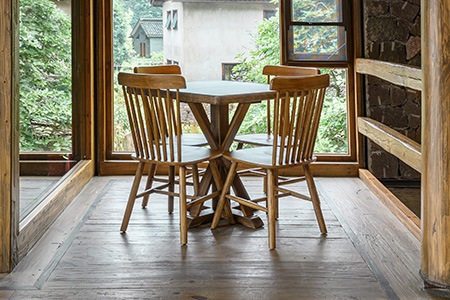 Most dining chairs with wooden frames come with wooden seats as well. You might think that wooden chairs would be very hard and might cause inconvenience to sit down. However, it's not true.
The right kind of wooden dining chair is molded in such a shape that it can help you sit in a relaxed manner. If you still think that you can't handle wooden seats for a long time, a good hack would be to use soft seat cushions over them.
Types of Dining Chairs by Frame Material
And of course, you need to choose what the frame of your new dining chairs will be like. There's really only three appropriate options for a dining room table, even though more exist.
But you wouldn't have your guests sit on plastic chairs, bean bags, or other whacky types of chairs, you know. Not at dinner time! Not at this house!
Wicker Chairs
If you're looking for quality and style in your dining chairs, wicker frames are the best option. Wicker frames are very lightweight and have a solid design.
These frames are very popular among outdoor seating spaces since they add a lot of balance to the dining space. You can also opt for wicker framed chairs if you have patio seating areas in your home.
Wood Chairs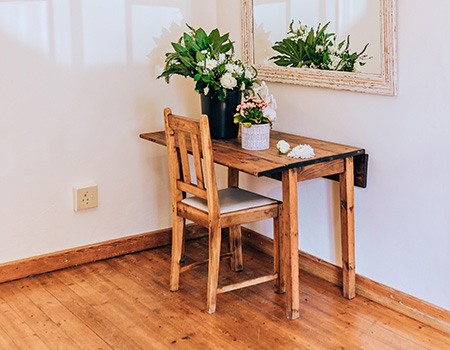 Wood frames are very versatile, which is why they are the commonest material used in dining chairs. They are tough and long-lasting, which is why people love investing in them.
Also, wood-framed chairs look very good with different seating spaces. If you want something durable and smart for your dining room, wooden frames are the best option.
Metal Chairs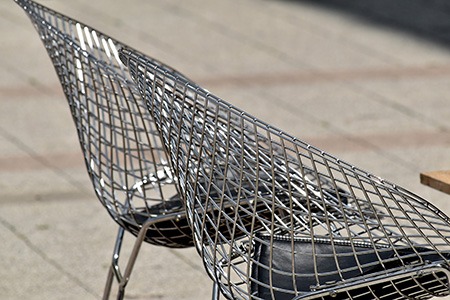 Another frame material quite popular right now is metal. With metal framed dining chairs, you can expect your dining space to look very fashionable and modish.
Metal frames are usually pretty sleek and glossy, which is why they enhance the beauty of the dining space.
Dining Chair Styles
When you're done with the above you need to order the styles of dining chairs that match the general decor of your dining room. It will vastly effect the results when staging the dining room, so make sure it all works together.
Traditional Chairs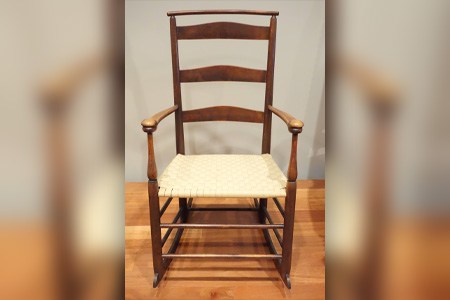 When we're talking about style, the first types of dining chairs that comes to mind is a traditional one. Traditional chairs are quite popular right now because of how minimal and chic they look.
These chairs are pretty simple with smart upholstery and elegant designs. You can pick traditional dining chairs for your home if you want something stylish and refined.
A typical traditional dining chair style is the shaker chair, which has a tall back with horizontal slats running between the two posts that form the back legs and the frame of the back rest. If you're going for a country decor or even a rustic look, shaker chairs work great in that setting.
If you want to get real fancy you can shop for Queen Anne chairs, French Country chairs, Ladder Back chairs, Bow Back chairs, Windsor chairs, Sheaf Back chairs, Press Back chairs, and more. The options are endless in the traditional styles of dining chairs and you can tend to find them with nearly any furniture leg styles to match the decor aesthetic you're aiming for..
Contemporary Chairs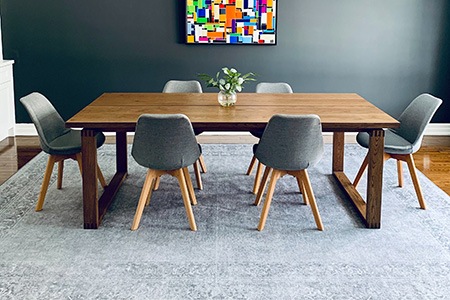 Contemporary chairs are some of the best-looking types of dining room chairs in the market right now. They usually come with a lot of curves that make them look very sophisticated.
You can find velvet and faux leather seats with these chairs that enhance the beauty of the dining rooms. These chairs are quite sleek and look very smart in any dining room. Look at these other contemporary chairs throughout history to see how avant gaurde they are.
Among the contemporary dining chair styles is the wishbone chair, which features a low back support that is supported by four posts, two of which are in the shape of a wishbone. Despite their frail appearance they're strong if designed well.
Modern Chairs
Modern dining chairs can cover a lot of different chair styles. Usually, modern dining chairs focus on style and comfort. These chairs bear smart seat materials and come in very unique colors.
Unlike the traditional ones that only come in a handful of colors, modern dining chairs are open to all sorts of color options – mustard, teal blue, burgundy, and so on. If you want something unique for your dining room, we recommend picking modern dining chairs.
Among the modern dining room chair styles are the slat back chair, where the tall back is comprised of five or more long, vertical slats. They're usually cupped in a concave fashion while bowed out in a convex way to match the curvature of your back as you're leaned back in the chair.
Rustic Chairs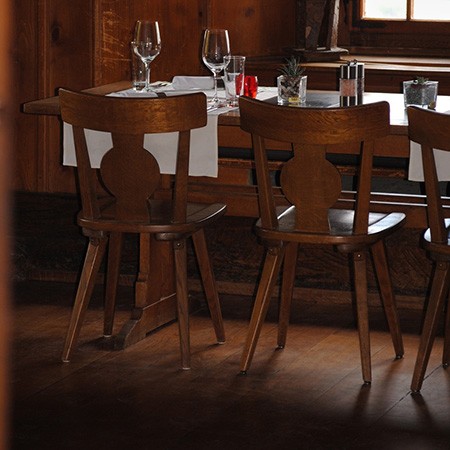 As the name suggests, rustic dining chairs refer to chairs that have a homely and plain style. These chairs are usually devoid of any curves or sleekness, built with all the traditional chair parts, but all straight.
You can find farm and cabin styles in these kinds of dining chairs that make you think of a warm home in the countryside. If you want something extraordinary in your dining room, rustic dining chairs are perfect options.
These chairs also come in very plain and neutral colors, so you can incorporate them in any kind of interior design. You can even go for a coastal chair style using wicker chairs if you want a casual "cabin" feel but live closer to the ocean.
Types of Dining Chairs for Every Dining Room & Table
Bringing it to an end, it can be said that finding a good dining chair for your home is not an easy task. You need to have a clear idea about different types of dining chairs before making a decision about the chair you're going to pick. We hope our discussion on the various kinds of dining chairs was of much assistance to you.
You'll Also Enjoy: