9 Types of Air Fryers to Revolutionize Your Kitchen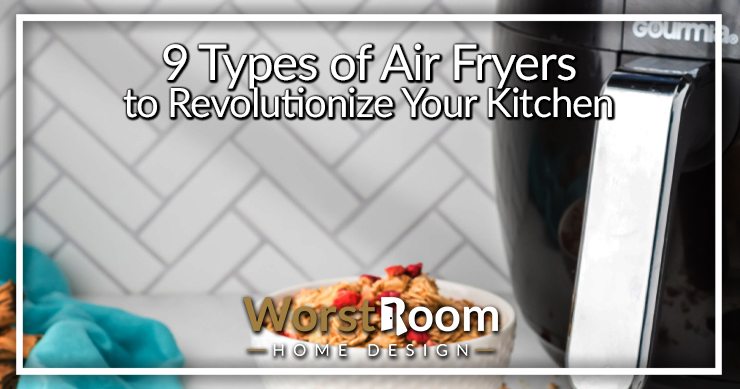 Any types of air fryers, if used in the right way, can absolutely provide you with excellent results. But it's not always just about the results, but the time and effort that goes into getting them. You don't want to have to spend a ton of time in preparation and then cleaning.
Obviously you're here because you're planning on picking up one of the modern wonders of the kitchen, a way to eat the same delicious foods with less oil. My brother uses his to reheat food instead of the microwave. They're taking over and everyone should have one.
But the question is which type do you want and need? What are the features that some have that others lack and are they important to you? We'll cover all of that and more below.
9 Types of Air Fryers
There are several different types of air fryers on the market, and each one has its own strengths. We'll cover them all now so you can make an informed decision.
Cylinder Air Fryer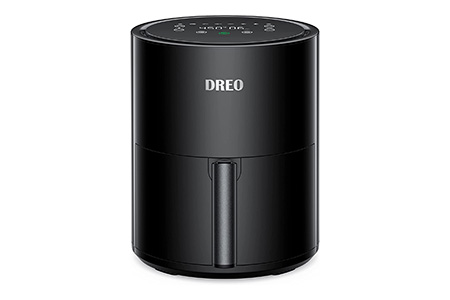 Two interchangeable baskets make up this cylindrical kind of air fryer. It heats the meal from the beginning to the end by circulating hot air through a fan. Within two minutes, cylindrical air fryers reach a suitable temperature for heating food.
Basically, because of their small size, these air fryers don't heat the kitchen up as much as a conventional oven does. Instead, cylindrical fryers are compact and take up a little counter area, keeping the kitchen relatively cool.
This type of air fryer is mostly suitable for a single person because of its three quarts size. Well, that's why it's not that desirable amongst the cooks. Regardless, you can always cook in batches if you want to serve more people.
Cylindrical air fryer types make 65 decibels of noise, which is the same as a vacuum cleaner, and this is nearly infinitely more noisier than a convection oven. While they don't take long to cook, nobody really wants to hear this sound for too long.
Oven Air Fryer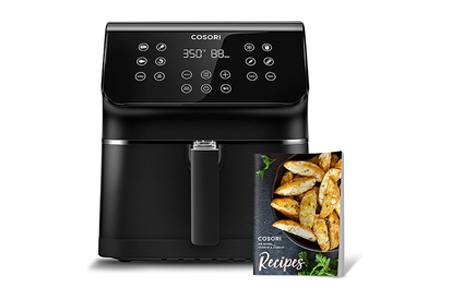 The heating method of oven air fryers is similar to cylindrical fryers. However, this type of air fryer comes with racks to place a baking tray and a crisper, which is absent in cylindrical ones.
With these air fryers, pre-heating takes a longer time than cylindrical. Notably, whenever it reaches the pre-heat temperature, the whole kitchen will heat up eventually like a standard types of ovens do, so it's best to go ahead and use it and turn it back off once done.
Oven air fryers can hold 25 quarts of food (depending on the type of food) for cooking large batches at once, thanks to their 1800-watt power. The kitchen oven air fryer offers a handful of functions, making it a versatile appliance that allows cooking, baking, grilling, roasting, broiling, and toast.
The oven air fryer resembles an oven toaster, and that's why the user can see what's happening inside the unit through its glass door. This type of air fryer integrates an adjustable thermostat, a sixty-minute timer setting, and auto shut-off.
Unlike cylindrical types of air fryers, oven air fryers don't make any noise while heating up meals. Oven air fryers are known for their convenience, as the parts can be tossed into the dishwasher. And if you care about looks, just know that these have a great aesthetic on your kitchen countertop.
Basket Air Fryer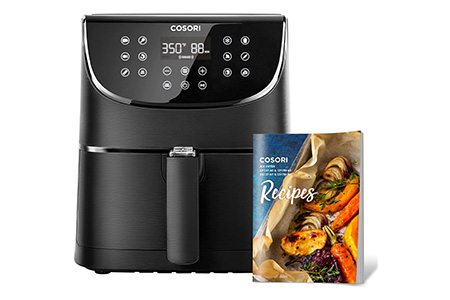 Basket air fryers come in a variety of forms, including square, cylindrical, and spherical. Each basket fryer, however, has a retractable basket to keep the food within. When people think of air fryers these tend to be what they picture in their head.
This basket is surrounded by holes to allow hot air to flow around the food from the appliance's top. That way, it cooks evenly in the basket. Meanwhile, every basket conveniently can have a handle attached for tossing the food during cooking and then dropping the basket right back in.
The basket air fryer takes a little space on the kitchen countertop and takes a few minutes to heat up. And it doesn't scorch the kitchen as well unlike other different air fryers.
You won't be able to see into them as your food is cooking but its not a big deal any more than using an Instant Pot or rice cooker thanks to the timer. Whether cooking chicken strips, any types of fries, or reheating food, these air fryers are awesome.
Halogen Air Fryer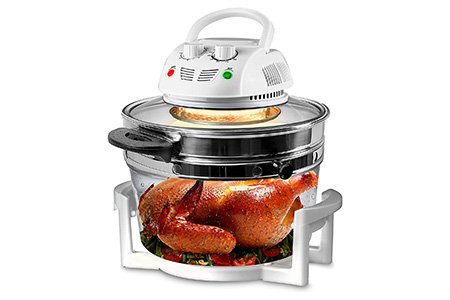 The halogen air fryer utilizes a unique way of producing heat by using halogen light and then circulating the heat around the food. The heating mechanism is placed on top of this air fryer.
This sort of air fryer heats up and prepares meals pretty quickly. And retains the kitchen at a comfortable temperature, making it one of the best oven alternatives. You can cook even faster and more evenly if you'll toss the food halfway through (but don't do it inside the fryer, take the basket out first).
It has glass materials for ease of monitoring while the food is cooking. It's no small appliance as it can hold an entire turkey in it, so it's definitely sufficient enough for cooking large batches of food. However, you must toss the food manually because it does not have the option of shaking the meals.
Paddle Air Fryer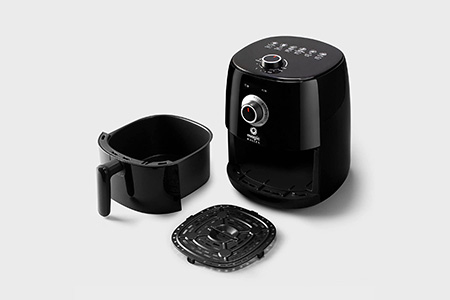 Paddle air fryers are similar in appearance to basket air fryers, with a removable basket. The paddle types of air fryers have another feature that basket models cannot: it is self-stirring.
The paddle versions include a detachable and spinning paddle in the middle of the basket. Here, the paddle will automatically rotate every few minutes to ensure that the food cooks evenly, no matter what shape or size you cut it into.
The Paddle Air Fryer is expensive, but it's also the fastest-cooking one. And as we all know, "time is money" and even more so, saving time cooking means spending more time withy our family or guests, and of course happier stomachs.
Meanwhile, it allows removing the paddle to give more cooking space. With the paddle air fryer, you get the opportunity to cook different types of meals like curries, frozen food, fires, risottos, mixed vegetables, etc.
Pressure Cooker Air Fryer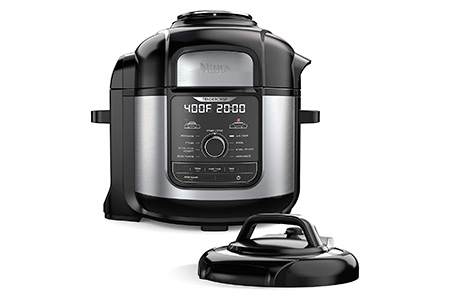 A pressure cooker air fryer can quickly add a crunchy golden look to your treats. However, this appliance is unable to produce crispy dishes.
They belong to the expensive zone. But these air fryer types are worth it, as some of the models of this type of air fryer offer several functions like rice cooker, bake, air fry, slow cook, roast, etc. Learning to use air fryers correctly will maximize your enjoyment and reduce your cleaning time.
It cooks things quickly, saving time on busy nights when you need dinner on the table fast. The pressure cooker air fryer can also cook large amounts of food at once, so it's perfect for cooking for a crowd.
Microwave Air Fryer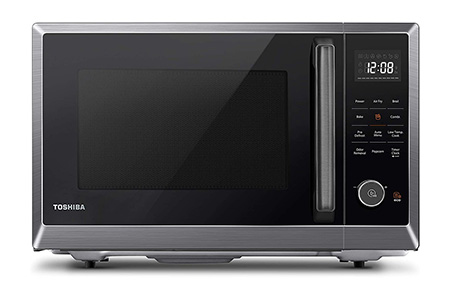 A microwave air fryer is a combo appliance that can be used as both an oven and an air fryer, as well as a convection oven. And this combination helps to cook the foods by using less oil.
This appliance comes with ECO mode and LED light along with energy-saving technology. Plus, there're some advantageous features like fast cooking, safety clock, mute function, timer, etc. Of all the different air fryers, these are going to feel the most familiar, too.
A microwave air fryer can be used for reheating and cooking food. It doesn't require much counter space and is excellent for cooking items for a small group of people.
Oil-Less Deep Fryer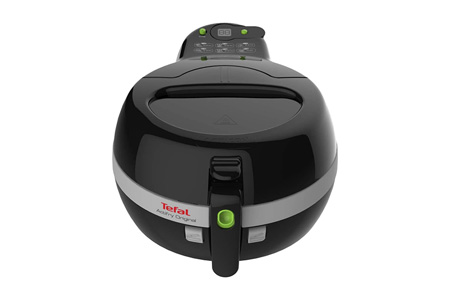 This kitchenware uses infrared technology to cook meals that provide a moist inside yet crisp outside taste. To top it off, it doesn't require oil for deep frying. Instead, it uses hot air to heat foods like turkey or chicken.
It can take a 16 lbs. piece of meat in it and has the ability to heat up pretty fast. And operating oil-less types of air fryers is pretty simple, making it suitable to use outdoor. Most oil-less deep fryers come with a drip tray, lid, basket, lifter, thermometers, and rotary ignition.
Air Fryer Lids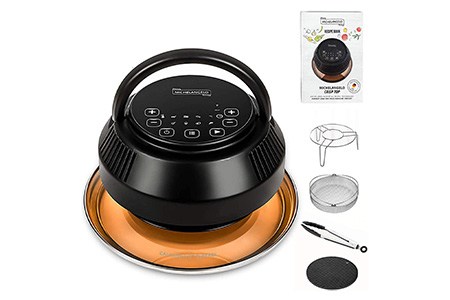 An air fryer lid is a new kitchenware that has quickly become one of the most sought-after products in the kitchen. This is due to its ability to convert an Instant Pot or pressure cooker into an air fryer.
Air fryer lids can bake, reheat, dehydrate foods, and roast. Most importantly, it can do deep-frying without using much oil. Some models even come with overheat protection which is peace of mind. Also, it doesn't require big kitchen space and is quite budget-friendly.
Types of Air Fryers for More Efficient Cooking
Whichever you choose to buy, air fryers have the potential to add both the delicious taste and texture of fried food to any meal. And that in and of itself is a very commendable thing.
We hope this article clarifies any confusion you might have had about the different types of air fryers. It doesn't hurt to do a little research ahead of time. Not only will you be able to figure out better which features are suitable for you and your kitchen, but some analysis may also help sway your choice in favor of a particular model.
You'll Also Enjoy: