14 Types of Refrigerators Right for Your Family's Needs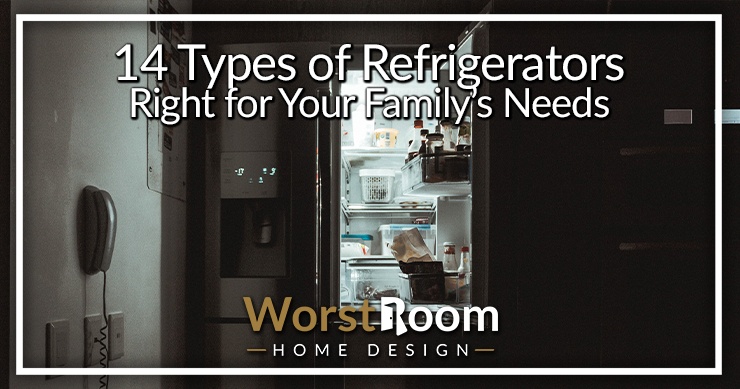 Fed up with your old and basic types of refrigerators not working properly? Want to get something new and nice, but you don't want to get caught up in the unnecessary fancy features that aren't worth the money.
There are several different types of refrigerators available in the market, but each refrigerator has its own set of pros and cons, and one refrigerator won't fit everyone's needs or even their budget.
Therefore, we have written out a thorough article on all kinds of refrigerators to help you out.
14 Types of Refrigerators
We all have different needs so each of us need a refrigerator with a different set of features. Fortunately, there are numerous types of refrigerators that we have listed below, and each of them cater to a different crowd.
Bottom Freezer Refrigerator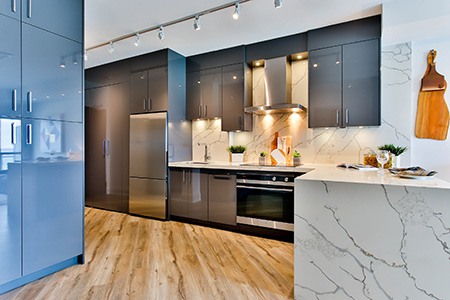 Lately, the bottom freezer refrigerator has been getting a lot of positive attention, and I can assure you that this hype is well-deserved as I have one now. This type of refrigerator serves the purpose of both a freezer and a refrigerator very well, with a decent amount of space for storing your necessities.
The key feature of this refrigerator is that the freezer is at the bottom, and the fridge section is at the top. This is generally an advantage since people usually open the fridge section more than the freezer.
So, when the fridge section is at your eye level, you will have to bend down less to grab what you want to eat. Sometimes the freezer will be split with two doors, making it a four door refrigerator, though this isn't that common.
Depending on the manufacturer, usually, bottom freezer refrigerators come with many drawers which can be easily adjusted. These adjustable drawers are also in different sizes, so you can organize your groceries in no time.
Having an organized refrigerator also means that you do not have to search through a messy space for a long time to get what you need; thus, you will have easy access to your food. These fridge types help with that task.
Built-In Refrigerator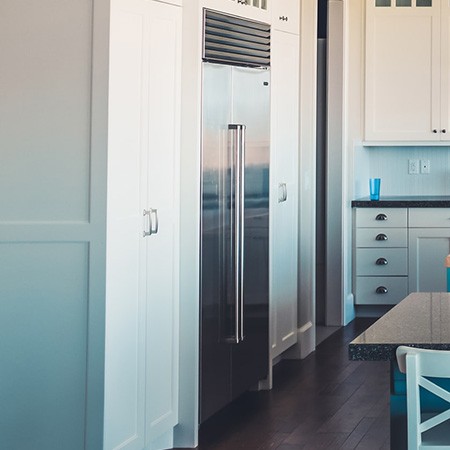 These built-in refrigerators are definitely towards the fancy end of the refrigerator types more so than your freestanding types of refrigerators which most of us are accustomed to.
If you have seen one of these refrigerators before, you probably know that they look very aesthetically pleasing, and when fitted properly and matched with the theme of the kitchen, they can look very seamless and sophisticated.
Along with the sleek design, built-in refrigerators are usually very spacious and have a lot of different drawers, so you can compartmentalize your refrigerator with ease, therefore you can get easy access to your groceries.
In built-in refrigerators, the freezer is usually at the bottom, which is why you will be receiving the same advantages as you would with a bottom freezer refrigerator.
There are no visible handles or hinges on this type of refrigerator. You have to open it using its hidden door handles. Additionally, the hidden door hinges of the refrigerator also make it look much more premium than most of the refrigerators in the market.
When you are getting your built-in styles of refrigerators installed, make sure to talk to an interior designer to take precise measurements of its dimension to ensure that it fits in the place perfectly. Also, make sure that you leave a bit of space for some airflow.
If you are planning to buy built-in types of fridges, you must know that because of its premium look and features, it is usually quite expensive. But think of how amazing it'll look when matched with whatever types of ovens you have built-in as well.
Top Freezer Refrigerator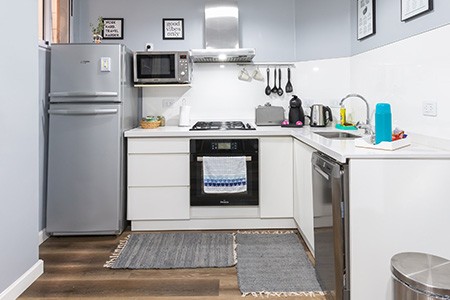 You have most likely seen a top freezer refrigerator in your life and may have even owned one of these fridge styles before. This type of refrigerator is the most common refrigerator out there, and it is because it is overall a good package.
As you can tell from its name, the freezer on this refrigerator is at the top, and the fridge section is at the bottom. This is usually not an issue at all unless you are someone who is constantly opening their refrigerator to look for something.
Refrigerators of this design have been around for a while now, and the design that they have is quite simple. So, if you just want something very simple and will get the job done, the top freezer fridge types are a great pick.
However, do not mistake simple for being poor-quality; there are many top freezer refrigerator models in the market which are made of very high-quality materials. If you want to buy something very classy, this refrigerator won't probably fit your standards, but they aren't always ugly to look at.
One of the biggest reasons why top freezer types of refrigerators are this popular is because of their very reasonable price tag, which makes it easier for everyone to purchase them.
Freezerless Refrigerator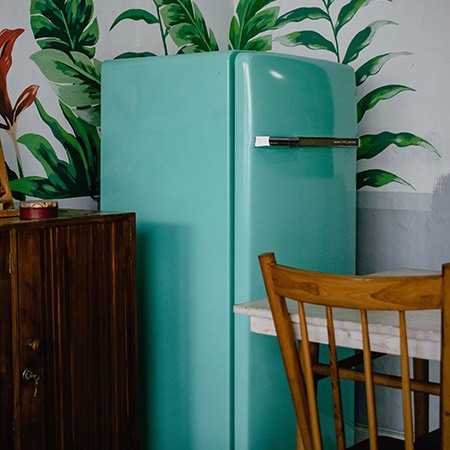 Without spending too much time on it, it should be mentioned that you can get a standard size refrigerator without the freezer compartment, so that you have even more storage capacity for food and drinks.
This is as good of a place as any to mention that you can get the same configuration but in reverse, where the entire standard size fridge is actually entirely a freezer. But this article isn't about freezers, so moving on!
Side by Side Refrigerator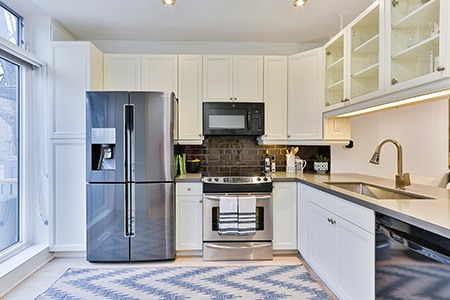 This type of refrigerator is getting more and more common these days. As the name suggests, the fridge section and the freezer in this refrigerator are side by side.
There are two doors; on one side, you can store your regular items in the fridge, and on the other, you can store all your frozen goods.
The primary advantage of having a refrigerator with this design is that you get easy access to both the freezer and the fridge section. These styles of refrigerators are best for people who store roughly about the same amount of food in both sections of the refrigerator since they are equally spaced.
However, most people store more stuff in the fridge section, so this might be an issue for some of you. Furthermore, since the two sections are side by side in these types of fridges, both of them are quite narrow.
This means that making space for larger items gets quite difficult, and in some cases, it is impossible to store them. That goes for vertically too since more shelves are crammed in there to make up for lack of horizontal space.
Side by side refrigerators are more commonly seen in modernized households, so they are usually packed with a bunch of innovative features; therefore, these refrigerators will also cost you much more than an average refrigerator.
French Door Refrigerator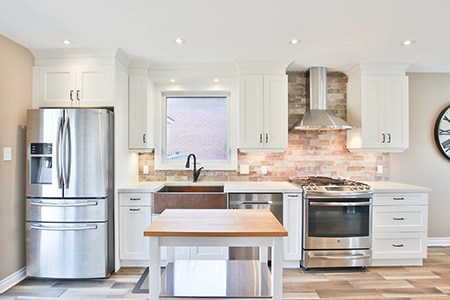 Need a lot of space in your refrigerator? Then, this one is an excellent option for you. The design of this refrigerator is a combination of side by side refrigerators and bottom freezer refrigerators.
There are two doors on these types of refrigerators, but unlike side by side, both doors open to one large fridge section.
The freezer is at the bottom level and is also very spacious. However, the freezer of French door refrigerators is sometimes just one large compartment, so it can be difficult to access certain items that are below the stack.
Although French door refrigerators look very modern and have very cutting-edge technology features, they have been around since the 1990s. There are numerous big humidity drawers in this refrigerator which are very effective in keeping the freshness of your food.
You will find many adjustable drawers and shelves inside the refrigerator, which make organizing and accessing everything very simple and hassle-free.
In addition to the functionalities of the French door refrigerator, it is also very sleek looking and fits in very well with the modern-styled kitchen.
Lastly, the settings and configurations of this refrigerator are very flexible, so you can adjust it to your needs.
Along with all the great features of the French door refrigerator, there also comes a very high price tag. So, if you are on a tight budget, then you will have to skip on this one. But if you can afford it, make sure the colors, whether white, black, stainless steel, or whatever matches your sink and types of kitchen faucets.
Mini Fridge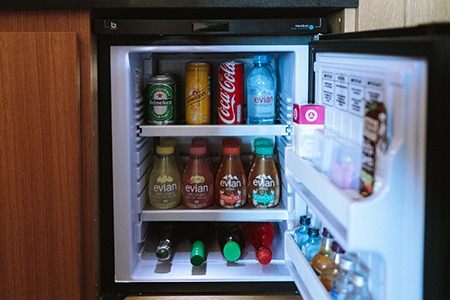 This refrigerator isn't made to be the primary fridge for your kitchen or to store all your groceries. These fridge styles are perfect for dorm rooms, offices, and basement living rooms, though. What's nice is these refrigerators don't weigh much.
As implied by its name, these compact refrigerators are very small and can in no way accommodate food for a whole family. Hence, they are usually used to store snacks, beverages, and meals for one.
The biggest advantage of the mini-fridge is that you can also fit it into quite tight spaces. Therefore, they are often used by college students in their dorm rooms, where there is usually a lack of space to store their snacks and drinks.
In addition to that, mini-fridges are also often placed in offices, hotel rooms, motel rooms (though you should avoid having a mini-fridge directly on carpet), etc. From its tiny form factor, you can probably already tell that the mini-fridge does not have a freezer section. However, there are a few mini fridge models which have a very small freezer section.
There are many variations in mini fridge models now, so you can find one that fits perfectly with the aesthetic of your space. You can actually find counter-depth mini-fridges that will blend in perfectly with your counter, and it will just act as extra fridge space.
Another good thing about this type of refrigerator is that it is very inexpensive, so you won't have to worry about it breaking your bank account at all. In fact, this is one of the main reasons why a lot of college students buy mini fridges.
Counter-Depth Refrigerator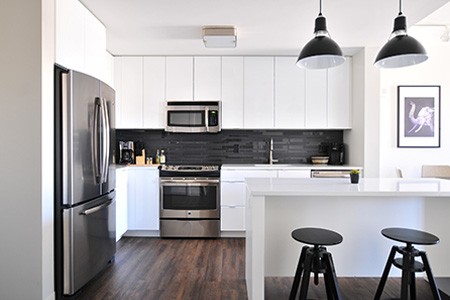 These types of refrigerators can be designed like any of the above options, but the key difference is that they're built to not stick out further than the standard counter top.
In my kitchen, for instance, the fridge sticks out a lot further than the counter and really restricts the walking space between it and the island. To make matters worse, the dishwasher is installed in the island across from the fridge. And its the types of dishwashers where the door flops down and misses the fridge by a single inch.
To be considered a counter-depth refrigerator, the depth must fall between 27 inches and 30 inches, which will be several inches less deep than your standard fridge and will keep you from damaging the doors when opening them too far, etc.
Undercounter Refrigerator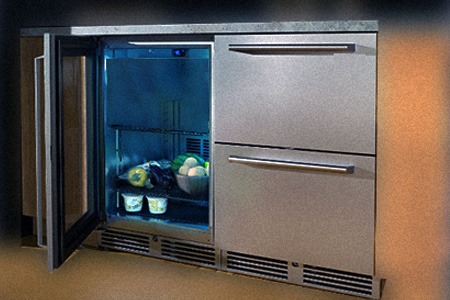 Like the counter-depth fridges, there are undercounter fridge types that are much shorter and fit underneath the counter top like a dishwasher would. You can get them in all kinds of styles, from ones with glass or solid doors, as beverage coolers, with or without a freezer, and more.
Just don't install it next to whatever types of stoves you have undercounter or you'll be fighting off extra heat, but not by much. But why affect the efficiency if you can just install the fridge elsewhere?
Wine Cooler Refrigerator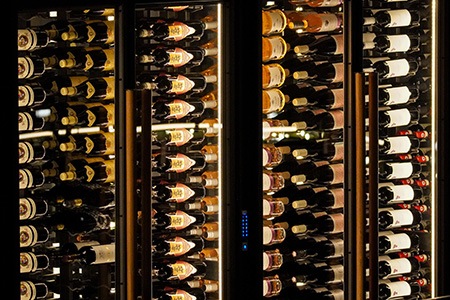 The wine cooler fridge styles exist simply to store your wine collection and keep it chilled so when you have guests or just finished a luxurious dinner, you'll have your choice of wine ready for you.
The problem is wine bottles will take up too much space in your regular kitchen refrigerator, so the only other choice to keep it cold is a dedicated wine refrigerator. But they're more than just refrigerators.
Not only do they have temperature controls with tight controls on the variations, you get the same level of control over the humidity as well. They're designed to reduce vibrations, remove odors, protect from UV rays, and other elements that can cause your wine to age faster than you expect.
What's best is you can choose from wine cooler fridges with compressors or thermoelectric methods of cooling, meaning you can dodge the need to deal with refrigerants and other costly and complicated mechanisms. Thermoelectric ones are better, in my opinion, for smaller coolers but they also won't get as cold as a compressor option.
Touch Screen & InstaView Refrigerators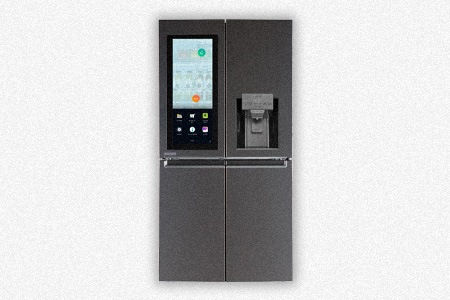 Many smart refrigerators now come with touch screens built into the doors. These are there to help you maintain a shopping list, order items you're low on, browse recipes, play videos, and much more.
Some will show you a view of what's inside the fridge without needing to open the doors. LG created the InstaView refrigerator for this purpose. These styles are neat but there's so much that can go wrong with them far beyond the refrigerator making clicking noises or not cooling well.
One half of the french doors have a dark panel that when tapped on will become transparent and let you view the contents of the fridge without letting the cold air out, since it can take so long for a fridge to get cold again. These types of refrigerators, in my opinion, don't warrant the hefty price tags. They're just novelties at this point.
Door-in-Door Refrigerators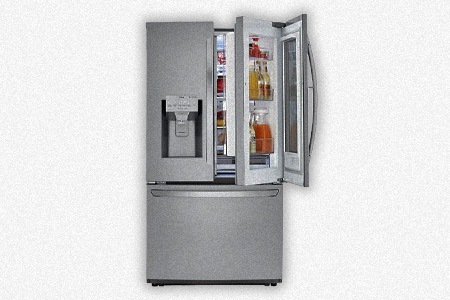 These refrigerator types are interesting. One half of the french doors (and sometimes both sides) will have a button on the door handle that lets you only open the face of the door where a less-deep cabinet is attached to the door.
If you open the door normally this cabinet swings open regularly, but with the press of the button it doesn't. And this is where you'd store soda cans, coffee creamer, and things you access regularly. It's simply an organizational method that works pretty well.
Column Refrigerators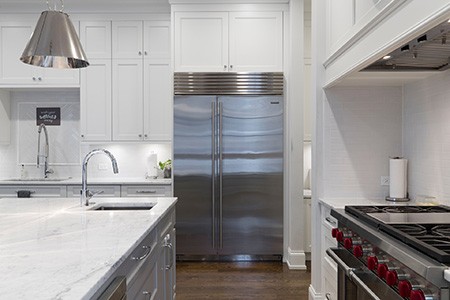 Sometimes called "integrated refrigerators", these huge types of fridges are two independent pieces placed together or separately. One side is a freezer and the other is a refrigerator, often with your typical water and ice dispensers and some can even serve hot water now.
These two columns, when pushed together, are wider than your standard sized fridge types, giving you more space in both, but you'll need to plan accordingly regarding your counter tops and cabinets. Don't forget to tip your appliance delivery guys for bringing this giant monstrosity to your home for you.
Commercial Refrigerator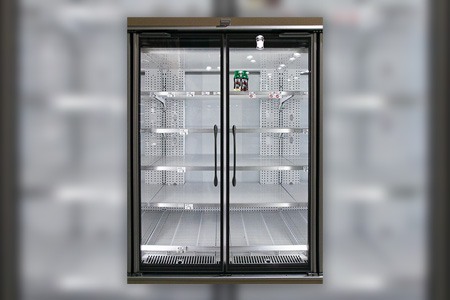 These kinds of refrigerators are the standard size and operate the same as a regular freestanding refrigerator. The only difference is that the door face will be made of glass so that customers in your shop can see through to your food choices.
Bakeries often have these types of refrigerators. You've undoubtedly seen them lined up next to each other in long aisles in the grocery store. The benefit here is that customers won't be opening the doors constantly so that the food can stay at a steady temperature.
Types of Refrigerators for Every Kitchen Size & Storage Need
From all the different types of refrigerators that we have presented to you in the list, we cannot state which one is the best since it varies from person to person. Each refrigerator in this list is made for a specific crowd, and we are sure that you will also be able to find a refrigerator that fits your needs the best.
You'll Also Enjoy: