16 Types of Bagels & Their Flavors You Have to Try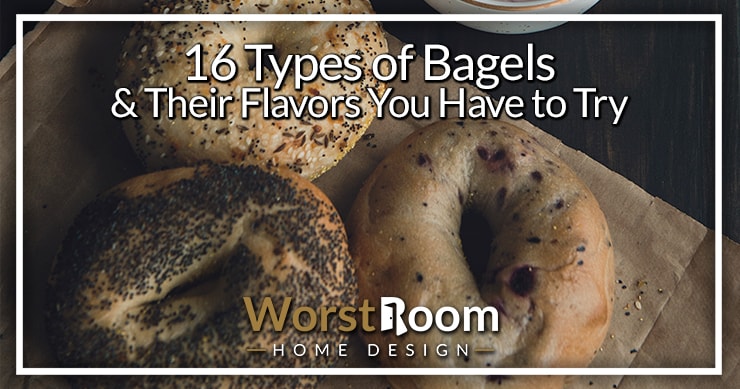 Undoubtedly, the different types of bagels are indisputably one of the most popular breakfast dishes out there. Combine it with coffee and you have the perfect fast and even to-go morning meal.
Fresh, piping hot, oozing the most delicious cream cheese — it's hard to say 'no' to one, however ardent a fitness enthusiast you may be. Hardly surprising, then, that millions of people around the world regularly consume bagels in their various forms and names.
In fact, bagels are so popular that they have their own fan clubs! If you're looking to gain entry into one of these and want the low down on all the important types of bagels out there, you're in the right place. Read on to learn about 16 bagel types and their flavors.
16 Types of Bagels
The various kinds of bagels of today exist in many flavors and sizes, having expanded since the first written record of bagels in 1610. After all, why limit yourself to one bagel when you can have a range of delicious ones, right?
Whether you want an 'original' with cream cheese or a choco-chip one, one for breakfast, lunch, or brunch, here is the plethora of different types of bagels that the humble plain option has evolved into. On to our list of bagels...
1) Plain Bagels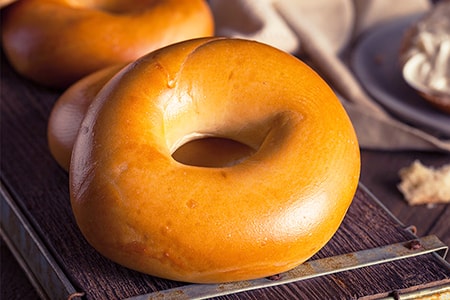 Good old plain bagels are the O.G. bagels! Being plain, they go with every kind of topping, becoming anything but plain after.
The versatility is on point, as is the taste — soft and chewy on the inside, crusty on the outside, and denser and sweeter than normal bread.
Whether you want to go old school and choose cream cheese, or add in some deli meat, or top it with bananas and Nutella, or simply toast it with salted butter, the humble plain bagel can go from breakfast to lunch to snack with very little effort. The options are endless with this one.
2) Everything Bagels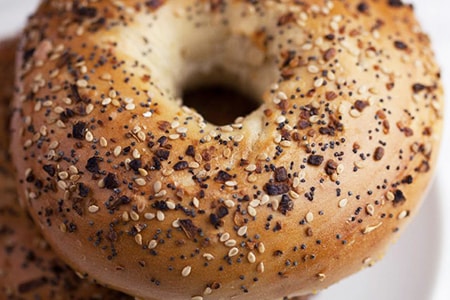 Yep, you probably guessed it right — everything bagels do, indeed, have everything in them. Everything bagels feature a blend of poppy and sesame seeds, onions, and salt, giving you a taste of all the popular bagel flavors out there without having to buy one of each.
Delicious as they are, very few of us are actually blessed with the capacity to ingest those many bagels, which makes everything bagels an excellent choice... if you can identify each subtle flavor happening all at once.
3) Cinnamon Raisin Bagels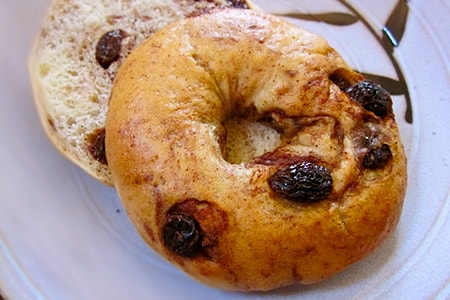 Though not as versatile as plain bagels, cinnamon raisin bagels are all kinds of crispy and buttery and hit the perfect balance between the sweetness of raisins and the spiciness of cinnamon.
The raisins lend a stringy, chewy texture to the bagel, while the cinnamon elevates the flavor to a whole new level with its subtle hit of spice.
4) Blueberry Bagels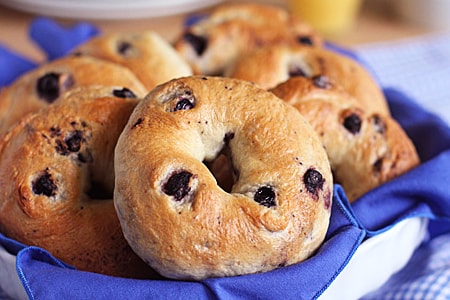 Blueberries and bagels — there's absolutely no margin for error in this combination! Among the most-loved breakfast treats, blueberry bagels are an excellent way to start your mornings. The blueberries even make them slightly healthier than the other options!
The blueberries added into the dough while mixing lends this bagel type its lovely bluish-purple color.
5) Chocolate Chip Bagels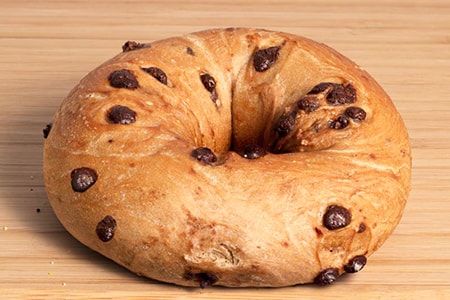 Chocolate chips make everything better and bagels are no exception. An already-delicious bagel gets ten times more delicious with rich chocolate chips incorporated.
Decadent and filled with chocolate chips in every bite, these bagels are best eaten slightly warmed/toasted in one of your microwave alternatives, just enough to melt the chips and have them ooze out in every bite while keeping the top cracked and golden.
6) Onion Bagels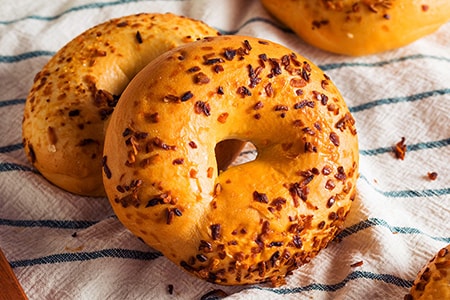 The second-most popular of the types of bagels (after the original), onion bagels are crunchy, with the bold, rich flavor of onion and garlic. Despite the fact that they don't work wonders for your breath, these bagels still have a humongous fan following!
These bagels are best eaten in combination with scallion cream cheese, or a thick layer of butter on top. Adding chopped or dehydrated onions into the dough infuses it with the aroma and classic taste of onions, making the bagel two times more delicious.
7) Asiago Bagels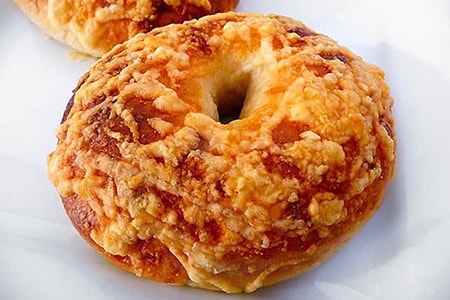 Despite the exotic name, Asiago bagels bring together two of humankind's most favorite objects: bread and cheese!
Asiago bagels combine fresh bread with the richness and saltiness of cheese. They're named after the Italian cheese, made from an Italian cow's milk (very specific types of milk) and only produced in Italy's Asiago plateau.
The shredded cheese is sprinkled over the bagel once it's taken out of the boiling water and is ready to go into the oven. A beautiful golden-brown indicates that they are baked to perfection!
8) Salt Bagels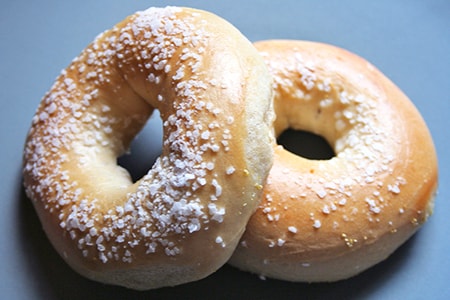 Though one of the rarer types (simply because not many folks like salt in or with their bagels!), these salted types of bagels are stuffed with cream cheese and have a sprinkling of salt on top.
9) Poppy Seed Bagels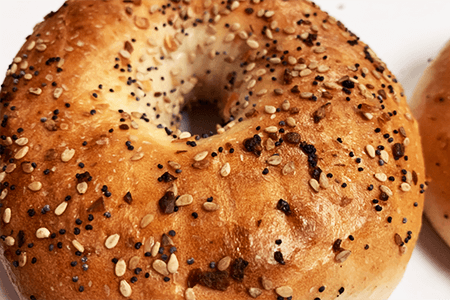 Nutty yet irresistibly fruity, poppy seed bagels are well worth the effort of having to clean your teeth after the meal (on account of all the poppy seeds getting stuck in your teeth!).
One of America's sweethearts, poppyseed bagels are soft, chewy, and crunchy, thanks to the combination of break and poppyseeds.
10) French Toast Bagels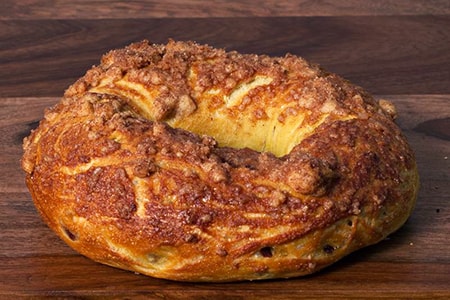 French toast bagels are all kinds of soft and sweet, with delicious French toast custard soaked into every pore.
For the best results, soak this type of bagel in the French toast mixture and refrigerate for a few hours. Add in some whipped cream and cheese and you won't be able to put these down!
11) Egg Bagels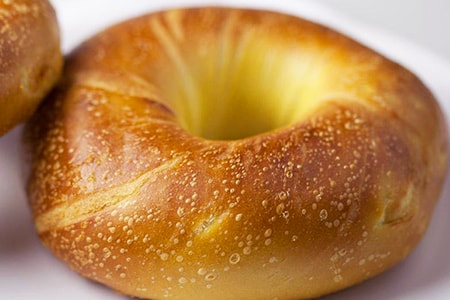 Another bagel that brings together a classic breakfast combination, egg bagels are the perfect mix of eggs and bread. Egg yolks are added into the recipe, giving the bagels a soft texture and sweet flavor.
However, if you're looking for the crusty and crunchy that comes with an original bagel, you'll be disappointed with this one! These are softer than that.
If you're not, you'll be rewarded with consistency, flavor, texture, and color that few other bagels can match. Pair these with cream cheese and you'll have singing taste buds thanks to the perfect balance of sweet and salt.
12) Pumpernickel Bagels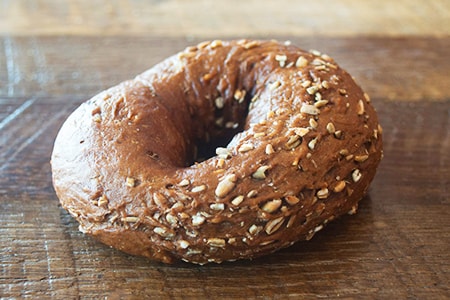 Made using pumpernickel, the dark, dense German bread made using sourdough starter and coarsely ground rye, pumpernickel bagels are harder than their other family members, just as the German bread is.
These bagels have a very interesting flavor, though many may find the taste weird. The flavor is rich and unique and despite the hardness, the end product is still chewy and soft, as bagels are supposed to be.
These types of bagels go great with a range of toppings and fillings, though the best version may be the pumpernickel with chopped onions style.
13) Whole Wheat Bagels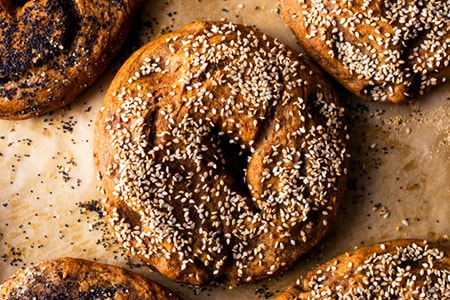 Though bagels are delicious enough to make anyone want to break their diet, there luckily exists an alternative — whole wheat bagels.
These bagels are the perfect counter to the argument that everything healthy tastes less delicious than its non-healthy version. You can get your fill here of the taste sans the worry about carb loading.
Whole wheat bagels not only come packed with taste but with numerous benefits as well, since they're made from whole grains instead of refined ones, unlike other bagels and bread.
Whole wheat bagels are a great addition to those looking for a diet that balances health and taste. Minerals and fiber are abound in these bagels and the fact that the bagel itself is healthy gives you an excuse to slather on more cheese or butter.
14) Garlic Bagels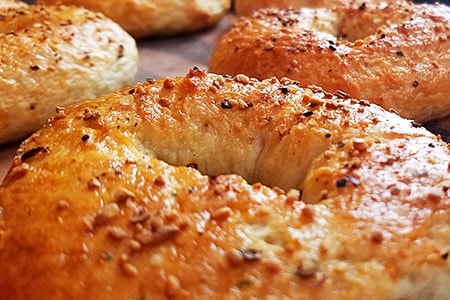 The flavor that garlic brings to any dish is hard to beat—garlic has almost unparalleled versatility and exoticness, packing a punch in any dish that it's added to!
The garlic not only adds flavor to these bagels but also lends crispiness to them. To get the maximum garlic flavor into the bagel, these are brushed with an olive-oil-and-garlic mixture on top, often in addition to adding in some chopped cloves or garlic powder into the dough.
15) Sesame Bagels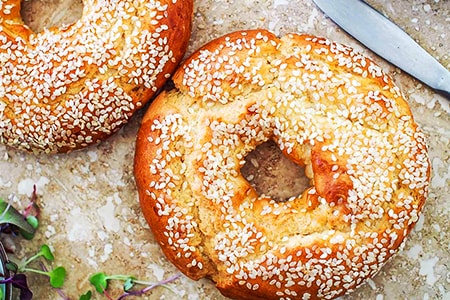 Nutty and delicate, sesame seeds add a whole new dimension of flavor to both sweet and savory food alike. The distinct crunchiness elevates the taste and texture to the next level!
Sesame bagels are crunchy and delicious, with a warm flavor, with a versatility that makes them go well with any topping or accompaniment.
16) Cheddar Bagels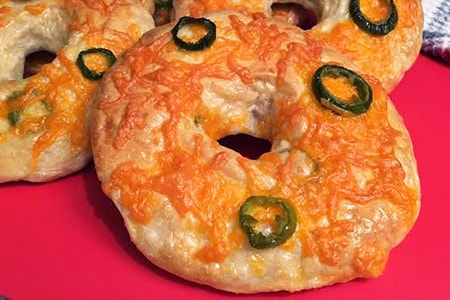 Cheese and bread — what could go wrong? Cheddar bagels feature melted cheddar cheese on top and are quite similar to bread rolls with melted cheese, except five times better tasting.
For more deliciousness, incorporate sliced jalapenos for a mouth-watering mix of cheesiness and spiciness.
Which of the Types of Bagels Do You Like?
How many are too many? Well, in our opinion, there can never be too many bagels, so thank heavens there are these many types of bagels to satisfy any and all cravings.
We won't blame you if you're craving one after reading this article — we definitely are! Treat yourself to one of these types of bagels and enjoy the burst of flavors dancing across your tongue, breakfast, lunch or brunch.
You'll Also Enjoy: