28 Kitchen Sink Ideas to Impress While Best Utilizing Your Space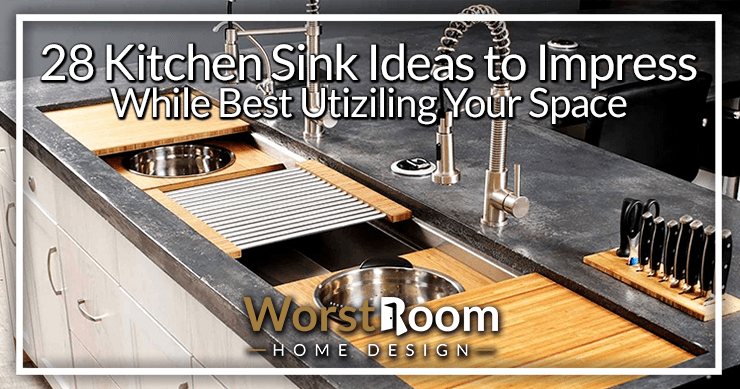 Trying to choose a sink for your kitchen is tough. You go to the store and see a bunch of displays that are mounted in countertops that are nothing like yours. The cabinetry is the wrong color, the counters are made of the wrong material, etc.
The best method is to view a ton of pictures online until your mind gets a grasp on all of the options and starts to form its own image.
You'll figure out your own preferences, your must-haves and dealbreakers, and finally can get to work on installing your new sink. And so, we present to you as many kitchen sink ideas as you could need.
Kitchen Sink Ideas
Below we try to cover all styles, colors, uses, and more. That goes for the surrounding items, not just the sinks, so you can get the best feel for what's out there.
1. Tiered Cooking Kitchen Sink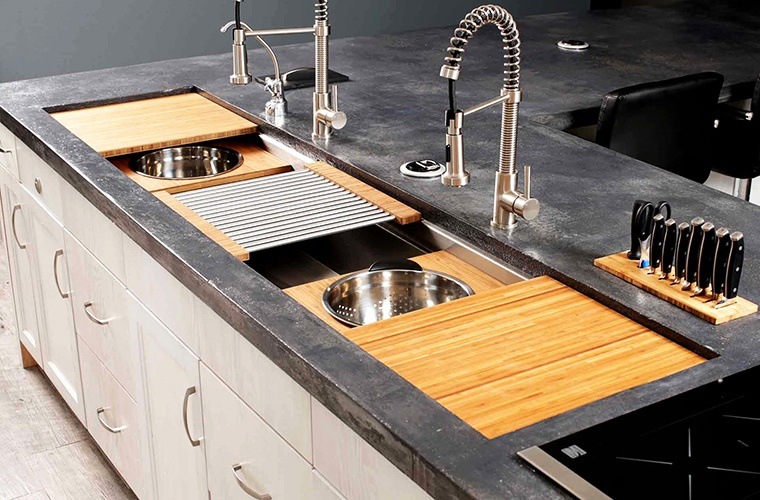 This extremely wide sink has several levels to allow strainers, cutting boards, meat racks, and much more. They can be slid into any arrangement that works for you. Note the knife rack as well.
2. Partitioned Black Kitchen Sink & Faucet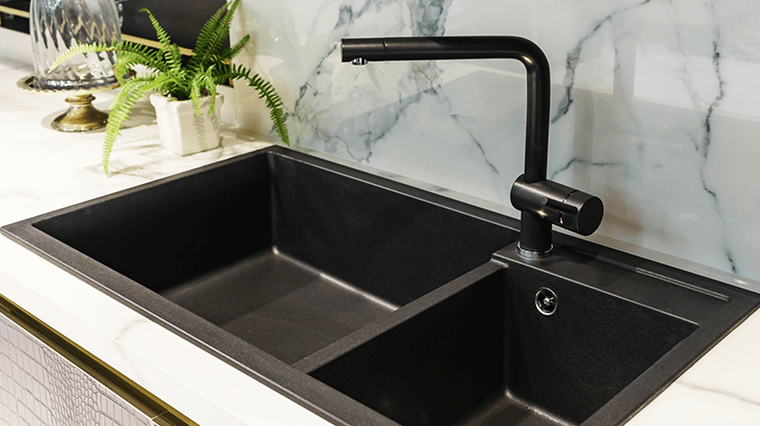 This double sink tastefully features a larger compartment and a smaller, perhaps used to separate food or washing on one side and rinsing on the other. These types of kitchen faucets are incredibly modern and sophisticated looking.
3. Large Single Bowl Corner Kitchen Sink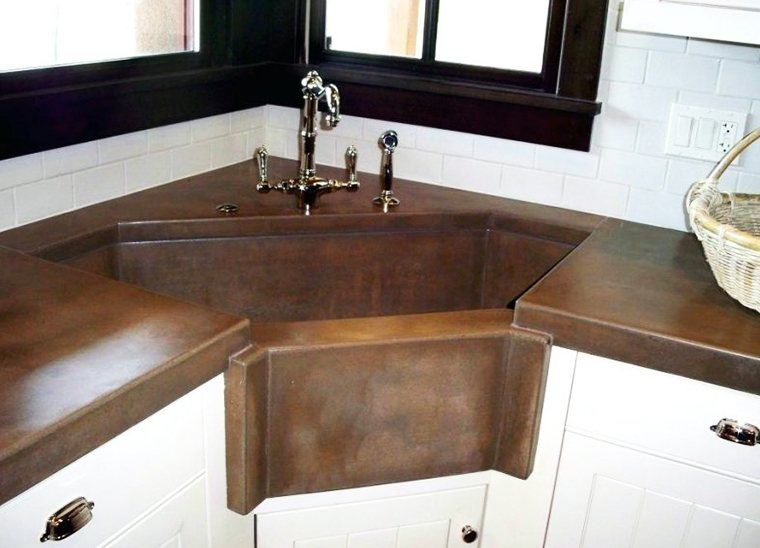 Corner sinks have the benefit of being allowed to be huge, and this one takes advantage of its space even more than the rest. The lowered front makes for convenient use and easy clean up of drips.
4. Large & Small Compartment Kitchen Sink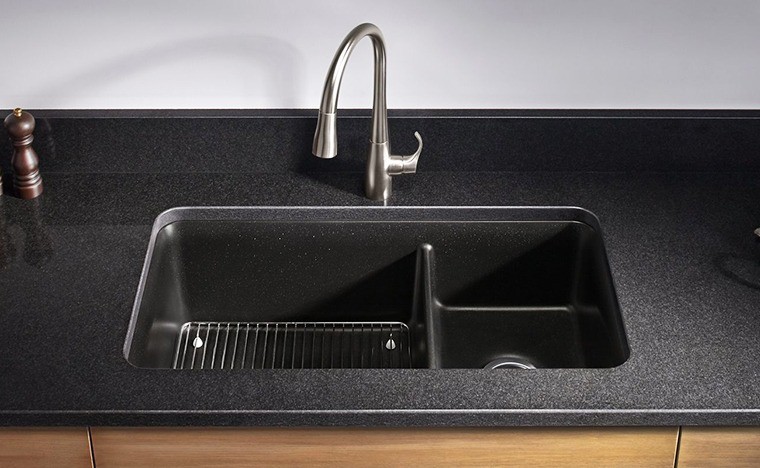 Another minimal and classy double sink with a drainage rack provided at the perfect size for the larger side. The silver faucet is the perfect juxtaposition to the black sink color.
5. Triple Corner Kitchen Sink with Tray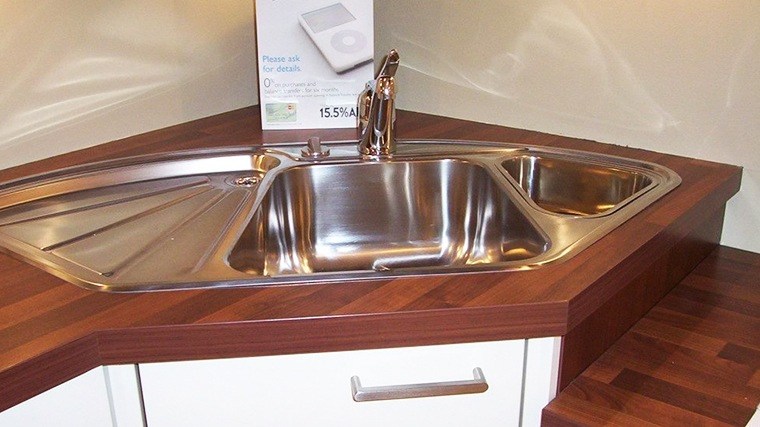 This huge corner sink has three compartments, with the left most being a sizable food preparation or water drainage tray with its own drain.
6. Standard Stainless Kitchen Sink with Storage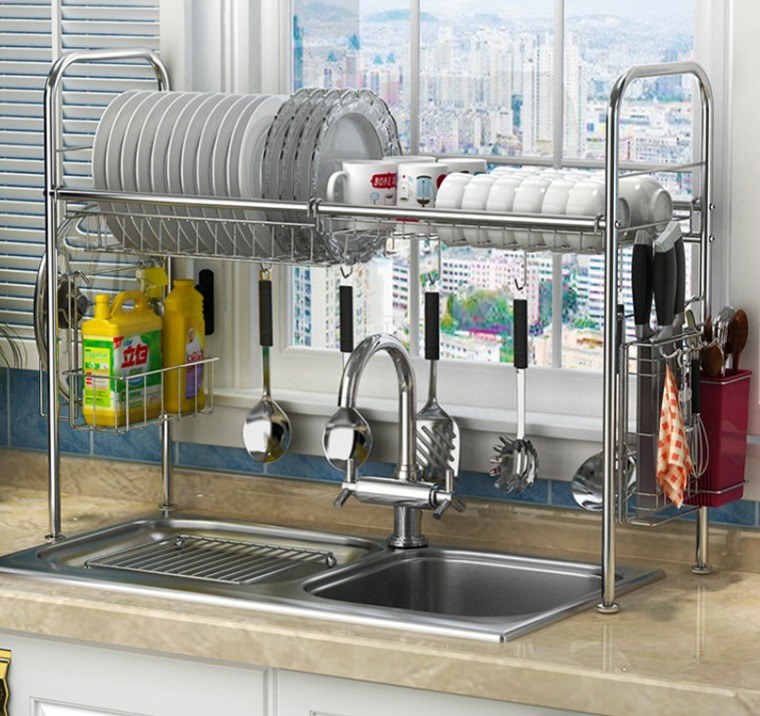 This small, Japanese double sink as fairly standard, but the rack over and around it is what makes it so attractive in terms of actual usage. I've never seen a more convenient use of space.
7. Small Ceramic Kitchen Sink Designed for Drying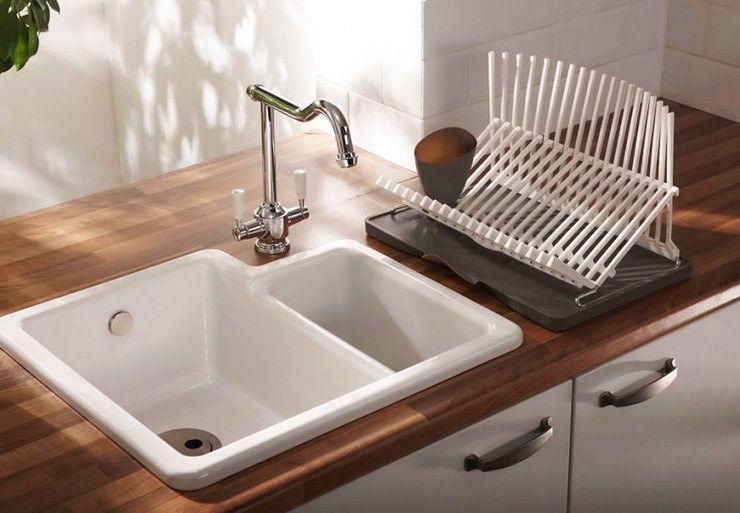 This small, horizontally off-set white ceramic sink is created to make space for the drying rack on the right side.
8. Black Modern Farmhouse Kitchen Sink With Drainage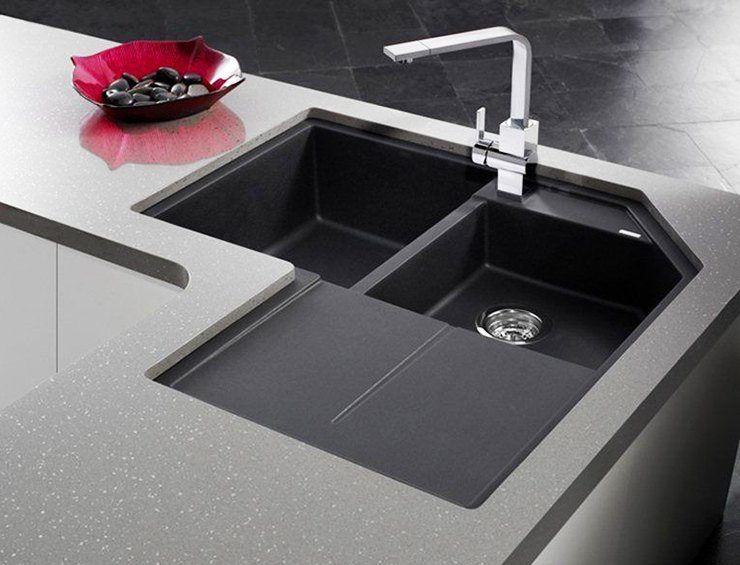 This ultra minimal and modern black corner sink is actually comprised of two smaller compartments and a big preparation area that conveniently drains into the smaller sink area.
9. Large & Deep Stone Farmhouse Kitchen Sink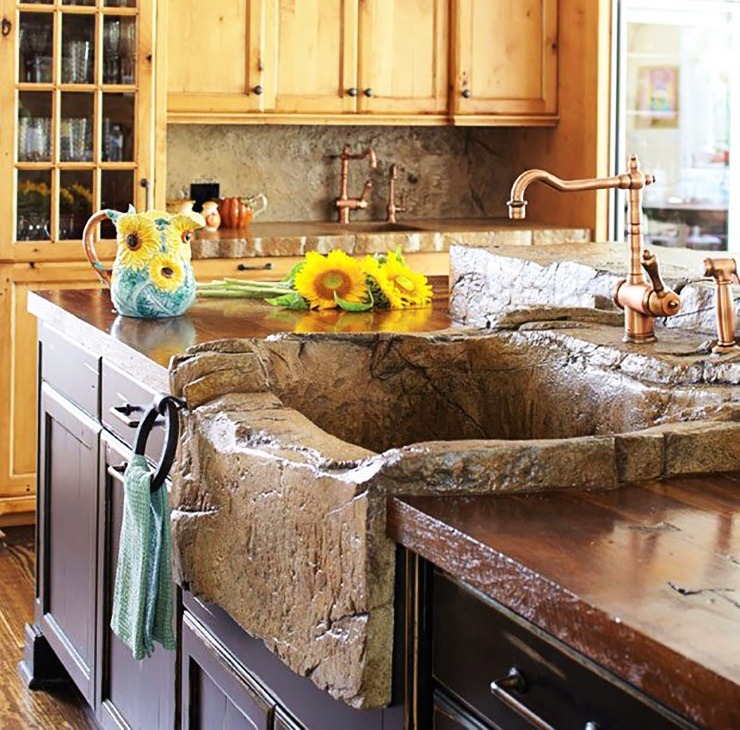 You'll never see a more unique sink than this giant stone one. It has a perfect farmhouse feel, but I'd hate to have to clean in all the crevices.
10. Vintage Bathtub Kitchen Sink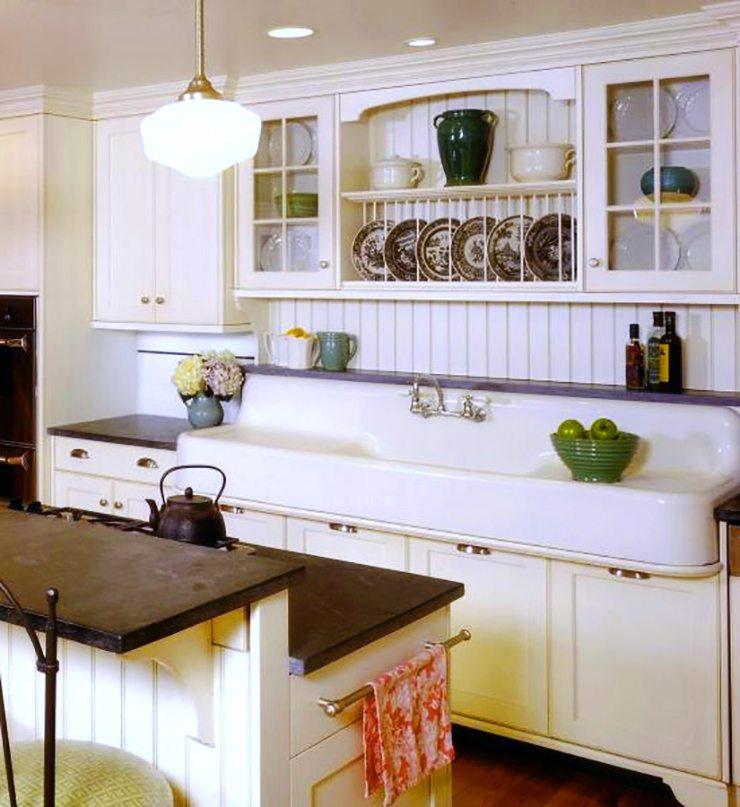 This country kitchen sink idea features the widest sink I've ever seen, almost the size of a bathtub. It's deceptive though, because the two sides are actually drying and food preparation areas.
11. Circular Tiered Island Kitchen Sink with Cutting Boards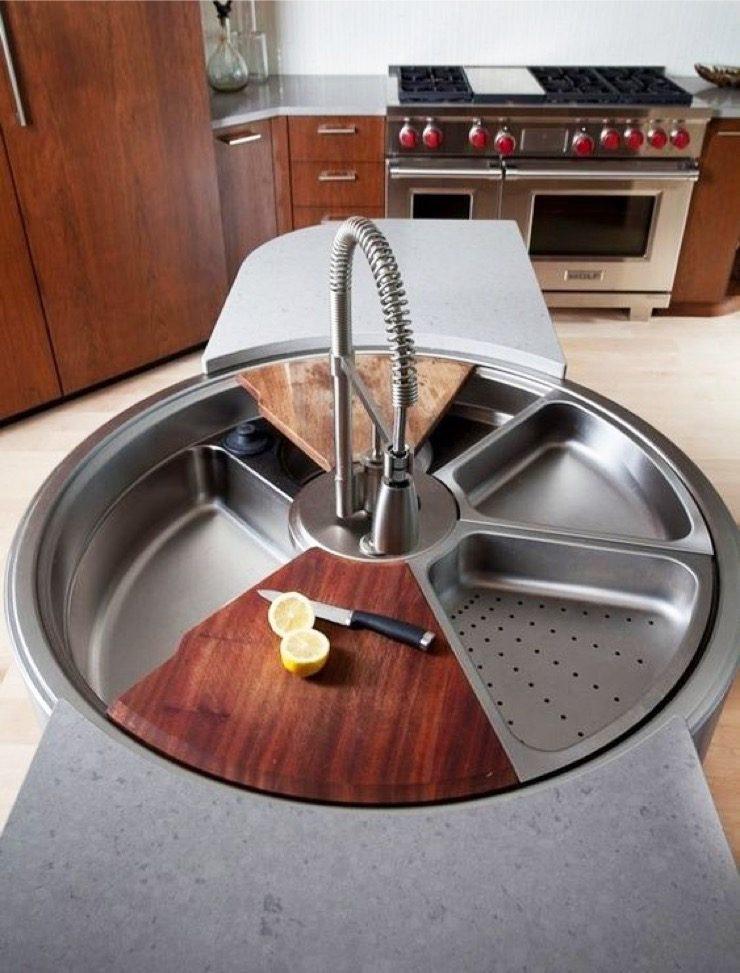 This circular island sink will undoubtedly impress your visitors and be a talking point during parties. It features many trays and cutting boards that can be slid around for versatility.
12. Modern Dual Stainless Steel Kitchen Sink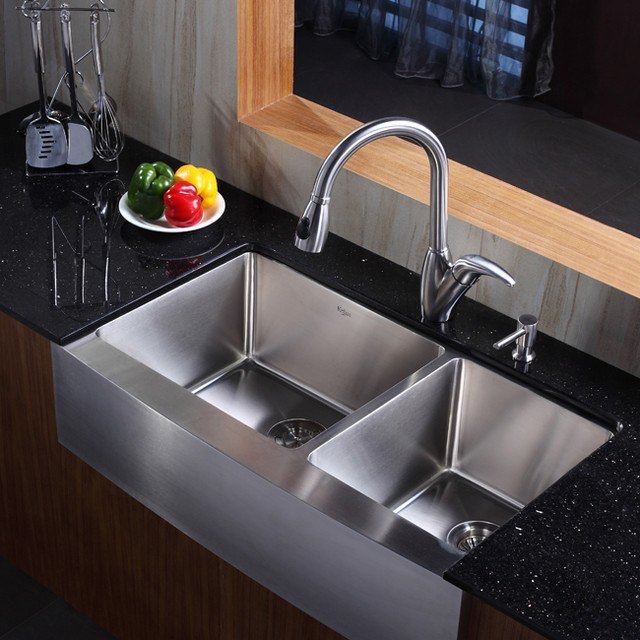 This modern stainless steel option features a built-in soap dispenser, visually thick walls, and an easy-to-clean front panel that is slightly lower than the counter top, allowing an easier time while working in its two compartments. Stainless steel is perfect for industrial kitchen styles.
13. Kitchen Sink Embedded in Wood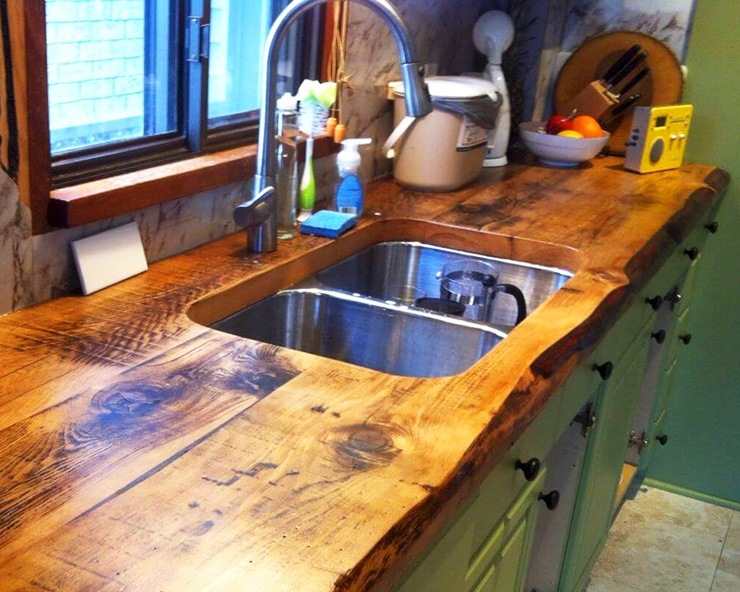 This sink is designed to be simple visually as to not distract from the amazing wooden countertop. Notice how deep the sinks are and how high the faucet is, allowing plenty of work room.
14. River Island Kitchen Sink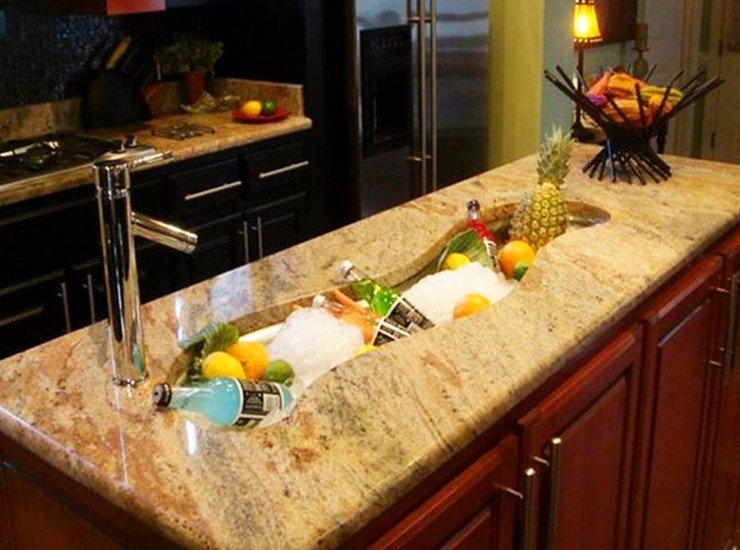 This island kitchen sink is shaped like a river meant to be filled with beverages and ice, perfect for hosting parties and keeping people out of your refrigerator. No matter the types of refrigerators we have, they're always disorganized and a little bit private.
15. Charcoal Partitioned Kitchen Sink With Draining Platform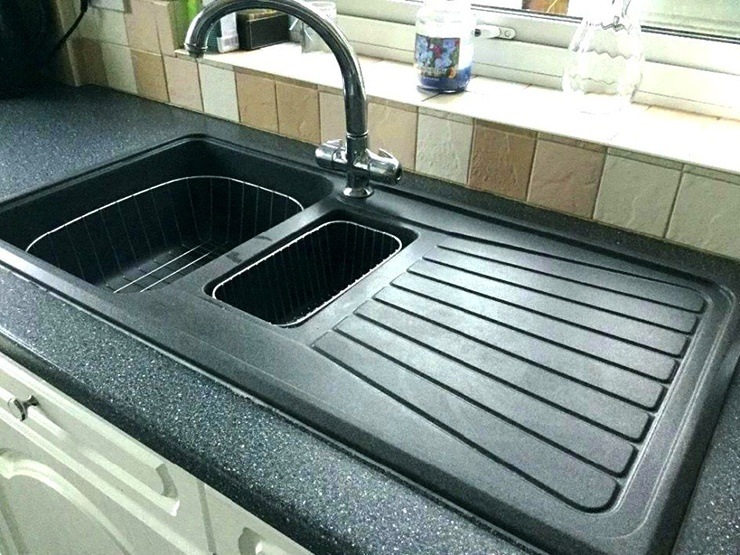 The main attractions of this sink are threefold: the big compartment, the smaller storage section, and the large area for food preparation and drainage perfect for small or huge types of pots and most types of pans.
16. Black Circular Kitchen Sink with Cutting Tray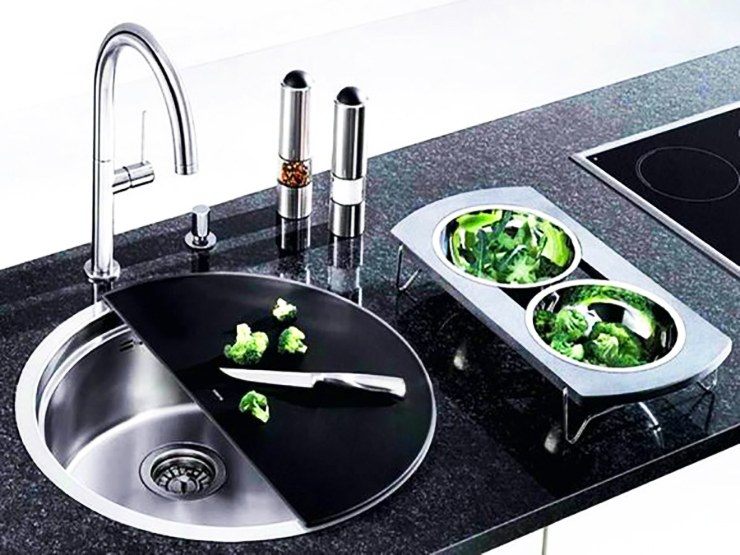 Not everyone wants or needs a giant sink. This tiny circular option comes with a half-circle cutting board you can remove or spin however you want. No corners means easy to clean!
17. Deep & Wide Stone Granite Kitchen Sink
If you like the exposed stone look, check this out. The inside is a smooth and polished surface that's simple to clean. The best part is that this is one giant, deep sink. Combine this with the right types of granite countertops and you'll have something special going on.
18. Kitchen Sink with Drainage Trap & Vegetable Rinse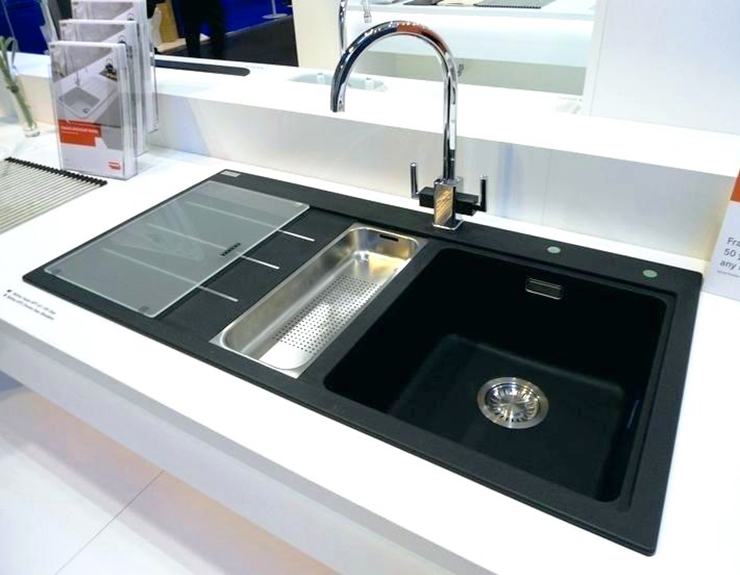 This modern choice, like others above, has the three sections that include a big sink, mini drainage area, and a huge food prep and cutting board area. You can't beat this style.
19. Classy Kitchen Sink with Wash & Rinse Sides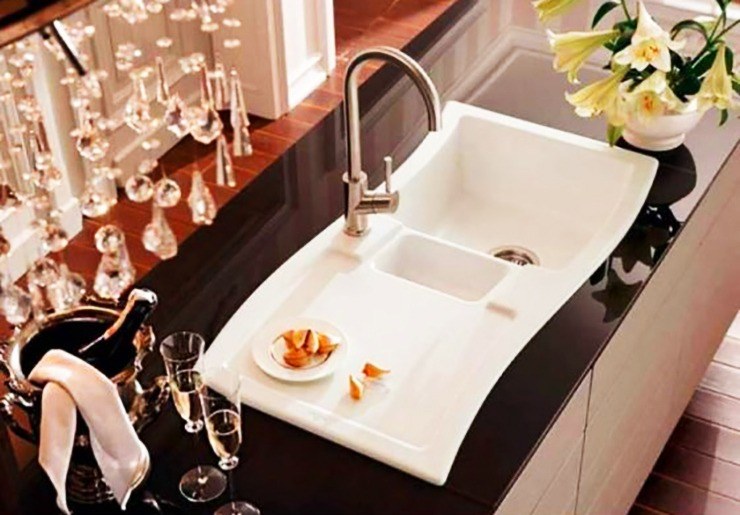 Not everyone wants to go modern. This classy white ceramic sink has the 'old money' feel. It's smaller but still contains all three sections we keep pointing out.
20. Big Modern Kitchen Sink with Sliding Cutting Board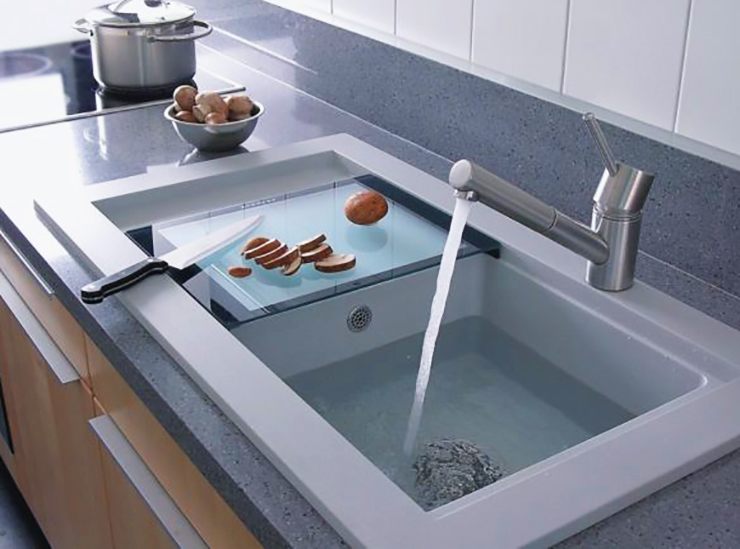 The best part about this one is the lip all the way around the edges, allowing the custom cutting board to be positioned wherever it's most convenient.
21. Huge Single Steel Kitchen Sink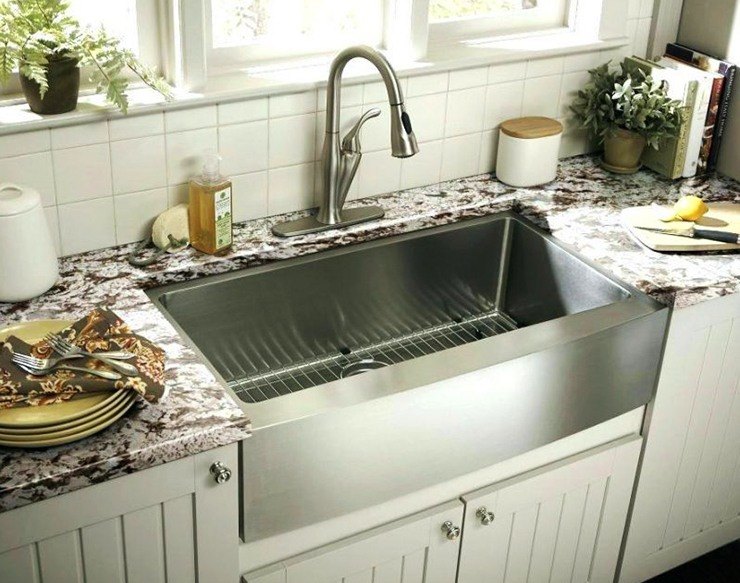 The perfect mix of country and modern, this big beast can fit in countless dishes, cups, and silverware. I can't have one of these or I'd stack dirty dishes for a month straight.
22. Simple Modern Stainless Steel Kitchen Sink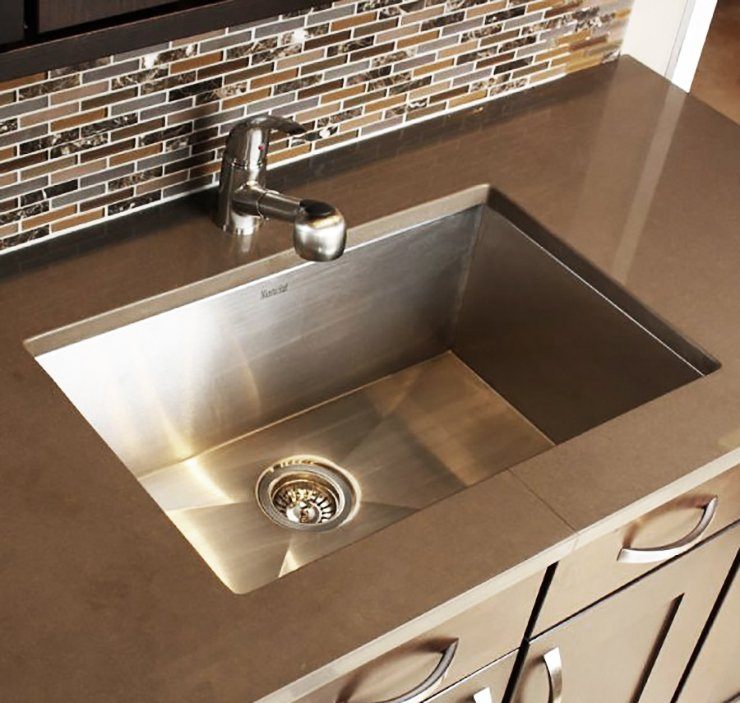 Minimalism is in (and the opposite of minimalism is out), and this sink is an exemplary option of that philosophy. Rather than a curved bottom, it features flat surfaces all tilted towards the drain.
23. Shaped Kitchen Sink with Drying Tray
I love this uniquely shaped sink. Because the faucet is situated in the back left corner, you can have a lot more depth to work with. I like how low the removable drying tray sits too.
24. Double Corner Kitchen Sink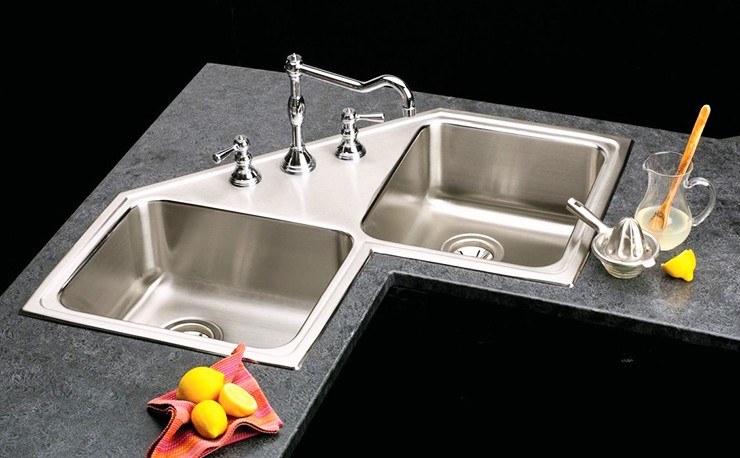 Corner sinks are great due to how much space they allow, but this one actually functions like two individual sinks instead, which may be your preference.
25. Cooking Kitchen Sink with Sliding Trays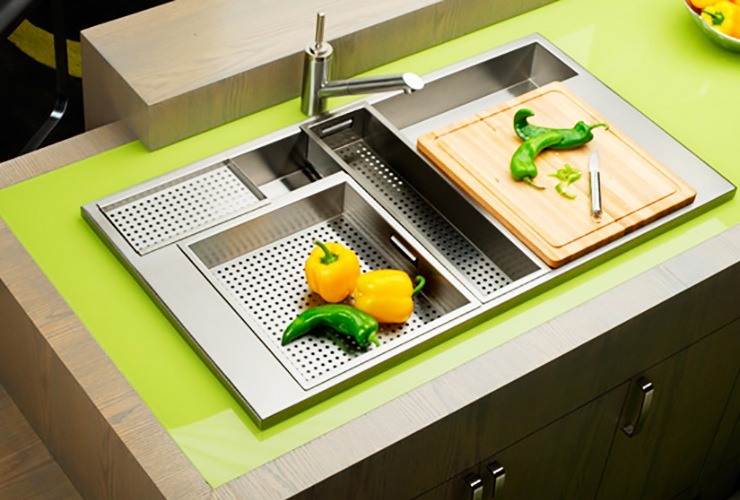 You're looking at the most unique sink on the list. The various trays and cutting boards can be moved about into different orientations and removed entirely. Talk about a cooking station!
26. Modular & Removable Cooking Kitchen Sink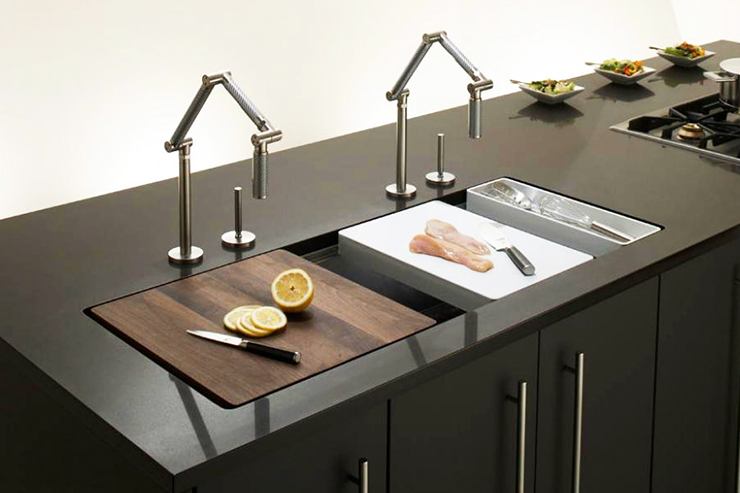 This is pure elegance. The cutting boards and stones plus utensil storage sits flush with the countertop, creating a very minimal feel. The articulating faucets are extremely convenient, too.
27. Large Shallow Modern Kitchen Sink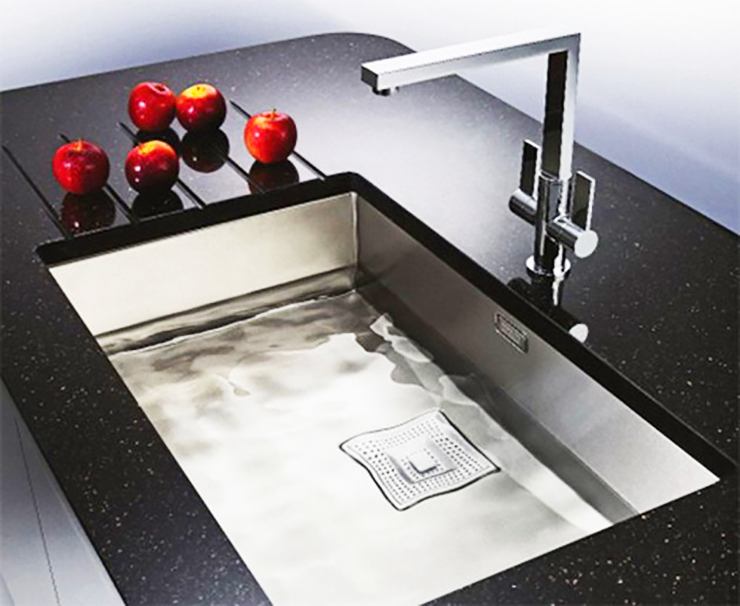 Some people want a huge sink but aren't into the depth because it's harder to reach into. This shallow sink is a perfect compromise. That right angle faucet is super cool.
28. Traditional Three Section Kitchen Sink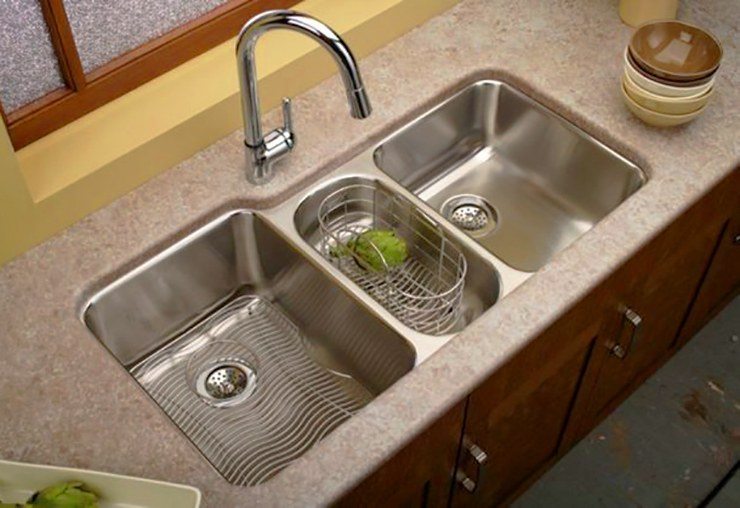 All of the three-section sinks above are pretty pricey, but this one shows that it can be done even in a more modest kitchen. Nobody is blocked out, though you'll need a new custom countertop.
You'll Also Enjoy: