13 Types of Daffodils for a Gorgeous Garden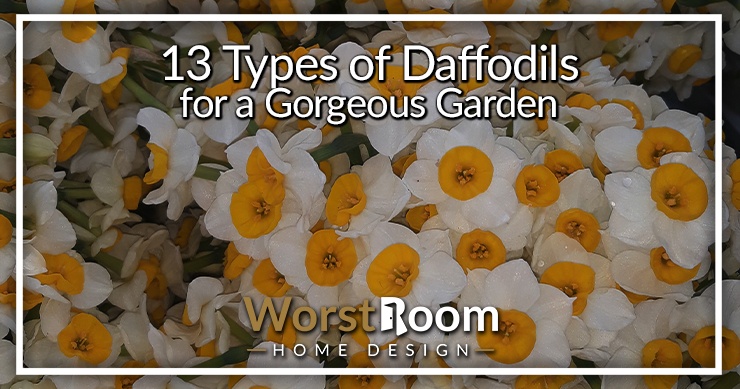 Often called a sight for sore eyes during dreary winters, daffodils are a beautiful flower. But the problem is, it's hard to tell which types of daffodils based on one look because there are so many of them. They all have some similarities, but sometimes they are wildly different from each other.
Some flowers are good with heat, while others grow well in wet climates. The flowers can be in one color or have a pattern with multiple colors. They could range from white, gold, yellow, salmon pink and so on.
13 Types of Daffodils
Here's what you need to know about the classification of the daffodil species, their layman's names, and so much more.
Large Cup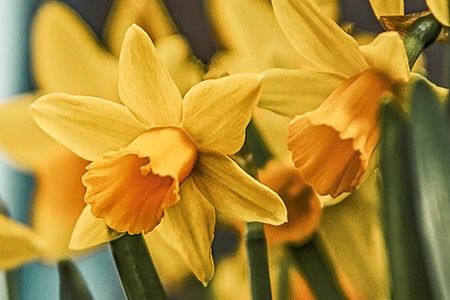 These are daffodils with prominent cups and big flowers. The cups could look flat, like a bowl or a trumpet. They are about a third of the size of a petal and the same length. They may also have ruffled or smooth edges. So, it's a bit hard to identify them.
The cups and petals are usually in different colors, and each stem has one flower. These plants grow strong and are good naturalizers. These flowers, like most kinds of daffodils, tend to drive deer away which means you don't have to worry about animal damage. They're beautiful in all types of wreaths as well.
Professor Einstein, Red Devon and Orange Progress are all examples of large cup daffodils.
Long Cup or Trumpet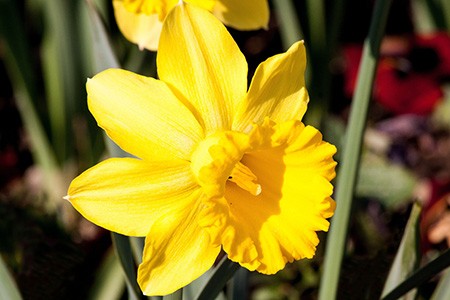 Another beautiful variety of daffodils, these plants have been grown for at least many decades. The classification is meant to help horticulturists understand the variety in front of them and Trumpets fall under division 1 daffodils.
These daffodil types have cups that are at least as long as the petals. The flowers are large and the plant grows vigorously. So, if you want to naturalize daffodils, this is a very good choice.
Even in this variety, each stem bears one flower and these plants grow well in cold weather. They are suitable for zones 3 to 7. They bloom quite early in the year compared to other daffodil varieties.
Yellow River, Early Sensation and Dutch Master are examples of trumpet daffodils.
Small Cup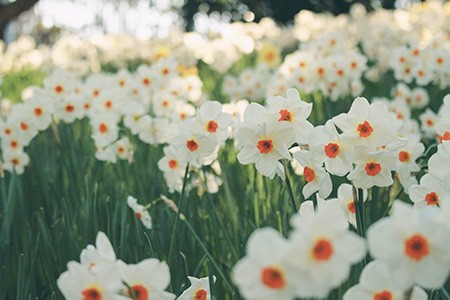 As the name suggests, these daffodils have small cups that are less than one-third the length of the petals. Each stem can produce one flower which is medium-sized and they bloom quite late in the season. But when they do, there is a beautiful aroma in the vicinity. Imagine these growing up with different polka dot plant varieties growing around the bases.
These plants grow well in US hardiness zones 3 to 9. Barrett Browning and Eleanor Auchincloss are examples of small cup types of daffodils.
Double Daffodils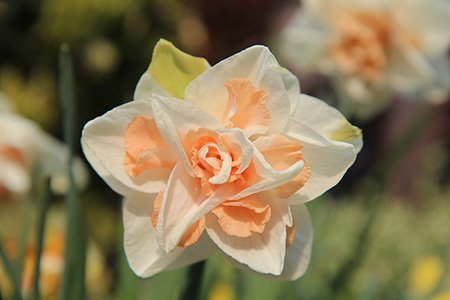 These are visually stimulating daffodils because the outer petals are formed in several layers, unlike the other varieties mentioned so far, which are in cups. The flower's central portion looks like a bouquet made of petals which is quite beautiful.
It's a bit difficult to tell the petals from the cups because of this arrangement. And each of the stems can produce two flowers. They are good-looking and fragrant flowers that are easy to cut too.
Most people call the shape of the flowers of this variety of daffodils unusual, which might explain why not everyone likes them. They look like carnations and they look pretty good when planted under trees and shrubs.
Golden Ducat, White Lion, Tahiti and Lingerie are examples of double daffodils.
Bulbodicum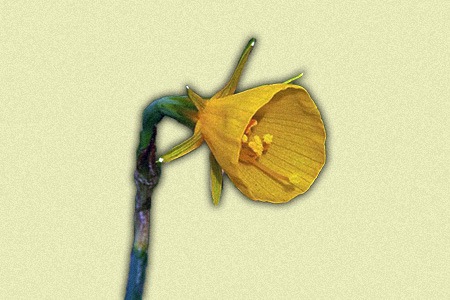 These daffodils have cups that look like a lampshade. They are also called petticoat daffodils and they are small plants that grow only from 4 to 6 inches.
They belong to the narcissus species and are the smallest of their kind. But what's unusual is that the trumpet in these plants is very large when compared to the petals. I can envision these growing along side all the dusty miller varieties to great, gorgeous effect.
Spoirot and Yellow Hoop are examples of bulbodicum kinds of daffodils.
Petit Four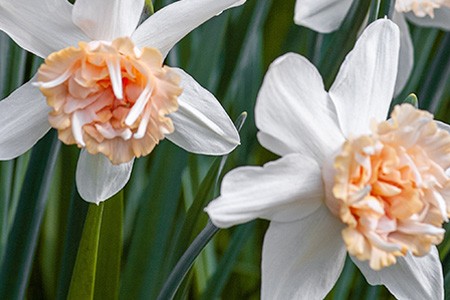 There's a French pastry named after this type of daffodil. And that's apt because it's a pretty tasty visual that grows from 12 to 18 inches in the spring. It blooms quite early in the year, and when it does, there will be more than one flower on a stem. Each flower will have more petals than the other varieties in this division.
They look fluffy and that's why they are a good choice for floral arrangements. The bulbs are naturalized, and over time, they will go back to looking like a single flower. It's still an attractive look, but it won't look frilly like cultivars.
These different types of daffodils are a nursery hybrid and they should be grown in zones 3 to 8. They need full or partial sun to grow healthily.
Cyclamineus Daffodils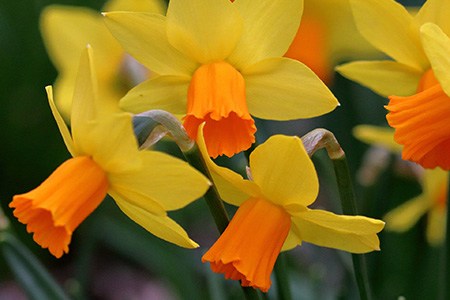 These daffodils are easily recognized because most of them have narrow and small cups. They are good when it comes to tolerating shade and moisture. You will see the blooms show up in early spring and they are a short compared to other varieties since they grow only to be 4 to 8 inches.
The trumpets are also small in size and the petals flare backwards from the plant's cup. This is also a nursery hybrid which needs full sun and is to be grown in hardiness zones 5 to 9.
Baby Boomer, Tete a Tete and Jetfire are examples of the Cyclamineus kinds of daffodils.
Triandrus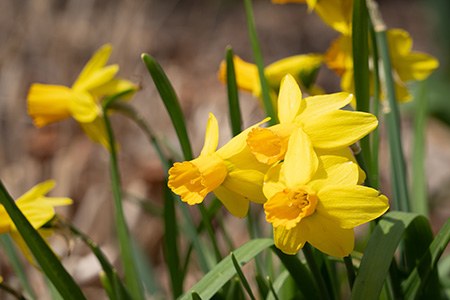 These daffodil types have about two or more flowers on each stem and they usually face downwards with pulled-back petals. Many of these daffodils have a sweet aroma and the stems are shorter than other varieties of daffodils.
If you want to add them to perennial gardens or grow them in a container, this variety is a good pick. These plants are also good with shade and they do well in wet climates.
Thalia, Angel's Breath and Hawera are examples of the Triandrus kinds of daffodils.
Jonquilla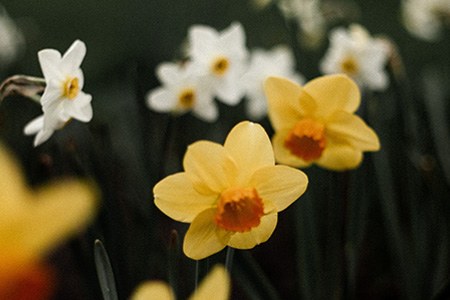 These daffodils have small cups that are open and flowers that are petite. They can produce multiple flowers on one stem and it often looks like a cluster. These daffodils are good with heat and last long which is why they can be grown in southern and northern gardens.
The leaves of these plants are long like grass which is why they are a good pick for naturalizing. The flowers have a wonderful smell.
New Baby, Beautiful Eyes and Pipit are examples of these types of daffodils.
In fact, New Baby is a miniature plant that is a hybrid variety. It grows well and looks good in a hanging basket or a container. The petals have yellow edges and there will be five flowers on each stem.
Poeticus Daffodils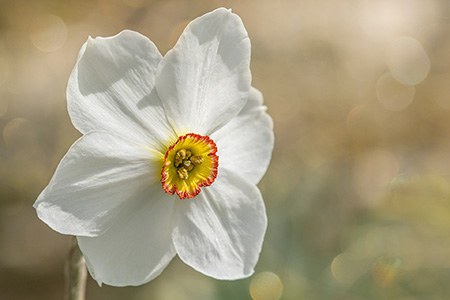 This is a fairly popular type of daffodils with a flat cup that is small and white petals that are large. The cup is usually yellow in color and has rings that are red or green in color. Each stem has one flower and they are all very fragrant.
These daffodils produce flowers mid or late in the season, but they last a long time. This variety is also good for naturalizing and some of them, like the Actea, are award-winning examples. That's also they are good cut flowers.
Pheasant's Eye is also an example of these different kinds of daffodils. It has cups that have red rims and white petals which makes them look like eyes.
Split Cupped
As the name indicates, the cups are split and they are sprayed out. They are also referred to as Butterfly daffodils or Split Corona because they look like they have another layer of petals.
Apricot Whirl, Shrike and Lemon Beauty are examples of split-cupped daffodils.
This is a fancy type of daffodil. It is called so because the cups are split into different segments. They are pressed against the flower's petals. These daffodils are smooth and can be frilly in their appearance. Usually, these frills are in different colors from the petals that surround them.
Most of these daffodils produce large flowers that bloom in the mid to late daffodil season.
Tazetta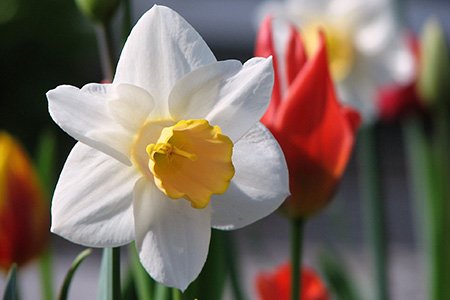 Each stem on these daffodils is able to produce 2 to 20 flowers that appear in a cluster. The plant has short cups and the flowers last a long time with a strong fragrance. The stems are known to be strong and stout, while the leaves are characterized as broad.
These types of daffodils grow well in southern and northern gardens and are known to be a good pick for forcing (also called "force flowering" if you want to explore the idea).
Golden Dawn, Grand Primo and Cragford are all good examples of this variety.
Hybrid Varieties of Daffodils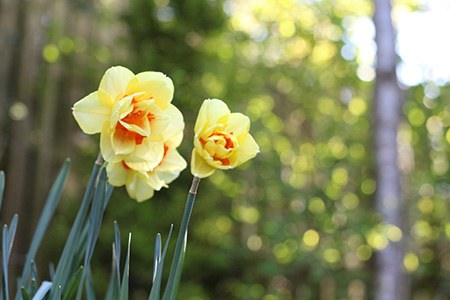 A separate division has been made by The Daffodil Society to make sure that flowers that don't fall into the varieties mentioned above also have a home. These daffodil types usually house hybrid varieties of natural daffodils and also variants of some varieties.
There is another division that is made based on the botanical names of some daffodils. This was created for all the daffodils that are classified as wild.
Types of Daffodils to Brighten Up Your Flower Bed
These plants belong to a genus called Narcissus and are originally from China, Japan, Afghanistan and Northern Africa. But today, they are grown all over the world.
They are usually planted in the fall because some varieties start producing flowers in the spring. If you want a filler for your garden, any of the different types of daffodils are an excellent option.
You'll Also Enjoy: