12 Types of Kitchen Faucets to Revitalize Your Sink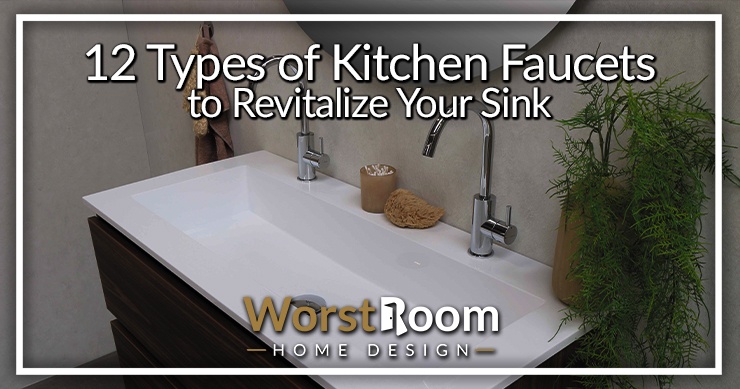 It's not really until you become a home owner or renter that you begin to appreciate things like choosing from the different types of kitchen faucets available to us.
A good, functional sink is an integral part of your kitchen where you spend most of your time preparing food, filling pots, washing dishes, and it's key to the smooth functioning of your kitchen.
And, as important as your kitchen sink, what makes it more functional is a good faucet and choosing the right one completes your kitchen and allows you to do all your chores with ease.
When choosing the best faucet for your kitchen, you'll realize that there is a mind-boggling variety in terms of the styles, designs and finishes to choose from and selecting one can be more difficult than you imagined.
12 Types of Kitchen Faucets
To make things easier, we have discussed the different types of kitchen faucets that you can choose from so you can narrow down your decision to make choosing easier. Once you finish there, check out our kitchen sink ideas to help you design the area surrounding the sink, too.
Single-Handle Faucet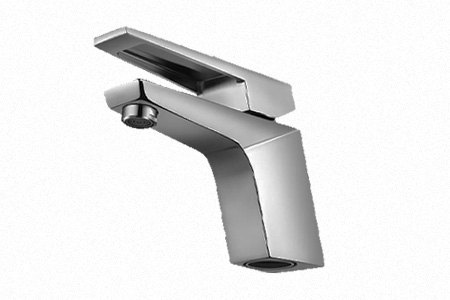 This is a simple gooseneck-type faucet that is most commonly seen in kitchen sinks, having one handle in the center or side. By moving the handle from the left to right side or up and down, you can get hot or cold water.
Single-handle faucets are very easy to use and you can move the lever with your finger to adjust the water flow or temperature. However, you may take a while to get accustomed to the faucet in getting the water temperature right.
Single-handle faucets are very simple in terms of design, they are easy to install, easy to repair and reliable too.
And, they are available in various configurations such as a cartridge, ball or ceramic disc. A one-handle faucet with a taller profile will let you use heavy pans and pots under the spout.
Double-Handle Faucet
Double-handle kitchen faucet types are more conventional kitchen faucets featuring a center spout with two separate handles on either side, one for cold water and one for hot water.
Sometimes, the two handles are attached to the same centerpiece; however, in other models, they may be a few inches away from one another on either side of the main tap.
Having two handles means you can get hot water faster than what you can get with a single-handle faucet and two handles let you fine tune the water temperature according to your requirements.
However, the drawback of having two handles is that you'll need to use both your hands at the same time to move the handles back and forth to adjust the temperature and pressure, which can be quite inconvenient when you're cooking.
Pull-Out Faucet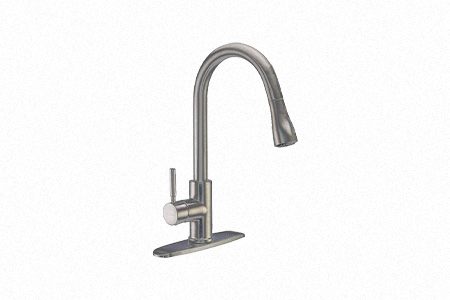 Pull-out types of kitchen faucets feature a detachable head that lets you pull out the nozzle and drag it to wherever you want.
These faucets provide a range of motion and allow you to get to all areas of the sink, even those that are hard to reach.
The pull-out faucet offers freedom of movement to fill large pots away from the sink or to water plants on your kitchen counter.
Typically, pull-out faucets have a single handle, which allows you to adjust the temperature and flow with one hand.
Also, the faucets are low arching, which lets you direct it easily with one hand. However, the drawback of this type of faucet is that if you're not careful, you'll end up splashing water everywhere.
Pull-Down Faucet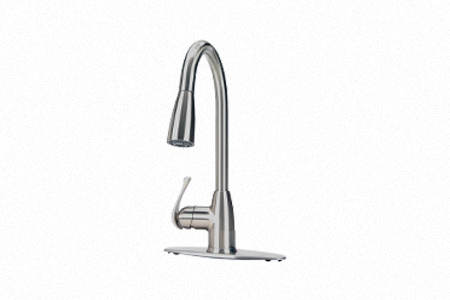 Pull-down faucets are quite popular with kitchen sinks. These elegant faucets have a distinctive gooseneck shaped spout that makes it easier to get the spray or flow into all corners of the kitchen sink and also into your pots and pans.
The pull-down faucet has a fixed head, which offers flexibility because it pulls out in a downward position; however, the faucet doesn't have the range of motion offered by a pull-out faucet and it also takes up a lot of space in the sink.
For a pull-out faucet, your sink must be deep because if it is used in a shallow sink, you'll have a lot of splashing.
Commercial Kitchen Faucet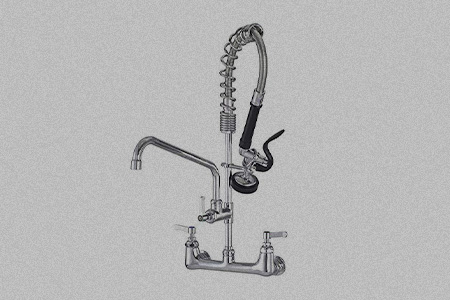 If you have a restaurant or run a professional kitchen, then you may want professional-level types of kitchen faucets that are highly efficient. Understanding why commercial kitchen faucets are ideal for your situation is important.
In such cases, a commercial kitchen faucet will work best for you. Commercial kitchen faucets are very advanced in terms of design, functionality and features.
However, the drawback is that they use a lot of water. Also, commercial kitchen faucets are much larger compared to regular kitchen faucets. Commercial kitchen faucets have a typical industrial look and you can get simple, as well as quite showy models.
Separate Spray Faucet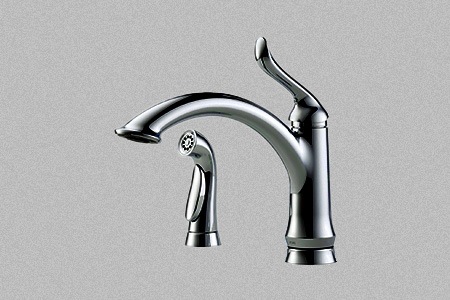 If you want a flexible option, then a separate spray faucet may be suitable for you. This features a separate handle with a trigger that diverts the flow of water from the main faucet to the spray nozzle.
The handle is usually connected to the water supply from the regular faucet. When the regular tap is turned on, then the spray nozzle will be active as the water can be rerouted to it without any issues. It works just like those types of showers with a wand in it and is equally convenient.
Bridge Kitchen Faucet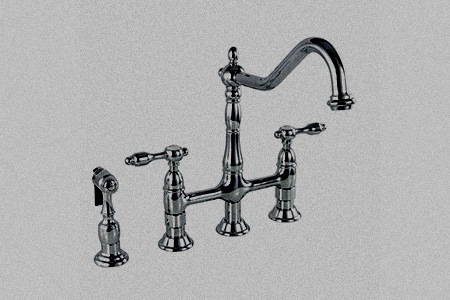 This is a traditional design faucet that is a great option for period kitchens. This design may not appeal to all people, especially if you have modern home decor because the bridge kitchen faucet has an elegant and grand design. It's an old style that you even find on some outdoor faucet types, but it may look good in farmhouse styles of kitchens.
These kitchen faucet types comes in 2-hole and 3-hole configurations and has different lines for cold and hot water. However, both the cold and hot lines connect along the bridge or horizontal axis of the faucet, with the spout extending upwards from the bridge.
Pot Filler Faucet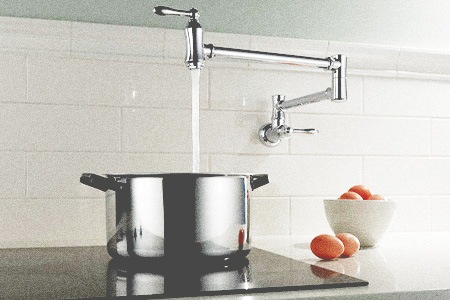 Made with an arm extension that moves outwards, pot filler faucets are mainly used in industrial kitchens.
The faucet swivels outward and can go over large pots and containers and the high pressure, as well as the extendibility, make pot filler faucets suitable for large-sized sinks.
Having a faucet right at the stove makes it very handy and eliminates the requirement for you to carry it to and from your sink to the burner.
While pot filler types of kitchen faucets are extremely efficient and practical, they don't have aesthetic value.
Also, since these are quite far away from the plumbing under or behind the sink, they need to be professionally installed and require new plumbing behind the wall, which can be quite expensive.
Widespread Faucet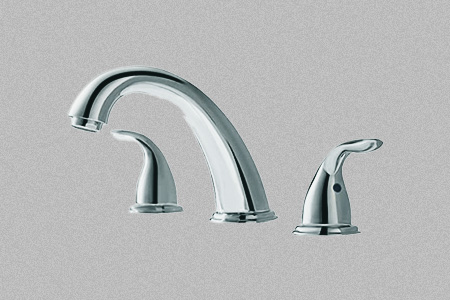 This type of faucet is unique because of the freedom it offers in terms of design. The faucet consists of different pieces that can be installed separately so you can space each fixture as close or far apart as you want.
This helps to create room for any extra faucet or sink features you require. However, you must keep in mind that to install a widespread faucet, you'll have to make several holes on your kitchen countertop.
Wall-Mounted Faucet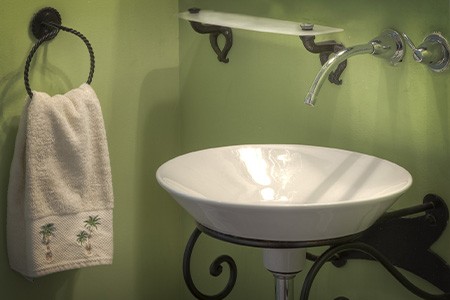 These are excellent if you want a lot of space in your kitchen sink and around it. The design of the wall-mounted faucet ensures that the taps are not in your way while you're washing up or using the sink, in addition to looking quite trendy.
However, the disadvantage of wall-mounted faucets is that the installation is quite complex and may require a professional to do it.
Also, because of the location of these types of kitchen faucets, their maintenance and repair is more difficult.
However, if you're keen to have a wall-mounted faucet installed in your kitchen, ensure that you measure everything properly before installing one or you could have the faucet pouring water all over your kitchen countertop instead of the sink.
Motion-Detection or Hands-Free Faucet
Also known as touchless faucets, these are truly handy for serious cooks. By simply waving your hand over a sensor the water flow is activated without you having to touch any hardware.
Usually, the sensor is located in the center of the faucet near the base and is easily visible via a dark spot. You can also adjust the temperature of the water, using a lever located at the base.
Usually, hands-free or motion-detection types of kitchen sink faucets are found in public bathrooms, which prevents the spread of germs. These faucets are especially useful in the kitchen when you handle raw meats and ingredients that can leave bacteria on your hands.
Hands-free faucets not only offer a whole level of convenience, but they also look very attractive. The only limitation is that these faucets are quite pricey. Though you will save some money over time by giving whatever types of water heaters you have a bit of a break.
Touch-On Kitchen Faucet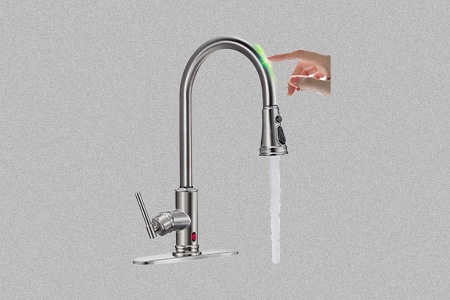 A different and newer style of touchless faucet is the touch-on faucet. These are similar to hands-free faucets and make turning the faucet on/off very easy, especially if your hands are dirty or messy.
All you need to do is touch the faucet handle or spout with your hand, wrist or forearm and the water flow will be activated.
You can set the water temperature by adjusting the handle on the side. Some models of touch-on faucets also have an LED light that shows the water temperature so that you're not caught by surprise.
Touch-on faucets are excellent if you like to multitask in the kitchen and don't have your hands free.
Types of Kitchen Faucets for Every Sink & Decor Style
Kitchen faucets are very important accessories and should be a top priority when designing your kitchen. The faucet that you choose should be durable, reliable, and provide convenience when you're working in the kitchen in general.
Not to mention that the different types of kitchen faucets you choose should also complement the decor of your kitchen and make it more aesthetically appealing.
You'll Also Enjoy: