19 Kitchen Styles: Tried & True Classics to Choose From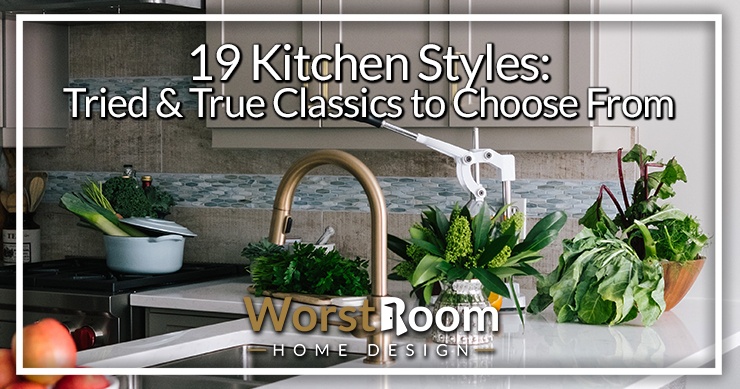 With so many kitchen styles, how can you even start to choose how you'd like to design your decor?
There are many ways to pick a design for your kitchen. Some folks like to match it with the theme of the rest of the home. Others like their kitchens to stand out from the crowd.
But sometimes, you need to look at the options available to make that final decision. That's what we're here for. Let's jump right in.
19 Kitchen Styles
With all these kitchen design styles, you can let the images narrow down your choices, but don't get too hung up on any one image, because you can customize those particular kitchen decor styles to your own taste.
Classic Kitchen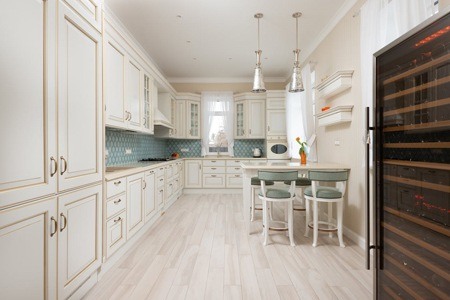 These types of kitchens are pretty standard, as you can tell from the name. It comes with white or cream kitchen cabinets and simple details. The black accents throw in a little contrast to keep things interesting. The idea is for the look to be clean and simple.
It's a great way to keep the kitchen as a blank slate so that you can personalize the look at a later stage with decorative elements. When we say elements, we are talking about the lighting, furniture, and the works that reflect personality.
Traditional Kitchen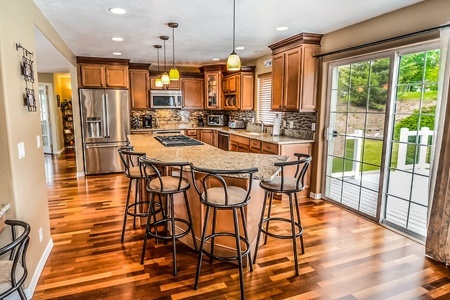 Next up is the traditional style that focuses on the details. That includes arches, moldings, and corbels. Throw in some raised-panel cabinets and you have got something to work with. Traditional kitchens also include a mix of antique finishes and turned legs.
Some folks also like to add a little chandelier for a classic American appeal in the old-world flavor. These styles of kitchens are very much about symmetry and balance because it can't be too loud. Each element is carefully selected. Details, like mentioned above.
Kitchens designed in the traditional style often have countertops with white marbles and conferred ceilings. And if you would like to add accessories that fit the bill, you will have successfully personalized your traditional-style kitchen.
Contemporary Kitchen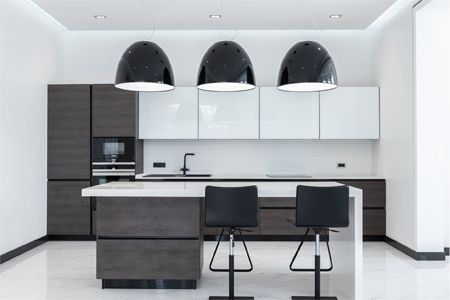 Then there are the contemporary styles of kitchens which by definition is a mix of old and new worlds along with casual and sophisticated. This is for folks who own gourmet-style equipment and like comfortable seating in an open space.
It breaks the traditional boundaries and allows your guests to interact with the chefs. This means you get to incorporate frameless cabinets, simple hardware and strong horizontal lines.
You will still have space for some other decor. So, we are looking at a big-ish kitchen space so ask yourself if these kitchen styles will work out with your floor plan. An open floor plan, or "open concept" is newer and is hard to accommodate in older homes.
This design encourages sleek interiors arranged in a playful form. It is also a mix of styles in a way that reflects the present. Hence the name.
Modern Kitchen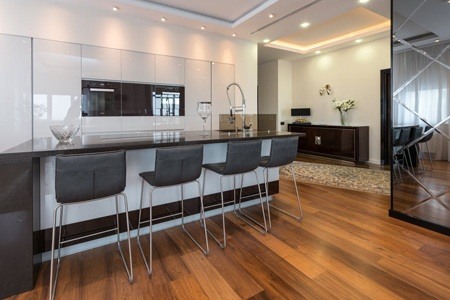 Moving on to modern kitchen styles. This design is all about being sleek and unabashedly sophisticated. The idea is to keep it free of clutter as far as possible, almost minimal. Cabinets without frames and simple hardware is how it is done.
Stay away from overly decorative pieces by using natural materials that shine through the noise. So you will be looking at materials that commonly have reflective surfaces.
You can mix in some elements like unfinished concrete walls but only to a certain extent. Otherwise, it starts to look industrial which are whole other kitchen decor styles.
Modern is a difficult word to define. The idea varies depending on the eye of the beholder. But you can narrow it down by picking the sleekest elements you can find. Remember, minimal is the philosophy.
Beach Kitchen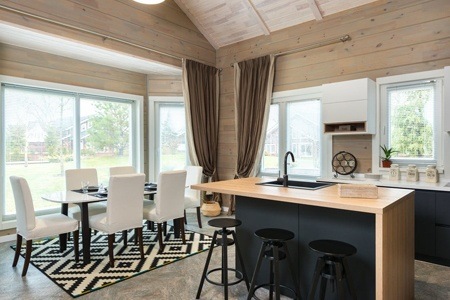 Beach types of kitchen styles are a rather trendy way of designing the space. They are, unsurprisingly, all about crisp white hues and cool shades of blue.
For raw materials, you want to look at wicker, seagrass, and sand which are also predictable. Make sure the kitchen space gets a lot of sunlight and is airy.
The idea is to keep it coastal with thematically appropriate accents that recreates the vibe of a vacation. It will help you relax and inspire your cooking with a tinge of fun.
If you want to make it look airy, focus on the window treatment. Large glass windows are favored for this very reason, even better if they face water. For this same reason, if you have a kitchen without windows you may want to forgo the beach style.
Your flooring should be of unique finishes and light colors. You can even consider specific types of rugs to accentuate the decor. Whitewashed paint treatment is a great idea to introduce elegance to the room. Seashells and other ocean-related objects like lighthouses and anchors are a great way to enhance the decor.
Farmhouse Kitchen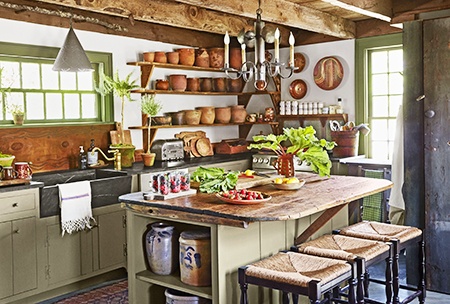 If you want a warm and inviting look, you might want to check out some farmhouse kitchen design styles. But that doesn't mean you must compromise on functionality and comfort. All of that goes hand-in-hand in this style.
You can achieve this look by including open types of shelves, wide sinks and other kitchen sink ideas, and wooden flooring. One of the signature features of this look is a huge kitchen table. Designers prefer colors like red, yellow, and aged tones of cream.
If you are feeling rebellious, you can try blue too. Mixing and matching is a common way of doing the kitchen in the farmhouse style. Tie it off with simple but vintage-style lighting and you have a great kitchen done easily.
Cottage Kitchen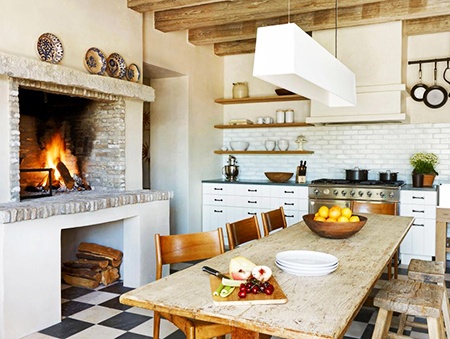 This style of design is inspired by smaller kitchens like in the olden days. The idea is to keep it unpretentious and give it a cozy look. You can get there by adding a beadboard and using soft colors.
When it comes to hardware, go in the vintage direction and get some wooden floors and match them with colorful accents and specific types of curtains. Pick up some eclectic and antique collectibles and match them to appliances in white or retro colors.
These types of kitchen styles are for those who like their kitchen to look easy and carefree, not that the cottage life was ever like that.
French Country Kitchen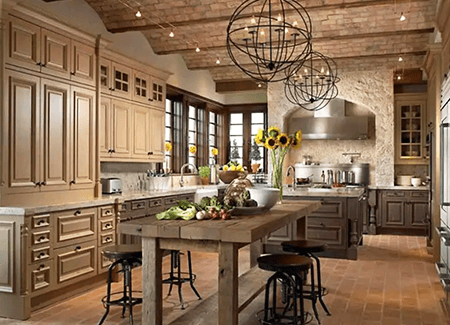 This one is possibly on the other side of the spectrum of the different types of kitchens. It's a balancing act between earthy tones, a traditional, and chic look. If the surfaces look a little worn out, let them be. It is considered charming.
Keep the colors warm and the fabrics rich in tones of cobalt and russet. The cabinets are also preferably in warmer shades of wood and white. Pick ceramic accessories that are in mustard yellow or warm reds. Let the textures be rough and add a copper pot or two.
Mediterranean Kitchen
If you are looking for something that looks like a Spanish-revival act, these are the kitchen styles to check out. Flared hoods and hand-painted tiles are a common feature of Mediterranean style kitchens.
Get cabinets made of warm woods, like cherry, that you can either leave as is or stain them. For the color scheme, focus on lively blues and greens on the common walls. The other can be accent colors. If you want a nice backsplash, look at terracotta or mosaic.
Rustic Kitchen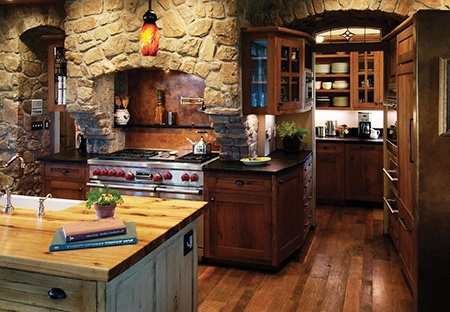 When you think of a rustic kitchen look, remember that a lot of designs today are a revival of the classic style. So, designers tend to use a lot of timber, stone, and brick for raw materials. Tie that off with vintage appliances and maybe a fireplace if possible.
This style is greatly in demand and they feature a lot of distressed and reclaimed woods. That creates an interesting look for flooring, cabinets, wooden ceilings, and kitchen hoods.
Industrial Kitchen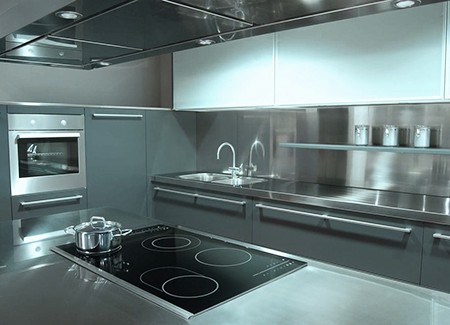 Here we have rustic's cousin, the industrial style of interiors. This style features a lot of metals, concrete, steel, and wood. Exposed brick walls and steel surfaces are a classic feature of this style, no matter which part of the house, though you may want to know how to hide exposed pipes if that isn't for you.
When you are picking furnishings, go for clunky objects and oversized pieces. This style is all about being practical and affordable. It is very popular among those who live in lofts and condos. It is a great way to mix the unfurnished with the chic look.
Eclectic Kitchen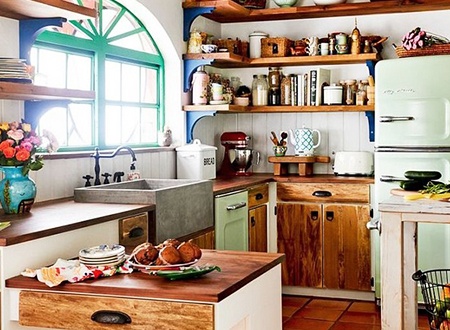 This is for rebels who are looking for a cause. The whole idea of this design is to take ideas from a broad spectrum of sources and create an environment that is organic to them. The best way to do it is to go by the mix and match theme by combining modern and rustic styles, for instance.
The finishing touches can be done with artwork featuring prominent patterns or colors. This is typically found in homes of people who like humor and irreverence. But it is sometimes also a symbol of pride for those who have widely traveled.
Craftsman Kitchen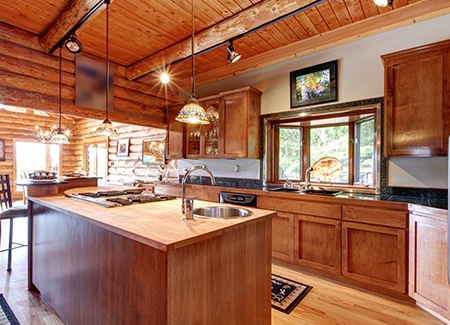 This is a kitchen style that became quite popular only in the 20th century. It heavily features rich woods, handcrafted tiles and yet keeps it balanced with some simplicity. Craftsman-style kitchens use a lot of mass-produced products and focus on natural materials.
Those who like things like old-fashioned types of kitchen faucets, sturdy proportions, and well-made final products will really dig this style. It feels as if a woodworker made it from freshly cut lumber. Strangely enough, you can really get away with types of track lighting here since they'll resemble a wood shop to a degree.
Asian Kitchen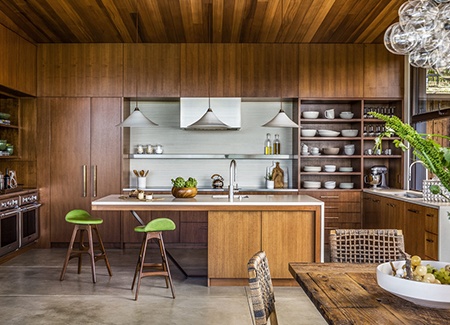 When you think of the Asian kitchen style, don't think of historical decor you might have seen in movies. This is as modern as it gets with an extremely efficient use of space that is the hallmark of many Asian cultures.
What you'll find is a lot of natural materials still in their raw state, such as unstained wood, types of granite countertops, or marble that, of course, has a polished surface for the countertops but many portions that are unpolished and rough.
You'll see lots of straight lines and 90 degree angles, but also plenty of accent curves that really pop out when juxtaposed against the rest, which is very deliberate in its layout.
Mid-Century Modern Kitchen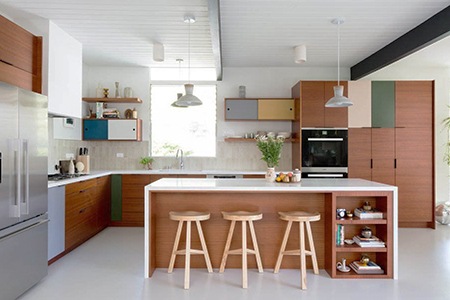 Mid-Century modern combines the minimalism and straight lines of the modern kitchen decor style but brings in elements from middle of the last century, such as wood, chrome colored metal, plants, and splashes of bright colors. Otherwise, white is the main color. Don't try the opposite of minimalism here, as maximalism will clash poorly.
Southwestern Kitchen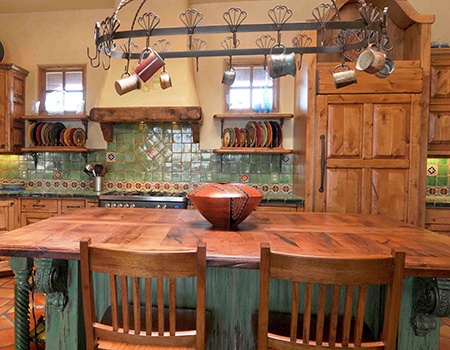 Southwestern, in this regard, refers to that region in the United States where people still use Adobe style elements in their types of houses and decor. The kitchens are the same, using arches made of brick and lots of terracotta tiles for the flooring and even table tops.
Think about bricks, wood, types of tile, arches, and anything that reflects Adobe houses, dirt, earth, and classic, historical Western looks.
Scandinavian Kitchen
When you think of a Scandinavian kitchen, it may help to picture Ikea furniture to a degree. The minimalism and very modern looks are very prominent. This type of design can't allow clutter.
Everything features straight lines, whether that's the white cabinetry or natural wood tables and chairs with very light coloring. Otherwise, you might see some accent colors like light grays, but it all blends into the white and natural wood.
Bohemian Flair Kitchen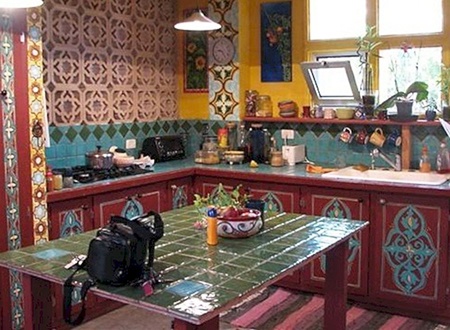 The Bohemian style is all about culture and being eccentric. It breaks the rules and incorporates a lot of personal design choices. But the most obvious are the associated color choices.
You'll see a lot of earthy tones, like browns, greens, and grays, then the accent colors are often Moroccan, such as teal, orange, and purple. Decorative materials will include fringe, crochet, burlap, sisal, silk, and chenille.
Shabby Chic Kitchen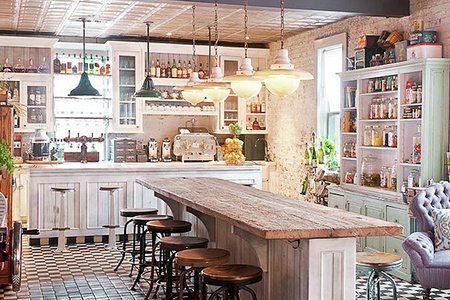 You see these kitchen styles in a lot of current magazines and websites. The idea is to look very organized, designed, and decorated, while at the same time appearing shabby or rustic.
To achieve this, wood will be purposefully distressed by being beat with a hammer or having nails hammered in and removed. In addition, corners and edges will be purposefully dented and roughed up.
Finally, after painting people will even return and sand off lots of the paint to help make everything look aged and used. Using the right types of paint to achieve the shabby chic look will help. Think about low gloss.
Kitchen Styles for Every Preference
A good design is one that takes the natural elements in the space into consideration. It is all about respecting the amount of space and light that there is in the room and building your style accordingly.
A lot of people like to mix more than one style together and create looks that act as a moderator between two worlds. Whether you want clunky metals or a clutter-free, functional-only kitchen, you have a lot to choose from. And if you listen closely, your kitchen will tell you what works best.
The above-mentioned kitchen styles are just a handful in an endless array of models that are becoming popular by the day, but these are the tried and true classics.
You'll Also Enjoy: