13 Types of Patios & Materials to Help You Relax & Impress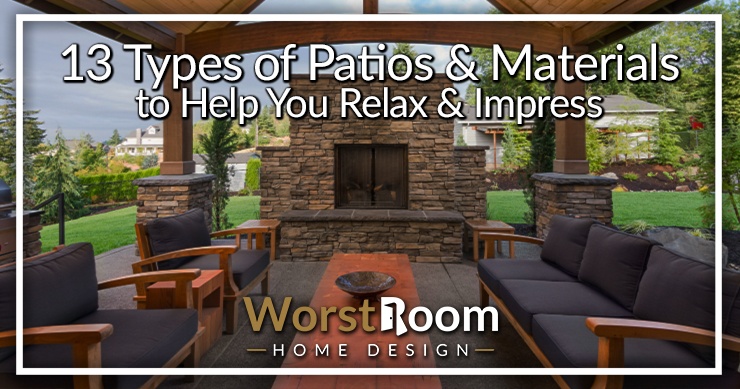 All of the types of patios originated as a Spanish concept and found their way into Spanish-American architecture. The word patio itself comes from Latin which means to lie open.
Patios are actually a pretty great idea if you like to have an outdoor space with a roof that can be detached from time to time so that you can take a look at the amazing night sky and wonder about the secrets of the universe.
A lot of people liked to surround their patios with galleries and porticos in the 15th century and this one of those areas where the original ideas are good enough for us to steal from.
After World War II, a lot of other materials like bricks, gravel and concrete came into the construction of patios.
13 Types of Patios
Today, it is a mix of style, budget and weather compatibility. Let's take a look and find you the material that suits your needs.
Gravel Patios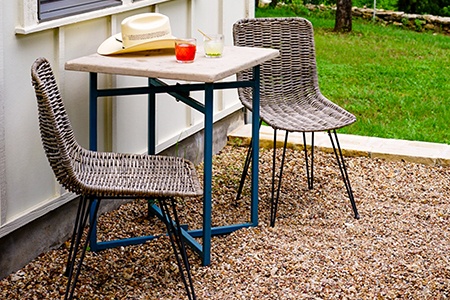 If you think that patios need to have a solid surface, you will be surprised at what gravel can do. A really nice patio made of gravel is unthinkable to a lot of people. But, it is a cost-effective method for all your patio needs. Using gravel to make a patio in your home is one of the simplest methods.
Gravel as a material is inexpensive and easily available. It is also easy to install and you do not even need to do a lot of work. There are quite a few positives to using gravel.
It provides excellent natural drainage which makes water pooling after heavy rain or a storm a non-issue. This also helps in keeping weeds at bay because it is highly unlikely for them to grow on gravel.
But since there is no such thing as perfect, there are a few problems too. A lot of people are not comfortable with gravel because while it can look pretty, it can be quite annoying to walk on it, especially if you are barefoot for whatever reason.
It is also difficult to maintain because it shifts quite a bit and you could lose some of it to extreme climate.
Concrete Patios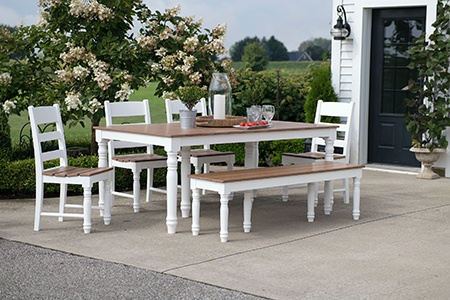 Concrete is another affordable option for simple types of patios on your property. If you find that gravel is not exactly as cheap as you anticipated it to be, this one is a good second choice.
This one is also quite durable and is built to stand the test of time. It is also a lot easier to maintain when compared to gravel and it is quite reliable as a material if you take care of it.
However, you must understand and remember that concrete is prone to freezing. The cycle of freezing and thawing can really do a number on a concrete patio because it creates cracks in the overall structure and weakens its integrity.
But just because you live in an area where the mercury dips harshly does not mean concrete is not an option for you. It just means that you have to be a bit more careful and might have to get some repair work done over time so that it stays smoothly operational.
Concrete slabs are also used as a base for patios and decorative tiles or other materials are placed on top of the concrete. This, in fact, gives it a better look and makes it one of the more different types of patios, albeit a simple one.
Concrete also works out for those who just want a practical patio option that is durable. Take the decoratives out of the equation and you are good to go.
What you'll want to consider is the type of concrete finishes for patios you desire, like exposed aggregate finish, salt finish, or stamped concrete finishes, as examples. There's plenty of options!
Sand Patios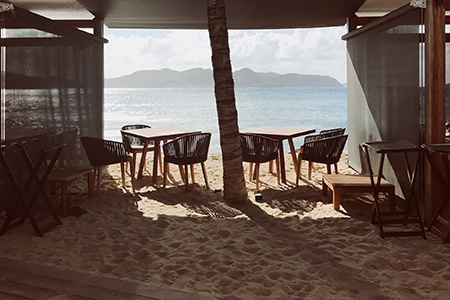 If you live near the ocean (or even if you don't but wish you did) a sand patio with beach furniture and umbrellas can be awesome. We've all seen sand pits for kids to play in, and a sand patio doesn't differ from that much at all.
Sand isn't expensive, though you'll likely want it delivered by truck and poured into place since you'll need a lot of it for these types of patios.
All of the pros and cons you deal with from sitting on the beach is what you'll get here, with the legs of your chairs sinking into the sand, and perhaps it being too hot for bare feet at times.
Another issue is wind and rain blowing the sand around and then having it stick to everything else on your property. Eventually you'll need to refill your sand patio area with more sand as it moves about. It's okay for your grass, so no worries there.
Patio Pavers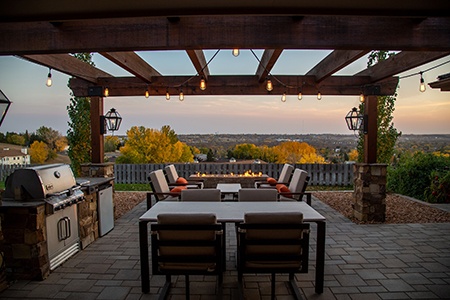 I personally love the look of patio pavers, which are essentially pieces of concrete formed into bricks of various sizes and meant to be locked into place with each other. You don't have to worry about grout and mortar either, though you will need to space them appropriately.
After that you rub in sand and soil and stamp these types of pavers to help them settle. These types of patios resemble the cut stone patio types except everything will be uniform here and look specifically designed, rather than assembled from various leftover pieces of stone.
People love to use these patio stones as decking alternatives, since they're as elegant if not more so, and require very little maintenance. You can achieve a flat, sturdy surface and when installed right won't allow for much shifting and on-going intervention.
Cut Stone Patios
Cut stone are flat pieces of broken stone that can be placed together like a puzzle piece. If done right it can come out looking like tile, but very randomized. Sometimes you'll need to use masonry types of chisels or types of saws to cut the stones to the final shapes you'll need.
As far as stone types, you can opt for sandstone or travertine on the cheaper end or even go for a more sturdy marble, though for this type of patio and being outside, I wouldn't do that. As far as your options go, anything of the types of exterior house stone can be used for a patio.
Often, these stones are throwaway pieces being repurposed, so it won't be as expensive as you may think. If you can get your hands on enough of them you could learn how to build natural stone steps leading up to your patio, too.
Pavement Patios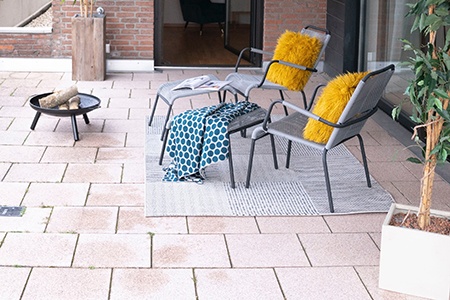 Now, if you think concrete and pavements are the same thing you are not alone. But you are definitely wrong, especially when it comes to these types of patios.
Concrete is considered to be a pavement but pavements can actually be made of other options like asphalt. Like, all thumbs are fingers but all fingers are not thumbs.
If you want to build a pavement patio, you can get the help of professionals to build you one of these pavement driveway alternatives. Be prepared for them to haul the pavement in on various types of trailers and wheelbarrows.
Typically, they take measurements of the space before pouring the new patio. It is a quick and easy process but it does get a bit expensive because of all the outside help involved.
But when it comes to pavement you do not have much of a choice because to do it yourself is actually a bit impractical, especially if you do not have prior experience.
But on the bright side, pavement patios look quite good and getting a large project like this done by professionals is a lot easier. Add to that, it will get done in a matter of days.
While pavement patios are durable, you will face problems similar to that of a concrete patio. The wind can cause trouble if you live in an area that experiences harsh winters.
This is likely to lead to freezing and thawing cycles that will in turn lead to cracks that need repairing. Asphalt patches are sometimes used as a fix.
Slate Patios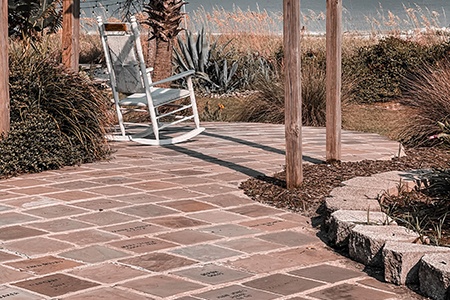 Slate refers to natural stone, much like cut stone, except these aren't an afterthought. They're designed in square or rectangular shapes for consistent and easy installation. They can be stained in a variety of colors as well so you'll have plenty of options.
These are completely natural, durable, and can be installed yourself, though it's always wise to consider the help of a professional. While you're at it, you can spruce these patios up quite a bit by installing any types of deck railings, even if you're at ground level. It gives people something to lean against and place drinks and can keep pets and kids within a certain area.
Over time you'll want to scrub or pressure wash these surfaces as they can attract dirt, mold, and mildew. But they look very nice and sophisticated, so it's worth the hassle.
Flagstone Patios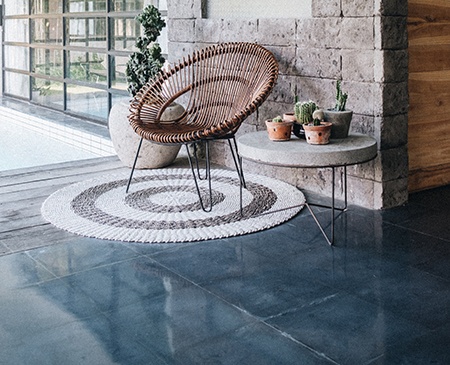 Another good option for decorative types of patios are ones made of flagstone. This is also a bit expensive. But if you are up for it and want a really good-looking patio then this, here, is the raw material to go for.
There are different types of flagstone in the market and all of them have their own special attributes.
You can start by choosing one that is aesthetically appealing on your patio to act as the patio surface alternatives. Now, this one is not the easiest to install. So, you must think of calling in some professional help to get the job done with grace.
Those who have prior experience can make sure that the work with the material is going smoothly, considering it is not easy to work with. And that the job gets done in time.
It is hard to work with flagstone because this is a very heavy material which makes it impractical to use it unless you have the proper tools and know how to work them. But once you achieve your goal you'll have one of the most beautiful and different types of patios out there.
If you are on a budget, this might not be the first thing you want to look at. But before you buy flagstone, remember that some are good for warm weather while others deal with winter temperatures quite well.
You could get the advice of a professional to figure out which one suits your region and its climate the best. See why it is an expensive project?
Clay Brick Patios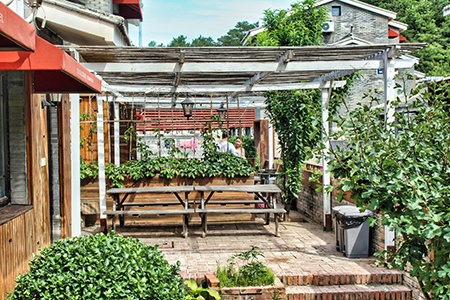 If you are gunning for an impressive looking patio, you will find that clay bricks are a great option. This must be the primary surface material because bricks lend a certain level of a classic feel to the space.
It will help you create a rather good-looking patio space. Bricks are also a way of adding a touch of the past to a space. And they're extremely durable, managing to withstand 15,000 pounds per square inch of pressure on them. You could drive vehicles over them if needed.
But before you get started with the project, be mindful of the fact that this can be expensive and difficult to finish when compared to some of the other options. But you must do your own evaluation depending on the amount of importance to give to the look of the patio.
Now, since it is going to be expensive, you might want to start by having a budget before you start the construction work on these types of patios.
You have the option of using reclaimed bricks if you are okay with going even higher in terms of costs. However, the bright side to that argument is that they are quite eco-friendly. You also have the option of using mortar instead of clay bricks for the whole space.
That way you can rest assured that everything will stay firm. You can also go with a bed of sand under the clay bricks because it is a very flexible material. All in all, the advantage of a patio made of clay bricks is that it is quite easy to install one. They are also very friendly to different patterns.
People often like to have their patios in different geometric shapes and with clay bricks that can be done quite easily. All you need to figure out is how much material is required to get there.
Tile Patios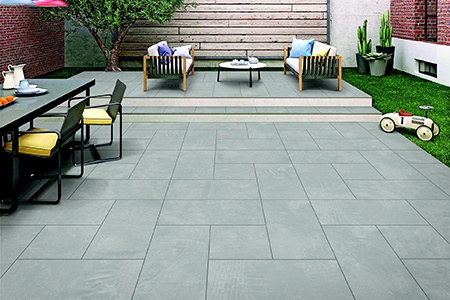 This is another popular choice and it works very well. Tiles make it very easy to clean the surface of a patio and it is pleasant to walk on.
These positive attributes make it a coveted choice. But tiles are usually placed on a different surface that is the base. Concrete slabs are an excellent choice for these types of patios in that respect.
Now, since concrete is also fairly affordable, the overall cost should not be too high. Tiles also give you the choice of inviting a ton of designs and patterns into your patio. Between the colors and textures, you will be spoiled for choice. And unlike flagstone, this one is easy to install too.
There are a few things to watch out for though. Tiles can be slippery when wet and can cause you to slip and fall if you are not careful.
Patio Mats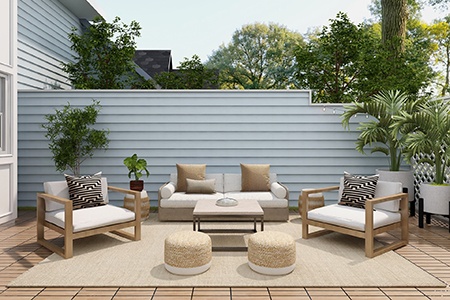 Sometimes these are referred to as outdoor rugs, but patio mats can really do a number to change the aesthetic of your concrete patio. They can be moved, flipped over to dry after getting wet in the rain, swept or even pressure washed at a light pressure.
The best part is all of the colors and various designs you can choose from. They're cheap and can cover oil stains or parts of your patio that are deteriorating. You can even change them with the season or decor style.
Loose Materials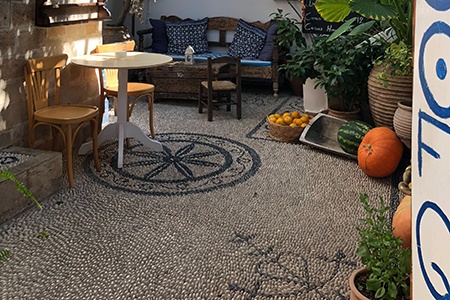 Much like sand, using loose materials can make for a very nice patio area, especially within smaller and confined and fenced in areas. Some options include pea gravel, crushed stone, decomposed granite, rubber mulch, mulch alternatives, aggregate stone, bark mulch, and again, sand.
Mixed Materials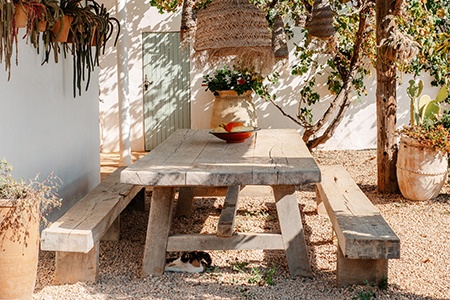 And finally, we should point out that you aren't stuck with any of the above options. You can mix and match them to create a more exciting experience.
Cut stone more spread out with pea gravel in between, with natural stones scattered about, mixed with sand... you can really make it your own if you get creative.
Types of Patios for Every Yard & Persuasion
There is one more one factor to consider when it comes to building a patio. Sometimes you can leave it to the professionals but there is a certain amount of research you need to do on your own to get the best even out of a professional. Hope we were able to do that for you with our guide on the different types of patios.
You'll Also Enjoy: