13 Types of Violets to Splash Color All in Your Flower Bed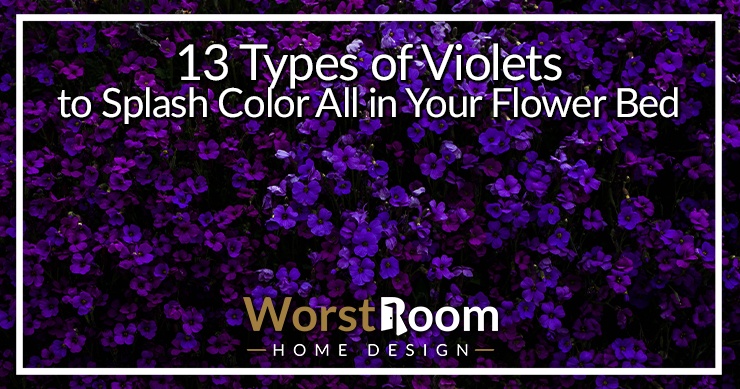 Did you know that Napoleon Bonaparte loved all types of violets so much that he was called 'Corporal Violet'? Even Shakespeare fell for the elegant violet flower and marked it as a sign of faithfulness. This is the power of those cherry blossoms that fill up our gardens with grace during winter and spring.
Although violets are mainly wildflowers, you can easily grow them in your garden beds and window boxes.
There are as many as 400 to 500 species of violets that come in different colors like violet, blue, lilac, red, yellow, etc. Some of them have sweet scents while don't have any fragrance at all.
Though there are varying uses, the varieties of violets are mostly valued for their beautiful, decorative looks in a flower garden. Let's explore the most striking species of violets to know this gorgeous flower a little more.
13 Types of Violets
Violet flowers belong to the family 'Violaceae,' and all the species of this family are usually referred to as 'violet flowers.' Violets, violas, and pansies are the common names of all the flowers that comprise this category.
Violets were first documented in Tanzania in 1892 by a guy with the longest name ever, Baron Adalbert Emil Walter Redcliffe Le Tanneux von Saint Paul-Illaire. They made their way to the USA in 1894 and now we even have the African Violet Society of America to keep the interest high.
We went through the beautiful flowers from all three types and picked the most unique species of violets. We'll talk more after that. Here are those gorgeous violet types:
Sweet Violets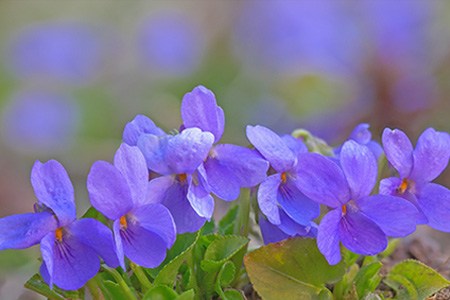 The flower has 'sweet' to its name for having the nicest smell of all the violets. These flowers are native to Europe and grow well in both warm and cold areas.
It's a perennial flower that grows only half an inch in width. Sweet violets bloom in spring and late summer with their gorgeous blue, dark purple shades.
As for the plant, it rises 6 to 10 inches in length and features dark green, heart-shaped foliage. It grows well in partially shady areas and fertile, well-drained soil. You can include the edible leaves in your salads or chilled drinks.
Sweet violet varieties are resistant to deer and rabbits and suit most in shade gardens, cottage gardens, hanging pots, and as ground covers.
Delta Violets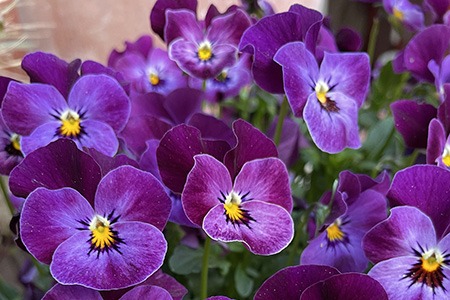 Delta variations are hybrids, and they show striking diversity in their colors. Red, orange, lemon, and neon violet are some available colors that every pansy lover will cherish.
The flowers are larger than regular violets and reach 2.5 to 3 inches in width. They bloom from spring to late summer in cold areas and survive even in winter at warmer locations. The plants vary in size and range from 4 to 10 inches in height.
Although these kinds of violets prefer shady areas, some can tolerate sunny areas too. You need to plant the tree in moist and fertile soil to enjoy the earliest blossoms.
Common Blue Violets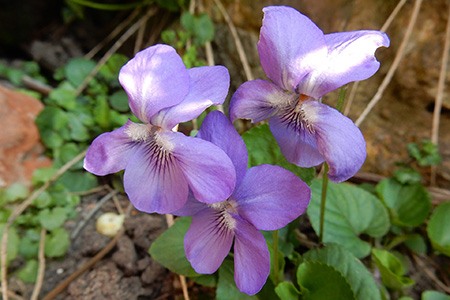 This herbaceous perennial plant is native to North America, and it grows fast in moist wood, soils, or swamps. Moreover, the plant is self-seeding, and it can grow naturally in your lawns and gardens. It rises 6 to 10 inches long and grows well in shady locations.
Common blue flowers are usually blue or light purple in color with a white throat. The deer-resistant flowers are big and delicate, containing five petals.
In contrast to the petal hues, the foliage of these types of violets are glossy green and heart-shaped. Both the leaves and flowers are edible and rich in vitamin A and C.
Mammoth Violets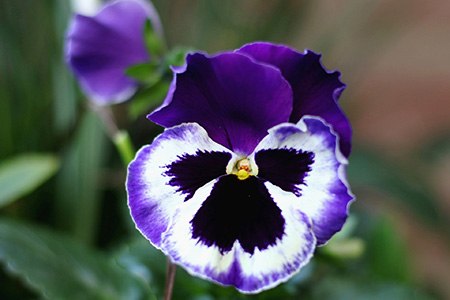 Among all types of pansies, this type is one of the largest and most tolerant to different weather conditions. The flowers of the mammoth series are 3-4 inches wide and come in many deep and vibrant shades like berry, violet, yellow, and white.
Most flowers have 3 or more colors, including a characteristic black or deep brown blotch. You can grow mammoth violets in fully sunny or partially shady areas. They bloom in spring and summer, while some also survive the cold winter seasons. They look great with the colors of the various types of zinnias.
The plant grows 6 to 9 inches long and features reduced but strong branching foliage that fills up the flower pot quickly. If you want strong, colorful blooms from spring to summer, mammoth violets will be an ideal choice.
Bird's Foot Violets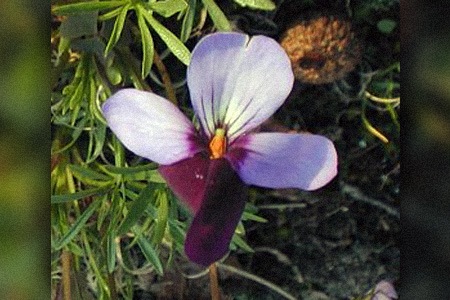 You can spot this small lilac flower naturally growing in eastern areas of the USA. Apart from lilac, the flowers are found in shades of blue, violet, and pink. The flowers bloom throughout the spring and grow best in full or partial sunlight.
The name 'Bird's Foot' refers to the thin, three-lobed, separated leaves of the plant. These varieties of violets are a perennial plant that grows 3 to 7 inches high.
You might have a hard time selecting a location for planting as the violet species doesn't grow well in the rich, organic soil of typical gardens. Instead, you need to find the acidic type, well-drained soil for plantation.
Halloween II Violets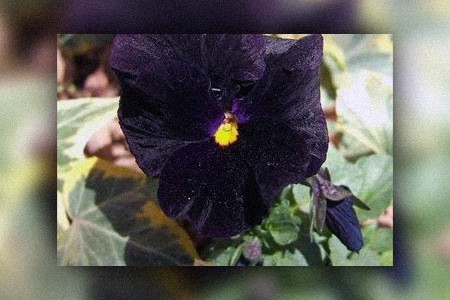 You may have seen hundreds of kinds of violets, but this one is truly the most unique of all. With their inky-black petals and yellow middle spots with purple accents, these spooky flowers will catch everyone's attention. The flowers are 3-inch wide and bloom from early fall to spring.
As the plant grows in almost any soil type, you can grow them anywhere in your garden, window boxes, or containers. They grow best in moist soil located in full sun or shady areas.
Hairy Violets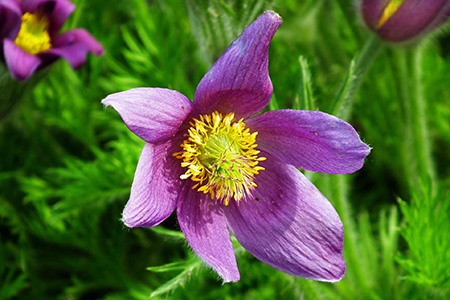 These different types of violets are found in colder regions of Asia and Europe. These violets are called hairy because the plant is fully or partially hairy, giving it a greyish look when dried. It grows 6 inches tall and loves dry areas like dry banks, chalk grasslands, and woods.
Hairy violets have a bright violet color with darker blotches and a yellow-white eye near the center. This low-growing, perennial plant has no proper stem, and the flowers grow from the rootstock directly. You can grow the plant in any type of soil to get those small violet blooms in the colder months.
Ocean Breeze Violets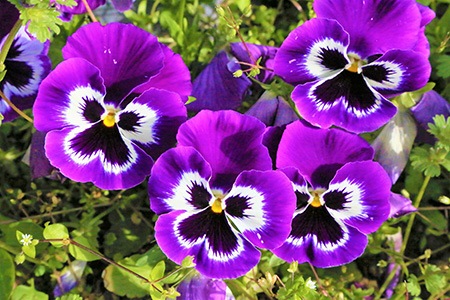 Most flowers of this type are tricolored, featuring light and deep shades of purple that look like gleaming ocean spray. You can find them in blue, purple, and white colors with a yellow spot in the center. The flowers like warmer climates and grow during the fall or summer.
Ocean breeze violet varieties grow 6 to 10 inches tall and do well both in partially shady and sunny areas. The blooms are famous for their early timing and sweet fragrance.
Amber Kiss Violets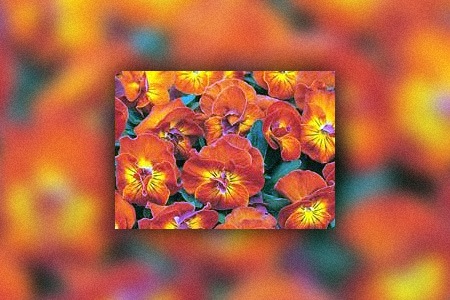 As the name suggests, these bronzy-orange flowers have a yellow backdrop that increases their beauty. You can grow the amber kiss on your terrace, containers, or beside the entering alleys. As the plants are strong and bushy, you can plant them for massing and bordering.
The plants like sunny areas and blooms from early spring to late fall. Along with the vibrant colors, the amber kiss also offers a delightful scent that lifts your mood instantly. I think these look especially wonderful when paired with various types of camelias in the flower bed.
Johnny-Jump-Up Violets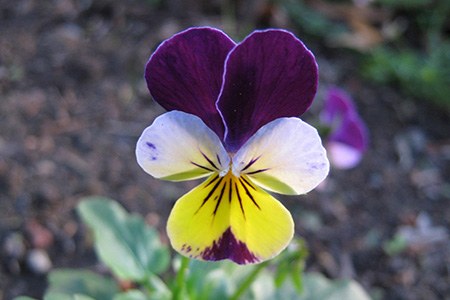 Being one of the most common violets, these violet types are seen everywhere during the spring and fall. In many areas, the 3 to 9 inches plants grow naturally on the roadsides and hence got the name Johny-jump-up.
If you're a novice gardener, they can be your perfect choice as they grow fast in moist soil, sunny or shady areas, and require low maintenance. The tricolored flowers are mostly valued for their gorgeous colors, including blue, purple, white, and yellow.
In this 5-petal flower, all the petals might have different colors. As the flowers are grown in masses, you can grow them in gardens, containers, or rooftops and accentuate the beauty of the landscape.
MagnifiScent Sweetheart Violets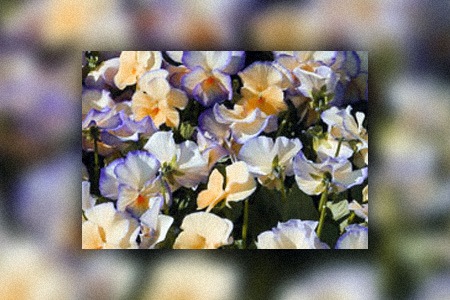 Guess how these types of violets got their name? Yes, it's because of their magnificent fragrance that delights all your senses. Along with the scent, the flowers are dear to many gardeners because of their beautiful lemon or cream color ruffled petals with a contrasting purple edge.
The plant is native to the United States and produces 1.5" blooms in spring and summer. As it spreads 4 to 9 inches in width, they work as excellent ground covers.
You can also plant them in hanging baskets and garden borders as mass landscape planting. The plant is deer-resistant and requires minimal maintenance.
White Perfection Violets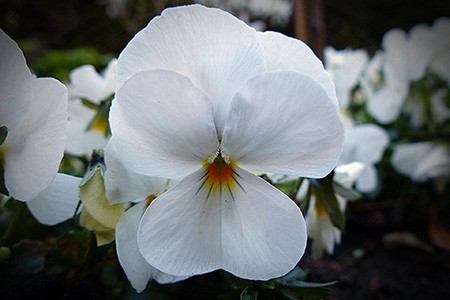 Unlike most violets, this type has the perfect white color with a little yellow spot on the middle. The flower is small and grows in masses throughout the spring and summer. One who isn't well-versed yet might confuse these for types of petunias due to the shape and color, though the petal count doesn't match.
As the biennial plants grow up to 8 inches in length and width, they work as ground covers and borders. The blooms have a delicate scent, and they will attract bees and butterflies in your gardens that facilitate pollination.
Tiger Eye Violets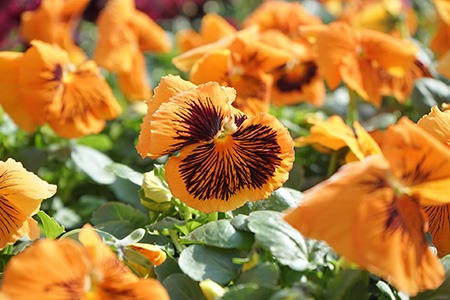 If you want uniqueness in your garden, this type is undoubtedly the best match. The flower is bicolor, having an orange or yellow shade with blackish-brown stripes all over and a black eye in the center. Tiger eye violet has a light scent, and it's compact with round petals.
As for the plants, they have heart-shaped, edible leaves. The plant is deer-resistant and blooms during spring and summer. It grows 12 inches long and tolerates full sun and light shade. You can grow them for mass planting in your garden, containers, and borders.
More Types of Violets
We can't possibly list every single one of the violet types here, since you'll find over a hundred available for purchase and many more that exist but aren't widely cultivated. But we can list off some of the categories so you can keep exploring in an organized way.
What you want to know as you set off on this journey is that there are five varieties of violets in general:
Double Violets
Heirloom Violets
New Violets
Violas
Parmas
And just so you don't get confused, there's another grouping that you may hear people using, which are Pansies, Violas, Violettas, and Cornuta Hybrids. Don't stress too much over it. Just plant and enjoy what you think looks good.
Some other violet varieties to look into that I personally think stand above the rest include:
Moulin Rouge Violets
Sunrise Violets
Celestial Northern Lights Violets
Swiss Giants Violet Varieties
Panola Pink Shades Violets
Colormax Violets
White Perfection Violets
Freckles Violets
Plentifall Frost Violets
Halo Sky Blue Violets
Appalachian Blue Violets
Check these out next, especially Freckles Violets if you want something extra unique visually. If you look into African Violets just know they can succumb to fungus gnats fairly easily, but we've talked about how to get rid of fungus gnats in the past, so you'll be fine.
Types of Violets to Brighten Up Your Flower Bed
Violets grow in both cold and warm areas with very little effort. If you are a novice gardener and want to adorn your garden all around the year, pick the violet flower for the best outcomes.
So, there you have the most gorgeous yet different types of violets. The flowers are extremely versatile and show a wonderful range. You can grow violets to keep your garden colorful during fall, spring, summer, and even frost.
You'll Also Enjoy: