8 Closet Alternatives That Save Space & Look Great!
Closet alternatives can truly save the day when you're in a tiny dorm room or studio apartment that don't have a closet. We all have to organize our clothes and keep them neat in some kind of storage, so what are we to do?
Closets can be something of a luxury, especially in small rental spaces, minuscule bathrooms, etc. However, don't let it get you down if your newly-rented space comes without a closet.
Gone are the days when they were necessary to be organized, and here are the days when leaving your clothes and accessories out in the open can actually add to the aesthetic value of your room.
Additionally, let's be honest—closets are a hotbed for procrastination. Things just go into your closet and it can be years before they see the light of day again, gathering dust, mold, and possibly even fungus, in the meantime.
It may have sounded cool when Eminem said it but cleaning out your closet can be quite the taxing task (I'd rather listen to Marie Kondo), especially in such cases. Let me show you a few ways to avoid it altogether.
8 Closet Alternatives
At the end of the day, you do need somewhere or something to put your belongings into but that doesn't have to be a closet. From hanging rods to wardrobes, here's a list of the best closet alternatives available.
Clothes Racks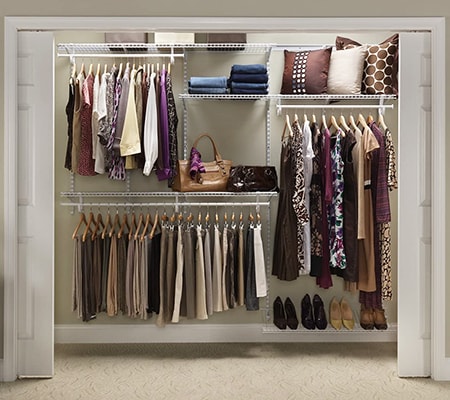 Clothes racks are an excellent alternative clothes storage option and probably work out to be the cheapest; the fact that they've also become the new 'must-follow trend' in the design and decor industry only adds to their appeal.
You can either get a readymade one from just about anywhere (online or store) or if you're one of those folks who loves doing things on your own, you can even make your own DIY clothes rack with some help from the tons of tutorials on the internet.
Additionally, if you need more space, you can even add a shelf at the bottom of your rack, which is extremely handy for storing your folded clothes or your shoes; even better, get one with multiple hanging levels for the most efficient storage or use many racks of various heights—you'll find that there are tons of options when it comes to clothes racks, enough to satisfy any type of need.
However, bear in mind that if you keep your windows open throughout the day, your clothes may end up collecting dust and dirt, especially if the rack is near the window or you live in a small space.
In such cases, covering your rack with an old towel or shawl will help, or open your windows only when necessary, especially if you have some of the less sealed closet door alternatives. Pet dander and dust are still a problem even for alternative clothing storage.
Baskets & Trunks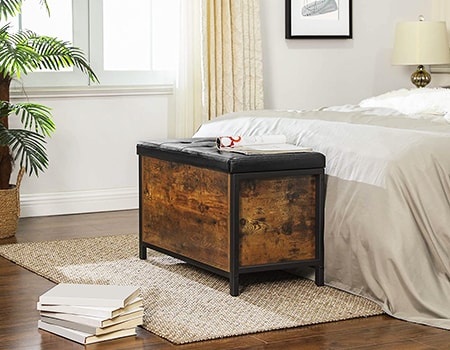 Hit your local antique market and get yourself a charming basket or trunk; organized the right way, you'll find that there's quite a lot of storage space available inside.
Additionally, a charming basket or trunk can also add majorly to your room's aesthetic and if you get one of those multi-purpose trunks (such as the ones with a cushioned lid that act as a bench when shut and a trunk when open), they add big time to space-saving and convenience, too. Match it to your decor!
Unless you don't mind packing and unpacking your clothes frequently, we would suggest that you use trunks or baskets to store clothes and shoes that are out of season or the ones that you want to retire temporarily.
You may just hit the jackpot while scouring the local antique markets and find a trunk or chest that's budget friendly and of good quality; if you don't, just put together shoe boxes and make your own version of a chest... (just kidding).
Under-the-Bed Storage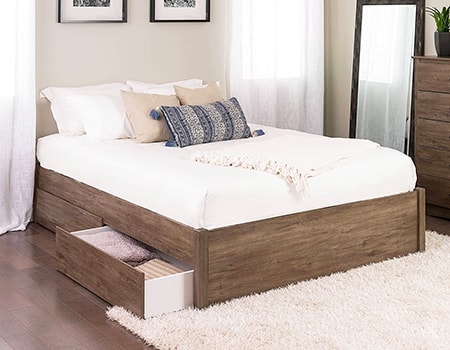 If you have absolutely no space in your room or apartment to add any furniture for clothes storage or if you believe that some things (like your clothes) are best hidden, converting the space under your bed is an excellent idea.
Needless to say, this is an amazing space-saving option, and the bigger your bed, the more storage space you can have. You can either buy a bed with pre-built storage or just use baskets or plastic storage bins to make your own storage system.
Additionally, whether you're using a readymade organizer or your own baskets for storage, you'll end up storing things in several different compartments, which is an organizing win.
However, do bear in mind that the height of your bed matters, if you're going to use these closet alternatives. Beds that sit extremely close to the ground will be hard to use for storage unless they come with in-built storage space.
Additionally, all your clothes will have to be folded for storage, which isn't going to work out so great for your business suit or those cotton pants. Oh, and good luck pulling out all your clothes till you reach that blouse you've stored right in the middle. But for general storage, this is one of the best bed alternatives out there.
Shelves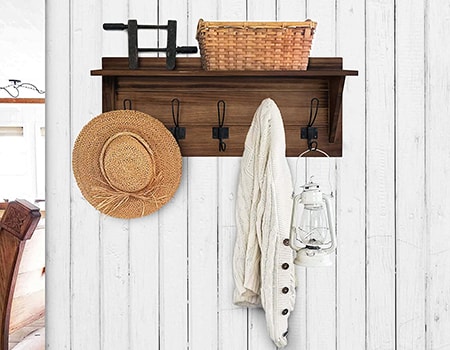 Time tested and tried, shelves are a super easy, convenient, wallet friendly, and chic option to store your clothes and accessories. This is the ultimate in closet alternatives.
Additionally, you can attach a rod underneath your shelf and get the best of both worlds—you can both fold and hang clothes and store them, saving quite a bit of space in the process. If you choose to stick with just shelves, you can stack them up as high and as wide as your ceiling and walls allow.
Floating shelves can be quite expensive, but you can easily make your own with some screws, PVC pipes and wood, or even use vintage crates or wooden boxes stacked over each other.
Paint them in fun colors to add a splash of color to your room, or have them blend in with the wall for a classy finish. What's nice is you don't have to worry about the flooring for your closet either, since it'l already be taken care of by your bedroom's carpeting or hardwood.
Headboard Closets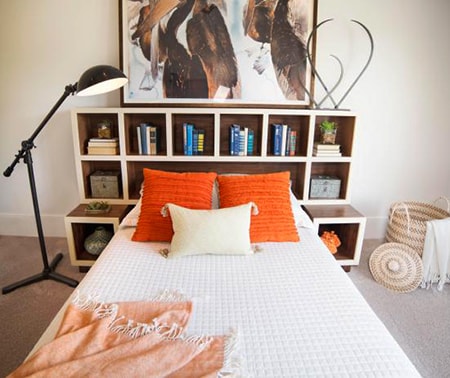 If you have absolutely no space to fit any additional furniture for clothes storage, turn to your bed—headboard closets are a super-efficient and space-saving alternative to a closet.
You can hang your clothes using rods right above your bed and use some cubes or boxes below for shoes or folded clothes; just ensure that your bed is at least a foot away from the wall to allow space for your hanging clothes. The end result is quite unique and novel, and can look extremely trendy.
Additionally, it doesn't take too much effort to set up a headboard closet. You could also conveniently get a bed with a built-in headboard with cubbies if your budget allows it. If you're antsy about exposing your clothes to visitors and guests, use a curtain to cover your clothes.
Remember that with headboard closets, you only have as much storage space as the width of your bed. Additionally, if you don't have enough space to maintain the one-foot distance between the wall and your bed, your clothes are going to end up on your face as you sleep!
Closet Rods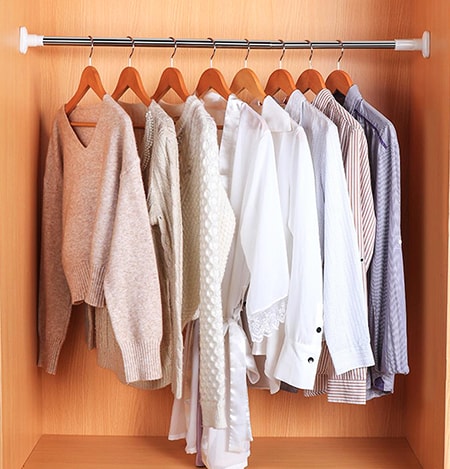 Closet rods are a popular closet alternative for their adjustable lengths, affordability, and the fact that some of them come with small metal shelves attached so that you can store folded clothes.
Closet rods are also awesome because should you ever decide to get a closet, you can just move your rod from its place on your wall to the inside of the closet, without having to move your clothes.
They're easily available both online and offline and come in a range of styles, sizes and prices. Using a closet rod lets you easily and quickly pick out what you need, as all your clothes are visible.
Coat Rack & Shoe Bench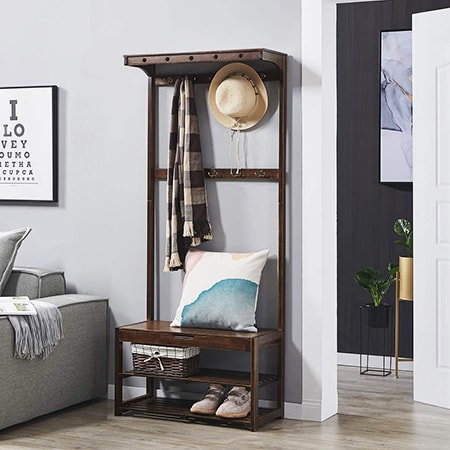 Using whatever types of wall hooks to hang up your clothes is not going to be sufficient on its own, but adding a bench or plank below and above for additional storage space can hit the storage nail on its head!
This is a great option if you've got kids in the house and works especially well for outdoor gear. You can also get benches with in-built storage space or compartments for extra storage, muddy boots, etc.
Wardrobes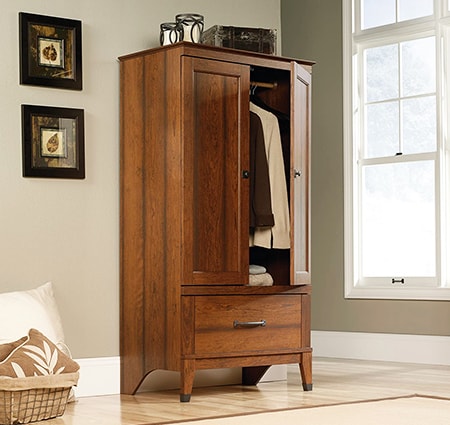 Wardrobes, also known by the more fancy 'armoire', are a stylish way to store your clothes. Granted; they're not very different from closets and do require a bit of space, but since they feature a generally slimmer build than closets and come in a range of colors, sizes and designs, you can pick out a size that fits your space. They can be very close to, if not exactly, the standard closet depth as well.
Some wardrobes even come with drawers, in addition to rods, so that you can store folded clothes, shoes, and accessories. Even if they don't come with in-built hanging rods, you can easily install them using the closet rods mentioned above.
However, armoires can be a little bit inconvenient since they make the journey from the store to your room fully assembled. Unless you use professional help, you may just find yourself in a bit of a "pivot" situation!
Additionally, armoires don't just require a bit of space; they also require a bit of a generous budget, since they generally cost above $200. Lastly, a big armoire may look overwhelming and dominating in a small room. They are undoubtedly the best dresser alternatives available though.
Closet Alternatives Can Save the Day!
Closets aren't the only way to store and organize your clothing; as you've seen, there are several alternatives and most of them are easy to install, wallet friendly and super chic; you don't need more than $30 in most of the above-mentioned cases to make your room go from drab to fab!
However, don't just give into trends blindly; assess your needs, the size of the room and the potential uses of your closet alternatives before you zero in on one option.
You'll Also Enjoy: