Flooring for Closets Made Simple: How to Choose
Deciding on flooring for closets is not as simple as you might think. The flooring type you choose should compliment your room decor, and offer comfort while walking barefoot, durability, and ease of cleaning.
Luckily, closet flooring can be easily customized, and many different materials, colors, and patterns are available to meet varied tastes.
You can go for hardwood or tile flooring for a luxurious look. Laminate and vinyl flooring are available at affordable prices offering various color and design options.
If you're renovating your closet or installing new flooring, checking out our detailed guide is a must. We will cover all the flooring materials best suited for walk-in and small closets so that you can choose the right one. Let's get right into it.
What Type of Flooring is Usually Found in Closets?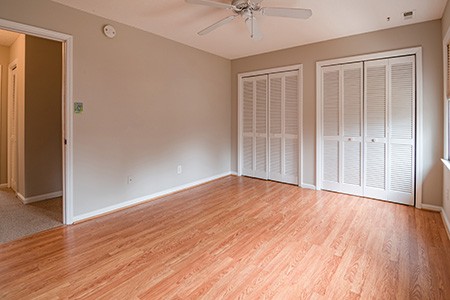 Typically, people tend to choose closet flooring according to the style of their room. So, most closet flooring is an extension of the bedroom or hallway flooring. The color and design also play an important role here.
Some prefer bright colors and unique patterns that make the lighting pop out. It reflects the light better, allowing you to find the shirt or sock you're looking for easily. Tile flooring is often a popular choice to fulfill these requirements, but make sure to take into consideration the best colors for closets, including the wall paint.
Unlike the bathroom or kitchen, the closet environment doesn't contain much moisture (if it does, you need to remove the moisture for the sake of your clothing and other items). Also, not many people enter your personal closet every day.
Hence, you don't need to worry much about durability and regular wear and tear. In this case, vinyl and laminate flooring are popular choices for those with a tight budget.
However, you must pay attention to the cleaning and regular maintenance. Hardwood, tile, and vinyl flooring are mostly used for their ease of cleaning. But all these materials require regular maintenance to last a long time and prevent mold and fungus.
Overall, hardwood, vinyl, and tile are the most common materials for closet flooring.
Closet Flooring Options
Now it's time to check out all the closet flooring options available on the marketplace. To give you a clear idea, we have included each flooring type's features, good sides, and affordability.
You'll also know the drawbacks of the materials so that you can make a careful decision. Here are the most compatible flooring options for your closet… Let your closet flooring ideas start appearing in your mind as you go over them, and you'll know your answer when you're done with this section.
Hardwood Flooring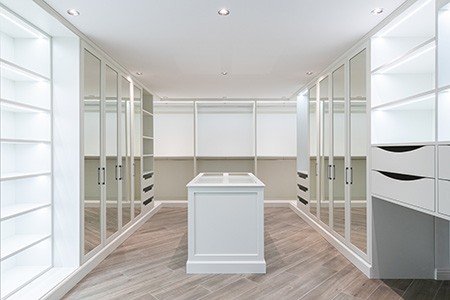 Want to create a luxurious, timeless look? Hardwood is easily your best bet, then. This type of flooring has been widely used for decades to provide an inviting, luxurious, and elegant feel to closets. Besides, it's a common flooring option for bedrooms and living rooms.
So, hardwood flooring for closets can easily match the overall appearance of the rest of your room. It compliments almost all contemporary closet styles and designs. Even if it loses its shine and elegance over time, it's pretty easy to bring them back by refinishing or sanding. Consider if this change will cause you to want to install different types of closet doors to match, though.
Installation of hardwood flooring is also pretty affordable, thanks to the rising popularity of the material. However, the cost entirely depends on the wood type and your location. If you want the flooring to last for decades, you need to choose high-quality wood like cedar or oak.
A good finish is also necessary for proper reflection of light. As for cleaning, vacuuming the corners regularly will be enough to clean the dirt from your closet. However, using water and soap isn't recommended for hardwood flooring. You need to choose a proper cleaning solution depending on the finish type of the closet floor.
Hardwood flooring is best for walk-in closets as they are smooth and don't get warm or cold very easily. The major drawbacks of this flooring type are that it requires regular upkeeping and becomes easily scratched. Other than that, hardwood flooring is one of the best for any closet.
Tile Flooring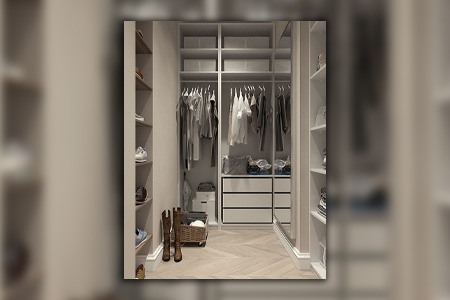 You've seen those high-end celebrity closets on various media platforms, right? The one common thing about all their cabinets is tile flooring. No other flooring type screams grand and expensive like tile flooring. The types of tile are available in thousands of colors, designs, and patterns, allowing you to choose according to your closet style.
Also, you can customize the tile design to create a cohesive look complimenting your room decor. Apart from the look, tile flooring offers many other conveniences as well. In most cases, composite tiles are used for flooring, and it's probably the easiest material to clean.
To remove a mark or stain from the tiles, all you have to do is wipe them with soap or water. If this doesn't work, you can use a wide variety of cleaning products, including those containing bleach. Even abrasive cleaners can't easily scratch the surface, thanks to composite tiles' strong structure and smooth finish.
The material effectively resists regular wear and tear. Nowadays, artificial tiles can replicate the look of hardwood. However, you need to be careful about pouring water on the floor as it becomes very slippery. Also, tile flooring easily becomes chilly during the winter. Placing a rug on the floor might help in this case.
Remember, tile flooring is the most expensive of all types. However, the convenience, durability, and grandeur of tile in a closet makes it worth the cost.
Vinyl & Laminate Flooring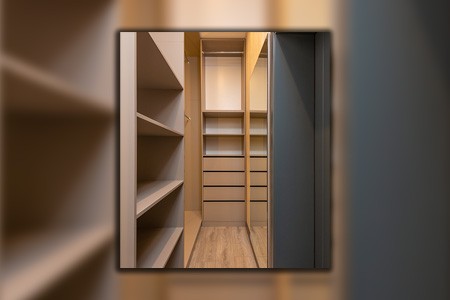 Although hardwood and tile flooring are pretty good-looking, they come with higher price tags, and not everyone can afford them. If you're looking for cost-effective alternatives to these materials, you can consider vinyl and laminate flooring.
Both materials can imitate the look of tile and hardwood. When they were first introduced, the durability and design of these materials were an issue for most. However, manufacturers have worked on the materials over the years and improved sustainability.
You can install laminate and vinyl flooring for closets in many different designs. There are all types of laminate flooring you can use to match the look you desire. The installation process is also easier than the previous types. And you don't have to spend much on maintaining these flooring types, as regular vacuuming is enough to keep them clean.
As for durability, both laminate and vinyl flooring can effectively withstand the usual wear and tear. They might not be as hard as hardwood or tile but will hold well in low-traffic closets. Another issue with laminate and vinyl flooring is that temperature changes easily affect them.
Therefore, your flooring will become chilly in winter and somewhat warm during summer. Thankfully, using slippers or carpeting on the floor will solve this problem. What's also nice is you won't be learning how to fix scratches on vinyl floors due to this problem in a closet as you won't be dropping heavy and sharp items (though watch out for children playing in there and leaving toys in there for you to step on and gouge the flooring).
Stone Flooring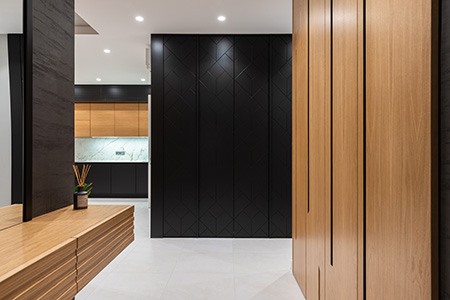 Another high-end flooring option for closets is natural or artificial stone flooring like faux marble. It's not as popular as the other types, so you can go with this one to make your closet stand out. Natural stone has a unique feel and elegant curves.
It's a combination of various mineral substances which are strong and highly durable. Slate, limestone, sandstone, travertine, marble, and granite are a few available options you can consider.
While these natural stone types are expensive, manufactured and synthetic ones are also available that mimic the look and feel of the real ones. Besides, you have many different styles and patterns to choose from.
Although natural stone flooring is easy to maintain, it won't keep your feet warm. Also, it doesn't reflect much light, and the surface can be rough depending on your chosen stone. Keep these in mind before you spend on natural stone flooring.
Stone flooring works great for closets without doors where the stone flooring merges into the same flooring in a master bathroom or bedroom. If you don't have a door, you can still create some separation using these closet door alternatives.
Carpet Flooring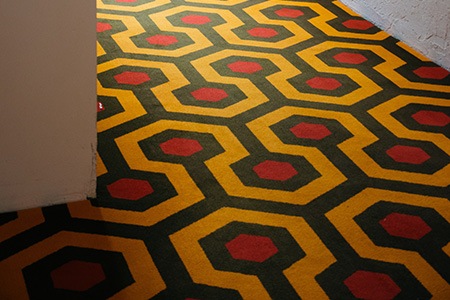 A less popular yet very versatile flooring option for closets is using carpets. What makes carpet in a closet stand out is the many different styles and the ease of installation. All you have to do is choose the right one that fits the closet environment and place it on the floor.
It's also among the most inexpensive flooring options. If you already have a carpeted bedroom, it will help to create a continuous look. Besides, the warm and plush feeling of the carpet is definitely something you'd want for your walk-in closets.
In cases of smaller closets of the standard depth just deep enough to hang shirts and jackets, it's not unusual to use the same carpet as is being used in the bedroom. The same goes for any other type of flooring being used, too. Just extend it into the small closet and call it a day.
However, it's a big hassle to keep the carpet clean. It easily catches dirt and debris. You need to vacuum every corner of it for thorough cleaning. Also, the material might lose its attractiveness after some time. But you don't need to worry about it much as you can change the rug or wash it whenever you want.
Area Rug
In a large enough walk-in closet, you can also consider adding an area rug simply to enhance the decor. Sometimes called a dressing room rug, they can be a sign of luxury, understanding how even affordable area rugs are pretty pricey.
Even in smaller closets you can find small types of rugs, runners, and even custom shapes to suit this room. Some other options are the flat-woven dhurries, floral-accented kilims, or brightly saturated overdyed rugs.
This can also be a great way to put off an entire remodel of your closet, if the flooring is what's bothering you. Just cover it up with a tasteful and attractive rug and postpone the big task till you're more prepared. You may even decide you don't need to once you come to appreciate your rug.
What is the Best Flooring for Closets?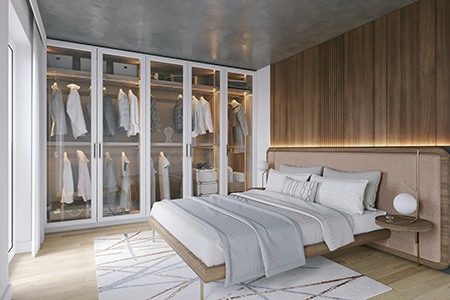 Now that we have covered the most popular flooring options for your closet, it's time to choose the best one. Here are our top picks depending on the looks, overall user experience, and price range…
Best for Looks
Tile flooring is undoubtedly the best option for a luxurious and upscale look. The material is also very easy to maintain. With a proper heating system, it will be the best of both worlds.
You can have radiant heating installed under the flooring, much like you've possibly seen in a bathroom, but for your closet. Many people dry off in the bathroom after a shower and immediately head into their closet, so extending the heated floors into the closet is a natural choice.
Best for Budget
Don't worry if you don't have the budget for composite tiles. You can easily mimic the look and feel of tiles with vinyl or laminated flooring. Luckily, these affordable flooring types are excellent for both walk-in and small closets.
Best for Overall User Experience
A great combination of affordability and elegance, hardwood flooring offers the best user experience. As for maintenance, polishing the surface once a year will keep it strong and like new for decades. If you averaged all the benefits of each type out, hardwood is the best flooring for closets.
The Best Closet Flooring Material: It's Your Choice
Go for a durable and good-looking closet flooring that is easy to maintain. Also, consider your closet lighting, size, and shape to create the best look.
So, there you have it all. We have covered the most popular and versatile flooring for closets. Now you know the differences between each type and all the things that various flooring materials offer.
You'll Also Enjoy: