13 Closet Door Alternatives for Every Creative Personality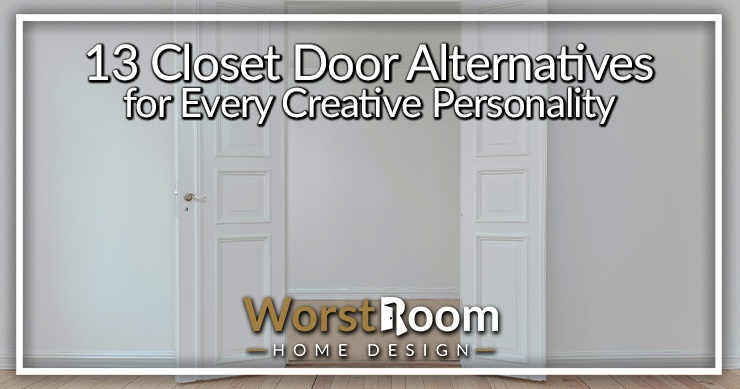 While setting up your dream home, closet doors are usually not a top priority. More often than not, conventional hinge doors are the go-to doors for everyone. But why should you settle for that when you can have unique closet door alternatives that reflect your style?
Closet doors are mainly intended to keep all the clothes and clutter away from view. But you can still choose some non-traditional alternatives for the same purpose.
Whether you've got a tiny closet cupboard, sectioned a little closet area in your room, or have a huge walk-in closet, here are a few ideas to check out instead of the traditional closet doors.
13 Closet Door Alternatives
Whether we're using our closet for other purposes than just hanging clothes, or we moved into a new place without a closet door and we want to add something unique, there are plenty of options.
Check out these closet door alternatives and you'll find some inspiration for your room. If you're still struggling after, you can think about closet alternatives altogether and repurpose that space, or look at the types of closet doors available that might work for you and save you a ton of time and effort..
Swinging Doors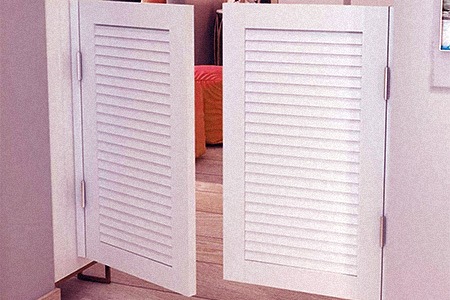 Swinging doors can swing in both directions, an excellent choice for those always confused between push and pull. They even close by themselves, so there's one less thing to worry about.
For a more Western look, you can opt for saloon-style swinging doors that are cut away from the top and bottom. These will make your closet more open and airy and your room feels bigger.
Sliding Doors / Barn Doors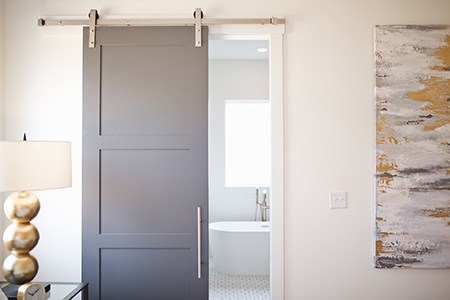 Sliding doors are a great way to save space in your room. Though installation might not be easy, they are a nifty way to create a separation for your closet space.
Barn doors have gained popularity over the recent years, making their way out of barns and into our homes. Though they are large and bulky, their beauty is unmatched.
Barn doors tend to become the focal point of any room while hiding away the clutter in your closet. As an alternative to closet doors they lend a unique rustic feel to the room and also make for great photo backdrops.
Pocket Doors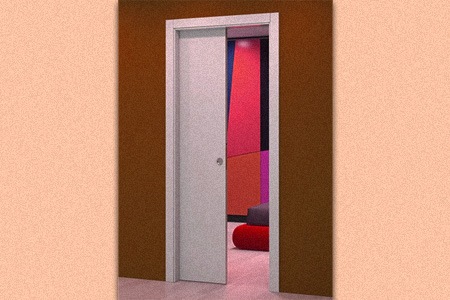 Pocket doors are quite similar to sliding doors, with the slight difference that they slide into the wall and can be almost invisible when you open your closet.
These need to be installed during construction itself, as a pocket has to be created with your wall, but once done, these look great and save a lot of space. You will have to adjust the pocket doors every once in a while, which isn't that much of a pain once you know how to do it.
For smaller, cramped spaces, pocket doors open completely to show all the closet items in one view. If you want something different but similar, check out the list of pocket door alternatives to give you some more ideas.
Double Doors / French Doors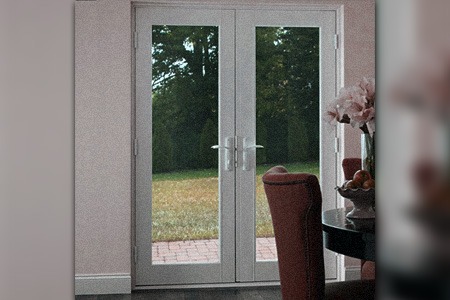 Why have just one door, when you can have two alternatives to closet doors? Double doors are a great way to add some elegance to your closet.
These are especially recommended for walk-in closets, giving them a store-like feel. By adding glass panels between the wood frames, convert your double doors to French doors for that extra oomph.
French doors are elegant, yet luxurious, and also let you see through the contents of your closet from outside.
Bi-Fold Doors / Accordion Doors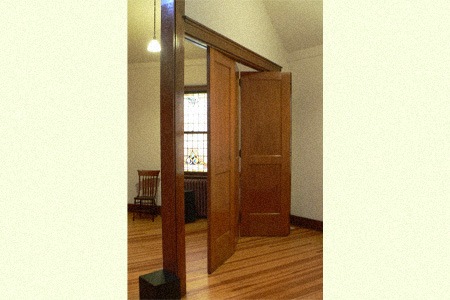 Vintage bi-fold doors are a great way to save space when your closet is open. They fold into themselves, while still keeping the closet contents well within view. They're pretty ideal as far as closet door alternatives go.
For larger closets, you could even get double bi-fold doors that make it seem like an entryway. Accordion doors are similar to bi-fold doors but are a lot more modern.
They have multiple folds and they overlap onto each other within the space of the door frame. They are great for tiny closets or in smaller rooms.
Glass Doors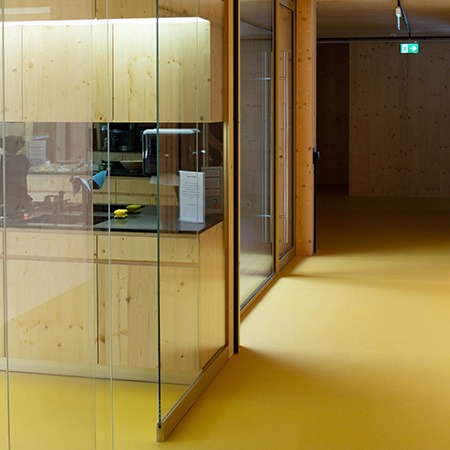 Using glass doors on your closet can make it look sleek and stylish. These are a very modern take on traditional glass doors and can be installed as traditional doors, double doors, sliding doors and even pocket doors.
If a completely see-through door is not your thing, opt for frosted or stained glass to still maintain the see-through look.
Functional Doors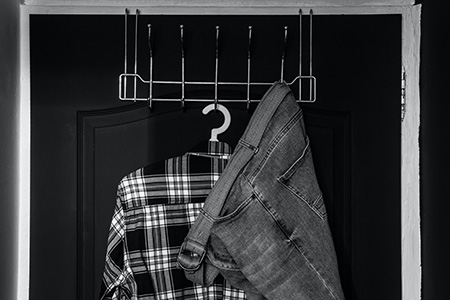 Why should your door just serve one purpose? By identifying needs that you can integrate with your closet door alternatives, you can make them multi-functional and unique closet doors. Some ideas are:
Adding the right types of mirrors on the panels to make a mirrored door
Painting them with chalkboard paint to have your very own chalkboard
Attach any types of wall hooks to hang pictures for a faux gallery wall
Cover it with wallpaper and stick polaroids, photos, notes to create a scrapbook of your life
Room Dividers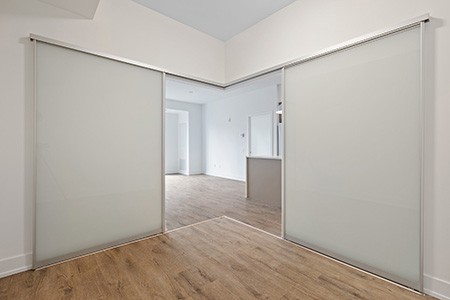 Standard room dividers are a great way to separate your closet from your room. They are usually freestanding and can give you the privacy you need to change your clothes as well.
Room dividers are available in all types of designs, from minimal to vintage. Getting the right one that fits your decor can hide the fact that your closet has no doors. You can use a room divider in countless ways, too, and use all kinds of objects and materials as room dividers.
Room dividers require zero installation and are quite budget friendly. You can even fold these and keep them under your bed or against a wall to increase the space in the room. This is great when you have company and need to maximize your space.
Furniture
Sometimes, furniture can function as room dividers too. By placing a side table, china cabinet, bookshelves or any other furniture piece as a barrier, you can clearly separate your personal space from your closet space.
As most furniture items are designed to be placed against a wall, your furniture room divider might not look great from the back, which faces your closet. But as closet door alternatives, you're simply making a walkway to the closet like this.
If you're unhappy with the look of the back of the furniture, just add wallpaper, wallpaper alternatives, or paint that matches your decor and you're good to go. Who said closets with no doors couldn't look good?
Curtains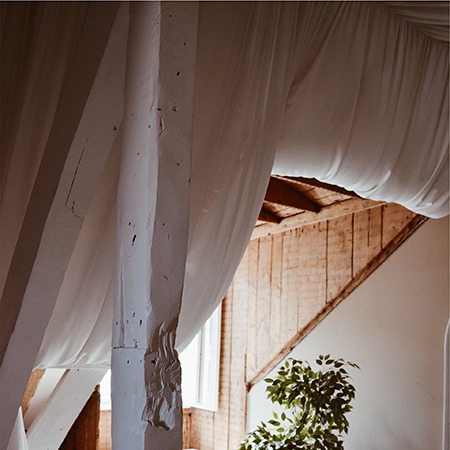 If you want a lighter, budget-friendly way to close away your closet, various types of curtains are the perfect option. They can be easily installed across any doorway and can be opened and closed very easily.
They are just as easy to clean and maintain as an alternative to closet doors as they are covering a window. They also come in a wider range of options to choose from, so you can get one that fits your decor style perfectly. Curtains can be used as space dividers too.
Just leave out some walking space between your shelves and the curtain rod and you can have a fully functional walk-in closet that can be opened and closed with ease. Adding the curtain rods closer to the ceiling also elevates the room making it seem bigger.
You can even choose beaded curtains for a more fun look. Beaded curtains are light and airy and the beads clinking around with the wind can create a soothing sound.
These too can be hung just like fabric curtains and can be opened and closed easily, though they might not provide as much privacy. They give you a great chance to match and style the decor, like making the curtains match the closet flooring and closet wall colors.
Plants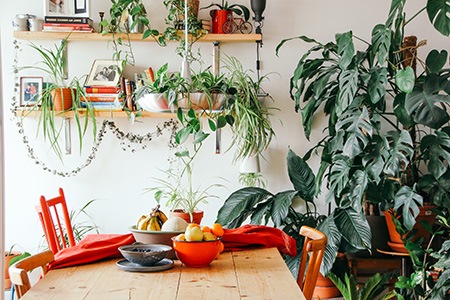 To add some greenery to your room, you can use some tall plants or hanging plants as a room divider that can act as unique closet doors as well.
Though they might not provide as much privacy, the greenery can be really soothing to the eye and make you feel relaxed as well. If you can't look after real plants, fake plants will do too.
Large wooden planters can also be placed as room dividers. Not only do planters look stunning, but they can also hold multiple plants at once and can be a great focal point in your room.
If buying a planter is out of your budget, just get two identical stepladders and place them back to back for a similar look.
Rolling Shades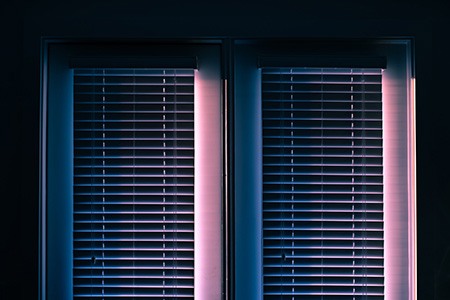 Shades can be rolled up or down whenever needed to cover your closet. They only need to be suspended from the ceiling for installation and are quite cheap too. Any types of blinds can work, really.
When rolled down, they can provide complete privacy for your closet. Shades are available in fabric, bamboo and even plastic.
Most bamboo shades have a beautiful beige-brown color that looks stunning in most rooms. Fabric shades are usually made of canvas.
These days you can even get fabric shades printed with your choice of design. These can then work as an art piece as well. Look into other types of window treatments, all of which can act as closet door alternatives to beautify the space.
Hanging Textiles / Ropes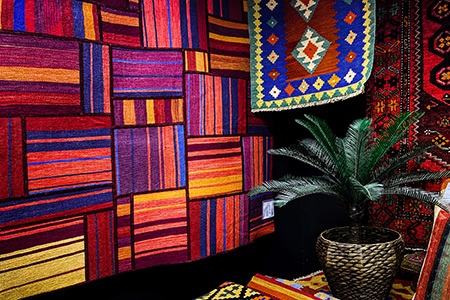 Handmade dividers can also be a lovely way to add your personal touch to your closets with no doors. Try to keep it light such that it is easy to install and use.
Some good options are macrame curtains, strips of fabric of rope and beaded strands. You can even integrate these with trailing plants and hanging plants too for a more bohemian look.
These handmade dividers might not provide enough privacy, so may not be the right choice in shared spaces. Yet, they are cheap and you can make them with any material you have in hand.
Closet Door Alternatives for Any Unique Personality
There are so many ways to separate your closet space from the rest of our room. While classic doors with your usual types of door hinges still get the job done, these alternatives mentioned above can add a touch of style to your closet.
If installing new doors is not your thing, get creative and create your own space separator using one of these closet door alternatives that defines your space and reflects your style.
You'll Also Enjoy: