Corner Shower Dimensions by Code & for Comfort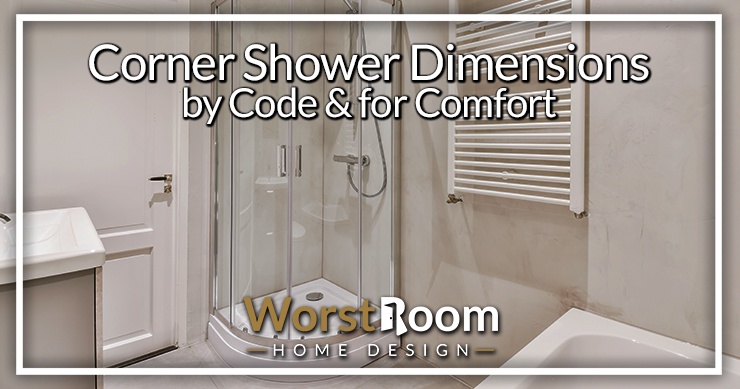 Are you looking at shower designs for your bathroom remodel? You have plenty of options in terms of designs and sizes. Corner shower dimensions allow you to save space. They're a popular option for many homeowners that appreciate that they're efficient and effective.
The corner shower fits into a corner of the bathroom; it's a compact design compared to other models, which require more room. These showers feature construction with acrylic or fiberglass materials, the most popular being the neo-angle and triangle shapes.
This post examines the standard corner shower designs to assist you with planning a remodel.
Standard Corner Shower Dimensions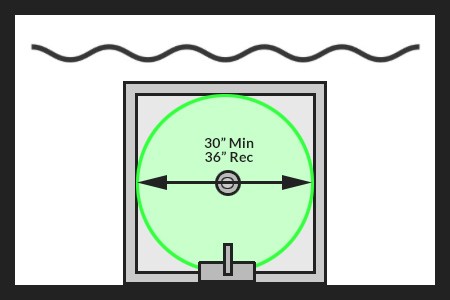 Most corner showers feature a standardized 36" corner shower pan size as a recommended minimum (though 30" is the minimum by code). However, that's just the standard size; plenty of others are available for these types of shower pans. Here are other common dimensions of a corner shower:
32" x 32"
34" x 34"
36" x 36"
38" x 38"
42" x 42"
Notice that we don't even mention 30" x 30" options. Those are the minimum corner shower sizes allowed by ICC code (30" minimum dimension as well as at least 900 square inches), but nearly everyone agrees that's simply too restrictive and 36" should be the true minimum. The larger you can go the better.
The question to ask is at what point, once you use up enough width, are you better off (if you have the space) simply opting for your standard, non-corner shower surround or a bathtub and shower combination?
I'm not offering an answer, just posing the question since I can't see the space you're working with. There is a standard shower size for non-corner configurations you can look into to see if it'll work out for you.
Benefits of a Corner Shower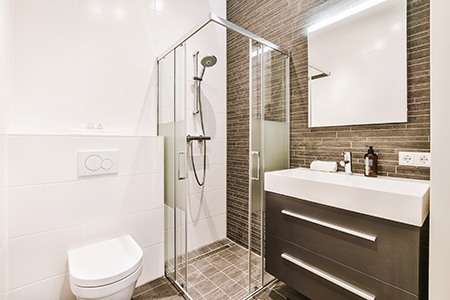 Having a smaller shower space can have a lot of positives to it, especially when you consider the floor space it frees up in the bathroom for you to utilize otherwise. Here's some of the pros of having a corner shower:
They have a smaller footprint, taking up less space in the bathroom
They are more affordable to install compared to other models
They offer easier cleaning and maintenance
They typically come with more feature options than standard shower designs
Some of these features I'm referring to include neat corner sliding doors, multiple shower heads (especially if you create a 3 sided stall instead of only being surrounded by two walls), etc.
Disadvantages of a Corner Shower
The main negatives to having a corner shower is the reduction in space you'll have to move freely within the shower. With shower curtains it won't be as big of a deal but annoying still to touch the curtain, and you risk water running onto the bathroom floor. Here are some other cons to consider:
Less elbow room to move about inside the shower, especially for bending over
The metal frames and hinges used in corner showers tend to rust over time
The acrylic or fiberglass base presents a slip-and-fall risk, especially for seniors
You can overcome some of the tripping hazard by having a zero threshold shower, and the slipping risk by having a textured shower base pan, though both will come at a greater expense.
Considerations for a Corner Shower Installation
Check the ceiling height when planning your installation to ensure comfortable use (meaning it's not lower than 80" by code). Do you want doors or an open design? Losing the doors reduces the maintenance involved with treating the frame and door hinges to prevent them from rusting.
Install a slip mat on the floor if you have an acrylic or fiberglass base to prevent slip-and-falls. Do you want a shower with a floating bench or seat? If so, ensure you have enough room to accommodate it in your design.
Does a Corner Shower Save Space?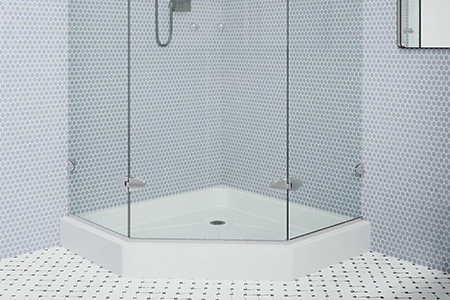 Corner shower dimensions are real space savers in the bathroom. They usually have a rectangular design, but some come in triangular or neo-angular shapes, providing an even more compact footprint. These shapes are ideal for smaller bathrooms where space is at a premium. You can see a neo-angle corner shower pictured above.
The primary dimensions to consider when designing your shower are width and depth. These measurements determine how much floor space you have to move around. Corner showers come with swinging-door or sliding-door designs, depending on the area available in the bathroom.
How Much Space Do I Need for a Corner Shower Stall?
You can find sizes of corner showers ranging in size from 23″ x 23″ to 48″ x 42", with some designs being even larger, depending on the space available.
Measuring the Bathroom for a Corner Shower Stall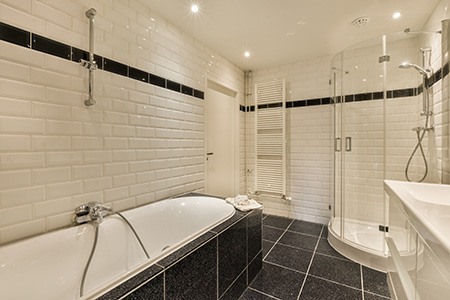 There's no standardized practice for measuring up your corner shower. We recommend using a measuring tape for the task. When planning your measurements, stick to the old rule of taking the measurement twice to ensure accuracy.
Let's look at the correct depth and width for your corner shower.
What Is the Correct Depth for a Corner Shower Stall?
The depth is one of the two critical measurements when planning your corner shower. Average depths range from 17″ to 20″, but you have options for shallower or deeper measurements to suit the space you have available in the bathroom.
What Is the Correct Width for a Corner Shower Stall?
The average width for your shower stall can range from 36" to 48". As with the width measurement, you can choose shorter or wider models, depending on your space requirements.
FAQ's Regarding Corner Shower Dimensions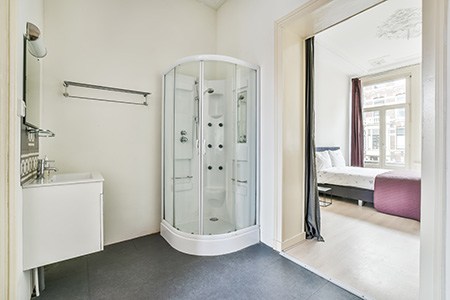 This is a fairly involved decision to make. Everyone has different toilet room dimensions to work with and we all want to maintain as many benefits of having a larger shower as we can while working with the size of a corner shower. Let's cover the most common questions that arise.
What Are the Standard Dimensions for a Corner Shower Stall?
The standard dimensions for a corner shower stall are 36" x 36". The sizes vary, depending on the space available in the bathroom. Average corner shower dimensions range from 36" to 40" wide and 32" to 36" deep.
You should find a large variety of base designs in materials like fiberglass and acrylic and plenty of color options to match your bathroom décor. Most fiberglass and acrylic shower bases require the fitment of a non-slip floor mat to prevent skidding on the wet surface when it gets slick.
What Are the Largest Dimensions Available for a Corner Shower Stall?
The largest models of corner showers are 60" x 60". This is the largest size available. Some shower models are deeper and wider or deeper than 60".
However, sourcing an acrylic or fiberglass base from a supplier is challenging. If you go outside these dimensions, you might need a manufacturer to make you a custom base to your specifications.
If you can't source a custom base, consider going with a tiled floor to accommodate the additional room inside the shower. These models require adequate waterproofing membranes used in the floor construction to prevent moisture from penetrating into the floor, where it might cause issues with rising damp and mold growth.
What Are the Smallest Dimensions Available for a Corner Shower Stall?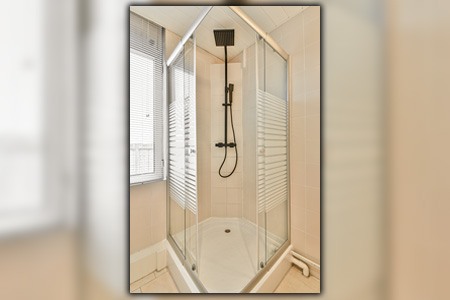 Corner showers are heralded for their compact design, making them the ideal choice for small bathrooms in apartments and complex buildings. The corner shower is available in models as small as 32" x 32". If you have limited space, this is the smallest size for a standard tub and shower combination.
These dimensions are readily available in bases, but going smaller means you'll have to use shower tiles and membranes or find a manufacturer of custom bases to fit the shower. You'll also have issues finding shower doors to fit smaller measurements under 32" x 32".
What Is the Most Spacious Corner Shower Design?
The neo-angular design is the best option for a space-saving corner shower. The multi-angled design of the base gives the bathroom extra floor space, which is important in smaller apartments. While it's the ideal option for smaller spaces, it's also the most expensive and pricey to install. You can expect to pay up to 20% more for the base and fitment of a neo-angular shower over square or rectangular models.
What Are the Standard Dimensions for a Corner Shower With a Bench?
The standard corner shower dimensions featuring a bench are 36" x 60". You need the extra width of the shower to add a seating area for the bench. Shower bench dimensions are usually 17" to 20" in height and the same in depth.
These measurements give you enough height and depth to sit without having your feet off the ground if you're a shorter person. You have options for portable wood or plastic benches in tiled corner showers or built-in tiled benches. Some benches come molded into the base for a fixed unit.
What Are the Standard Dimensions of a Corner Shower With a Seat?
Corner showers often feature drop-down seats that attach to the wall and unfold. This design gives you more space in smaller showers, allowing you to shower with the seat in the dropped or raised position. Typically showers with seats require minimum dimensions of 36" x 48".
What Are the Standard Dimensions of a Corner Shower Without a Curb?
People with disabilities may benefit from a corner shower design without a curb built into the base (called a zero threshold shower). These designs suit showers with standard dimensions of 36" x 60".
What Are the Standard Dimensions for a Corner Shower Pan?
You'll choose the dimensions of your shower base depending on the style and size of the corner shower. Most shower pan sizes range from 30" to 36" wide and 16" to 245": deep. The height varies, but moist models usually reach the threshold or just below it.
What Are the Standard Dimensions for a Triangular Corner Shower?
Triangular shower stalls are the best options for space-saving bathroom designs. However, they usually don't have much room in the stall to move around. They're the ideal choice for apartments with small, narrow bathrooms where the shower stall needs the smallest footprint possible to free up space in the bathroom. Typically, they come in widths of 32" to 36', but the depth is less, with dimensions ranging from 30" to 36".
Key Takeaways on the Dimensions of a Corner Shower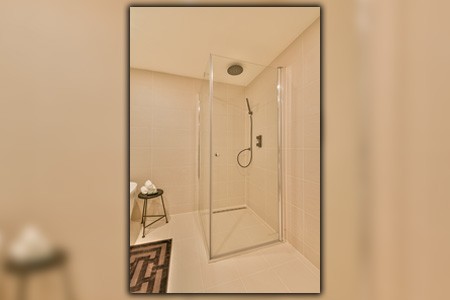 Let's recap the highlights from the discussion above. A quick revisit will help us remember what we've learned:
The corner shower offers you the ideal space-saving design for your bathroom remodel.
Corner showers are a great choice for bathroom installations and remodeling in apartments where space is at a premium.
Corner showers come in rectangular, square, triangular, and neo-angular designs.
The square corner shower is the most popular style, with 36" x 36" standard dimensions.
You have options to extend the shower up to 48" x 60" for the largest models and 32" x 36" for the smallest corner showers.
If you're going with a corner shower featuring measurements bigger than 48" x 60" or smaller than 32" x 36", you'll find it hard to get a molded base, and you'll have to install a waterproof membrane and tiled floor.
The neo-angular corner shower is the most popular design. However, it's also the most expensive to buy and install.
Corner showers come with options for benches, seats, and curbs.
When you think about one of those you may envision a shower in a bathhouse at a campground, but a corner shower can really be quite elegant as I'm sure you've seen from the images we've shared here with you.
Corner Shower Dimensions Made Clear
To make life easier, I recommend the process of elimination. Measure out your designated shower corner in your bathroom. Make sure you have access to plumbing or can route pipes over to where you need them. Then you can eliminate any larger sizes than can fit in that space.
Then eliminate the sizes you've determined are simply going to be too small for you. You can often go to large hardware stores and step inside some of these to get an idea for how big or small will be comfortable enough.
At this point, you're ready to decide what shape you want. Square is the most simple to envision, but remember that rectangle and even circular exist. Neo-angle showers look amazing if you're willing to give up that fourth corner for a another flattened 5th wall.
There's a lot of numbers to keep track of when it comes to discussing corner shower dimensions, but with the way we broke it all apart above, I hope it's easy to make sense of and to find the information you're looking for.
You'll Also Enjoy: