5 Curtain Rod Alternatives for an Enhanced Decor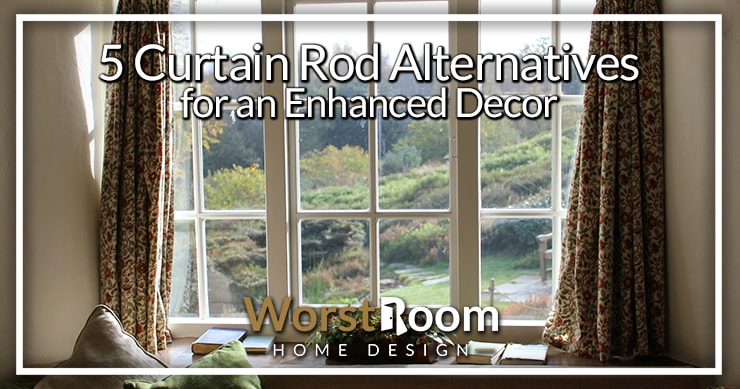 If you are looking for curtain rod alternatives, the best way to go is to do it yourself. But, not all of us are DIY experts. So here's a few options to try before we enter the "make it yourself" territory.
There are a lot of items we use in our daily lives that can come in handy as a temporary or permanent fix for curtain rods. Some of these solutions might surprise you. So you really have to trust and stay with me on this one.
5 Curtain Rod Alternatives
Each of these is a unique alternative to curtain rods that will spice up the aesthetics of your room, regardless of the reason you're seeking something different. Make sure you know the basic principles of hanging curtain rods because you'll be using them even with these alternatives. Let's jump right into it.
Pipe Rods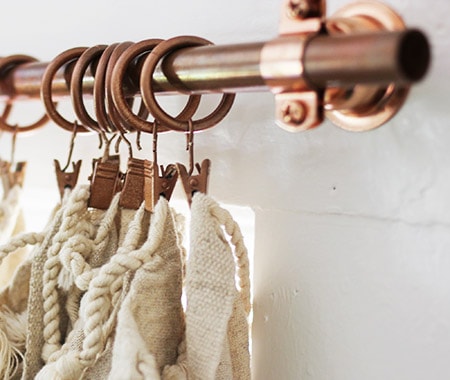 This one is a pretty common alternative. Many people turn to copper pipes when they need a substitute curtain rod. Copper pipes have a unique look about them which is what draws many folks toward it, but you can use any style of or look of pipe.
The pipe itself should be thin enough to fit into your curtain loops or hooks. If that works out, you can comfortably hang your curtains on them without worrying about weight restrictions from the pipe (but watch the drywall if you aren't using a drywall alternative).
They are such a good looking option that you might do away with curtain rods altogether. If you have to buy a copper pipe though, the purpose is kind of defeated, unless all you want is their look.
But if you do have to buy them, make sure you choose pieces that fit the loop of the curtain and at least somewhat match the decor of the room or house. If you need curtain rings you can pick something that goes with the pipe or the decor, depending on how you want to style the space.
You can also consider painting them to match any color scheme. They have a great look about them which makes them a great design choice. They make a good fashion statement and make you appear to care more than the average person.
Rope Rods
It isn't a difficult decision to totally avoid using rods when there's more creative curtain rods options out there. Ropes are one of those items that you might already have in the storage. So if you choose to get rid of your curtain rods or are just looking for a change without having to spend too much money, this is a good substitute.
Ropes are sturdy, especially if you get the right types of rope. If you get a thick one you can count on it to hold the weight of a curtain. The right kind of rope can handle even an incredibly heavy fabric. If the fabric of your curtain is light, a thin rope will do the trick.
You will, of course, need certain types of wall hooks on the wall to tie the rope. If your curtains already have hooks then all you need is a good rope. Just get up there and tie it to the curtain rings. Yes, they are still required.
You might have problems with getting the rope through the holes on top of the curtain if the rope is too thick. So either find a way to make the holes bigger or get a thinner rope that will easily go through the curtain but is strong enough to carry the weight of the curtain. Hooks to hold up the curtain are an easy solution to this.
This is a bit of a balancing act. It has the potential to look great while being neat. It's easy to find and easy to install. It hardly requires any maintenance. It can be replaced easily in case of damage or wear and tear over time. It works just like a curtain rod and you don't need too many materials to put it together.
The downside is that you might not have a rope sitting around the house or in the garage. It's not the most elegant of looks. It doesn't go with every kind of decor. Although, ropes are cheaper and can be used for other tasks around the house. This is more of a practical solution than a design one.
You can fancy it up by entwining and dangling ivy vines around and from it, or string lights along it. There's a lot of ways to make this look awesome, and it especially works if you have an ocean or beach themed room.
Tree Branch Rod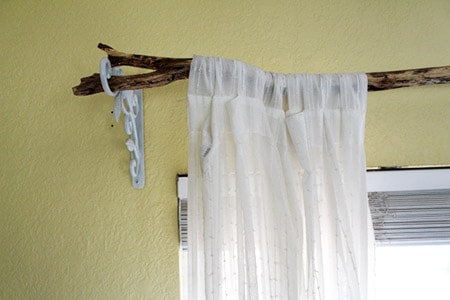 This is a creative curtain rods idea that you will either totally go for or reject it outright. But it is an option so here it goes. It's totally possible to use a tree branch as a curtain rod.
Of course, you need to pick out the right tree and a straight (enough) branch. You'll need to make sure it's strong enough to carry the curtain but is also slender enough to fit through the curtain.
However, you must also make sure it's not one long slender piece of a branch. That might break in the middle if the fabric of the curtain is heavy. You'll also need curtain rings to make this work.
And it can't be gigantic also because that destroys the look of the space. Tree branches as curtain rods can give the window area a nice earthy look. If you're into nature, these are perfect types of window treatments for you.
If your decor has a rustic sense of style, this can actually be a great fit. It can give the space a natural look. Just make sure it doesn't clash with the rest of your decor.
Since you can't go out to a store and get this, a tree branch isn't an instant solution. Also, don't break a branch you aren't supposed to. This means you must be on the lookout for the right kind of branch and hope you can do this right without destroying someone else's property.
This whole idea is dependent on where you live. So it could be anything from the easiest thing in the world to the most annoying one. You can use polyurethane to coat the branch and protect it from aging or dropping bark all over your curtain and carpet.
But it's a good look. It's interesting and keeps things fresh. When done well, it is a great addition to the existing decor. It'll catch people's eyes and earn you compliments.
The downside is that it can be tricky to find the right branch. You might have to find multiple branches if the room (if not house) has more than one window. It can be difficult to find a replacement. But the hunt is part of the fun!
Coat Hangers & String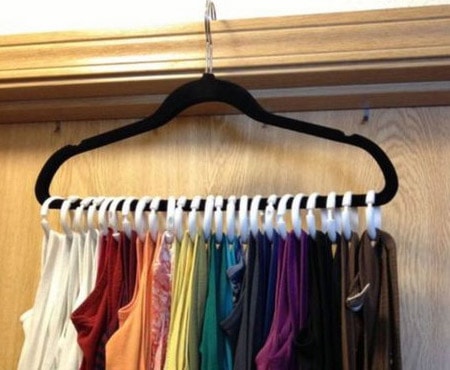 Okay. Now we're slowly entering DIY territory, on the cheaper and less creative end of things. This is the cheapest and most temporary of the curtain rod alternatives if you think about it.
You want an alternative for a curtain rod but you don't want to go out get one. So you're looking around the house to find something, let's say, temporarily.
Now, you found an old coat hanger that's just sitting in your closet. Then you realize that these hangers can easily be used as hooks. You look at the curtain and realize it is a match and so, totally doable. All you need is a string and there, you found one.
Run the string through the holes on top of the curtain. After that, tie the strings to the hooks of the coat hangers. You must secure the wall to make sure this works. Attach them to the wall or the window frame. It's quite easy. After attaching them, hang your curtain up.
For this to work, your curtain can't be too heavy. As you can imagine, this can't work with really dense fabrics. This is also like a temporary solution until you can get something sturdier than the combination of coat hangers and a string.
It's cheap and easy to do. It puts old, unused coat hangers to good use. Anyone can use this unique alternative to curtain rods and you don't need any extra materials. It's a great way to hang curtains in a rental property where you can't put holes in the walls, too.
Problem is, you may don't have coat hangers just lying around, though I suspect most of us do. This isn't for you if you're trying to do a makeover and make things look better. And this isn't a permanent solution. But it gets you by for the time being.
Nails as Curtain Rods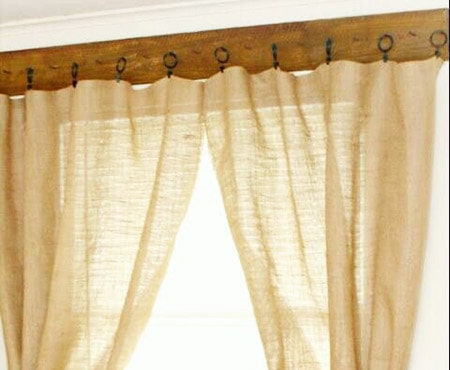 Okay, let's just put it out there right away that this is not going to be a pretty looking curtain. It is not even a permanent solution. But it is something to work with in a crisis. I've done it for a blackout curtain in my bedroom using a big beach towel. It's the easiest of the curtain rod alternatives.
If you're desperately in need of a substitute for curtain rods, one has to assume that your existing one broke on you and you want something to keep it together till you get news one. In that case, this is the easiest option.
Get a couple of nails and any traditional types of hammers to nail your curtain to the wall so that they keep the windows covered. This is easy to do. It's quick and you don't really need any tools. Most households have a few loose nails and a hammer lying around somewhere.
Any types of nails used are going to make it tough for you to move the curtain, so be mindful. The fundamental function of the curtain which is to move will be affected and that is quite inconvenient. If you manage to get a string or a rope, things can get better.
Run the string or rope through the curtain holes and tie the whole concoction to the nails. Before you go ahead with it though, do a quick calculation in your head if this method works for the weight of your fabric. You are lucky if you have a lightweight curtain.
If you're financially or style wise in any kind of fix, this technique will get you out. It'll always see you through. Even though you can hardly move the curtain and it isn't a looker at all. Try to limit this option to as little a time frame as you can because it can cause damage to your curtains. You don't want to do them especially if they are nice, expensive curtains.
Curtain Rod Alternatives Beat the Original!
There are so many ways to do this if you know what you're looking for. But as a thumb rule, analyze the weight of your curtain's fabric and make your choices accordingly.
From nails to copper pipes to DIY options on your own, you are limited only by your imagination when it comes to curtain rod alternatives.
You'll Also Enjoy: