19 Types of Window Treatments to Spruce Up Your Decor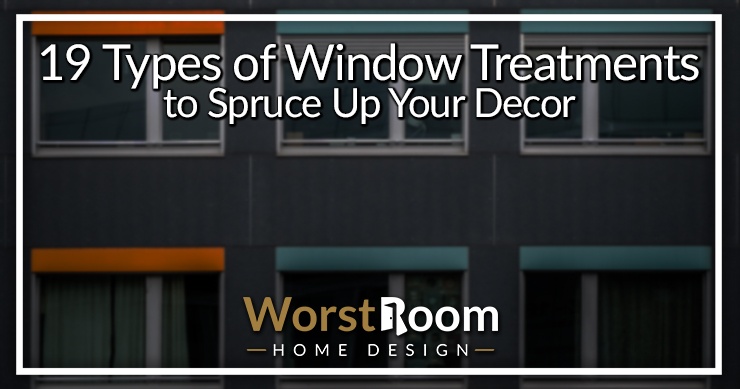 All of the types of window treatments are an excellent way to redecorate your old house with minimal effort. But that's not all, a proper window treatment will enhance your privacy, increase the amount of light and control the temperature of the room.
But to know how to do that properly, you need to have an idea about the different types of window treatments.
Your aesthetic sense and preferences depend on how you want to decorate your new home or redecorate an old one. That being said, we believe our list of the most popular window treatments can help you greatly in choosing the right one for you.
A perfect window treatment will change the outlook of your room, so choose carefully.
19 Types of Window Treatments
After doing long research, we have come up with the most common window treatments that you can find around the world. Time for you to give them a read.
Curtains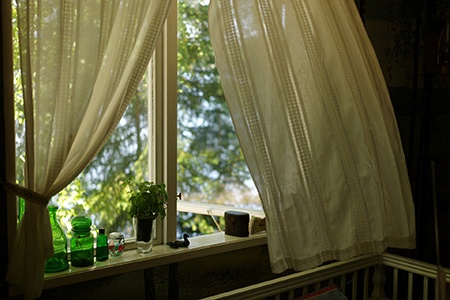 Doesn't matter which part of the world you live in, all types of curtains are by far the most common window treatment everywhere. The reason?
They're easy to use, relatively inexpensive, and don't require a lot of effort while setting it up. Curtain panels generally hang from long curtain rods and come in a two-piece set.
Curtains throughout the world vary in materials, patterns, colors, styles, thicknesses, etc. Choosing the right curtain is a tad bit difficult, as they have to match the interior design of the room, color/contrast-wise.
These window treatments come in a lot of different types, and you need to choose them based on your requirements. If you want more privacy, you'd need a thicker fabric.
Again, if you need more sunlight, then sheer fabric curtains can be of help. So if you go for curtains to set up the window treatment — choose according to your needs.
You can consider sheer curtains, net curtains, cafe curtains (which cover just a portion of the window), and even the illustrious Austrian shades.
Drapery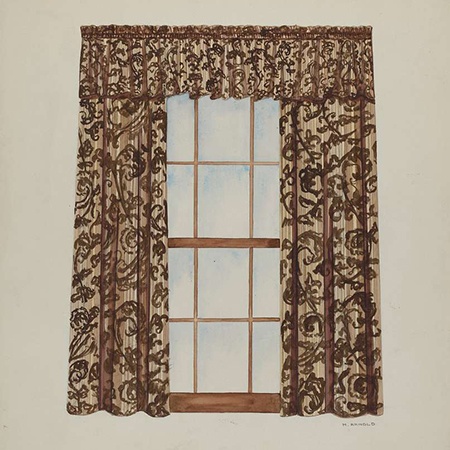 Drapes are quite similar to curtains when it comes to the setup procedure and overall functions. They're made from relatively thicker fabric and adds elegance and style to the room.
Drapery gives you relatively more privacy than most curtains. The drape panels generally hang vertically from their rods and give your house a more formal approach.
Just like curtains, all types of drapes also come in various fabrics, colors, patterns, and styles. They're a popular choice for controlling the temperature in colder regions.
The best thing about drapes is that you can coordinate them with your existing window treatment and make a fusion-style interior design. These double-lined types of window coverings are more common in office spaces and formal rooms.
Blinds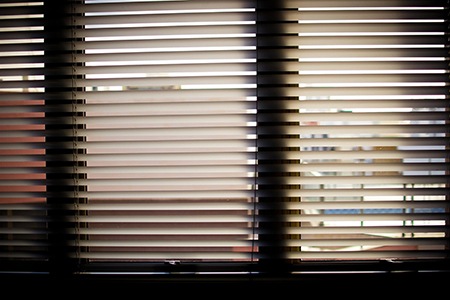 Unlike the first two, the various types of blinds aren't made from fabric, rather they have wood or vinyl as their materials. Wood blinds come in two different types, the usual wood and faux wood blinds.
Blinds come with slats that you can open with different mechanisms like a cord. There are cordless versions of blinds as well. In general, the horizontal blinds are good for smaller windows, whereas the vertical blinds are good for longer, sliding glass doors.
The original wood-made blinds give you a classic touch and are never out of trend. They're highly durable because real wood is used in the making.
Wood blinds give your room a warm look and pair quite well with wooden floors and furniture. On the other hand, Faux blinds are made from PVC, composite wood, or vinyl but look just the same as the wooden ones.
These different types of window treatments are more affordable and moisture resistant, which wood blinds aren't. For this reason, faux blinds are a common feature in modern kitchens and washrooms. These are all also known as Venetian blinds.
Valances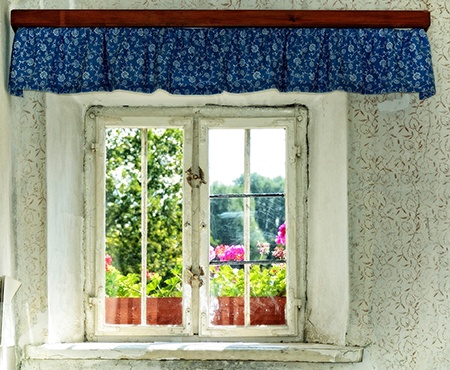 Valances have similar material as drapes but are quite different in how they look and their usage. They're not considered a window treatment to many, but minimalist interior designers speak highly of them.
Valances are basically decorative tops to cover mounting stands of drapes, shades, blinds, or curtains.
Made from thick fabric, they're draped around the window frame and are used to cover the mounting stands. People who don't prefer to cover their window but want a touch of window treatments usually go for valances.
They just cover the stand and keeps the window open. Valances have a few different styles, like flat, arched, and pleated.
Cornices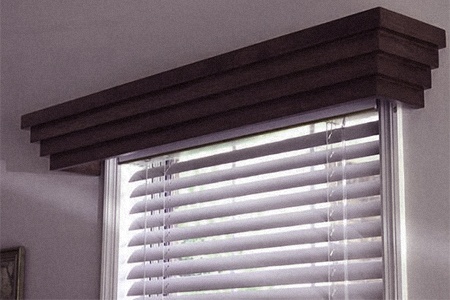 These are basically Valances but box-shaped and made of hard materials like wood. They have similarities to valances due to their usage. The box-shaped Cornices usually fit well with mounting hardware.
If you don't want any other window treatment and just a wooden cornice, that's fine too. But you can also pair them with curtains for a relatively muted room.
Shades
Shades are one of the most common features in European and American interior designs. They have plenty of different types that vary on materials and their usage. Below we'll discuss roman shades, solar shades, cellular shades, roller shades, bamboo shades, pleated shades, and sheer shades.
From light-filtering fabric shades to smooth/pleated shades to woven wood shades — there are plenty of different shades you can choose from. They can either be manual or motorized, and you can pick a custom-sized one for your window.
Roman Shades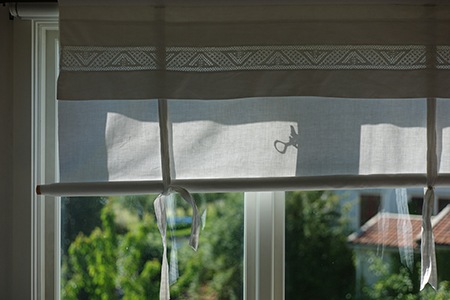 Roman shades are made from a continuous piece of fabric and have horizontal folds. When these shades are down, these types of window treatments lay flat against the window, and when they're raised, they'll fold up and give a drapery vibe.
Solar Shades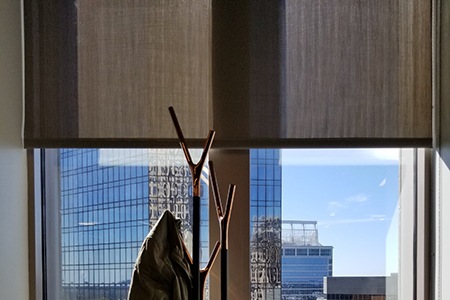 On the other hand, solar shades have opaque designs that will enable you to preserve the outside view with light control. They're kind of like sunglasses — they won't let the heat get inside, but you get to watch the world from your windows.
Cellular Shades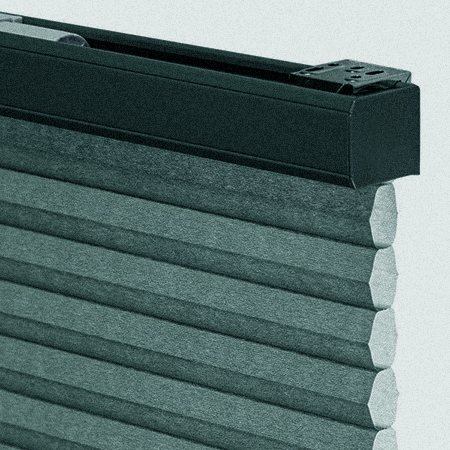 Then there are cellular shades with honeycomb cell fabric that will control the temperature in your room in different seasons. Cellular shades are energy-efficient and traps the air to keep the room warm in winter and cooler in summer. They also help filter light glare and diffuse it to make your interior lighting more tolerable and even.
Roller Shades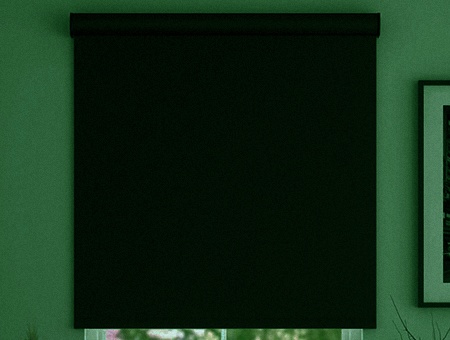 Roller shades are a relatively cheaper and different window treatments if you like uniqueness. They roll up into a tube and look minimal when down and quite discreet while raised. Roller shades have light-filtering options as well.
Woven Wood Shades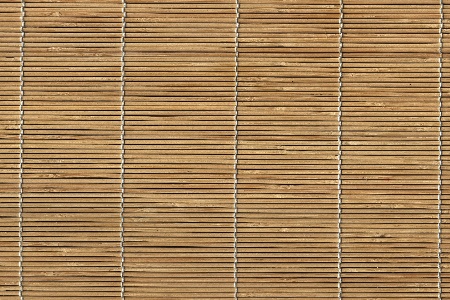 The bamboo/grass-made shades are known as woven wood shades. These are textured shades that give your room a natural vibe. You can include fabric trim to fit the shade to your window or add lines to increase privacy.
Pleated Shades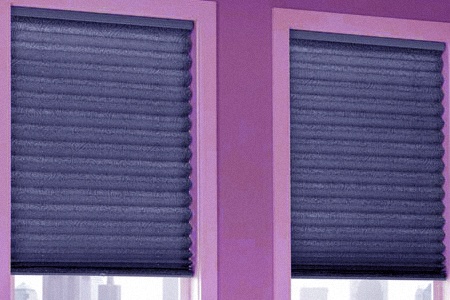 Then there are pleated shade types of window treatments that are made from a single fabric with pleats. They give your room a slat-like effect and helps you control the light.
Sheer Shades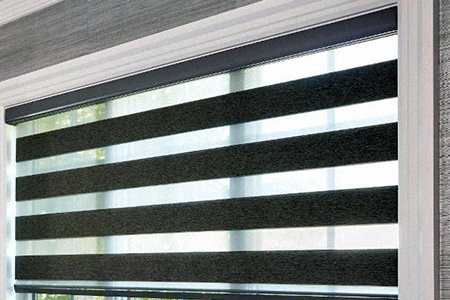 Lastly, the sheer shades are perhaps the most elegant window treatment option among shades. They contain two sheer fabric facings on top of soft fabric vanes. Its vanes are effective in controlling light.
When they're open, diffused light comes in, whereas the closed vanes would result in zero lights in the room. If you prefer to block lights completely at some point in the day- this is an ideal shade.
Shutters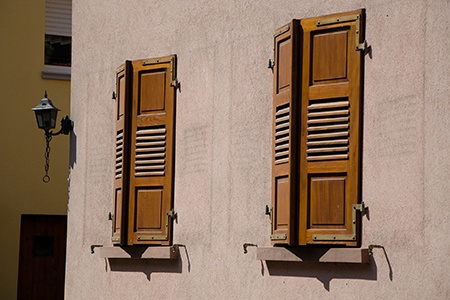 All the many types of shutters have been a very common window treatment since the beginning of window coverings, even on the interior of the home. Having them on the inside make for some pretty unique window treatment options.
They give off an architectural design vibe to the windows. Shutters usually have a unique and elegant design and look very attractive both from the inside and the outside.
Even though there are more modern approaches to window covering such as the alternatives to shutters we've covered, one can't simply forget the elegance and class of old-school shutters.
Panel Tracks
If you have tall windows or sliding doors as your window, then the usual drapes or curtains won't be feasible to cover the window fully. This is where the stylish designs of panel tracks come in.
They're a brilliant alternative to vertical blinds, mostly because they're made of fabric. The sliding window panel tracks can be mounted to the ceiling or wall, and you can move the panels side-to-side using the tracks.
Instead of the usual simple coverings, this sliding system adds a bit of theatrics to the room.
Swags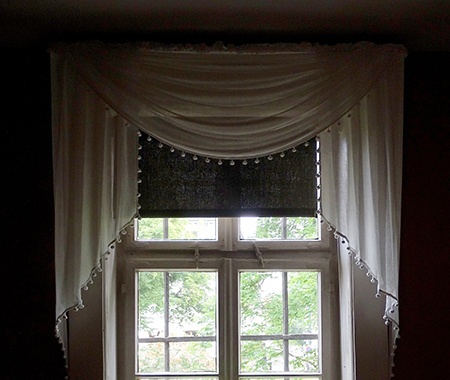 If you're from Asia and you've attended Asian weddings, there's a high chance you've already seen a good lot of window swags in your life.
They are long pieces of fabric and are generally draped around a stand or a rod. Swags are seen in different arrangements and give the window an elegant look.
But if you want to use window swags to improve the aesthetics of your room, that's fine too. They'll be an interesting DIY project for you, and your window will get a softer look. So if you're okay with using some fabric and turn them into window covering- you can go for swags.
Treated Glass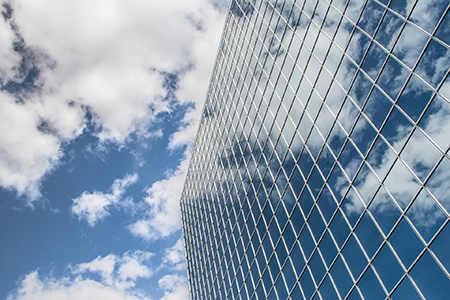 Lastly, you can start treating the window glass instead if you feel like you haven't found the proper types of window treatments for your windows.
There are a lot of different glasses in the market that can protect you from UV rays or control the temperature of the room. So it's perfectly fine if you choose not to go for any window coverings.
In that case, you can choose from frosted glass, window films, or stained glass to protect your privacy and get your preferred light and temperature in the room.
Shoji Panels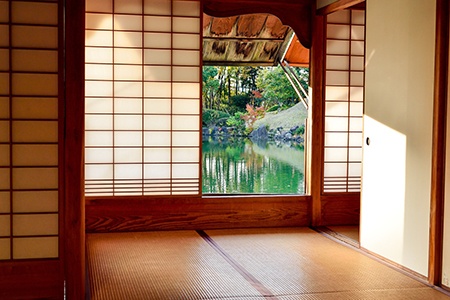 A classic Japanese decor invention, shoji panels aren't found much outside of Japan except as room dividers. You see people get dressed behind these folding screens in the movies regularly enough.
These panels cover entire windows which let light come through but also create a "frosted" appearance so you maintain your privacy. This rice paper can be easily damaged so take special care if you use these.
Usually framed out in bamboo wood, they can be created to cover any size window, sliding glass door, or even entire walls. They're used as sliding glass door alternatives in Japan still, and as you can imagine you can't really secure these sliding glass doors.
Stained Glass or Frosted Glass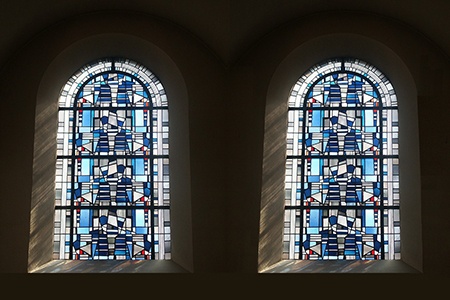 The often forgotten option is to either replace the glass with frosted or stained glass, or find stickers you can apply over your windows to take on the appearance of these decorations.
Stained glass can be hard to get right, even in the various types of castles they didn't always get it right, but in the right modern room like a kitchen window over the sink, it can be very appealing.
Frosted glass is often used for windows that point into a bathroom. It simply creates a blur effect so the person within can't be seen clearly. You can learn how to frost glass here.
Types of Window Treatments for Every Design Style
Always remember, you have the option to not choose any coverings and treat the window glass instead. But that's no easy job as well, so the choice is yours!
To sum it up, we can say that finding the perfect window treatment for your room is no easy task. Matching the room aesthetics and color shades is difficult, but we hope our list of the popular types of window treatments was of help to you.
You'll Also Enjoy: