14 Types of Wood Fences for Great Privacy & Curb Appeal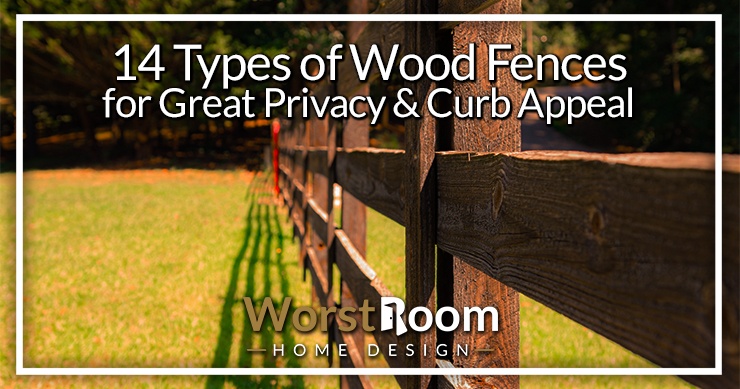 There's a saying that goes, "A good fence makes great neighbors." And I say, "good types of wood fences look great and are easily maintainable, too."
And we wholeheartedly agree with that since good fencing is the easiest way to mark your property lines, secure your activities from the nosy neighbors, protect your child and pets, resisting noise, wind, pests, and animals that ruin your gardens.
Fences can be made in different styles from a variety of wood materials. While judging between different types of wood fences, consider the local weather, quality, strength, and affordability of wood.
Then go for a style that suits your taste and increases your landscape's curb appeal and attractiveness. This will be more valuable than some of the weirder fence alternatives out there people opt for.
For adding grace and security to your house, let's chat about various wood fence options depending on the wood material and fencing styles.
Types of Wood Fences By Wood Material
Among all the woods used for fencing, Cedar, Redwood, Pine, Oak, and Cypress are the strongest and most popular ones. As the woods are unique in appearance and properties, you can pick one according to the weather and surroundings of your place. Here are the 5 best wood types for fencing.
Cedar Wood Fence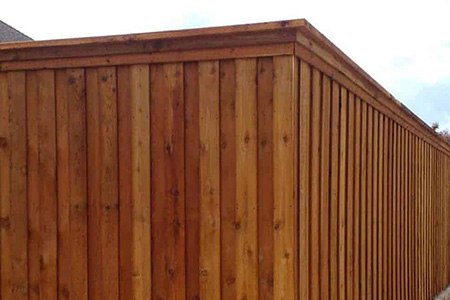 If your house is located in a dry area, cedar fences are the ideal choice. Cedar fences are weather-resistant and naturally good-looking with their parallel and smooth grains. Moreover, the fences aren't prone to warp or shrink like other types of wood.
Despite being a softwood, cedar is incredibly strong and long-lasting. You can expect your cedar fences to be in fine condition for 30 years or more. The wood contains natural oily substances that keep insects away from your fence.
Cedar is the perfect wood if you want to customize your fences with intricate pattern designs. However, cedar fences tend to rot in areas near the soil in wet climates. You'll have a hard time painting the cedar wood since its natural color is very rich and attractive.
Generally, there are three most popular cedar woods used for fences including:
Red Cedar Wood Fence - This is the lightest cedar wood type that's easy to carry and style in various ways. Red cedar is strong, durable, and has a nice scent. Just like most cedar, this has a rich red tone that looks elegant even without staining.
White Cedar Wood Fence - As the name suggests, this one is more whitish in appearance, with visible knots and straight grains on its surface. Hence, the wood is easy to cut, stain, and design. You can count on the white cedar as it's resistant to termites and doesn't tend to crack or split.
Inland Cedar Wood Fence - While inland cedar lacks the natural tone of cedar, it surely offers you maximum stability and strength. It also contains weather- and bug-resistant oils that improve the longevity of your fences.
Redwood Wood Fence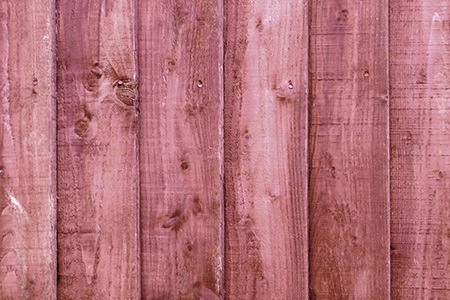 These types of wooden fences are so common that you can spot the redwood fences almost everywhere. Redwood is affordable and features an aesthetically pleasant reddish-brown color.
Hence, you don't have to spend anything extra on staining the wood. However, we suggest you coat the redwood wooden fences types with oil-based paint to increase longevity.
Redwood also contains natural oils that repel ants, termites, and other insects. Thus, the chances of physical damage are reduced, and the fence lasts longer. If you have lamps or any exterior lights around the fence, remember that termites are attracted to lights so you could still develop a problem.
The wood is strong and does not crack, twist, or warp. Moreover, these types of wood fences withstand weather shifts and violent temperatures throughout the year. As the wood effectively resists moisture, chances of rot and decay are minimal.
This attribute makes it easier for you to clean and stain the redwood fences as they don't absorb the moisture of cleaning sprays and paints. The only drawback of redwood wood fence varieties is that the wood isn't readily available in every state.
Pinewood Wood Fence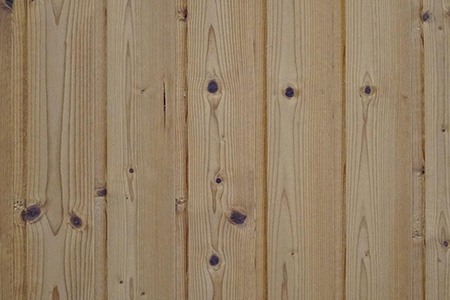 For residential fencing, Pinewood is the most popular choice. Pinewood has a soft texture that's easy to fashion with wood cutting tools. The average lifespan of the pinewood fences is 15 years or more. With proper maintenance, they can last even longer.
Pressure-treated Pinewood contains chemical preservatives that fight against rot, decay, and insect attacks. When the wood ages, it takes an elegant golden-brown shade that looks stunning. It is naturally stiff and works better if treated with water-resistant chemicals.
Above all, Pinewood is an impressive cost-effective option over any other type of wood. However, the soft nature of Pinewood is susceptible to warping and shrinking when acclimating to new environments. It's resinous and can leave sap on your saw blades, and it doesn't absorb stain very well. It's "builder grade" meaning it's cheap and okay for interior construction.
Also, the natural color of the wood isn't very glamorous compared to redwood and cedar. Yet, the color is very much suitable for staining. If you want to fence your place at a low cost, Pinewood is the way to go.
Cypress Wood Fence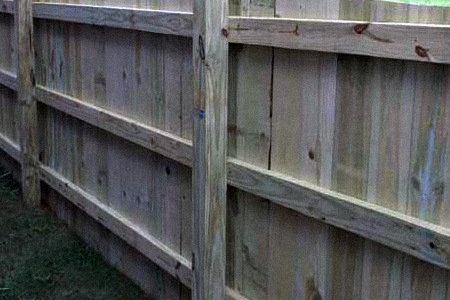 Cypress is another go-to material used for fencing and roofing. The neat and pristine look of the wood is a real standout as you can use the golden-yellow wood without any coating yet paint it easily whenever you want.
Although it's a softwood, the hardness of the wood is incredible and sometimes exceeds the hardness of cedar and pine. As the wood features tight grains, you can effortlessly drive most types of nails into it, which will remain stable forever.
What makes cypress a great alternative to cedarwood is the fact that it's resistant to rotting even in humid or wet climates.
This wood contains an insect-resistant substance called 'Cypretine.' It also contains some natural anti-fungal elements ensuring that your fence will last for years. One downside of these types of wood fences is that it can be pretty expensive in areas where cypress trees aren't available.
Oakwood Wood Fence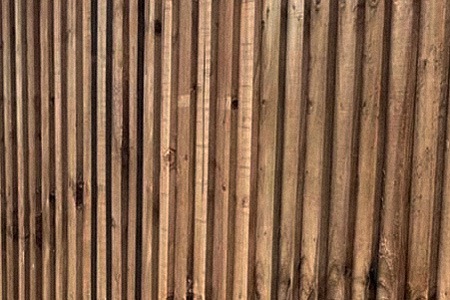 Oakwood is famous for a variety of uses due to its versatility. As a slow-grower hardwood, oak is robust and durable. It has visible wavy grain knots that give a pleasant highlight and a clean finish. As years pass by, oak wood becomes darker and more refined.
White and red oak are most popularly used for fencing among hundreds of oak species. Both the beige and rosy red colors of white and red oak are pleasant to the eyes. Moreover, the colors grow darker with time and remain like-new for decades.
Compared to any other fencing wood, oak is more suitable for wet locations as it survives heavy rain and snowfall. Moreover, the wood requires very low maintenance, and it's easy to clean and polish.
It's a cheaper option to make oak fences since the wood is available in all the states. However, the visible grains of oak wood makes it difficult to stain the wood and so, you might need to pay some extra there.
Types of Wooden Fence Styles
Nowadays, we can customize our fences in any innovative and unique style we want. But intricate designs increase the overall cost of fencing. Some basic wooden fence styles impressively balance the cost and aesthetics.
Here are some of the most common and cost-effective fence styles. Keep in mind that the cost of hardware like hinges and the types of gate latches you use won't change no matter which of these fence ideas you follow.
Wood Picket Fence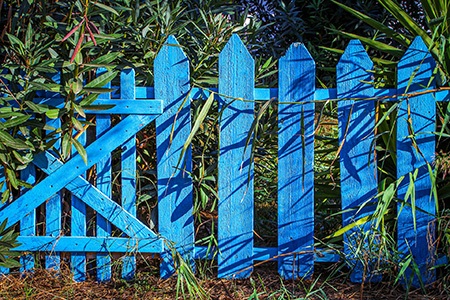 When you think about a prosperous middle-class family, your mind instantly builds a house with white picket fences around it. It is the symbol of the suburbs and the old American dream. This type of wood fence consists of several wooden boards that stand upright and are connected by horizontal rails.
If you want more privacy, you can place the wooden boards' side by side. You have the freedom for wood fence options when constructing it to build it as you see fit.
Otherwise, the fence looks excellent when placed at 6-inch distances. The picket fence is a great way to protect your child, pet, and garden from unwanted visitors.
Wood Dog-Ear Fence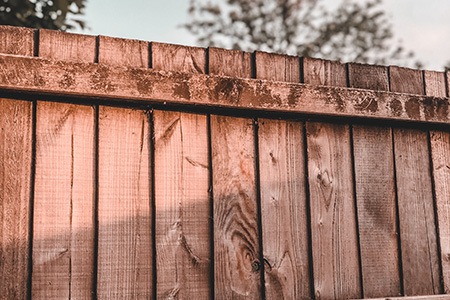 Out of all the styles, this one is the simplest and cheapest. You can make these types of wood fences yourself by putting the wood panels alongside without any gap between them. To discontinue the monotony, the top of the panels have a curved design that resembles the folded ear of a dog.
This type of fence gives your family full privacy. It makes sure that your pets remain inside, noises are kept outside, winds don't cause any disturbance, and no wandering eyes can invade your privacy. These fences are a classic option to block a neighbor's view into your private area.
Wood Lattice Fence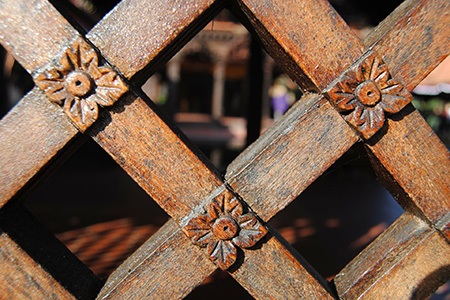 If you want to add aesthetic value to your gardens, the lattice fence will be an excellent option for you. The fence is made of very thin wooden slats placed in crisscross lines creating beautiful square-shaped holes.
Although these different wood fence styles don't add much privacy, they prevents little kids and pets from going out. The main purpose of the lattice fence is to create a dramatic look and cover the garden area. Moreover, it can support the climbing vines of your garden.
Post & Rail Fence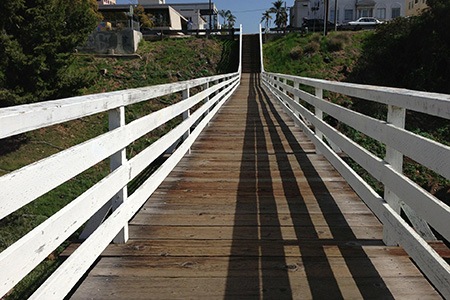 Rail fences are typically used for framing the borders of a large yard, farm, ranch, or garden. The fence is comprised of distantly placed wood posts attached by three or more horizontal boards.
As it requires fewer wooden boards, you can make these wood fence varieties at a very low cost. It protects your land borders, livestock, and pets while being aesthetically pleasing.
You can easily customize the fence height and number of woods as per your needs. Rail fences are a great addition if you want to enjoy the beautiful landscape of your grounds.
Wood Louver Fence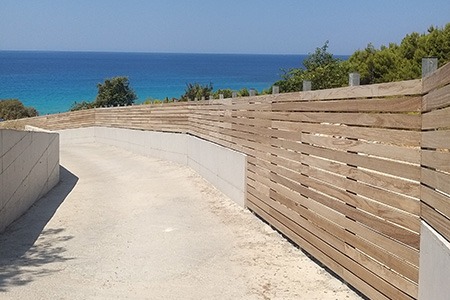 Louver fences are like rail fences where there are vertical posts with horizontal slats, but in this case the side-to-side boards are thinner in width and mounted much more densely.
There are gaps between the boards that are small enough to provide privacy but allow plenty of air to flow through the fence. These boards can be overlapped and installed at a diagonal to reduce the visual gaps between them (like window blinds) while still allowing air flow.
These types of wooden fences are great for small backyards, patios, or pool decks where you don't necessarily desire sound privacy, just visual privacy.
Wood Vertical Board Fence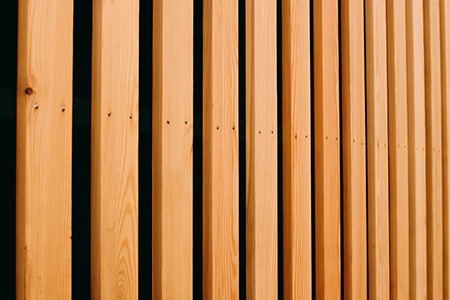 Like louver types of wood fences, the vertical fence has boards packed densely in the vertical direction along the rails. You can either pack them closely together on one side of the rails, or you can alternate on either sides of the rail.
Doing the latter allows for air flow and small animals to pass through as well as air, but at the right viewing angle you lose all visual privacy, but it's not as bad as it may sound. A person would have to stand still at a far distance away to see what was going on in your backyard.
Solid Wood Panel Fence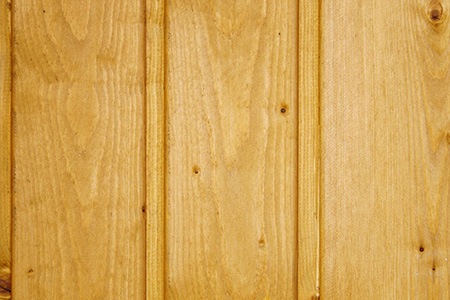 The solid panel fence has zero air gaps. The wood is mounted side-by-side on both sides of the rails. They'll typically have caps on their posts and other decorative elements, but the main point is these are tall, sturdy, and "solid as a rock".
The problem with these wood fence options is that no air, no animals, no leaves, and no visual sight lines can pass through. That means if you have strong gusts of wind that these solid wood panels can possibly be damaged or knocked over.
Basket Weave Wood Panels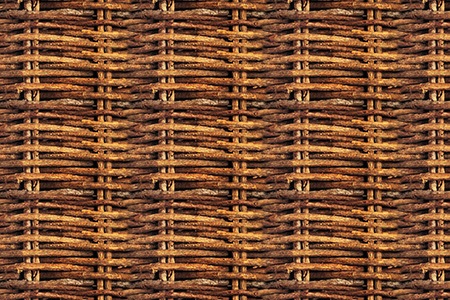 While these wooden fence types look nice, they're a nightmare to manufacture and even worse to keep clean from leaves and sticks. Thin wooden slats are woven along the posts in such a way to create a neat visual pattern that is dense enough to block all sight through it, but allow small amounts of air.
Another issue with them is if any one slat breaks (and they will), replacing it is very difficult due to the manufacturing process of soaking, bending, and drying wood. Otherwise you'll try to install it under pressure which will lead to another break.
I'd skip these wood fence varieties if I were you, at least if wood is the material used in the construction. You could get away with it with other fence materials though.
Living Fence / Wattle Fence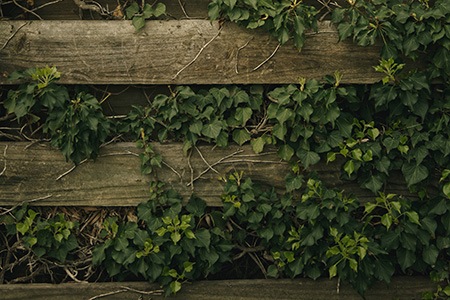 A living fence can mean several things. It can refer to bushes and small trees where you train the bushes and trunks to grow in certain directions to create a fence. This can be around posts and rails or not.
It can also refer to fences where you just use the natural wood in between the posts (usually called a wattle fence), wood of any kind, so that you've created a barrier albeit a chaotic one. It helps to then grow vines along the fence to help it's appearance and help hold it together as the wood weakens over time.
Types of Wood Fences & Options for Every Preference
Although the style is a personal preference, we will say the picket fence style is great for aesthetics and privacy. Overall, make sure to choose the one that suits your location, expectations, and future needs.
There, you have it all to start building a wood fence around your yard. Among all the types of wood fences, we recommend you go for cedar or pine wood fences for long-lasting protection.
You'll Also Enjoy: