9 Types of Awnings to Make Your Patio Much Better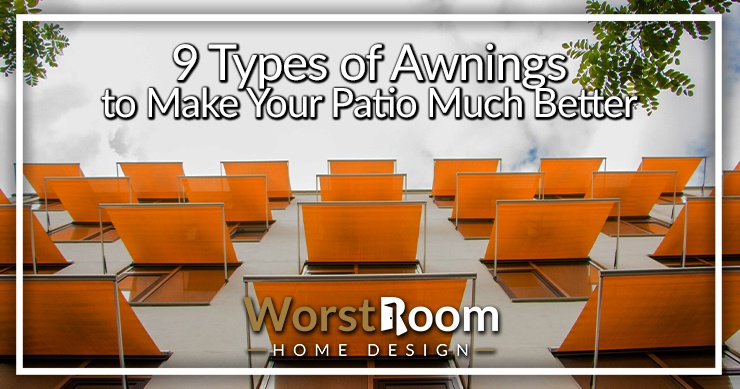 Be it heavy rain or bright sunlight, nothing should stop you from enjoying the view from your outdoor living space. Even simple types of awnings can single-handedly protect both your indoors and outdoors from the scorching heat, rainfall, harmful UV rays, and continuous snowfall.
Because of their so many advantages and varied uses, numerous different types of awnings have been produced by manufacturers. The awnings vary in style, material, and application. While some are easily portable, others remain fixed in one place.
Moreover, some retract manually, and the advanced ones can be operated by remote control devices. Let's find out about the many different awning styles and find out which one is best suited for your use.
9 Types of Awnings
As awnings are used to cover decks, front of the restaurants, windows, pool, and commercial areas, we have included a wide variety of awnings in our list. Here are the most popular and useful awnings you can use for domestic or commercial purposes.
Retractable Awnings
Thanks to the extendable canopy, retractable awnings have become the most popular among home and business owners. This one is highly versatile with the retractable top that you can easily fold up or extend on a particular area whenever needed.
Besides, they come in many different materials and operating options. Mostly, retractable awnings are made of plastic and fabrics like cotton or canvas. The reason being such materials are easy to roll and expand when needed.
As for operating options, retractable awning types can be controlled automatically by remote or manually by a hand crank.
Of course, manual awnings are more common and way cheaper than motorized ones. However, if the awning is sensor-triggered or motorized, it offers higher convenience and makes your job a lot easier. People use retractable ones for their outdoor areas, windows, doors, and commercial spaces.
You can use the crank to protect them from sudden storms or heavy rain. A cassette will keep the cover folded and store it safely for later use. We recommend choosing a high-quality and durable cover for maximum convenience.
Fixed Awnings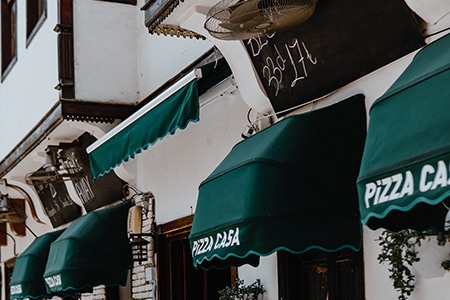 As this is the more traditional kind of awning, most people picture fixed awnings while talking about them. Such stationary awnings are attached to the exterior wall of the building with a strong metal pole. Some also feature multiple support poles at different parts to enhance the reliability and durability of the awning.
Fixed awnings are undoubtedly the best option if you want permanent weather protection for your patios or doors. Choose a sturdy material like aluminum or polycarbonate so that it lasts longer and requires less upkeep.
However, fixed metal types of awnings absorb heat and rust easily without a protective coating. Then again, cloth covers are susceptible to wear and tear over time and require regular cleaning. Nonetheless, they can reduce solar heat gain by 77% in the summer!
So, the bottom line is that you can choose fixed awnings for long-lasting protection from all types of weather, but you must also take care of the maintenance requirements and costs.
Portable or Freestanding Awnings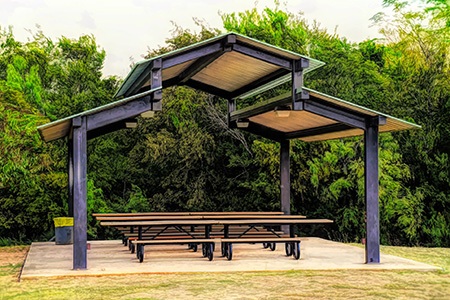 Have some budget issues? Portable awnings can be your solution as they are the cheapest ones on this lot and can work on any types of patios that aren't already covered. The freestanding awning styles include large patio umbrellas, shade sails, wide canopies, etc.
While these coverings don't provide as much protection or coverage as the traditional expensive types of awning, they have their own sets of benefits. You can easily carry them from one place to another depending on the sun's location.
Two or three freestanding umbrellas will cover a large area, or you can also try wide canopies instead. As there's no need for a particularly sturdy structure, the buying cost and maintenance requirements are also minimum. If you're interested in UV protection, we've discussed why black is the best color patio umbrella to block the sun.
Portable canopies are great for family outings, pool areas, and outdoor diners. You need to remember that these awning options aren't very strong, protective, or durable. So, you can't rely on them for long-term use.
Motorized Awnings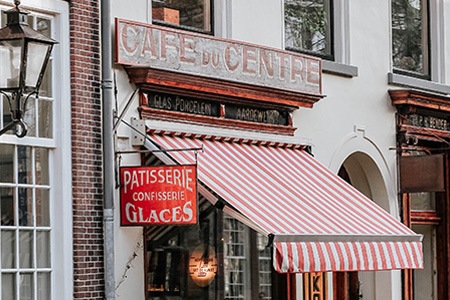 Enough with the manual awnings; let's talk about the automatic ones now. If you want flexibility and convenience, a motorized awning is your best bet. The barrel of this awning surrounds a tubular motor that runs on electricity or batteries.
Installing and operating a motorized awning is super easy. You can operate it with a remote control device from a distance. Whereas more advanced ones have sensors or motion triggers that automatically retract or expand the awning depending on the weather.
Too often, outdoor awnings are affected by strong wind or UV rays as many homeowners fail to retract them in time. The sun and wind sensors on the motorized awnings alert you when the weather starts changing. As a result, you can use the remote to retract the awning without even touching it.
What makes things even easier are the automatic programs on these awning styles. You can program the motor functions to automatically expand or retract the awning in case the weather goes bad.
Although the motorized awnings are great for avoiding damage, they are the most expensive ones on the marketplace. We recommend going for a quiet and durable motor that requires less maintenance. Depending on where you hang your flag on the front of your house, make sure your motorized awning doesn't get wrapped up with it as it retracts.
Metal Awnings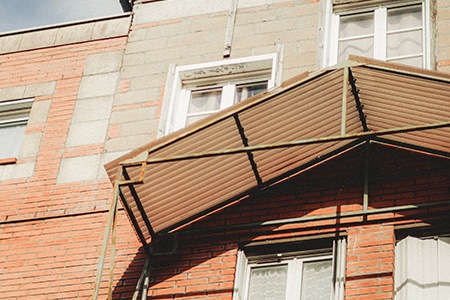 When it comes to permanent uses, metal types of awnings are the first choice of homeowners. They offer the best protection and resistance against environmental wear and tear. Be it strong wind or heavy snow; metal awnings can stay upright for decades. Over windows, metal awnings can act as alternatives to shutters if you don't experience extreme weather like horizontal rain.
Besides, you have multiple options to choose from. Some are more affordable, while the stronger and more resilient ones come with higher costs. The two most popular options are aluminum and copper. Aluminum awnings have a lower price tag despite providing almost the same benefits as copper ones.
The material is recyclable, durable, sturdy, and impact-resistant. It doesn't absorb much heat and provides good protection against harmful UV rays. You need to choose a well-coated aluminum awning to lower the maintenance cost.
On the other hand, copper awning options are elegant and classier, adding ornamental value to your place. The material is thick and strong enough to last for generations. Plus, it's resistant to natural corrosion, UV damage, low and high temperatures, and other environmental factors.
Keep in mind that, no matter which metal you choose, it will work as a heat conductor and increase the temperature inside. Hence, you should avoid using metal awnings indoors and use them for your outdoor patios or decks instead.
Cotton & Polyester Awnings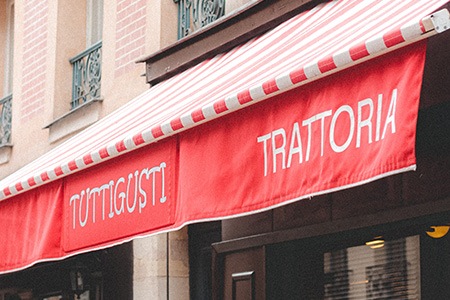 Fabric awnings are popular for their affordable prices and versatility. Also, they can easily be modified according to your preferences. Fabric awnings will easily match the aesthetics of any home or office and provide everyday protection from sunlight and other harsher weather conditions.
Cotton and polyester are commonly used fabrics for awnings. Cotton fabrics are particularly valued for their breathability and pocket-friendly prices. The main plus of these types of awning are that they don't absorb as much heat as the metal ones.
Besides, manufacturers often add a vinyl coating on the cotton to make it waterproof. To maintain cotton awnings, you must check for regular wear and tear and clean them regularly in your washing machine.
If that seems too much work, you can go for polyester fabric. It doesn't catch dirt or marks very easily and requires minimal upkeeping. When it becomes dirty, you can just wipe it with a wet cloth or spray water. Polyester types of awnings are a great choice if you want to enjoy the sunlight while blocking the damaging UV rays.
Polycarbonate Awnings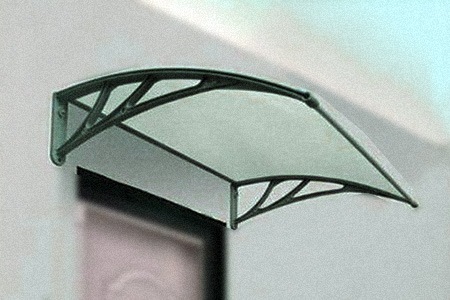 One of the toughest materials in the industry, polycarbonate is a special type of thermoplastic material that's virtually indestructible. The material is widely used in electronics for its high impact resistance.
Polycarbonate awning styles are as strong as the metal ones while lacking the heat absorbing feature of metals. Hence, it will keep your house cool and protect it from harmful sun rays.
The material requires very low maintenance and provides strong protection against wind and water. Altogether, polycarbonate awnings are a great option for commercial and domestic uses.
Canvas Awnings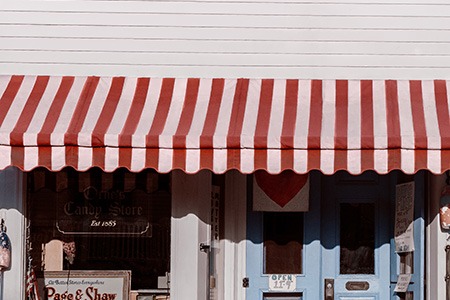 This material is a durable combination of synthetic and cotton fibers. Because of this mix, the fabric becomes more resistant to weather changes. It is further coated with laminate or vinyl to make it completely waterproof.
Canvas awnings are valued for their affordable price and natural look. What makes them even more preferable is their wide variety of colors, designs, prints, and patterns. If you want to make your patios and porches stand out without spending much, canvas will be the best fabric choice.
However, this fabric won't hold strong against heavy wind, rain, or snowfall. Also, the color and patterns will fade if exposed to bright sunlight for a large portion of the day. On the positive side, maintaining and cleaning canvas awnings is very easy, and the fabric will surely provide long-term protection.
Porch Curtains & Valances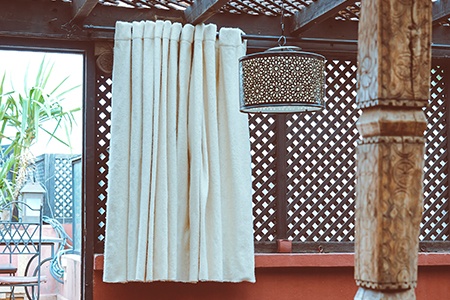 One could argue that these aren't awning types but they deserve a mention so you'll know the option exists. Valances are types of curtains, this time made out of canvas so they can withstand the sun, rain, wind, and mildew, that attach to the upper and outer edges of your covered patio. They hang down some giving you additional protection from the sun.
Porch curtains are just like valances but can be rolled down to reach the floor. These can provide complete protection from the sun, provide visual privacy, or be pulled down halfway to create a special ambiance while still letting in some light. They are retractable but only vertically into a roller that holds them until next time they're needed.
Types of Awnings to Enhance Your Patio Enjoyment
If you have the right budget, motorized awnings are the most convenient ones that you should go for. Aluminum will be an excellent choice for years of protection. In general, retractable fabric awnings also do the job while being surprisingly cost-effective.
As we have covered all types of awnings, now you can finally decide which one is the perfect fit for your house or office. Awnings are great for all-weather protection and enhancing your house's curb appeal.
You'll Also Enjoy: