11 Main Types of Dahlias & the Colorful Varieties Within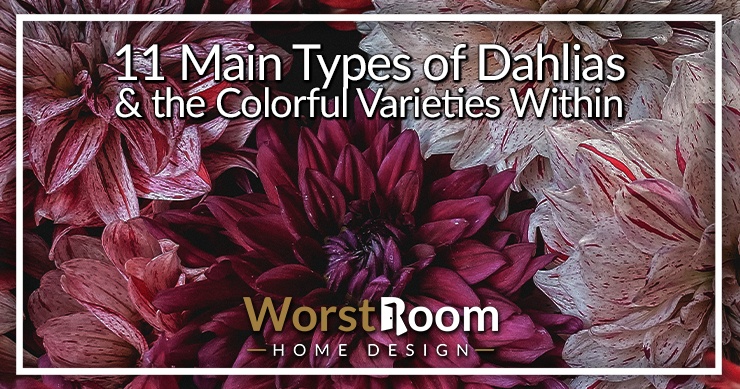 What's a wedding without dahlias? These exotic flowers have been an automatic choice for weddings in almost every corner of the world. The vivid color and eclectic texture of the various types of dahlias make it a perfect flower for weddings and other ceremonies or your flower bed.
That being said, there are over 42 types of dahlias in the world, and you need to have a basic idea about the different kinds of dahlias before you start growing them.
We managed to classify all the types of this beautiful flower in a total of 11 main categories. They make a great addition to flower bouquets, gardens, and different arrangements, so if you want to bring a touch of vibrant color to your garden - dahlias are a fine option.
11 Main Types of Dahlias
If you're really into dahlias, you can join the National Dahlia Society in the UK and the American Dahlia Society in the USA. After thorough research, we sorted out all the dahlias in different groups. Time for you to read through them and know more about the gorgeous Mexican flower.
Decorative Dahlias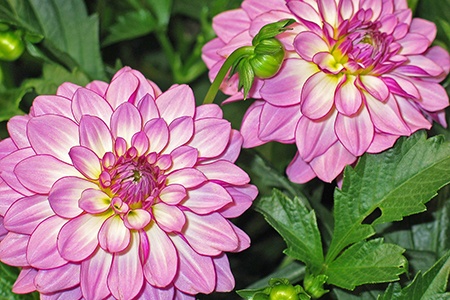 As the name suggests, these dahlia species are the biggest category of dahlias, and some of the most popular ones in this category are Arabian Night, Kelvin Floodlight, and Rothesay Reveller.
This type of dahlia comes in a wide variety of shapes and colors. Decorative Dahlias generally have flat and broad petals.
This type of dahlias are generally double-flowering, and they're divided into two classes - formal and informal, creating a wonderful vista when planted with any of the types of irises.
While formal dahlias have evenly placed petals, informal dahlias have relatively flat and slightly rolled petals. The placement of the petals is uneven as well with informal decorative Dahlias.
Cactus Dahlias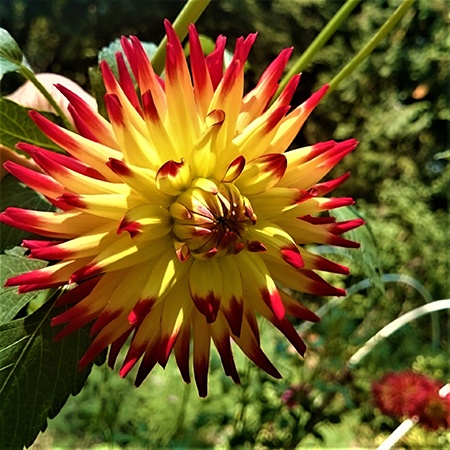 These varieties of dahlias have completely different petal patterns from the previous type. The way it blooms and the way it looks is quite dramatic, to say the least.
It is another double flowering dahlia with uniquely rolled, long petals to add a spiky look to your garden. The name Cactus Dahlia came from spiky looks.
Ranging from tiny flowers to massive blooms, Cactus Dahlias come in many different colors and shapes. The most common and popular dahlias of this category include Doris Day, Pianella, and Frigoulet.
Cactus Dahlias are divided into a few sub-categories. There are incurved cactus, semi-cactus, and straight cactus. Incurved cactus is the kind of dahlias that have petals completely rolled within the tips.
Semi-cactus petals are half-rolled and have a flat base. On the other hand, straight cactus petals are pretty straightforward and only partially rolled, often one-half of their original length. These are very unique types of dahlias, to say the least.
Single Dahlias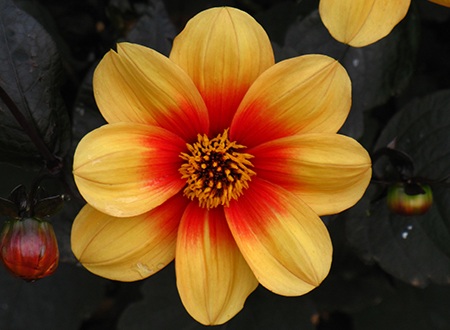 The reason why this type of dahlias is called 'single' is that they're single-flowering plants. These are relatively small flowers that can grow up to two inches in diameter. Single Dahlias are a ubiquitous friend of pollinators, as they're constantly hovering over these flowers.
Some of the famous single dahlias include Waltzing Mathilda, Mystic Illusion, and Magenta star. Their petals are usually overlapping and in a row.
The uniform petals on this flower are generally rounded or pointed. Overall, the petals might look slightly cupped or flat. My mom has these planted around various types of dogwood trees in the backyard and it looks majestic.
Pompon Dahlias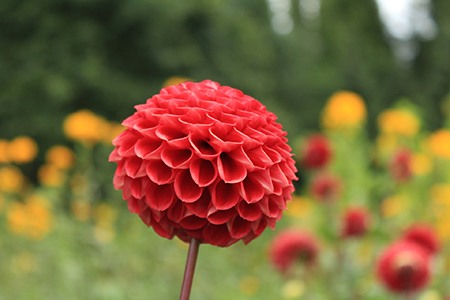 Pompon Dahlias are another double-flowering flower with flat spiral petals. The flowers can reach up to two inches in diameter and are pretty easy to nurture. A few most common Pompon Dahlias are Moor Place, Franz Kafka, and Plum Surprise.
Their petals are tightly rolled and quill-like and are nearly round. The flower is almost round and comes in different colors like red, violet, and pink. These kinds of dahlias are a sight to behold.
Mignon Dahlias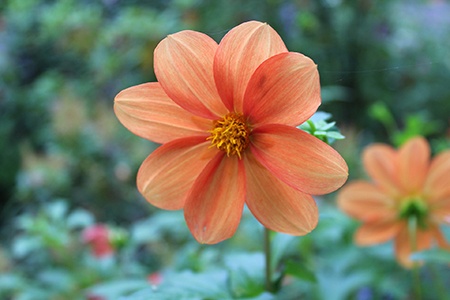 A dahlia that looks and appears nearly the same as Single Dahlias but aren't quite the same.
Mignon Dahlias are beautiful dahlia flower types usually under two inches in diameter and bloom in vibrant and vivid colors. Their petals have round tips and have similar patterns to daisies.
The flowers are often found around a contrasting center. Some notable Mignon Dahlias are Scura, Sunshine, and G.F. Hemerik. Dahlias combined with various types of lavender make for a gorgeous flower bed.
Anemone Dahlias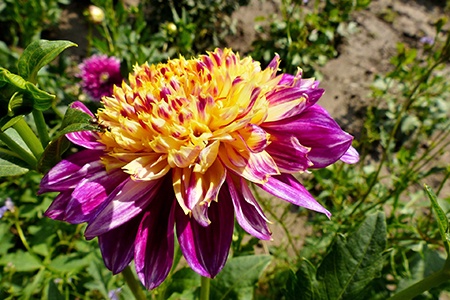 If you're a fan of dahlia, you must have heard of famous dahlias like the Boogie Woogie, Purpinka, or Totally Tangerine. All of these beautiful flowers belong to the Anemone Dahlia category - one of the most popular types of dahlias in the world.
The vivid colors alongside the beautiful texture make the flowers a must at weddings and other arrangements.
Anemone Dahlias can grow from two-four feet tall, depending on the weather and the gardening. They have massive blooms and are a prevalent choice for many types of bouquets and cut flowers. The flower has flat petals as an outer ring and a group of long, dense, and tubular petals within.
Ball Dahlias
It's in the name - Ball Dahlias are shaped exactly like a ball most often, but they can also have a slightly flattened shape. Its petals are generally rounder, indented or blunt.
These are relatively larger dahlias, as they can grow bigger than the two-inch diameter mark set by other types.
Ball Dahlias are usually placed in the bouquet in a spiral arrangement and add significantly to their beauty. Aurora's Kiss, Jomanda, and Cornell are some of the most famous Ball Dahlias in the world.
Collarette Dahlias
The Night Butterfly, an award-winning dahlia, belongs to the Collarette category. It has similarities to the Anemone Dahlias because of the large flat petals. Teesbrooke Audrey and Pooh are the other notable mentions belonging to this category of dahlia.
Collarette Dahlia has short petals that are surrounded by larger flat petals. Interestingly enough, the smaller and larger petals often have different colors, making the flower beautiful.
Its open flower structure ensures that pollinators would love to be around it. When it comes to gardening, these dahlia types can come as a blessing!
Peony Dahlias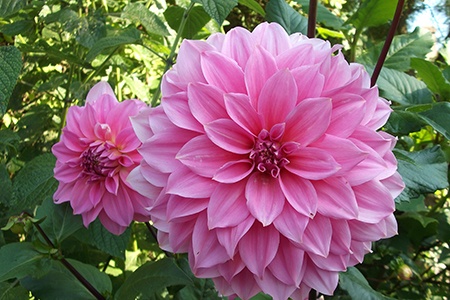 Peony Dahlias are often considered one of the most beautiful dahlias in the world. These single-flowering blooms have a fascinating textured look due to the irregularly formed petals, much like the regular types of peonies.
The flowers usually have open centers. Some of the most famous Peony Dahlias include Bishop of Llandaff, Bishop of Oxford, and Fascination. These types of dahlias get more than their share of attention.
The center of this flower is usually surrounded by multiple rows of large petals that give it a fluffy, textured look. Due to this unique look, Peony Dahlias are a common element in most bouquets and arrangements.
Waterlily Dahlias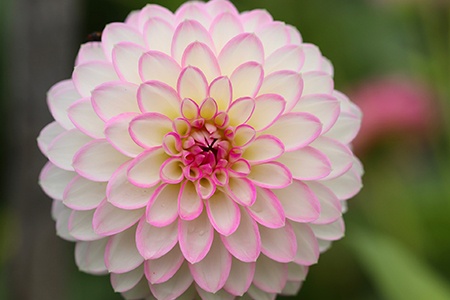 Yes, you read it right. These exceptional-looking dahlia varieties actually resemble the famous Waterlily with its beautiful double bloom and vivid colors. Their blooms are made from broad and sparse petals that make the flower look unique and eye-catching.
The pattern and striking color shades of this kind of dahlia attract many gardeners, and for all the right reasons. Some of the top Waterlily Dahlias include Karma Choc, Peart of Heemstede, and Caballero.
Orchid Dahlias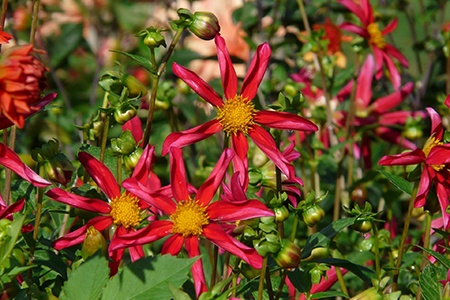 We finish off our list with one of the most popular dahlias of all. The orchid dahlia doesn't have many resemblances to the orchid flowers, though. Many famous and award-winning dahlias like Fragile, Honka Surprise, Honka Red, etc., are a part of the Orchid Dahlia category.
These are single flowering dahlias with an open center, just like the peony ones. The flowers have different rows of petals, and depending on the number of rows, they are classified into two groups. One is the single orchid, and the other is the double orchid.
The rows of Orchid Dahlia generally hide the center of the flower. Single Orchid ones have only one row of petals, whereas the double orchid dahlias have two or more rows.
Even though they don't have any physical resemblances to the orchids, they do have similarities when it comes to the color shades.
Types of Dahlias for Every Event, Garden, or Flower Bed
Dahlias are one of the most beautiful ornamental flowers you can find in a garden. Be it a wedding arrangement or in a bouquet, dahlias automatically make the ambiance better.
Now that you're well aware of the main types of dahlias, the choice is up to you to pick the kind you prefer and one that would be the centerpiece of your garden.
One of the reasons behind dahlias becoming so popular is that they're easy to grow, and they grow a lot. So, whether you use them in your flower bed or your bedroom - dahlias are always ready to be a part of your life. We wish you all the best with your venture with the various types of dahlias.
You'll Also Enjoy: