19 Types of Chains: Choose the Right Necklace & Outfit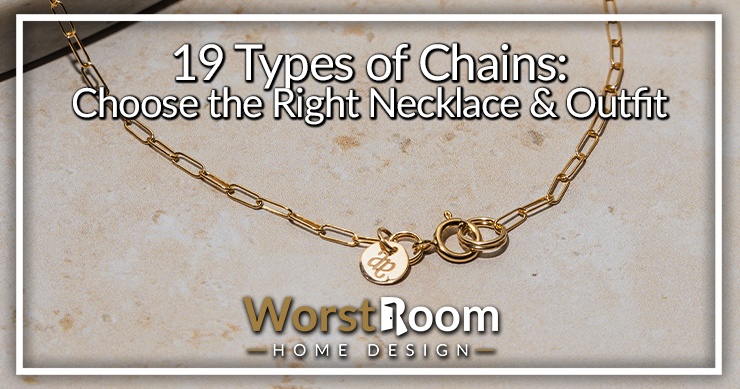 To choose the best design, you need to understand the different styles and types of chains there are. Some can be worn alone, while others require a pendant to go with it.
When you have the perfect outfit planned, you need to have the perfect accessories to wear along with it to tie everything in. And a suitable necklace chain can help you make or break your look.
Since chains are getting popular again, you also choose from a plethora of options.
But almost all of them look amazing if you know how to style them right.
Continue reading if you want to know about your options, and soon you will learn everything that you would need to know chains.
19 Types of Chains
Besides style and finishing, chains can differ by strength and durability and the material used in the necklace construction. Usually, you'll come across 19 kinds of chains. Below, we have included detailed descriptions of each.
Ball Chains
Almost everyone has heard or has owned a ball chain at some point in their life. They are incredibly cheap and do not have the best durability due to the weak metals used. You usually see them in inexpensive jewelry or with dog tags.
Also known as bead chains, a ball chain is made of tiny balls/beads linked together. The distance between them can be small or none to give it some flexibility.
They look best when worn along with another accessory but nothing too heavy as it breaks easily. And once broken, it can be pretty difficult to repair.
Ball chain types are sized in millimeters and can come in different diameters as well. If you are going for a street look, you can never go wrong with a ball necklace chain.
Cable Chains
For most people, the first thing that pops into their mind when they think of a necklace chain is the cable type. It is elementary, which is why it is one of the most popular and common options out there.
This classic cable chain is created with uniform oval links connected to mimic iron chain locks.
The links are round and flat, and the wires are either textured or flattened. If you do not want your jewelry to break easily, make sure that the links are welded individually, or they may be pulled apart.
Cable chain necklaces are classic and can be worn alone or with an accessory. However, if you do not want it to look too plain, accompanying it with a pendant is the best way to go.
Mariner Chains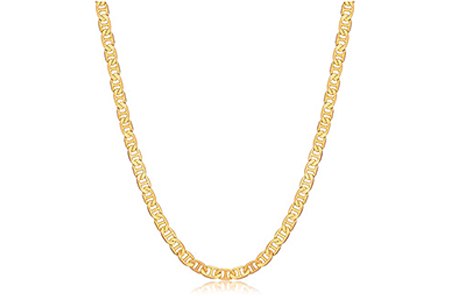 Just like the name suggests, the mariner chain was inspired by the nautical world and gave the impression of a boat anchor. With this chain, you can dress up in all your outfits while showcasing your love for the sea or beach at the same time.
Anchor chains are unique looking and are made with interlocking ovals with a bar in the middle of each section. When you open your dresser alternatives and see your necklaces displayed, you'll undoubtedly reach for these pretty frequently. I prefer to keep valet trays on top of my various types of dressers in my bedroom. so my chain collection is visible and at hand.
These types of chains come in different thicknesses and are worn by both men and women. However, the women prefer the smaller, delicate versions while men opt for the bulkier ones.
Mariner chains are either solid flat, or puffed up. The latter has just been recently introduced and is currently a rising trend. Both models look spectacular on their own, but if you want to fancy it up a little, you can always pair it with a stunning pendant.
Box Chains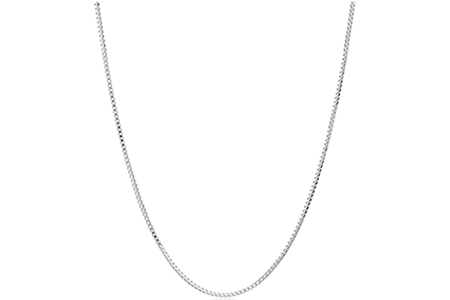 A box chain is a great gender-neutral option for necklaces. A box chain is composed of square links instead of the usual oval and round interlocking design you see in most chains. It almost looks seamless due to the continuous line that they flow in.
Box chains are available in different widths and lengths, depending on what you prefer. Usually, men go for the wider models. Different chains for different tastes!
But all make for excellent statement pieces, with or without a pendant. If you choose to get one, the pendants lay flat, so you won't have to worry about it looking awkward.
These chains are pretty durable and do not break easily. Even if they do, the broken link can be replaced easily, and it won't affect the design in any way at all.
Curb Chains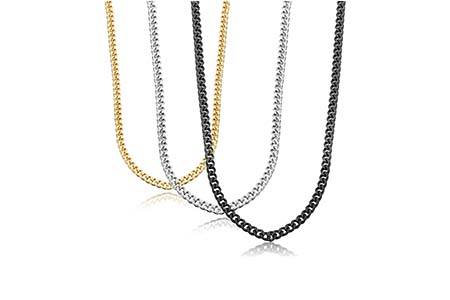 Curb chains are classic and timeless and are a favorite amongst men who love their chunky appeal.
These types of chains use oval or round links of the same size which remain interconnected. But the locks are slightly twisted to sit flat against your skin.
Curb chains are perfect if you are going for a heavy look. They are available at different widths, and women tend to lean towards the thinner side.
And the reason why this link chain is timeless is that they last for years. They are incredibly sturdy and durable and can handle big, heavy pendants without any problems.
Moreover, if made with decent quality metals, they are also super easy to maintain and care for.
Figaro Chains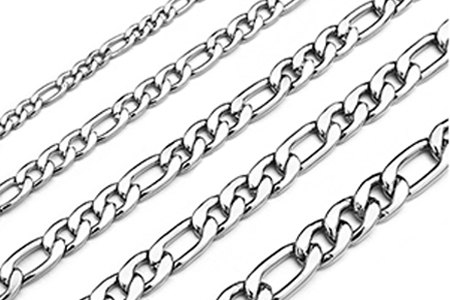 If you love a good cable chain but want something fancier, Figaro chains are worth checking out.
This chain originated from Italy and got its name from a popular Italian opera called the Marriage of Figaro. But right now, Figaro chains are worn by people all over the world.
They are unique and simple and made by interconnecting round and oval links of different sizes. Yet, the links are flat, which helps in wearing it alone or with a pendant.
Due to their high durability, Figaro chains are suitable for everyday use. And while they can be mended if broken, their unique designs make it hard to replace the broken link without messing up the pattern.
Rope Chains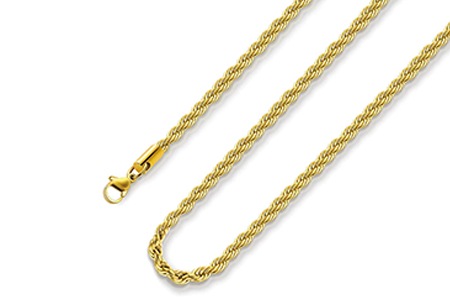 Rope chains may be highly common, but that is because it is one of the most beautiful types of chains there is.
The metal segments twist around each other and reflect off the light to give it a shiny textured look. They appear exactly like a real rope.
Rope chains are highly textural and heavy, but it does not feel or look chunky at all. You can pair them with or without accessories and trinkets.
Moreover, rope chains are made to last, and even the thinnest and most delicate rope chains are unlikely to come apart easily.
But if it does, do not try to repair it at home. Take to a jewelry repair shop to have it professionally repaired.
Wheat Chain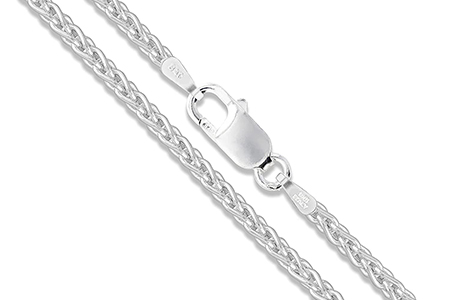 Spiga chains or wheat chains are created by plaiting twisted oval links to replicate the texture of wheat stalks. They look incredibly delicate and symmetrical, like a braided rope. The rope looks highly pleasing to the eye, even when worn bare.
Due to a large amount of texture, a Spiga chain feels quite strong and rigid at the same time. And they won't break under normal circumstances.
However, no chain is indestructible, and this is the same case for wheat chains. And unfortunately, repairing a wheat chain is a lot of hassle. Most jewelers hesitate to take up the job.
Singapore Chains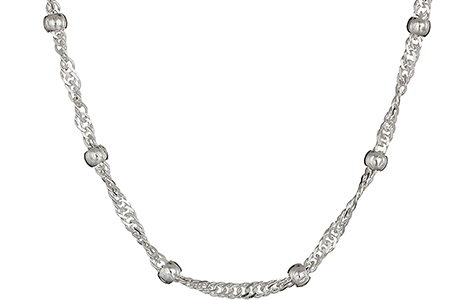 Singapore chain is the fancier version of curb chain. If you stretch it out, you can see that it looks like a twisted curb chain, with small sections of it braided and interlinked to create a unique pattern.
These chains not only look classy, but they also move with a liquid touch. A lot of people love including it with their everyday wear as a staple piece, mainly because of how lightweight and comfortable it feels and does not feel awkward at all.
Singapore chains come in almost all kinds, gold, steel, etc. And you can choose nearly any type of pendant to wear with it.
Snake Chains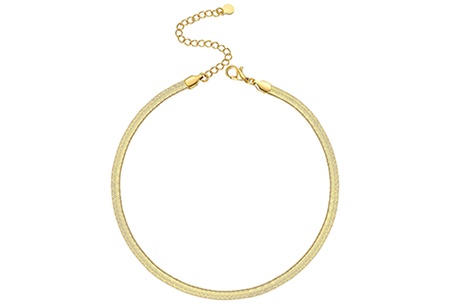 The name says it all. Snake chain mimics the body of a slithering snake and even has the same flexibility.
It may seem like a continuous line at first, but upon closer look, you will see they are made up of a series of small rings connected. The rings can either be plates or bands.
Snake types of chains are exquisite, and when coupled with a pendant, they are nothing short of stunning.
Women love a well-made snake chain as they not only look good but also because they don't tangle or catch on to things. Not to mention, they are pretty easy to clean!
Byzantine Chains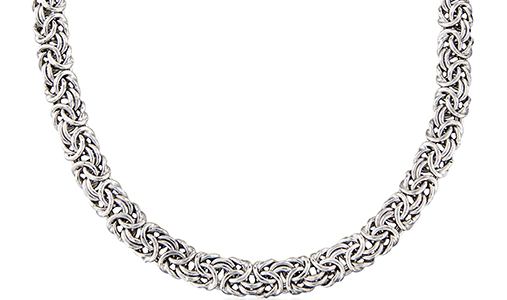 The luxurious Byzantine chain features a complex weave of oval or circular rings. This interlinking is very dense and three-dimensional, but not so dense that it loses it's flexibility.
These are sometimes called 4-in-1 chains. This is because each link in the chain passed through four others.
It's incredibly strong due to the distribution of forces across all these various rings. Which is good because it's very rare for a problem to occur, and when they do it's hard to fix.
You don't want to add a pendant or anything more to these other than to let their own individual character shine. They're busy enough as is, in a good way.
Rolo Chains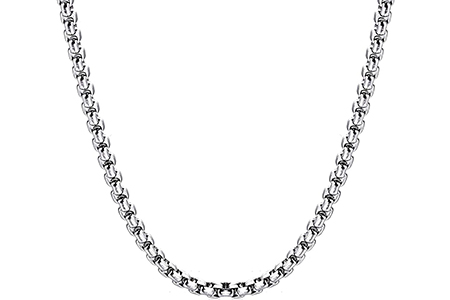 If you like the oval links of the cable chain, you may prefer even more the round links of rolo chaines. They're equally sturdy, easy to repair, look good with a pendant, and have a different feel to the cable chain.
Cord Chains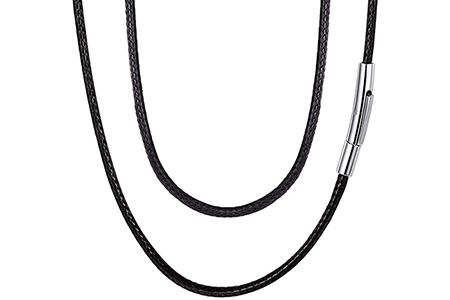 Sometimes your goal is to highlight your pendant and you don't want to pull attention away from it with a flashy chain. The best way to pull this off is with different chains, the kind that are still elegant but slim that can sit in the background.
And that's where the cord chain comes in. These types of chains work as the perfect backdrop to a pendant or can be word with different kinds of chains to add some layers and sophistication to your outfit.
Gucci Chains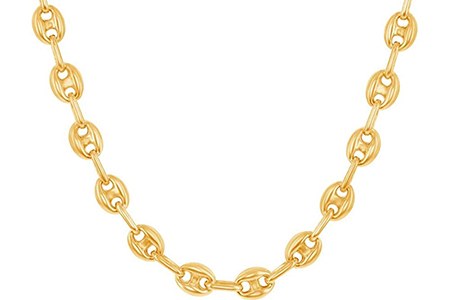 If you can imagine an anchor chain with round links instead of oval ones, you're picturing a gucci chain. By the way, these aren't created or sold by the Gucci fashion company, despite the similar name.
These rounder links have a post in the middle connecting the two sides, providing strength, stability, and a denser appearance. You can find these in thicker or thinner variations, and many people opt to hang a pendant from them.
Link Chains
These aren't different in concept to the cable or rolo chain types, but their shape is what gives them their own category. Link chains have paperclip or turnbuckle shaped links, giving a much more horizontal and long aesthetic.
Of course the lengths and shapes of these chains can vary. You can even have alternated round and oval links mixed in. You even get choices in the thickness of the links.
Diamond Cut Chains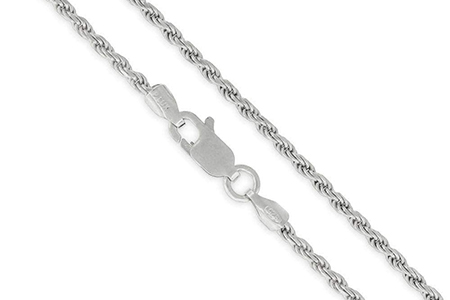 There's no diamonds involved with these types of chains. What the name refers to is the way the links are cut with flat surfaces. These can be machined or a jeweler can handle it with various types of chisels.
The result is that these necklaces catch the light from all kinds of angles, sparkling and drawing a lot of attention to the wearer. These look incredibly elegant and should be paired with the right outfits for the right, fancy occasion.
San Marco Chains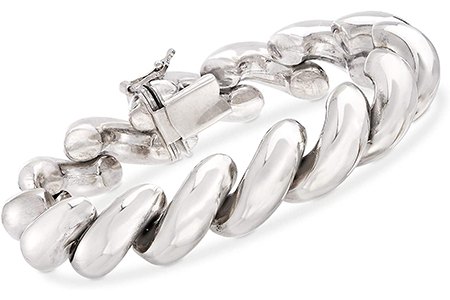 A less popular but equally valid of the different types of chains, the San Marco chain is made up from many different links as usual, this time connected by pins, though it appears to be one long twisted length of metal.
These links are round of the front surface for visual effect but are flat on the back side that rests against your neck and chest. It can go great with a matching bracelet.
You should be aware of the fragility of these necklaces, not that you'll be doing anything than risks them while wearing them. The links are not only hollow but each is connected to the next with a pin. That's a lot of things that can break.
Herringbone Chain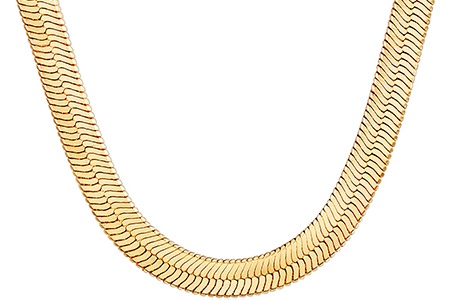 The herringbone chain is very interesting to hold and be curious about in your hands. It's comprised of many thin and round segments, stacked vertically if you want to think of it that way.
The chain will appear solid even if you're looking at it up close, and that's because each of the segments are so tightly linked that you can't see through from one side to the other.
This also means the necklace has some flexibility but not a lot. That's a risk around children who will inevitably try to fold the necklace and break it. Be careful because they're difficult to repair as well. Be careful when pulling them out of your closet alternatives so you don't snag it on anything.
The ends have your typical lobster clasp. You can get these in all types of widths, thicknesses, and lengths. Men and women both look fine wearing these and they're good choices to be combined with a pendant.
Omega Chains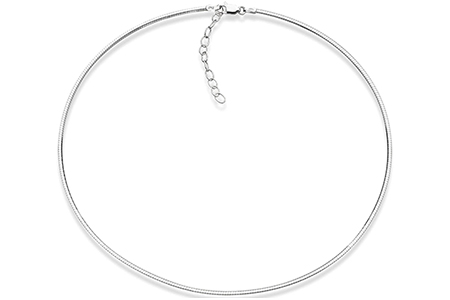 Omega chain types are very similar to herringbone chains in construction. The difference is that they're kept short, in either 16 inch to 20 inch length options.
They're meant to be worn as chokers and because of this they're almost exclusively worn by women. Pair with a small pendant if you wish.
Types of Chains for Every Fashion Style
Necklace chains are the perfect accessories, especially if you want to show off your stellar pendant.
However, there are a lot of factors that need to be considered, such as the occasion and how often you'll be wearing it.
But now that you know the different types of chains out there, you'll have no problem pulling them off.
You'll Also Enjoy: