17 Types of Bed Frames for Every Room Style & Size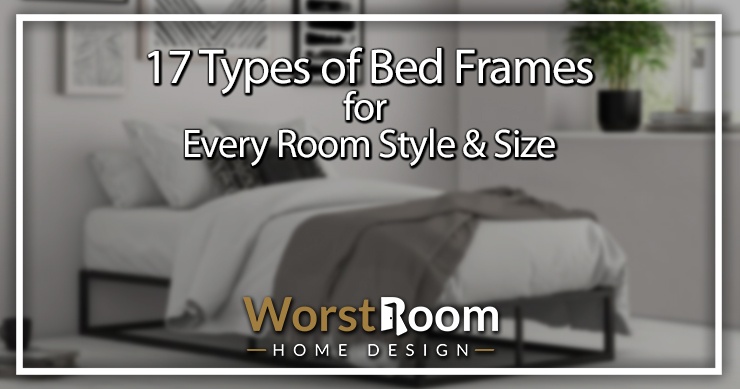 Thankfully, there are types of bed frames for big and small rooms, either of which is decorated in any style you can dream up. You'll find one below to match your decor, for sure.
Your bedroom is supposed to feel like a vacation. It is an escape from the hustle and bustle of the rest of the world. And sometimes, it takes a little work to get it right.
But it is totally worth the effort. If you are starting from scratch, you are in luck. Because we are going to take you through the different types of bed frames and you get to pick one of them to take home. Get, set, go!
17 Types of Bed Frames
Think about what matters most to you as you scroll through these different bed frames. Do you need to save space? Do you want neat features or a more elegant or sophisticated look? How much do you care about bedroom feng shui?
Divan Bed Frames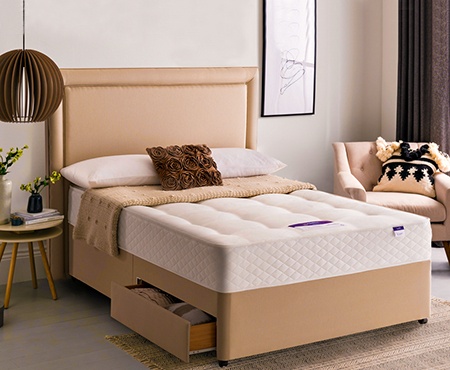 Divan bed frames are one of the most popular and simple designs. They have a base that usually sits on the castors and is made of two parts that are joined with a bracket.
This bed frame also has typical types of drawers that are built into the base and can be used as under-bed storage. All you need now to complete the bed is a headboard and a mattress.
There are two main types of divan bases called sprung edge and platform top. The traditional designs come with the former which has a base made of coil or pocket springs.
They provide cushioning to the mattress and minimize wear and tear on the mattress. The platform top comes with a hard top and is suitable for those who like a firm bed.
It is the cheaper option and works well with non-spring memory foam or solid latex types of mattresses. These bed frames come in different colors and upholsteries and are available in all bed sizes.
These bed frames are great if you want something with storage space. The drawers can be closed to keep the items within hidden. It keeps the room spacious and free of clutter.
Ottoman Bed Frames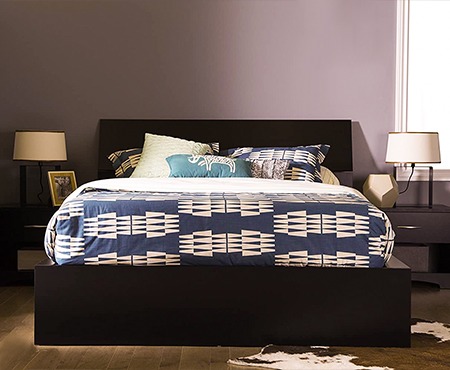 This is an ottoman style of bed that lets you lift your mattress without bothering the covers or the pillows. Underneath that, you will find a hidden storage compartment.
The bed has gas struts that make it easy for you to access it irrespective of the size style, and a number of pillows or types of blankets on the mattress.
And you have the option of keeping the mattress lifted so that you have both hands free while arranging items in the storage. The storage space in these beds is either one large area or it is split into sections.
Either way, you can access it by lifting the mattress. These bed frames are pretty great for those looking to furnish a small bedroom.
Sleigh Bed Frames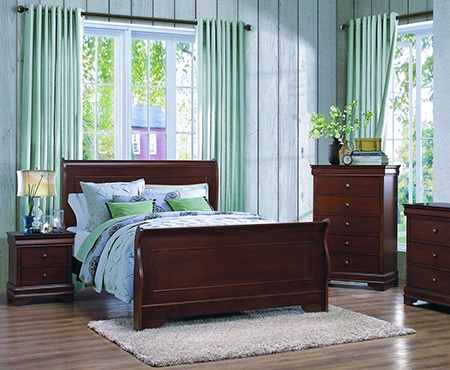 As the name suggests, this unique bed frame is built to look like a traditional sleigh. It has a headboard that is large and wide which is curvy on the top.
The footboard is larger than what most other bed frames have and has the same design as the headboard for the sake of symmetry.
The height of the bed frame is pretty standard but storage space is reduced because the side panels, while larger than most, need to accommodate panels that also look like sleighs.
These beds stand on four feet and might have a gap that is big enough to store small items underneath. A lot of these beds are quite close to the floor.
The downside is that it has less storage space than some other bed types. The design work mixes well with vintage and contemporary styles.
The frame is typically made of oak and mahogany but you will find leather and upholstered designs too.
Mid-Sleeper Bed Frames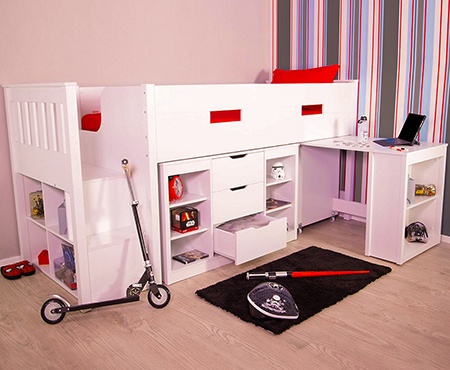 This is a medium between a standard single bed and a single high-sleeper bed. The mid-sleeper bed frame has the benefit of a lot of storage space under the bed.
These bed frames have a detachable ladder to access the bed which children often find fun and amusing. But it is not above the height of your head so you don't have to worry about safety.
The storage space underneath is surprisingly big enough for you to build a deck or a bookcase into the framework.
Platform Bed Frames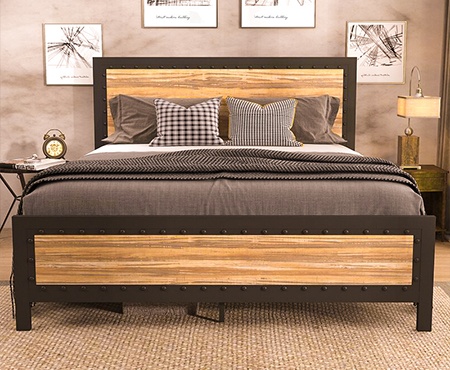 A platform bed rests on certain types of bed frames that elevate the mattress off the ground. While many other frames do this, the key here is that you can reach under the bed, store containers, etc.
The elevation is maintained by four (or sometimes six) legs, and not just feet, at each corner and sometimes with supports in the center. These beds don't use box springs or they risk being too elevated for comfort or safety. Some can feature box spring alternatives that will still support your mattress well, though you can certainly still place a box spring on the slats if you want.
This is kind of a basic and encompassing category that other types of bed frames may fall under, much like the next type below.
Panel Bed Frames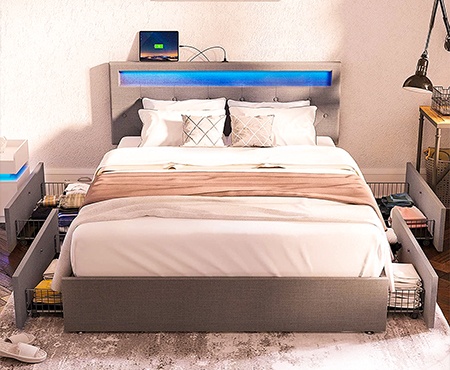 Panel bed frames are very similar to the platform bed frame types, with the core difference being that the elevation isn't often as high and mainly that there's a headboard. These types of headboards are what is being referred to as the "panel".
Poster Bed Frames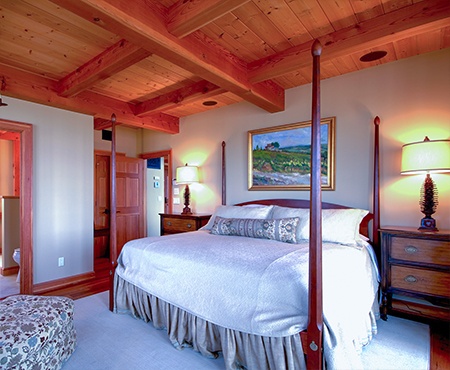 These are your general platform and panel bed frame types with a key change, which is that there are four posts on each corner that stick up towards the ceiling.
On four-poster bed frames, the length of the posts is high enough that poles can be attached between them so you can hang drapes or a canopy. These are very fun, especially for children.
There are other poster bed options like pencil poster bed frames, which are just thinner posts (which can break more easily but looks elegant), and low poster bed frames that include decorative but shorter posts that don't reach so high towards the ceiling.
And finally, there are half poster bed frames where the two posts at the feet of the bed are of the low poster height while the ones near the headboard are at least twice as tall.
Canopy Bed Frames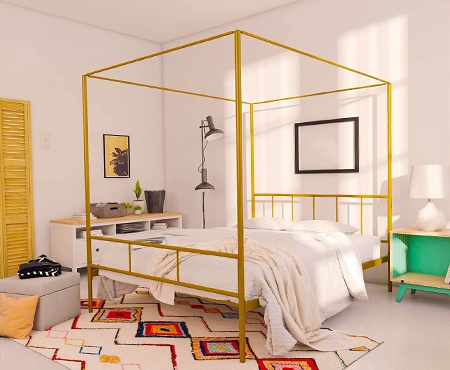 These are similar to poster bed frames except the canopy variety is built with poles between the posts explicitly to hang a canopy from. It's not an afterthought here, but a design that takes it into account from the start. It's the main attraction of a canopy bed frame. There are some negatives, too, though.
These aren't four separate posts, these are interconnected by beams that often have the same design as the posts. From there you can find curtain rod hooks to hang the drapes of your choice, dangle decorative lights for a fun nighttime atmosphere, and more.
Bunk Bed Frames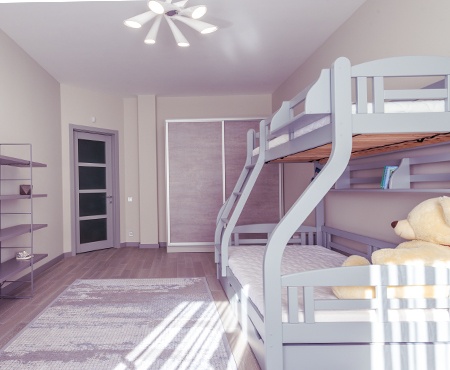 Cabin bed frames are like bunk bed alternatives and mid-sleeper bed frames but they are higher than a single bed. That is why the frame keeps the mattress off the floor but you don't need a ladder to reach the bed.
The height of these beds depends on the specific design but most of them are lower than mid-sleeper bed frames and higher than a single bed. Where it differs from a mid-sleeper is that the space under the mattress is a lot smaller.
You can use it to build storage facilities like drawers and types of shelves. It can also be used to store books and toys and at this level, the children can easily access them. Check out the bed skirt alternatives if you care about decorating bunk beds for girls because you'll have to get creative.
Trundle Bed Frames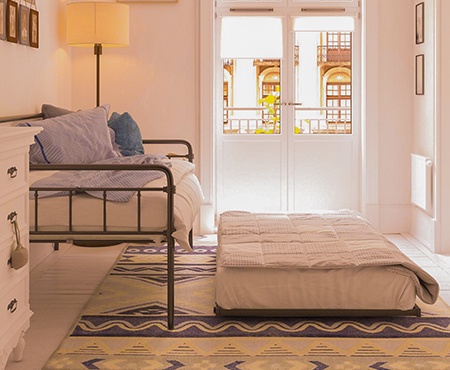 This one has space for a second mattress to be tucked away under the mainframe of the bed. It sits inside the bed frame without occupying space in the room. These are often called guest bed frames.
That way, you can use the single bed and pull out the extra mattress if you have a guest. This is a very practical feature, as the 2nd bed slides out like a giant drawer. It's simple to use.
The spring-assisted legs, for example, enable the additional mattress to raise to the same level as the main bed. And, if you want, you can extend it from a single to a double mattress depending on your needs.
Futon Bed Frames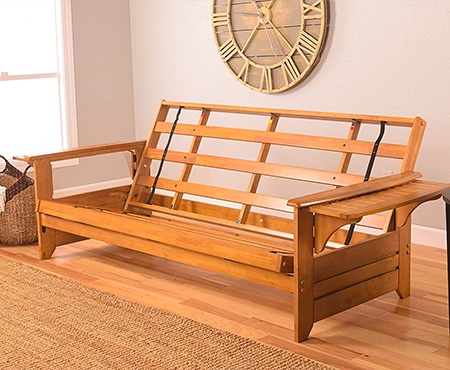 These different types of bed frames come from Japan, at least the inspiration does. Futon bed frames feature thin, minimal, and very low to the ground supports. They barely elevate the mattress at all, and this is the point.
A futon is actually one of the mattress alternatives we've discussed before. If you're into the space-saving bed frame options, you may want to check that out for more ideas.
Some types of futons are even seated completely on the ground, though that offers less airflow beneath the mattress and may make you sleep hot. These are usually made out of natural-looking wood to mimic the feel of Japanese decor.
These can be had without frames at all, but that's starting to venture into our list of bed alternatives, which is quite the wild ride if you have the time to check it out.
Loft Bed Frames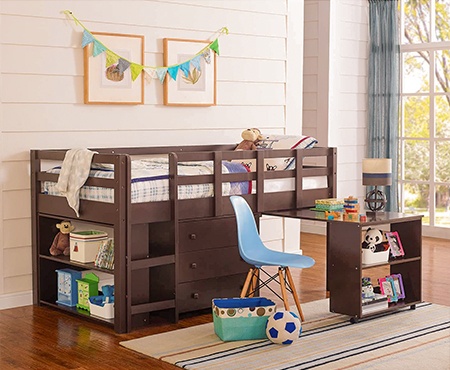 There's no better way to save space (except maybe a bunk bed) than with a loft bed. These are either suspended from the ceiling using chains or very durable rope or are elevated off the ground using tall stilts.
The benefit here is that you can reclaim all of the ground beneath the bed since the mattress is near to the ceiling. You can have your various types of dressers, a desk, a couch, or whatever underneath to save tons of space.
Wooden Bed Frames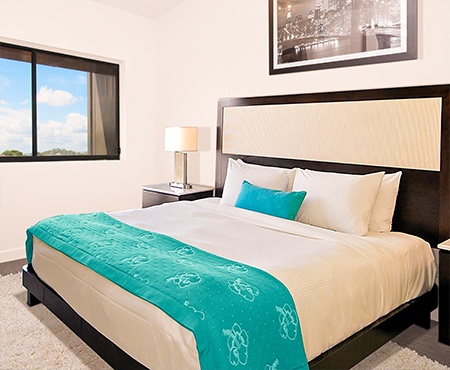 As the name indicates, these bed frames are made of solid pieces of wood. Wooden bed frames are available in a range of designs from sleigh bed frames to vintage stuff.
That feature makes these bed frames very versatile. They can also be customized into a style that suits your needs or reflects your personality or both.
That means you can also add storage spaces underneath the mattress. Wooden bed frames are quite popular for their durability and robustness.
Wood is a timeless material in a sense and can mean a finish made of high-quality woods like solid oak, pine, ash rubberwood, or mahogany.
Upholstered Bed Frames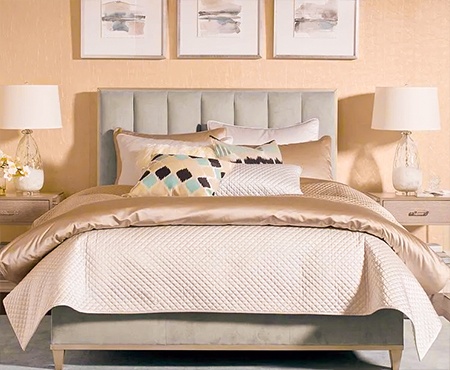 In essence, upholstered bed frames are covered in soft and durable materials which often have some type of cushioning. These are cool if you match them with the right types of bed sheets.
Their headboards have style features like seams or buttons in the material used to accommodate the cushioning and also create depth of texture.
Before you pick one of these, you must remember that they need extra care and attention in comparison to a regular wooden bed frame. But they do offer more warmth and coziness in return.
A lot of designs from crushed velvet to sleek leatherwork really for upholstered bed frames. And all of those materials are available in both bold and neutral hues.
The size of the headboard or headboard alternatives, however, varies from extreme luxury to small and discreet designs. Luckily, luxury designs do not always mean you need a lot of space to accommodate the bed frame.
For a while now, manufacturers have been making these bed frames with storage options by building drawers into the base.
You also have the option of buying them separately when you want to upgrade the bed frame. And the best part? These beds come in a variety of colors and all bed sizes.
Murphy Bed Frames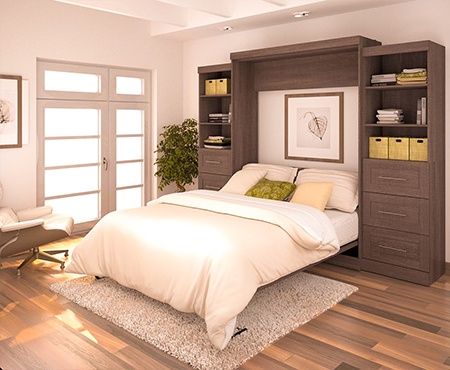 A murphy bed is sometimes called a wall bed or even a folding bed and is the most unique of the different types of bed frames.
These all attempt to describe the fact that the bed lifts up from the feet and rotates vertically until it is parallel with the wall, and then is situated in a recessed portion of the wall.
During the day, you can lift the bed up and slide it into the wall and use that space, which is important in studio apartments, for instance, and then slide the bed back down during the evening.
TV Bed Frames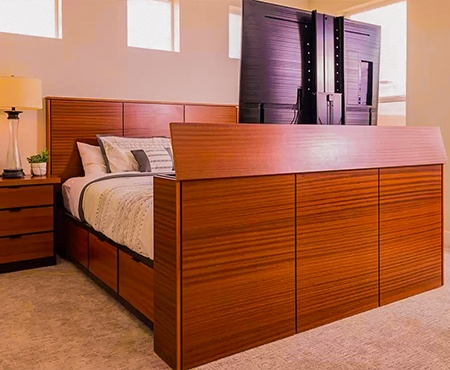 This one looks like a regular bed frame except the headboard is quite high. And the footboard is also higher than usual because it discreetly makes space for an LED screen. So, obviously, it is made in a way that it can withstand the weight of a television.
The height and width of the footboard obviously depend on the model of the device you choose to attach. You can operate the footboard manually or employ an electrical mechanism where it opens upon the push of a button.
Such systems activate the inside of the footboard and slide the television up and out of the bed frame. In fact, some of these beds can be controlled entirely using a remote control. It is made for those who adore film and television.
The biggest advantage of this design is clearly the stylish frames. It is also an innovative way of decluttering the bedroom while installing a television in there.
Antique Style Bed Frames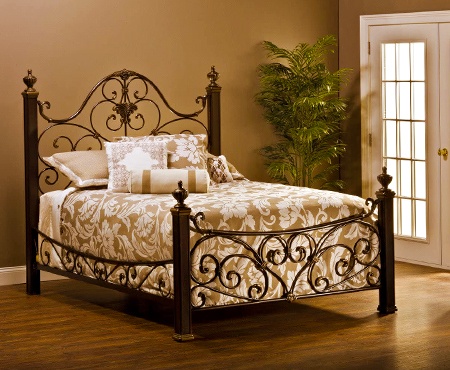 The name tells you that this bed frame will have a lot of ornate intricate detailing in a traditional fashion. Typically, they have a very 18th century feel and are made of solid wood or brass. Antique-style bed frames are sturdy and reliable.
They are perfect for those who want a functional piece of furniture that can be put on display in their bedroom.
These beds are believed to be ornamental additions to the room and go well with a room that is spacious and gets a lot of light.
Antique bed frames are elegant and are available in designs made of rattan, oak and metals like brass, nickel, and golden hues. These beds are inspired by history and meant to stand the test of time. They can also develop the dreaded squeaky metal bed frame problem.
Types of Bed Frames for Every Sleeper
Even though there are so many different bed frame types, choosing one is actually not difficult. Look at the design of your bedroom and the amount of light it gets.
Then consider the amount of storage space you need your bed to have. Some of these basic questions will get you where you need to go. Have fun and you'll settle on the right types of bed frames for your home.
You'll Also Enjoy: