13 Types of Deck Railings to Enhance Your Patio
Nowadays, many houses incorporate decks to uplift the aesthetics of the property. Decks can be lined adjacent to the porch, stairway area, or elevated on the upper floor extension. Decks can have many different types of deck railings on them that are known to protect you from toppling off the edge.
Not only that, deck railings can give your house a striking outlook. They are commonly made of 4 different materials: wood, metal, glass, rope, or composite elements. That being said, there are different railing types for decks with a wide range of patterns and designs.
Depending on your choice, you can go for the turned baluster, rustic, wrought iron, and many other options. In this article, we have listed some of the fine railings categories to make your selection easier.
13 Types of Deck Railings
If you have installed a deck on your home, you would want to fit it with the ideal railings. Not just something that has strength, but something that also looks pleasing to the eye. In terms of attraction, the railings are among the most important parts of a deck.
There are many different variants of deck available, most of which are made with the basic components of wood, metal, and such. Let's find out about some common fittings.
Rustic Deck Railings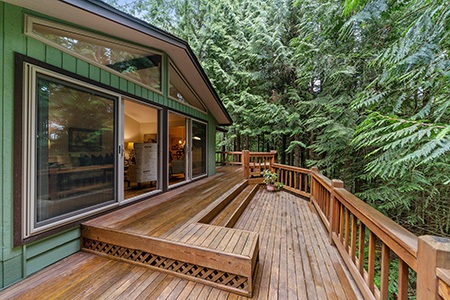 Those who love the touch of wooden finish will like the rustic deck installation. It is mainly made of treated wood that is pieced up and chiseled to appear a little rough. The uneven surface is what attracts the aesthetes.
Keep in mind that this is not the smooth finish we are talking about. Rather, it has curves and dents on the surface. The good thing about rustic decks is that you get to choose the shapes and curves on the wood surface and it goes well with worn wood or really any other decking alternatives that aren't overly fancy.
Wood material simply evokes the natural feel and will certainly give the deck a creative, elegant touch. If you want to paint over these deck railing types, you can do that too, but it will require mastery to layer up the uneven surfaces. You can keep it simple like you've seen many times before. These are the most common examples of deck railings out there.
Sawn Balusters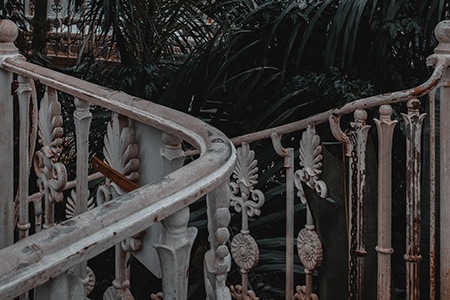 The sawn baluster pattern is very elegant to look at. It has repetitive vertical designs that go all the way from start to end of the railing. The middle layers link one another, but the design remains the same for every cut-out. Yes, the cutouts play a big role in making the overall design attractive.
The good thing is that you get to select the shapes and sizes of the hollow part of these styles of deck railing. You can use any materials such as wood, metal, stone, etc., to create the railing panels.
These types of railings for decks fit those who love Victorian architecture. With light colors on the surface, it will make your deck look stunning, even from a distance.
Chippendale Panels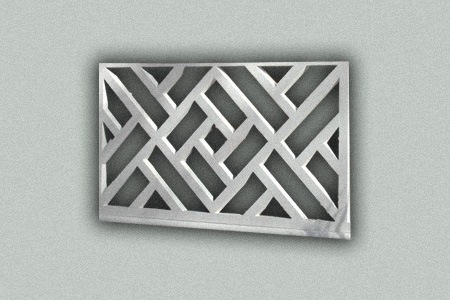 If you are looking for a visually striking deck railing with many design options, then Chippendale design can awe the crowd for sure. It has an elegant and new age look to it. The x-shaped inner panels can be creatively turned into many shapes, from criss-cross panes to triangular lines. It's all about the lines here.
The geometric shapes inside the outer panels are what make it special. This railing frame is mostly made with cellular PVC. It can also be worked out with composite materials. The zig-zag geometric shapes are crafted with a creative skill set that will certainly attract passersby.
It is not the easiest types of deck railings to assemble because there are lots of cutting and joining parts, but you won't be disappointed once put up.
Turned Balusters
In contrast to Sawn balusters, these railings have more curved ends but no hollow cutouts in the middle. Turned balusters are more on the traditional side and give a deck a more sophisticated and classic look. They're made on a lathe, and seeing how it's done makes you appreciate baluster design all the more.
Each vertical plane width can appear different from the next, but the key is to follow a similar width and the same shape. People use curves on the vertical lines to make them pop out. You can also add an upper and bottom base to provide support and make it more sturdy.
People who want something formal and not too flashy should try out the turned baluster design. The maintenance is a little tough compared to other railings, but if done right, you are going to showcase a classic railing, no doubt.
Craftsman Pattern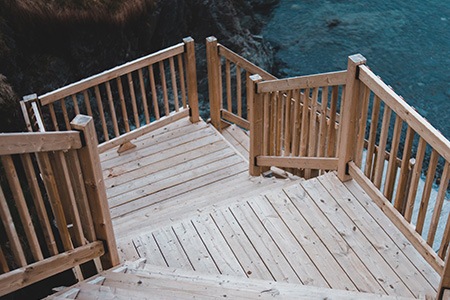 This particular railing style is more of a tightly packed design and can positively improve a porch's outlook. The railing lines are closely lined up in a vertical plane, and to add visual aesthetics to it, many people prefer adding horizontal lines to it.
Once set up, these porch railing types will boast a picket fence vibe. Unlike the rails with bigger gaps, the densely packed inner frame provides better shielding property. Their stability makes a good place to hang your flag as well.
People who prefer rails that have less space in between the inner rails would like this craftsman design. The overall appearance is pretty upright and will work for any kind of deck.
Wrought Iron Deck Railings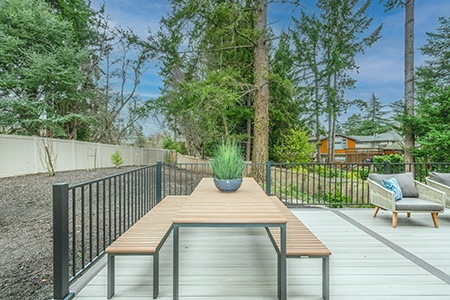 A wrought iron railing has gained popularity day by day. It was a prime pick in the past, and now people have acknowledged its rigidity and customizable design. These types of railing for decks are very commonly used in fencing as well.
This type of railing should be welded by a professional to provide a better fitting. You can use irons in any shape and design to make the middle design structure. A positive thing about such a railing is that it can be painted in any color and will enhance the beauty of your deck.
Keep in mind that you must use coatings or sealants when using wrought iron railings to avoid rusting. Cleaning the intricate spaces between the iron structure can be tough but not impossible.
Fan / Sunburst Railings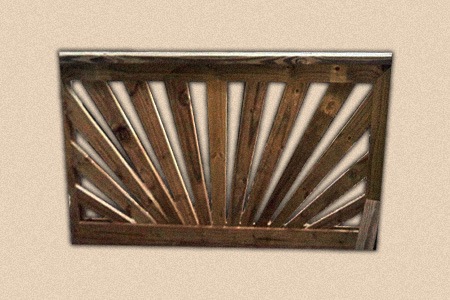 Just like the sun rays emerge from one point and blooms out in a spreading pattern, these types of deck railings have a similar look to them. From a distance, you are likely to see a sun-like appearance.
The gap between the lines fully depends on your choice. If you want a more spread-out design, you can opt to put the cutouts a little wider or vice versa. These rails are typically made of wood, but you can use cutouts or other materials if you wish. The overall design is pretty simple, but it is truly attractive.
Glass Deck Railings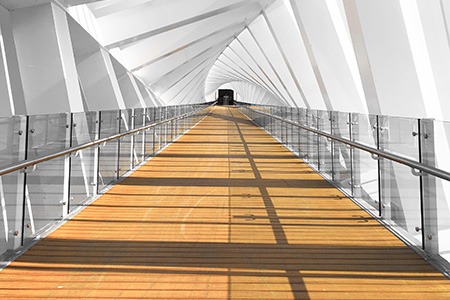 Do you like to put something that is transparent and doesn't require any kind of wood, PVC, or metal cutouts? Then the glass rails can be a wise choice. It is super stylish and gives the house a more refined and neat look.
Glass rails require glass sheets that can run from one end to another, supported by metal or wood frames. You can opt to keep openings in between each glass body of the overall frame, which helps reduce pressure on them from the wind. Glass types of railing are lavishly striking.
Rope Railings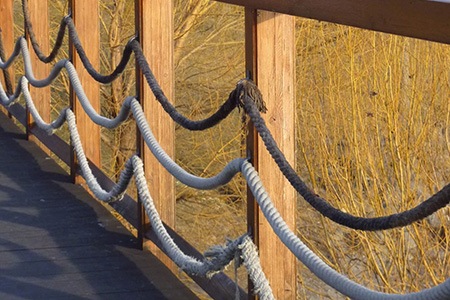 This is not the strongest railings out there, but certainly, something that can provide a creative twist to your structure. Not everyone prefers a rope railing because it might break or loosen over time.
Those who like to experiment and be unique prefer the rope design nowadays. First of all, there is a metal or wooden base that makes up a frame. Then the woven materials that we call rope are fixed from one end to another. You can change the thickness of the ropes as you like.
It might be a good option in recreational areas, but for houses where people lean on the railings too often, we would suggest you go for a stronger option like the Chippendale or baluster rails. It does, however, look fantastic depending on the types of awnings you use. A beach-themed awning really goes well with rope railings.
Cable Lines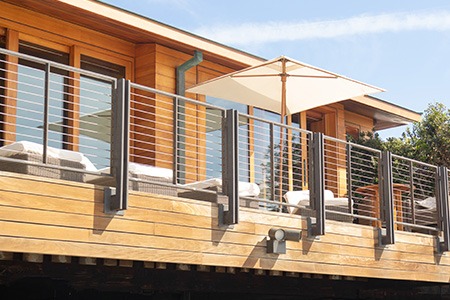 You've probably figured out the prime material of these deck railing types. Yes, it's cable. First, there are steel posts erected onto the deck, and then cable wires are extended and run through it and placed horizontally.
Any cable railings have pre-fixed metal posts that are affixed to the deck directly. To make it functional, metal wires are used to keep the structure tight and strong. This option is on the slimmer side, unlike the wrought iron or craftsman railings.
The metal wires on these types of deck railings are thin but are durable enough to tighten one end to another. All you need to do is make sure you don't stress out the wires by overwhelming them with excessive weight.
Curved Deck Railings
Not every deck is rectangular or square with right angles at the corners. If you have curved types of patios or decks, then you'll obviously want curved deck railings. When constructed properly, they're as safe and sturdy as any other. You can even have curved staircases in this fashion.
Obviously not all curves happen at the same radius, so this type of bannister or railing will require some custom attention, which will increase the price. The finished product will be worth it, and in some cases you simply won't have any other choice without tearing out your deck and installing a new one.
A curved deck exudes luxury and wealth, so if you're in the position where you have one, go all the way with the railings too. It's a fantastic look that will make your deck everyone's favorite gathering place.
Cocktail Deck Railings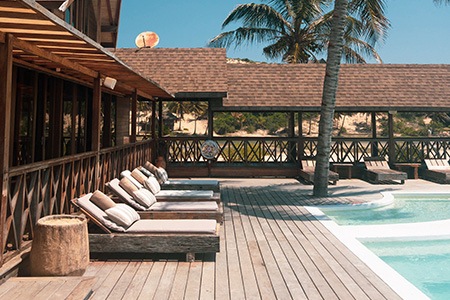 While cocktail styles of deck railing can have any of the upright posts and designs other different styles of deck railings can have, what sets these apart is the width and flatness of the horizontal board. They're named so because the railing is wide enough for people to set their cocktails down on.
If you host a lot of parties, these wide and flat surfaces will be very convenient and create a lot more little gathering spots for people to split off for conversations. They're great for leaning against and resting your elbows on as you gaze out across your well-maintained property.
Bench Deck Railings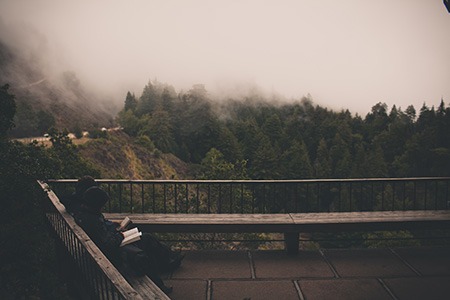 Bench railings can be built like any other but these come with seating installed all the way around. Anywhere there is a railing there is a long bench in front of it. You can multiply your seating dozens of times over this way.
This allows you to host very large groups of people, but at the same time it does restrict the ability to stand and lean against the railings, too. That's something to consider depending on the age range of your friend group.
Types of Deck Railings to Suit Your Exterior Decor
If you are into metal structures, you can opt for wrought iron rails. Those who love the natural appearance can try out the rustic deck made of pressure-treated lumbers, reclaimed woods or rough woods. For a sophisticated look, you can try out the Turned balusters.
To be honest, the options are limitless, and we suggest you go through the selections above and decide for yourself. Remer to install a railing that has the strength to protect you from falling, and last but not least, don't forget about retaining the overall aesthetics of your lovely home.
We have seen a lot of houses with decks lined up in the walkway. Some are good, and some are below average. Maybe they don't have proper knowledge about the varieties and thus got the wrong fitting. This article highlights all the types of deck railings that can make a living place beautiful.
You'll Also Enjoy: