19 Types of Laminate Flooring for Durability & Ease of Installation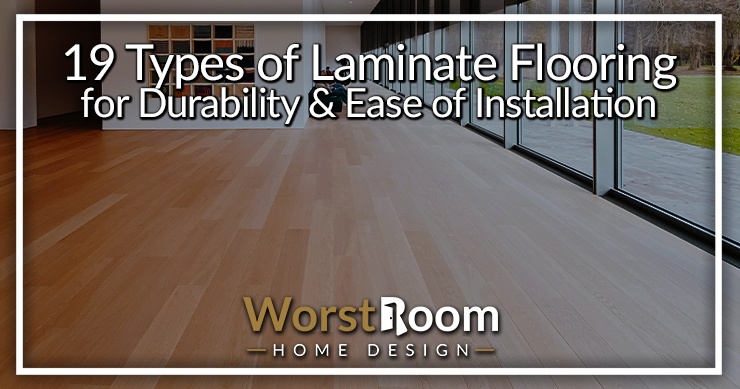 Becoming a new homeowner is a matter of pride and pressure simultaneously, as you are left with the tedious task of deciding which types of laminate flooring you would want.
We have compiled together a list of the most effective and prominent types of laminate floors for you to consider the options you have.
Go through each of them thoroughly to have an idea about them, the benefits of using them, and decide which one will serve you the best. Choose wisely as replacing flooring doesn't come cheap.
Types of Laminate Flooring by Installation
Below are comprehensive reviews and descriptions of the most common and satisfactory laminate flooring types available in the current market. Keep on reading to find out all about them and to identify the one that appeals to you the most.
Glueless Click-Lock Flooring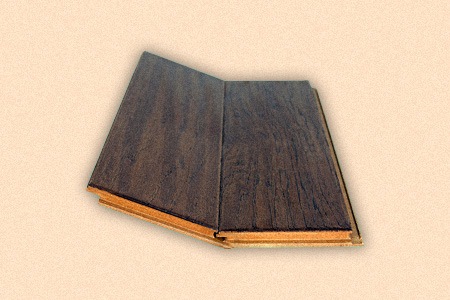 From apartments to bungalows, the glueless click-lock is a variation that is the most popular type regardless of the kind of abode. It is inexpensive and widely available.
Moreover, it is also very convenient and perfect for people with no prior experience in flooring. Thus, it is a common choice for most people.
Unlike most other alternatives, the glueless click-lock does not require the use of glue or any other form of adhesive. Therefore, it's much easier and hassle-free to apply.
On top of that, it also spares users from the pain of having to deal with stickiness and the potential mess that arises when applying glue.
Another great aspect of the glueless click-lock laminate flooring is the scope for correction it provides. In the case of most similar products, there's no going back if you make a mistake when putting them down, leading to expenses for a replacement.
Thankfully, the absence of glue allows you to easily pick it up and replace it conveniently.
One more feature of the glueless click-lock that makes it so popular is its simplistic installation process.
In comparison to other laminate flooring types, it is relatively easy to install and won't require you to follow the procedure consisting of multiple steps.
Its double-lock system allows you to effortlessly slip it into place without having to worry about it coming off thanks to the tongue and groove connections on top of the foam underlayment.
Pre-Glued Flooring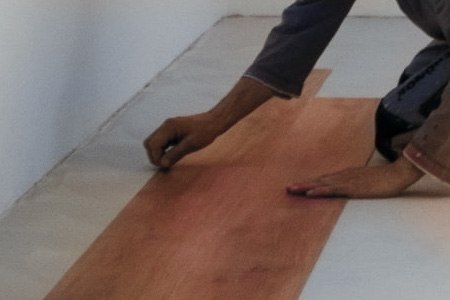 People who have no interest in investing excessive time into laminating the flooring of their homes will love using the pre-glued variation. It's simple to apply and connects to the floor almost instantaneously.
Plus, it's available in a lot of different designs and aesthetics for you to choose from and get one that matches your house's ambiance.
An excellent reason behind the fame and popularity of the pre-glued laminate flooring is its strong imitation game. Unlike most varieties, this product is not made of hard substances.
In fact, these laminate flooring styles have a texture that is quite papery and lithe. However, the exterior print is premium enough to replicate a plethora of materials ranging from wood to ceramic.
The main reason behind a lot of people liking the pre-glued laminate flooring is its ease of installation. Adhesive comes connected with it, and you won't have to apply it separately to the product.
Simply remove the paper covering the glued region and place it directly on the floor. The lamination will be ready in a matter of minutes. Save any extra flooring to use for an accent wall or to build headboard alternatives.
One drawback that you must be aware of before buying the pre-glued laminate flooring is its poor durability and longevity. Its fragile material means that you will have to replace it more frequently than other different types of laminate flooring. The types of glue used eventually become unstuck is the main problem.
Also, the papery substance entails that the colors and designs will fade over time, which can harm the aesthetics of the home.
Glued Laminate Flooring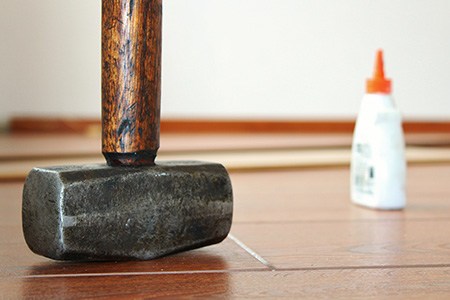 Although there are a lot of modern laminate flooring models in the present market, veteran homemakers will always prefer the glued laminate.
There is nothing more old school than this variation, and it holds up incredibly well in performance to this day. Therefore, if you have prior experience in flooring, then go for this type.
An incredible aspect of the glued laminate variation is the opportunity it provides in improving one's skill in laminating floors. You will have to do it the old-fashioned way, which will provide you with the necessary chances of developing your abilities.
The precision and accuracy it requires can also be a good way to spend some time with your family. Everyone will feel a sense of satisfaction after learning and contributing to the project, like converting to different kitchen styles.
One of the features of the glued laminate flooring that really makes it stand out is its unmatched durability. You can bet that this product won't budge and get displaced once you attach it to the floor.
In fact, its firm grip ensures minimal maintenance. You can move heavy things on top of it without worrying about it getting damaged.
There's no doubt that using classic glued laminate flooring has a lot of benefits. However, it does come with a major flaw. Applying glue manually into it can cause a sticky situation.
If you haven't done the flooring of a house before, we advise not using it unless you want to create a mess in your home.
Types of Laminate Flooring by Texture
Once you decide how you want to install your flooring, next you need to consider what it will feel and look like. You need to choose the texture. There's three options, with one being the most popular.
Embossed Laminate Flooring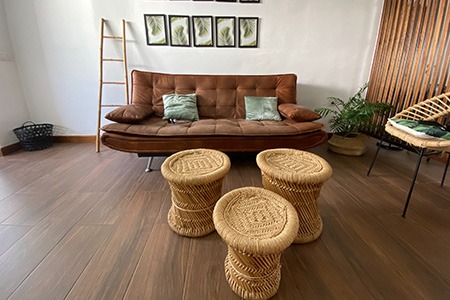 Very few alternatives in the present market can measure up to the embossed laminate flooring in terms of texture. It has a vintage, retro look that will remind you about the decor of the wild west. You've likely seen smooth laminate flooring. This is the opposite, with bumps, ridges, and grooves.
Pair it up with a few wooden furniture, and your house will start looking like a farmhouse or the interior of a ranch. Getting old school wool types of rugs to go under your furniture will go a long way.
An attractive feature of the embossed laminate flooring is the wonderful aesthetics it provides. It looks to emulate the aesthetics of pure wood.
Although no real timber is involved in its manufacturing process, simply looking at it won't be enough to identify its artificiality. Therefore, using it is a more inexpensive and eco-friendly option.
Another excellent feature of the embossed laminate flooring is the build material that goes into making it. Polymer is the primary ingredient that goes into manufacturing this product, which lets you create a life-like natural design at a very cheap rate.
It also helps to increase the variation of decor and color combination options. Even though the embossed laminate flooring has a lot of perks to offer due to the touch of modernization, in the end, it is still an imitation item.
You won't be getting the feel of real wood while using these laminate flooring types, but you'll get close. Furthermore, you will also have to prepare for more frequent replacements in comparison to original timber.
Smooth Laminate Flooring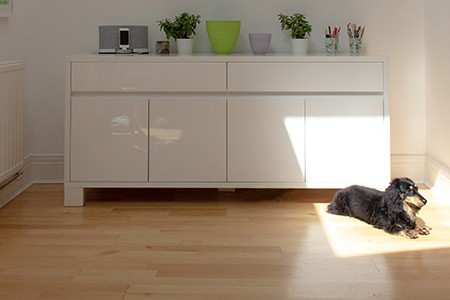 The most common type of laminate I've ever personally seen, and have in my house right now, is the smooth kind. It's meant to be perfectly flat and even attempts to minimize the grooves between the planks so that, while they may be visible, they're not felt.
It doesn't matter how the planks are installed or what kind of wood they imitate. You'll find all types of laminate flooring will come in the smooth texture style. It's the most popular and easy to maintain and clean.
Distressed Laminate Flooring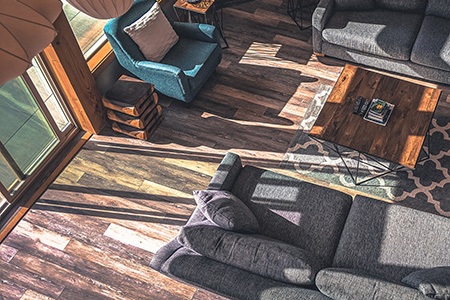 If you're someone who's into giving their homes an antique vibe, then the distressed laminate flooring is the perfect option for you. It has an incredibly vintage style that allows it to combine well with all layouts and settings.
Another excellent factor about the distressed laminate flooring is its compatibility. Most laminate flooring works well if they have a certain type of decor and furniture to accompany it.
However, not only does this model work well with both modern and old aesthetics, but it also pairs up incredibly well with all color combinations.
A great feature of distressed laminate flooring is its overall versatility. Unlike most other options, there is no uniformity with this model. Some call this hand scraped, by the way.
Its randomness and use of multiple colors make it stand out from all alternatives. It also adds a layer of sophistication to the decor of your house and makes it more attractive. Watch out though, because it'll be hard to detect scratches on these floors, and it's important to fix scratches on laminate floors before cleaning them or you can cause much bigger issues if liquid gets beneath the sealant layer.
Types of Laminate Flooring by Material
The next question becomes what material do you want your laminate flooring to imitate? Do you prefer wood (the most popular) or would you enjoy a different option like stone or tile? Lets take a look and see what you prefer.
Wood Laminate Flooring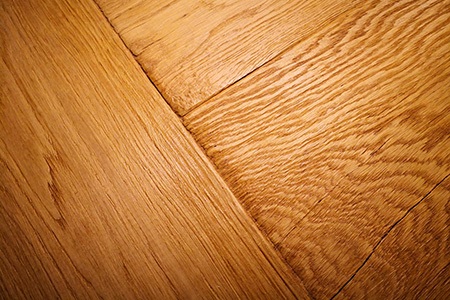 The construction of this type of wood, like others, is a layer of veneer to take on the appearance of the material that it's mimicking, on top of layers of solid wood that provide the strength. An acrylic coat is added on top to add durability.
Your laminate flooring styles options are nearly endless with wood laminate flooring in terms of what type of wood you want to have the appearance of. Let me list just some of the options as I look at Home Depot and Lowes' websites:
Some Wood Options: Acacia, Applewood, Beech, Birch, Brazilian Cherry, Cherry, Chestnut, Elm, Eucalyptus, Fruitwood, Hickory, Mahogany, Maple, Oak, Pecan, Pine, Teak, Tigerwood, and Walnut.
There are, of course, even more choices out there if you look at flooring specialty stores and are willing to spend a bit more money. You can even get them laid in herringbone and chevron patterns.
Wood laminate flooring is so strong, visually stunning, and economical that there is almost no reason to use real hardwood flooring any more. It's so common that nobody expects the real thing any more and just by look it's nearly impossible to tell the difference.
They take high quality scans and photos of wood planks and print them on the veneer so it's nearly indistinguishable. And they use enough scans that you'll never notice a repeating pattern.
With wood types of laminate flooring you get a few options on how you want the finish to be:
Smooth Finish: As mentioned above this is a very flat surface even between the planks.
Hand-Scraped Finish: This is made to look like a carpenter did actual work on the floor, with unique abrasions and dents and such.
Natural Wood Finish: The attempt here is to make the floor look and feel like it just came out of the lumber mill with very little polish or smoothing (of course there is some).
Soft Scraped Finish: This is a subtle finish that's simply meant to make the wood appear to be aged and used over time.
Oiled Wood Finish: It's meant to look like natural wood that has been impregnated with oils but otherwise untreated, meaning no polyurethanes and other clear coats.
Oxide Surface Finish: You'll find this in chic decor where a hint of reflectiveness and a sense of a metallic characteristics are added.
Be prepared to choose your finish and unless you want a smooth, or natural (distressed or embossed) look, you may find yourself getting frustrated finding what you want with all of your options coming together.
Stone Laminate Flooring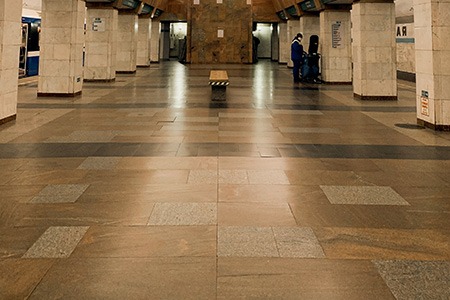 Up until this point we've been talking about wood options. You can find endless amounts of laminate flooring made to imitate all types of wood, stains, and natural colors. From acacia and beech to maple and mahogany, it's all out there and available.
Since laminate is a fake surface laid over wood, you can even find stone laminate flooring, designed to look like finely cut and organized slabs of stone, or slate as many call it.
It's a classy look but in my mind it's very obvious that you're not walking on stone. The difference between look and feel is too vast to be natural to the mind, in my opinion, though it can make a nice waterproof option as flooring for a pool house or somewhere where the physical feel matters less.
But if you like the look, don't let that lead you astray. The beauty of the striations and colors can be amazing. You can even find marble laminate if you want to kick it up a notch.
Tile Laminate Flooring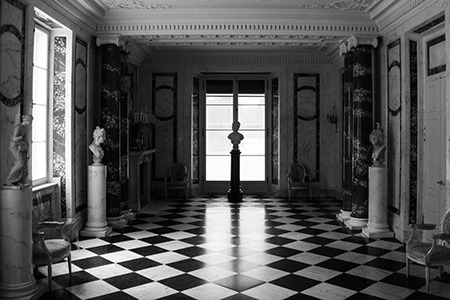 You can also get laminate flooring to resemble tiles, however be prepared to work with sizes of flooring planks you may not have anticipated. This is because real types of tiles for floors come in various sizes that are dissimilar to cuts of wood.
You may find planks of tile laminate that are as much as 16 inches wide. You can also get individual tiles, usually of the pre-glued variety, that range between 1 foot and 2 foot squares to stick down.
Laminate Flooring Construction Method
These days there's two main methods of creating the flooring planks used. These are many thin layers of solid wood with a veneer strip on top to emulate the material. But how are they combined and kept together?
High-Pressure Laminate (HPL): This is the more expensive and time consuming method found in the more expensive brands of flooring. It results in a more durable product. It is done by fusing two layers of wood together at a time with glue and then fusing those super-layers together until the desired thickness is achieved. Then finally the veneer is glued onto the plank. All of this is done with over 1000 pounds of pressure.
Direct Pressure Laminate (DPL): This method glues all of the layers of the solid wood and veneer together all at once, applying pressure and heat to dry the glue. It's faster and cheaper, though people say less durable. I see no mechanical reason that would be the case. All of this is done between 300 to 500 pounds of pressure.
In my opinion, this is a decision you don't need to make. Simply make the other important choices and you'll be led to a product where you won't get to make this choice, and that's fine, really. Both construction methods result in high quality flooring.
Abrasion Class (AC) Rating of Laminate Flooring
The AC rating of the different types of laminate flooring you choose should be taken into account based on where you install the flooring. In high traffic areas you'll want thicker flooring with a higher AC rating. Most laminate flooring is available in thicknesses between 6 millimeters and 12 millimeters.
For the AC rating, you'll find ratings between AC1 up to AC5. The higher the abrasion class, the more resistant the flooring is to stains, scratches, and dents.
Thickness & Width Options for Laminate Flooring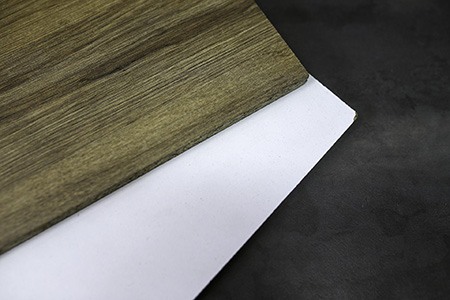 One of the main questions you'll be asking once you decide on your material and texture is how wide and how thick should the planks be. The most purchased thickness levels are 7 millimeter, 8 millimeter, 10 millimeter, and 12 millimeter. The most popular widths are 5 to 6 inches.
Below are the available thicknesses and widths:
Thicknesses: 6mm (1/4"), 7mm, 8mm, 10mm, 12mm (1/2"), 14mm
Widths: between 3 to 4 inch, 5 to 6 inch, 6 inches plus, and variable width planks
For widths, realize that smaller widths can make small rooms appear larger, and that the wider options should only be used in larger rooms. The middle ground is usually most appropriate. Multi-width options are used to achieve the reclaimed barn wood look.
Consider the sub-floor the planks will rest on when choosing a plank thickness. If the sub-floor itself is thick and stable you can get away with thinner planks (and save money). If not, you'll want to go for thicker and more durable planks that might have to flex a bit with uneven floors.
Make sure to remember you need to add in the thickness of the underlayment foam to the thickness of the planks when doing your calculations.
Types of Laminate Flooring Edges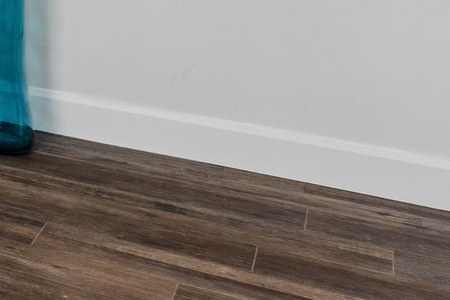 Another thing to consider in this seemingly endless and insurmountable task of choosing is to decide on what edge type you want on your planks. The edge type refers to how the planks are cut out and how they'll look when pushed together after installation. You main types of laminate floors edge options are:
Square Edge: These are perfectly flat edges that bump right up against each other to form a smooth and seamless visual look. They look like the product of perfect engineering. The edges are cut to perfect 90 degree angles.
Rolled Bevel: If you imagine the 90 degree angles above and round them into quarter circles, you'll understand the rolled bevel choice. This also means the color and look of the veneer layer rolls over too. You won't feel sharp edges with imperfect installation and you'll be able to see these gaps between the planks.
Micro-Bevel: This is the same as the rolled bevel but to a much less pronounced roll, meaning the corners are still rounded but to such a slight degree they're just barely smoothed over. It feels better, looks refined, and is very modern.
Deep Bevel: Also called a V-Groove, the edges of the planks aren't at 90 degrees but closer to 60 degrees, so that when pushed together with another plank the gap forms a V-shape.
Painted Bevel: With these, a groove is left between the planks and painted, usually a darker color, to purposefully stand out. It looks good but it makes dust and crumbs more visible, in my opinion.
You may start losing some options by the time you've already chosen your texture and installation method and wood type, due to the manufacturer's limitations. They can't provide every single permutation, you know.
Types of Laminate Flooring by Gloss Level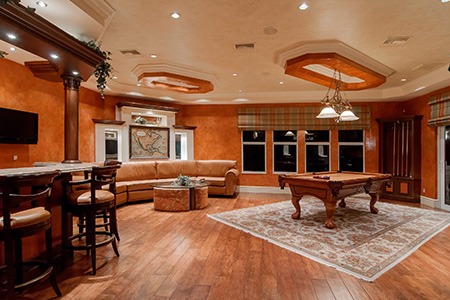 Finally, you'll want to decide how glossy you want your floor to be. This refers to how much light the floor will reflect (how shiny and shimmering it will be). Your options are:
Matte: This is among the least reflective options and easily the most popular choice.
Satin: The shine here is very subtle and only somewhat reflective.
Piano: This is a very high gloss finish that is extremely reflective of light like a black piano.
Like choosing the types of paint you'll use in your home, there's really only 3 levels of gloss to choose from, despite the names being different for flooring.
Types of Laminate Flooring & All of the Options
Now all that's left is to choose one that you find most appealing and head over to your nearest hardware store. Soon enough, your house will have beautiful flooring that is bound to impress your guests.
There you have it. Now that you have completed reading our article, you're familiar with the most popular types of laminate flooring at present.
You'll Also Enjoy: