11 Headboard Alternatives to Decorate Your Bed in Style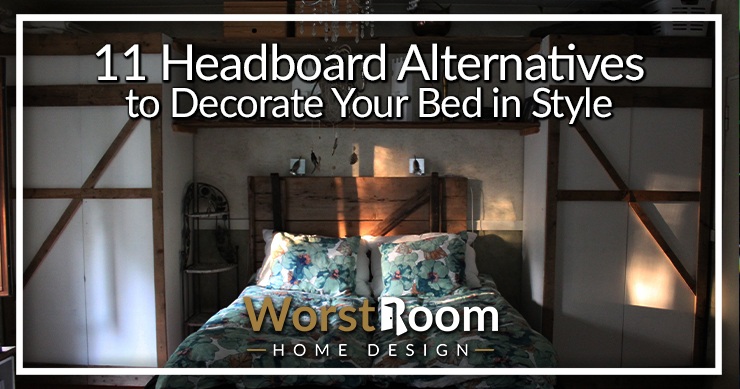 Headboard alternatives are all the rage, especially with young people who are doing away with headboards, bed frames, box springs, and more.
Are you decorating your room and don't want to settle for the usual, boring headboards for your bed? Or are you simply tired of the headboard that's been hanging around for years and want a fresh change? You're probably wondering what to use instead of a headboard.
If so, you're at the right place. We bring to you a comprehensive list of some of the best alternatives to headboards that you can use to jazz up your room and give it a fresher and different look.
11 Headboard Alternatives
Below are the collection of what to use instead of standard types of headboards. They come in no particular order and feature some pros and cons so you can keep it organized in your mind easier.
Shelves
Pros:
Readily available in the market
Can be customized or bought ready-made
Easy to set up and install
Easy on the pockets
Serves a wide range of purposes
Cons:
Can be quite heavy
Requires carpentry skills when made by hand
These are some of the best alternative headboard ideas out there because they have real utility in addition to style.
One of the best parts about having shelves instead of a headboard is that these can double up as storage spaces where you can keep your types of pillows, books, or even decorative pieces.
Available in a wide range of sizes, shapes, designs and materials, shelves can be bought ready-made and can also be made with specific customizations.
Reclaimed Wood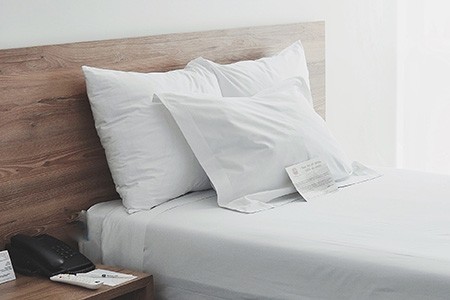 Pros:
Available in different sizes, finishes and colors
Can be made using recycled materials
Cons:
Requires mounting to the bed frame or wall
Can cost a lot to ship
Requires a lot of time, money and skill to make it at home
If you don't wish to use traditional headboards in your room, you can replace them with reclaimed wood. This is simply wood that has been used for something in the past, which can be repurposed to use as headboards.
If you're into arts and crafts, reclaimed wood will be very easy for you to finish. Furthermore, these headboard alternatives are available in pre-made or custom options in a wide range of sizes and finishes.
Tapestries & Curtains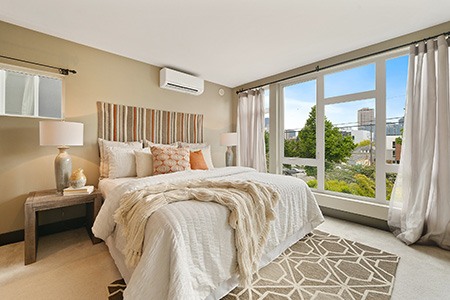 Pros:
Can be easily changed
Quite inexpensive
Can be made at home with the available materials
Available in numerous colors, patterns and fabrics
Cons:
Require regular cleaning, washing and maintenance
Not good for beds of children since they can potentially get hurt
Tapestries are textile art forms that are typically woven by hand. Along with curtains, tapestries can also serve as fantastic alternatives for a headboard.
From different fabrics and patterns to colors and sizes, these are readily available in stores and can also be made at home.
Painted Murals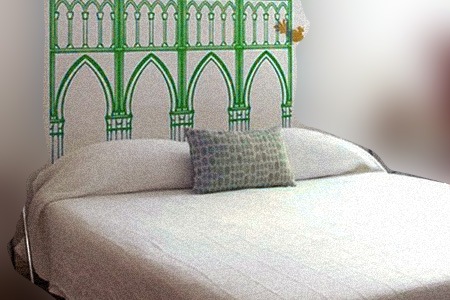 Pros:
Easily customizable
Can be painted over if you want to redecorate
Doesn't require any setup or furniture for installation
Cons:
Can take a lot of time to be ready
Can be expensive if you hire an artist
May not be allowed if you're renting the place
If you're looking for a unique way to decorate the walls behind your bed, give painted murals a try as alternative headboards.
Paint or hire an artist to create a work of art directly on the wall and give your room a quirky makeover that blends with your taste and personality.
Window Shutters & Barn Doors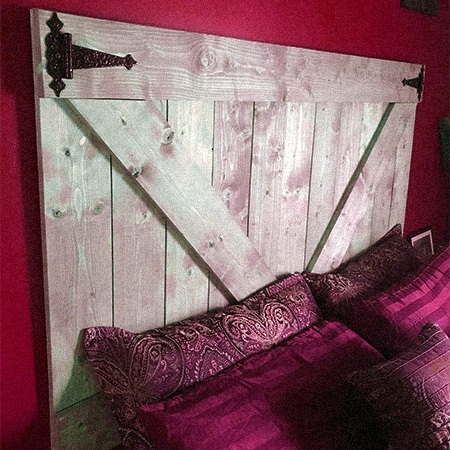 Pros:
Can be directly attached to the wall or mounted to the bed frame
Available in new as well as recycled forms
Easy to maintain
Very durable and long lasting
Cons:
Can cost a lot if you get it shipped
Quite heavy and requires help for installation
You can also get your hands on old barn doors and window shutters from vintage shops or online to give your room a more rustic appeal by using them as headboard alternatives.
Recycled barn doors and old wooden shutters of windows are customizable and add depth not just to the wall but also to the ambiance.
Open Books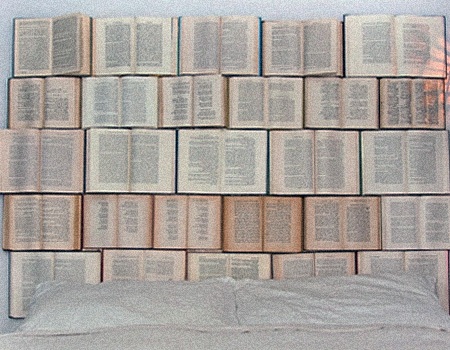 Pros:
Can be made on your own
Quite an inexpensive option
Can be changed from time to time
Cons:
Old books may attract mites and other insects
Pages can undergo wear and tear over a period of time
Can be heavy if you want to move it around
One of the most unique and unconventional ways to decorate the wall behind your bed is to create an open book headboard.
Great for college students, book lovers and even young adults, an open book headboard basically consists of multiple rows of open books that have been glued and stuck to the wall or on a sheet of wood.
Wood Fencing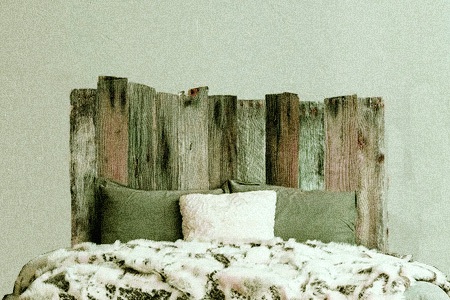 Pros:
Can double up as a nice project for the entire family or group of friends
Materials for wood fencing headboard are relatively easy to find and source
Doesn't require a lot of skills
Cons:
Requires a huge vehicle for transportation
Requires painting which may take up a long time to dry
Is relatively heavy to carry
Visit an antique store or a vintage fair to get a wooden fence that can act as a substitute for traditional headboards.
In addition to exuding a rustic, old-world charm, these also make your room decor more unique. Furthermore, wood fencing is also quite functional and is available pre-made at most stores that sell home improvement things. When done right this is one of the most classy headboard alternatives out there.
Wall Decals & Decorative Wallpaper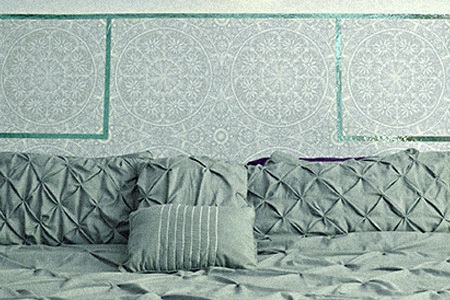 Pros:
Available in many different physical and online stores
Very easy to apply
Great for all kinds of people
Relatively inexpensive
Cons:
Can only be used once
Requires removal after a period of time
Can't be painted over
These are some of the widely used and available alternatives for headboards. You can find wallpaper and decals at different price ranges, in a variety of colors, designs and patterns. Look into the wallpaper alternative ideas, too, as there's more ideas there.
Substituting your headboard with wall decals and any types of wallpaper is one of the most versatile ways to decorate your walls and room.
Shadow Boxes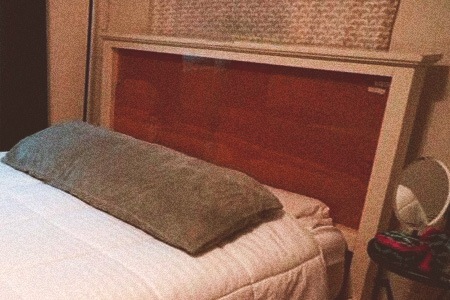 Pros:
Very easily available
Relatively inexpensive
Can be made on your own
Doubles up as a functional piece of storage
Cons:
Requires assembly which may take time
Can be quite bulky and heavy to install
Requires regular cleaning
These shadow boxes made of wood, glass or other material can add some funk to the wall behind your bed, while being functional at the same time.
You can put up memorabilia, decorative items, photographs and other knick-knacks here.
Paintings & Wall Art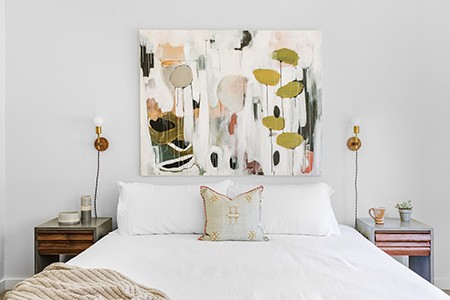 Pros:
No dearth of options to choose from
Can be easily hung, removed and cleaned
Cons:
Can be expensive depending on the artist
The quality of the painting may be affected if it is exposed to sunlight and humidity
This is one of the best headboard alternatives for lovers of art. Hang a large painting made by you or your favorite artist behind your bed and let it add brightness to your room.
You can either order one online or visit one of the many boutiques and antique stores to get a painting that talks to you.
Area Rugs & Macramé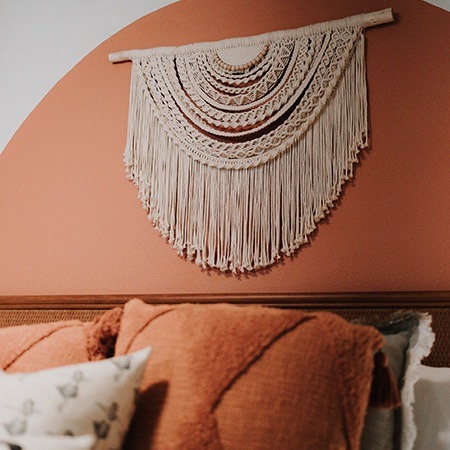 Pros:
Can be easily arranged and hung on the wall
Easy to clean and maintain
Readymade options are also available
Cons:
Require regular cleaning
May attract spiders and other insects
Using various types of rugs is a more popular amongst young girls and women. You can either hang a large colorful rug behind your bed or get a macramé to add some brightness and vibrancy to your room.
Macramé is the art of making beautiful patterns by knotting rope cords or other strings. If you're not an artsy person, these are also available in many different sizes and colors in stores.
Headboards: Definition & Uses
A headboard is a piece of furniture that is attached to the head of a bed. Typically made of wood, headboards were first created to cut off cold air and drafts in less insulated buildings.
They also create a space from the wall, thereby allowing the cold air to sink into the floor rather than on the bed. Today, headboards are also used for aesthetic purposes, for storage as well as for other practical uses.
Uses:
Some of the uses of a headboard include:
Prevents wear and tear on the wall
Provides comfort to the head when someone sits on the bed
Keeps the cold air from the walls at bay
Gives a pleasant look to the room
Adds a personal touch
Now that we've got that covered, let's reflect on the alternatives to headboards you can choose from and give your bed a finished look.
Headboard Alternatives to Suit Your Custom Decor
When you are decorating your room, it is only natural to have a headboard along with your bed. However, the headboard replacements mentioned above can also be used to make your room unique, original and more you.
Whether you have a fixed budget or style or if you're just renting an apartment, there are a lot of alternatives to the traditional headboard that you can choose from.
What's even better is that you can choose to spice up the blank wall behind your bed in the way you want and make it more fun. So, head off to the road less traveled and replace your headboard with one of its many headboard alternatives.
You'll Also Enjoy: