13 Paint Alternatives for Interior Walls When Redecorating
When it comes to basic wall decoration, most people go for painting. But before you reach for that paint brush, realize there's a lot of paint alternatives you can use that are a lot easier, temporary, and more attractive.
Sure, there are a lot of paint colors, finishes, and patterns to choose from. But what if you don't want your space to look like every other wall in your vicinity?
Yes, you're not the only one wondering how to spruce up a wall. But if you don't have the answers, you have come to the right place.
13 Paint Alternatives
We have done some digging around and came up with some creative solutions for you to avoid the basic types of paint and go for something different.. Let's take a look.
Temporary Wallpaper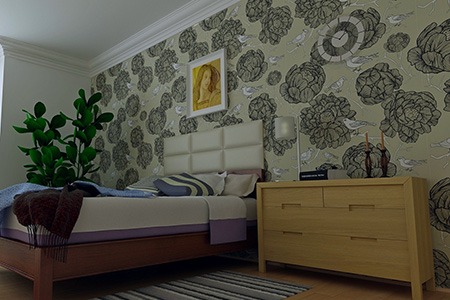 Any of the types of wallpaper are among the easiest alternatives to paint on walls. It is also quickly becoming a trend and is affordable too. The advantage of temporary wallpaper is that they are peel overs which makes them easy to remove when you want to change the interiors.
If you find the right vendor, you can customize it too. But if you find the wrong one, it can leave a mark and that's a bit of a bummer.
The best way to approach it is through samples. A lot of reviews will tell you that it's a great addition to your home or workplace. You can have it done in very little time and if you're good with your hands, you can do it yourself too. You're welcome.
Now, depending on the kind of wallpaper you choose, this can be more expensive than paint. So, that's a detail you want to pay close attention to. And along with the budget, keep style and durability in mind. There are plenty of choices in the market.
Paint costs less upfront compared to wallpaper or wallpaper alternatives but that too depends on the brand and finish. But with paint, you need to retouch it. So, in that context, wallpaper wins. This is one of the alternatives to painting walls that is trending again finally, so get ahead of the curve!
Paneling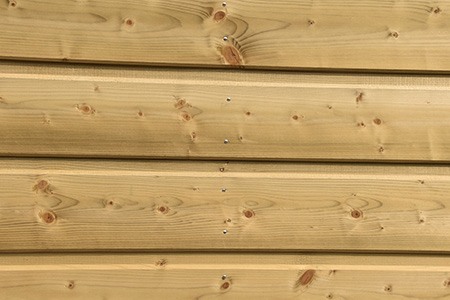 Our second suggestion for an alternative to paint inside a space is paneling. This is a great way to bring a space to life.
Unlike wallpaper, this leaves room for you to hang wall art, statues, or indoor plants usually on the top half of the wall if you run the paneling only as high as the back of a chair. Many older homes have paneling from floor to ceiling and it looks great, but dated currently.
Your visitors will be engaged visually and it adds elegance to the space. You can find panels in many styles which means no matter the style of interior design, you will find something that fits. And no one ever has to know what's behind the panels.
It is trendy and you also have a choice in the type of finish. This has been a preferred choice for many reasons including hygiene, cost, and durability to name a few.
Paneling can also be cheaper paint alternatives when compared to wallpaper and of course paint. You can hide structural flaws, exposed wiring and cables too which does not happen with paint.
Take panels made of natural wood, for example. They have a great thermal capacity and offer excellent sound insulation too.
Wooden panels also don't collect dirt like some other alternatives, and if this wall paint alternative does get dusty, just wipe it down with a slightly damp cloth. They are easy to repair if the need arises or you could just replace them.
Wall Tiles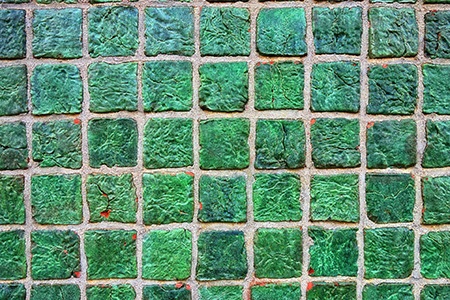 Then there is the option of wall tiles. These are a great way to decorate walls, especially in the kitchen or bathroom where mishaps like spills are likely.
All types of tile are easy to clean and can be a decorative addition to the room. Tile stickers are also an option if you're into temporary attachments.
Tile stickers are like wall decals but like wallpaper, you must choose the vendor carefully so that you find stickers that are easy to remove when you're over the design. Sometimes these are called tile transfers.
And sometimes, you will need a little elbow grease to get them off the walls. You can do this from floor to ceiling or just a part of the wall.
So, there is a lot of design flexibility too. You can do ceramic tiles or metal ones depending on the look and feel you're going for. So, tiles are a versatile option too.
Tiles last a long time and you can easily take care of them. They deal with moisture well when they are installed properly. And if you're feeling quirky, you can get them in many shapes and sizes too. Give the space a contemporary look.
Hanging Shelves / Book Shelves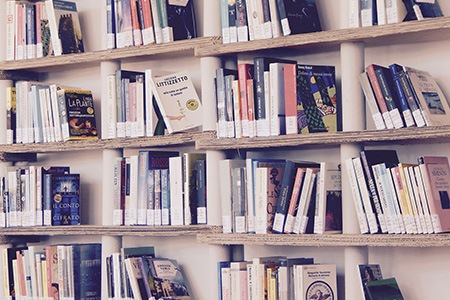 Then there are hanging shelves. They are also a contemporary interior design choice and look really elegant. It takes very little to install these types of shelves although they come with some weight limitations.
And, of course, there is the advantage of storage if you don't want them to be merely decorative. They are a relatively permanent fixture but can be worth it as paint alternatives.
Hanging shelves are capable of making a wall look very edgy and you can always change the decorative items on the shelves to refresh the look. It is a cost-effective option and takes little effort to change when you get bored.
Bookshelves are another great option. Whether you're an avid reader or just want to show stuff off, this is a cool solution.
Once again, you can go from ceiling to floor or just do a part of the wall. It is easy to make a wall look snazzy with shelves and comes with the added benefit of storage space for all your books.
Cladding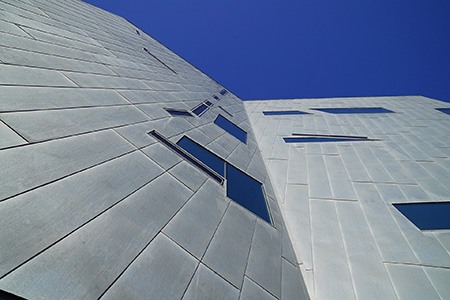 If you don't want paint but still want to make your walls look special, have you considered cladding? You can pick from stones to aluminum cladding depending on the look, purpose and budget.
You hardly need to focus on maintenance and these options also age well. This has also been growing as a trend and has changed the way interior designers have been approaching walls.
It's a great solution albeit a relatively permanent one. So, you want to be sure before you opt for it. As far as ideas for walls instead of painting goes, this one can be pricey but looks fantastic once done.
But on the bright side, you don't have to think about repainting every few years which can make it a considerably cost-effective option (depending on the kind of paint you would have chosen).
Wall Decals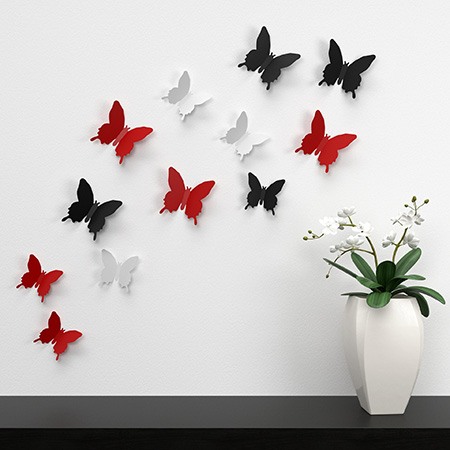 Wall decals have really risen in popularity, with adults sticking single words in cursive on the wall, or scripture, and children's rooms being covered in trains, trucks, flowers, clouds, and airplanes. As paint alternatives these stickers can really draw attention to themselves and away from unsightly smudges.
They make these wall decal stickers for everything now, so you have plenty of options for how you want to design the room. Just know that you'll need an hair dryer or heat tool to remove them later, and you will damage the underlying paint and possibly the types of drywall you have, too.
Masking Tape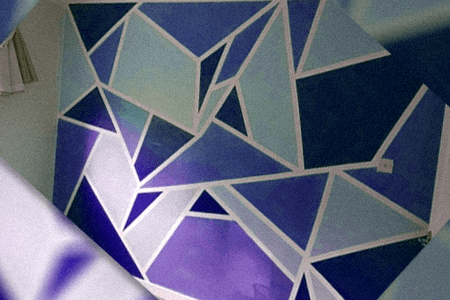 If you don't want a permanent solution, here's another temporary option. Masking tape or decorative tape is a great way to redesign a space whenever you want. These are easy to use and easy to remove types of tape.
Like wallpaper, this is a peel-off option and is a great way to customize walls. You can get a few rolls of tape while keeping it within budget and without compromising on style.
You can customize them in many ways like tiles and they come off easily without leaving any marks when you want to re-do the wall. Neat, huh?
Masking tape is a great way to create quickie wall arts. Depending on your vision, you might need a lot of tape. But it will still be a relatively cost-effective choice compared to paint. There is a lot of creative liberty with this option and it's affordable too.
Pallet Wall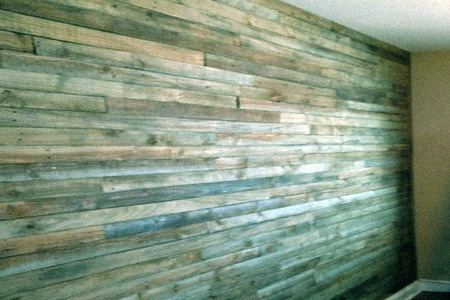 It's not just aged pallet wood you can use, though it's usually freely available. You can use any reclaimed wood, or even new flooring wood. Basically you treat it like you would a floor but cover the wall in wood.
These makes for a great accent wall, especially when the wood has different stains, knots, nail holes, striations, grain, and other features. It's pretty cheap to pull off too.
Just remember, you probably only want to do it to one wall and treat it as an accent wall. Otherwise it'll be too much visually. But for one wall it's one of the great wall painting alternatives when done right.
Tapestries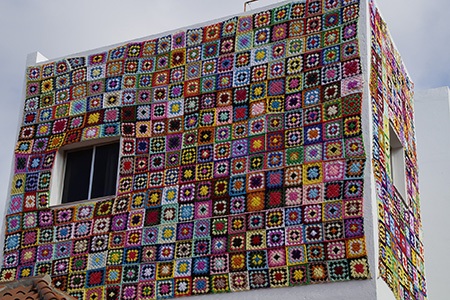 Now, if you like to decorate your walls, you want to look into tapestries (and floor-to-ceiling curtains). There are so many things you can do with this concept and it is definitely cheaper than painting and repainting.
You will need to use screws so that's a bummer for renters. But you can substitute Velcro or curtain rods for screws if you use really light tapestries.
And if screws are not an issue, your options are virtually limitless. Using starch is effective but can be messy. You can do a part of the wall or all of it, so that's the freedom of tapestries as paint alternatives..
This method has been in use for centuries from the time of kingdoms and it just keeps coming back in style. In fact, you might even spot it in some churches too.
The style range has vastly expanded over time and tapestries have become a cheaper alternative for paint. There are shops online that let you customize your designs.
So, let the artist in you fly. From landscapes to cars and maps, there is a lot you can do with this idea. You can stretch fabrics tightly or let them hang more loosely.
Tapestries can make a space look truly unique within a limited budget. But it does have a few disadvantages.
The mounting options can be a bit of a downside. Some of them also cannot be washed in a machine which might be an issue. But these are very simple alternatives to paint, especially if you live in a dorm room or an apartment.
If you have the budget, you can design quite a complex tapestry that can turn a room into a stunner. You can consider hanging wall-length curtains as well.
Drapes & Curtains
To reiterate though I mentioned it above in the tapestries section, you can always find floor-to-ceiling drapes and types of curtains to hang on a wall that you want to "resurface" or hide some imperfections.
This opens up a vast array of color and texture options without all of the work or rules surrounding paint. You'll need to hang curtain rods whenever you deal with any types of window treatments, but these tiny holes can easily be patched and repaired later.
Artwork & Photos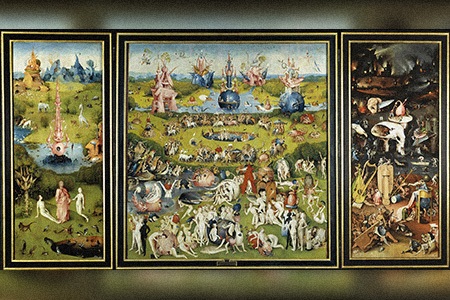 Perhaps you have a really big, bland wall that you want to make more exciting. Before you reach for any types of paint brushes, consider creating a busy and dense array of artwork and framed photographs. The more the merrier with these paint alternatives.
Get a pack of whatever types of wall hooks you prefer and make sure to use a tape measure if you want to really get it right. And hang our pictures and artwork in such a way that the bare wall becomes a wall of memories, ideas, and beauty. This is the classic and simple alternative to paint that never goes out of style.
Garlands & Living Walls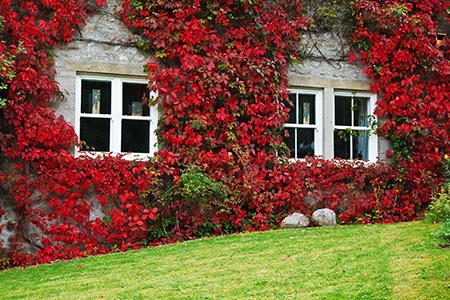 This concept is simple. I recommend using fake plants but you can use real ones if you like. Find vines that you can run vertically or diagonally and cover a wall entirely.
The shades of brown and green will need to match the rest of your decor, but if it does then this is an interesting option for you. If you use live plants you'll have a lot of maintenance to take care of on top of dusting and wiping, which will be a giant pain as it is.
Chalkboard or Whiteboard Wall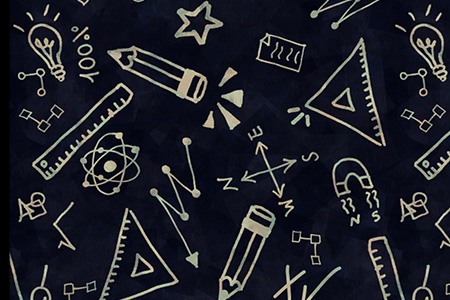 You can get chalkboard or whiteboard paint (or just giant boards to hang) and turn an entire wall into a dry erase or chalk writable surface. This is a fun novelty where you can create shopping lists, to-do lists, draw funny pictures for the family, and more.
The only problem with either is they require a lot of cleaning over time. And eventually the novelty wears off and you stop using it altogether. As far as alternatives to painting a room go, I'd recommend against this one even though it sounds cool at first.
Paint Alternatives for the Adventurous Decorator
Wall paints are common. They can be customized but that's going to cost a few extra bucks. If you want to jazz it up but don't have the budget for it, a lot of the above-mentioned options will swoop in and save the day.
Some of them are even better than paint for so many reasons (mentioned in their respective sections). Paint is also predictable and any of the above options will surprise your visitors.
From durability to innovation in design, there are tons of reasons to dump paint and take up any of these options.
They make your interior spaces endlessly better for a fraction of the cost. Some of them are overly simple to execute too. We hope these paint alternatives have got your brain brewing with ideas.
You'll Also Enjoy: