14 Shower Tile Alternatives to Reinvent Your Bathroom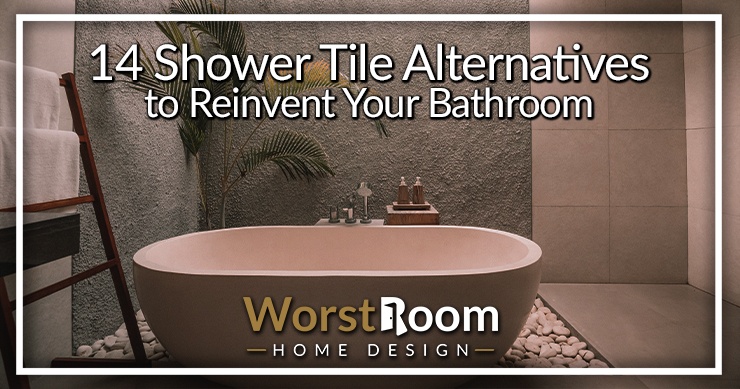 Adding tiles to a shower is a great way to update a plain bathroom to something fancier. Shower tile alternatives are also a great way to waterproof your shower walls while also adding a pop of color.
Tiles are easy to clean and maintain, are long lasting and elegant too. While adding tiles to a shower wall is usually the way to go, many consider it quite a hassle to maintain and also pretty expensive.
These days, people have begun opting out of shower tiles and choosing more modern alternatives for whatever types of showers they choose to install.
Shower tiles are consistently in contact with water. This makes it vulnerable to mold. If the gaps between the tiles aren't sealed well, it might lead to leakage in the long run. Even when installed well, the shower tile grout will eventually become less sealed and will absorb water, weakening the drywall behind it.
I, myself, have pushed through the drywall behind shower tile before in an apartment. It happens. Also, tiling is a tedious task that needs to be done meticulously. It also doubles restoration and renovation times, when the tiles need to be first taken out and then replaced.
14 Shower Tile Alternatives
To avoid these hassles, here are a few shower tile alternatives that you should consider while decorating your bathroom. These are shower wall options other than tile that will give you tons of choices to suit your tastes.
If you're pulling tile down, make sure to check out the available tile removal tools to help you do a faster, easier, and better job. It'll make the next installation go faster with a better result, too.
Acrylic Panels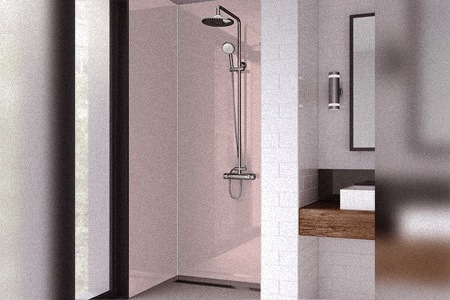 Acrylic panels, with reinforced glass fibers, lend a seamless look to the wall. These are available in a wide range of colors and patterns, which is bound to create a feature wall in your bathroom.
Acrylic shower panels are smooth, glossy and long lasting. Acrylic is a non-porous material and hence, doesn't retain stains or moisture.
Due to their seamless nature, there is no chance of water damage, mold or leakage. Also, you don't have to worry about grout anymore and the installation process of these panels is a lot easier.
Acrylic shower panels are usually available in factory sizes. These sizes might not always fit well for your bathroom and getting these custom built can be a lot more expensive.
It is also difficult to repair and in case of damages, it will usually have to be replaced.
Marble Panels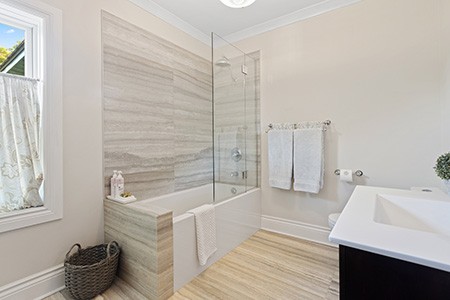 A fancy bathroom deserves fancy shower walls too. Marble panels can be custom made to fit your shower and add uniqueness to your bathroom.
Marble is mold resistant, fade resistant, scratch-proof, strong and durable. It doesn't come cheap but has a beautiful look that is appealing for years to come.
All types of marble are very high maintenance and can stain very easily. It might not react well with certain cleaning products, which can lead to degradation.
Also, you might need to reseal your shower regularly to ensure that water doesn't remain stagnant on the marble.
Though marble is an expensive material, if cared for well enough, it can last a lifetime. If you're looking to raise the value of your home during renovations, don't skimp on the bathroom.
Marble walls are a great way to increase the valuation of your house.
Stone Resin Panels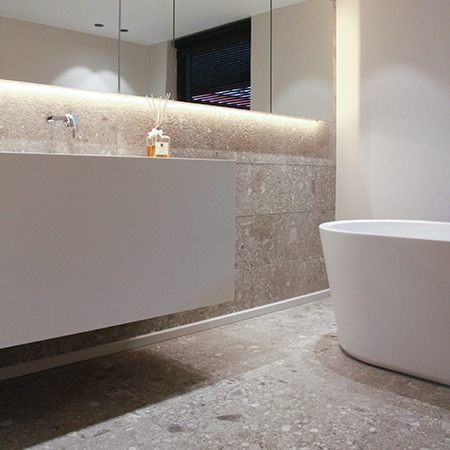 Stone Resin panels are also strong, durable and last a lifetime. Though they are expensive, these panels don't get damaged easily, making it worth the price.
As stone resin is heavy, these panels can be hard to install, and even hard to uninstall. This might cause issues in case of renovation or when the plumbing needs to be altered.
Opt for stone resin if you don't intend to make any changes to the bathroom in the near future. It's one of the long lasting shower tile alternatives that won't require a lot of maintenance.
Natural Wood Panels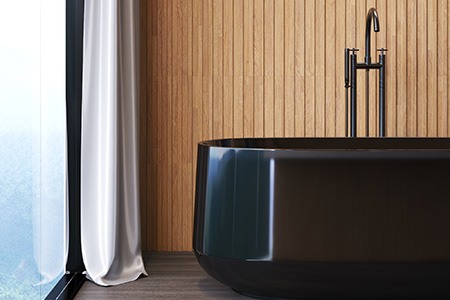 Wood can elevate the look of any space. Wooden shower panels can be a great way to make your bathroom feel like a resort or spa. It can look great in any space and blends with all types of architecture.
Yet, wood showers aren't very common as wood tends to warp due to moisture, and might not be a feasible solution in most spaces. If your bathroom is airy and well-ventilated, this could still be a good option.
Wood panels are a great way to add some oomph to your bathroom as the rustic look of wood never goes out of style. You could even check out waterproofing options on wood to make these more durable.
Solid Surface Panels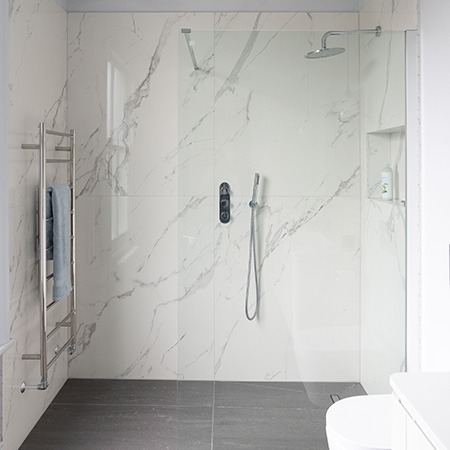 Solid surface panels are artificial products that are made to look like marble, ceramic or other materials. They cost a lot lesser than natural materials and can save a lot of money in case of renovations. You'll see these often in zero threshold showers in place of any type of shower pan.
These panels are usually quite thick and are pre-designed glue on any shower wall. These are available in a range of patterns and colors so you can easily find one that looks good in your bathroom.
While the surface is smooth and thus, does not retain moisture, it can get a bit too smooth and slippery, which can be dangerous for the elderly or kids.
Fiberglass Panels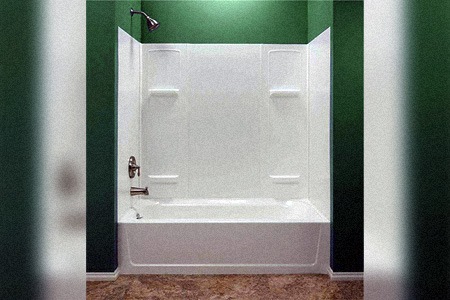 Fiberglass is among the least expensive shower panel options. Though it is seamless, damages to the fiberglass can result in cracks that might cause mold.
But most types of fiberglass are cheap, you can easily replace it with a new one. Installation is also very easy as these are lightweight and easily available in the market.
Once damaged, fiberglass will continue to crack and chip away. So it is necessary to be replaced immediately in such situations. The low cost makes these shower tile alternatives easier to replace, without burning a hole in your pocket.
Back-Painted Glass Panels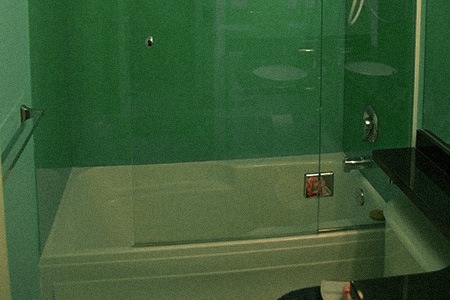 Back-painted glass panels are a great way to add both color and light at the same time. Glass is a great light-reflecting material that can brighten up your shower.
The side of the glass that's adjacent to the wall or floor is painted such that the color can be seen through the glass. Though tricky to install, these will last a long time and are easy to clean and maintain.
The glass tiles should not be too large as that can make them slippery. Make sure that they are installed well, preferably by a professional, so that there aren't any sharp corners. These panels can be easily cleaned using any window cleaner.
Stainless Steel Panels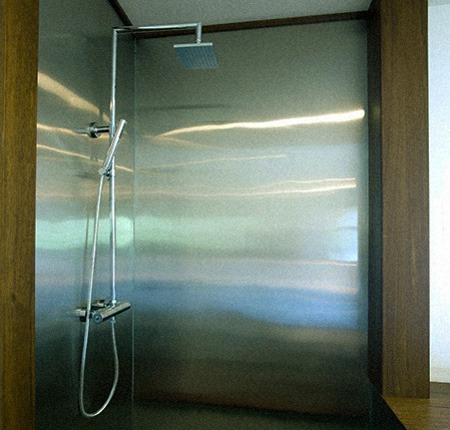 Stainless steel can be easily molded into any shape and form, making this an ideal material for shower wall alternatives.
These are usually mounted onto concrete boards and are a long lasting, yet cheap, alternative to other shower panels. Stainless steel is also easy to clean and maintain and doesn't get easily affected by water and moisture.
Stainless steel panels might tend to have some sharp corners and edges. Make sure that the seams are sealed well with silicone to prevent mold and leakage.
Concrete Panels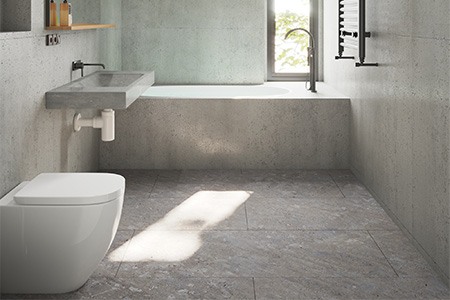 Concrete wall panels can be very classy and deal with water easily. By placing them on the ground of the shower and along the walls, you can create a masculine atmosphere. You can opt for concrete alternatives, too.
Concrete panels can be acid stained and then polished and sealed to create a very purposeful look with color striations throughout. Just make sure you leave some textured surface on the flooring so you don't slip when the surface is wet.
Laminated Wall Panels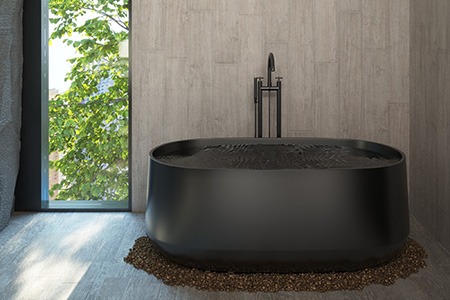 Laminated panels have been around for years but mostly used to make doors and furniture. Who knew similar panels can be used for bathrooms as well?
These shower tile alternatives usually have a plywood surface with a long-lasting and durable laminate as a top layer. Laminated shower panels are usually waterproof and come in a range of patterns.
There are even patterns that can make your wall look like a tiled wall, without having to bear the hassle of the grout.
Laminate wall panels are very easily assembled and can be molded to fit any shower. They are a versatile, good looking and inexpensive way to raise the style of your bathroom. If you don't find what you want, look into various types of laminate flooring too, as that can work just as well.
PVC Panels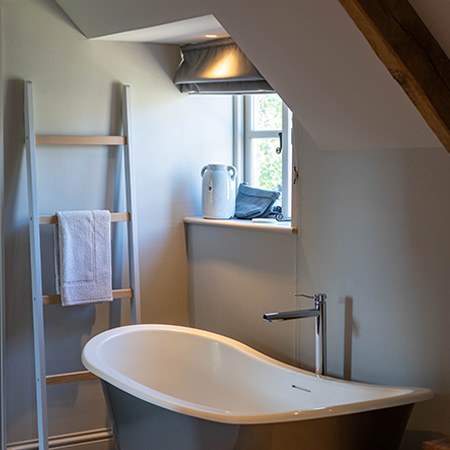 PVC panels are the cheapest tile alternatives and are also possibly the easiest to install. They are also easily replaceable, without breaking the bank.
PVC is durable, seamless and mold resistant. These panels are a great way to add a splash of color to your bathroom and are also easy to maintain. As far as alternatives to tile in showers go, PVC will be waterproof and can look as good as a surround.
If you're looking to attract buyers, you might want to steer away from PVC, as it is a cheap material and might not add much to the value of your house.
On the other hand, if you're just looking to make cheap renovations and fix-ups, this is a great way to save some money.
Paint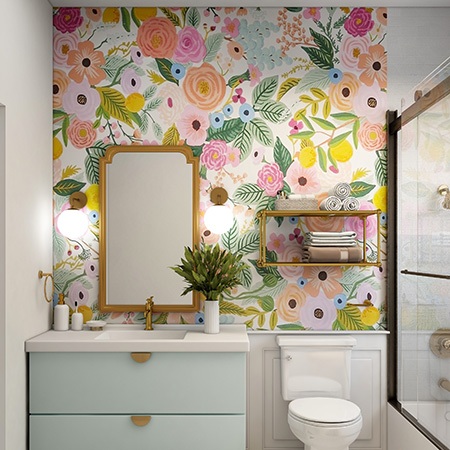 If you'd like to choose the perfect look for your bathroom wall, panels might not be able to do the trick. In such cases, you can opt of painting your shower walls, thus choosing the perfect color you desire.
With painted shower walls, you do need to make sure that your bathroom is well ventilated so that the walls don't get damp. And make sure you're using the right types of paint that seal up well.
The water-resistant quality of a painted wall depends on the finish. Shinier walls are more water resistant, hence easier to maintain. If you want shower walls without tile, paint is a solid option.
Matte paint might absorb the water and create stains or damp patches, leading to mold. Paint makes great shower tile alternatives but you need to keep an eye on it closely.
You can choose to use exterior paint, which is usually waterproof or even add a coat of waterproof topcoat to finish off your painted wall. There are even some specialized paints for the bathroom that are resistant to moisture and steam.
Rubber Leather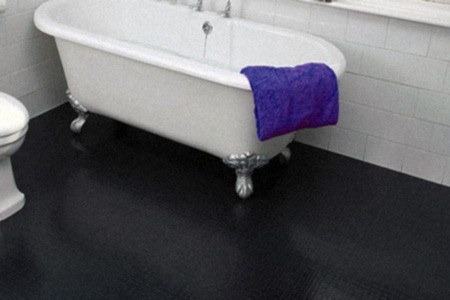 Rubber leather mats are a great option, especially along the floor of your shower. They are made with the appearance of textured panels but are simply rubber mats.
They come either in a roll that you cut down to size or come in small, interlocking panels like a kid's play mat, where they click together like puzzle pieces to stay together. The best part is how easy it is to keep these clean.
Bamboo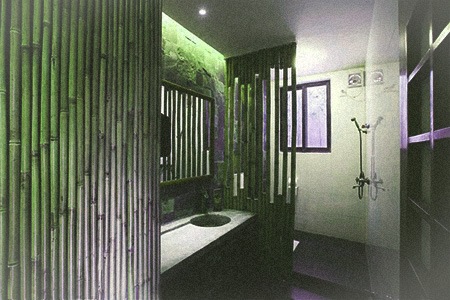 Bamboo panels, wall boards, and flooring make a beautifully relaxing atmosphere in a bathroom, especially as shower wall alternatives. All types of bamboo can be sanded, polished, and sealed to resist soaking up moisture and growing mold and bacteria.
The rich, natural colors go well with stones and green leaved plants. Just watch out, because if you create a paradise in your shower your water bill is going to go up from you hanging out in there too much.
Shower Tile Alternatives for Every Bathroom
Your bathroom need not be just a functional space. It can also be decorated to showcase your personal style to reflect the decor in the rest of the house. For your shower, tiles are not the only waterproofing option.
The alternatives listed above may turn out to be not just stylish but also more cost effective. Consider all the shower tile alternatives before decorating your bathroom to find the one that works well in your space.
You'll Also Enjoy: