14 Types of Mustard to Excite Your Meals & Taste Buds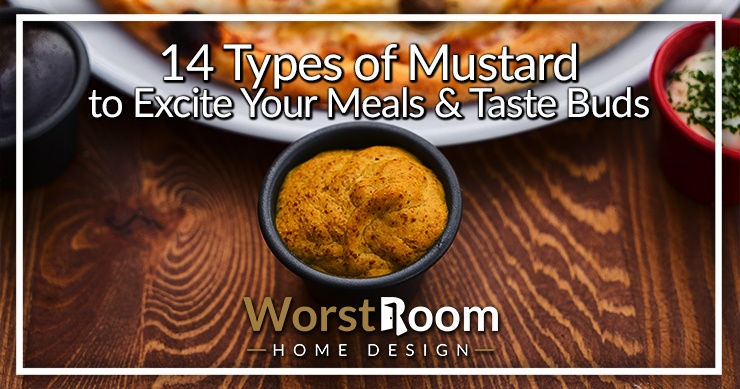 Mustards are the superstar of the condiment family. The different types of mustard can be sweet or spicy and can add a lot of flavor to your food. I can talk about the varieties of mustard for days, and it helps that there are so many of them.
Mustards are created from ground mustard seeds mixed with some liquid. And different combinations create different varieties. Some of them are very popular and are found in almost all households.
Others are less popular and underappreciated by many except those who have tried it once and now cannot live without it.
But each kind brings something different to the table, and we're here to talk about the ones worth having in your homes.
14 Types of Mustard
Like I've said earlier, the different kinds of mustard vary according to the type of seed. The darker the seed, the more heat it packs. But they can only reach their potency when mixed with the light liquid. Here are the most common ones you'll come across:
Yellow Mustard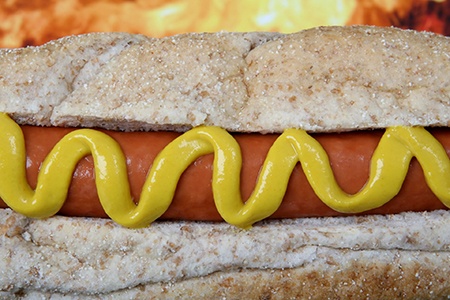 When people first hear the word "mustard," the first image that pops up in their mind is the American yellow mustard. It's plentiful and cheap and has a mild flavor that's palatable to the masses. Though its pure yellow color is helped along with food coloring, it gets its base yellow color from the mustard seed itself.
This mustard is made from yellow mustard seeds, which carry the least heat and mildest flavor and sits the lowest on the heat scale. But it's hard to reach that bright yellow color on its own, so it's mixed with a bit of turmeric.
However, to reach that squeezable consistency and be the perfect American hotdog sidekick, it is mixed with a bit of vinegar, water, and a couple of spices. The heat level isn't that high, but it's got a tart-and-tangy flavor that packs in a punch.
You'll probably have a squiggle bottle of yellow mustard in your fridge right now. They go perfect with hot dogs, burgers and are ideal for getting you started in your mustard journey.
You can make your version using turmeric, garlic powder, salt, and cayenne pepper as seasonings.
Dijon Mustard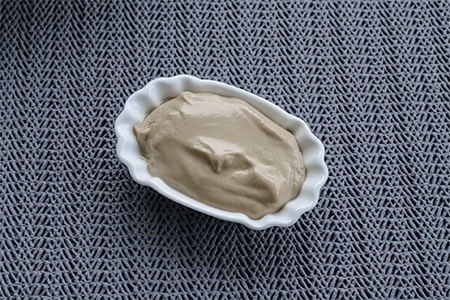 Dijon mustard has been around since the 1800s, and there is a good reason why it is still popular. It originated from the Dijon region of France, which is quite popular for making mustard.
But now, Dijon mustards are made almost everywhere since the name isn't protected, making them one of the most widely available and popular types of mustard.
Expect the Dijon to be highly spicy and pungent, way more than the yellow mustard. It is made with brown and/or black seeds, which carry the most heat. As for the liquid, they use white wine instead of water to add more richness.
While Dijon, when paired with vinaigrettes, tastes heavenly, there are more ways to cook with it.
You can add it to a blackberry sauce to balance out the other ingredients or even make a fondue with it. And if you've never tried honey-Dijon popcorn, trust me, you're missing out on a lot.
You can make Dijon mustard from scratch using just a food processor. It needs a little salt, pepper, allspice, and some minced shallot or white or yellow types of onions.
Spicy Brown Mustard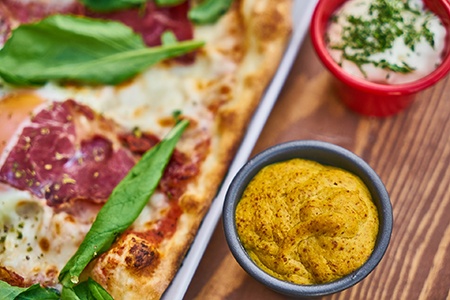 Compared to the first two kinds of mustard, the spicy brown mustard is coarser and has more texture to it.
Besides a little yellow mustard seed, most of the condiment is made from brown seeds, as you might have already guessed from the name.
The spice level is also higher than Dijon and American Yellow. It gets its heat from a combination of types of spices, such as nutmeg, allspice, ginger, and cinnamon.
The liquid's acidity is slightly scaled so that it does not feel too overwhelming in your mouth. Since it has a very rich and earthy tone, it is most popular in street food, such as carts or hotdog stands.
You'll find them in delis as well because it balances out the saltiness of processed meat perfectly and can bring any cold cut to life.
Honey Mustard
Honey mustard is the perfect choice of condiment for those who cannot handle the heat in their food. These types of mustard are perfect for any types of french fries, hamburgers, chicken strips, and so much more.
As the name gives away, it is made from an equal ratio of honey and mustard to achieve such sweetness. Some companies even amp up the sweetness a little more by adding in more honey.
To keep the mild flavor profile, it uses yellow seeds rather than the other two. It has a very smooth consistency, so it is still easily palatable despite its complexity, especially for kids. They can dip their chicken nuggets and enjoy them with their snacks.
You can even whip some up at home. Take equal parts of honey and mustard and whisk them (any types of whisks will work here) before pouring them in a little squeezy bottle to store them in the refrigerator.
Since it's very sweet, many people find it off-putting in their food and like it more as a side sauce, dip, or even a dressing.
Whole-Grain Mustard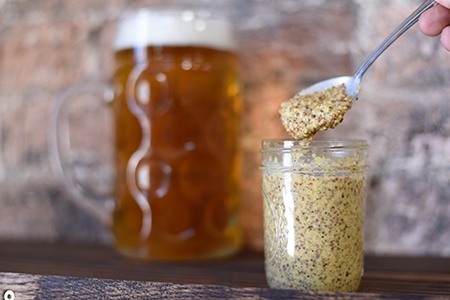 Instead of grinding the mustard seeds to create the smooth paste found in most mustards, this mustard uses whole-grain seeds. They are just lightly crushed, so they have a lot of texture.
It's pungent and aromatic, packed with plenty of flavors. The flavor strength can be tweaked by altering the different blends of spices and their composition.
And to pack a punch, it uses wine instead of water and the darker mustard seeds. A lot of people consider whole grain mustard a variation of Dijon.
Because of the texture, they are the go-to option for cheese plates or fruits and cheese platters. They are also high in omega-3 fatty acids and sodium, so they can also be included as a part of your healthy diet.
You can make your homemade version with yellow or black seeds combined with vinegar, brown sugar, honey, or salt. When you inevitably spill it, here's how to get mustard out of carpet.
Hot Mustard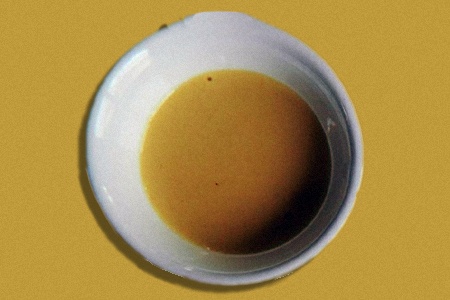 This mustard is not for the weak-hearted and is perfect for every spice-lover out there. Usually, hot water or acids in wine are used to hold back the heat, but there is no holding back with this version.
It's mixed with cold water instead that pushes these types of mustard and their oil-driven heat even further. The most popular version is the Chinese version, which is on the top of the hot scale.
You might want to get a mustard spoon (one of the 61 types of spoons) so you can meter how much you use since it's so hot.
It is closely followed by the English version, which isn't as spicy but still somewhat close. Even the brown seeds used are stronger than the other two.
You can make a fresh batch at home as well. Mix a little cold water with dry mustard powder and opt for sesame oil and rice vinegar rather than vegetable oil. Vegetable oil tones down the heat, so that's why you should skip it.
Stone Ground Mustard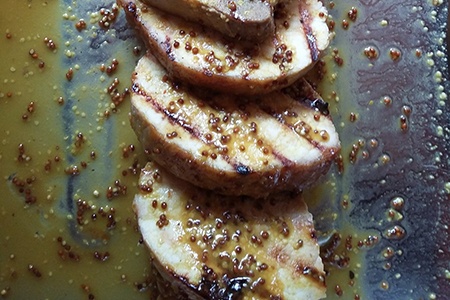 Stone ground mustard's consistency sits between Dijon and whole grain mustard. So, if you don't want to go either way, then the best choice for you would be stone ground mustard.
It is made with brown mustard seeds, ground with a mortar and pestle to keep in the rich, earthy flavor.
The acidity is held back a little by reducing the amount of vinegar added. You can tweak it a little, according to your preference.
It is also perfect if you want more heat than yellow mustard but wants nothing as extreme as the spicy brown version.
Since it has a lot of depth in its flavor, they go perfectly with aged cheese, meats and can even be used as a marinade for chickens.
The ingredient list is simple and only requires water, white wine for acidity, turmeric, and sugar, and, of course, brown mustard seeds.
Horseradish Mustard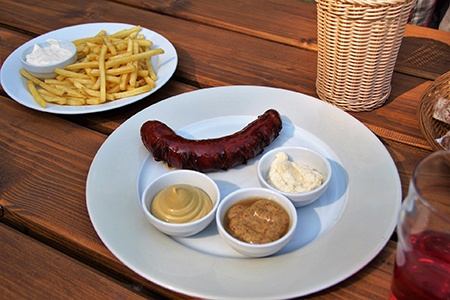 Horseradish types of mustard are not as popular because they are not suitable for all. There is no dialing back the heat with this mustard.
If you have a clogged nose or are having some trouble with your sinuses, one dollop and everything will clear right out.
It can be paired with almost anything, burgers, pretzels, egg rolls; you name it all. You can make your version with a mixture of yellow and brown mustard, dry white wine, dry mustard powder, sherry vinegar, water, sea salt, and maple syrup, along with a few other ingredients.
Grey-Poupon Mustard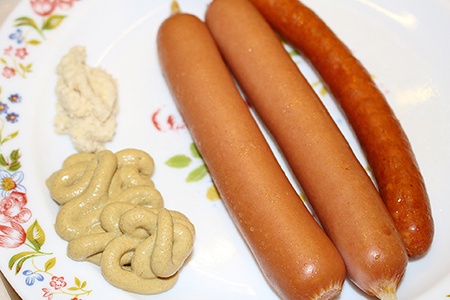 Grey-Poupon is a type of whole-grain mustard mixed with Dijon mustard. It's made with white wine and brown mustard seed and was very popular in the United States in the 1980's thanks to a successful marketing campaign.
It was produced by a partnership between Maurice Grey and Auguste Poupon around 1866 in Dijon, France. The company was since bought and sold many times. It became a household name and popular culture reference eventually. It tastes great with all types of ketchup, too.
Bavarian Mustard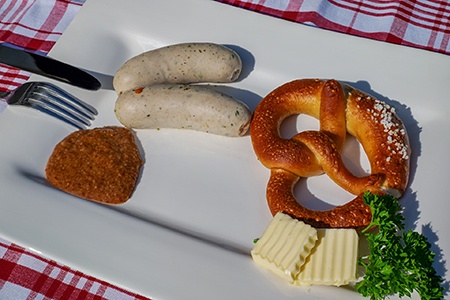 Bavarian mustard is a sweet condiment, also known as Weisswurt mustard. There's various recipes, but most classic choices include hints of vinegar, juniper berries, nutmeg, allspice, as well as cloves, onions, and apples.
Like any mustard, this goes great on all types of sausage, bratwursts, veal, and of course spread on sandwiches or dipped with pretzels.
Bavarian mustard comes from around 1850 from Johann Conrad Develey's mustard factory. He was producing many standard mustards but felt a sweet mustard might create a new demand in the market, and he was right.
Dusseldorf Mustard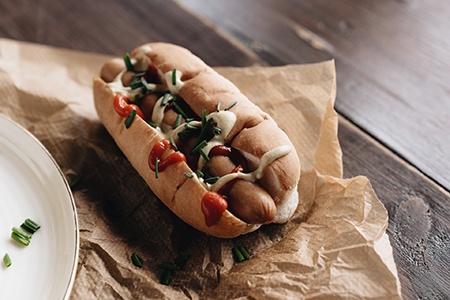 Very similar to Dijon mustard, Dusseldorf mustards tend to have a stronger taste and smell due to being made with vinegar rather than verjuice. It's also a darker color that cues you in to the fact that it's one of the different types of mustard.
It may be milder or spicier (even much spicier) than standard kinds of mustard. It can be made with white, brown, or black mustard seeds mixed with a pinch of black pepper and clove.
It's not really sweet like Bavarian mustard, but more of a "sweet and sour". The oldest brand of Dusseldorf mustard was produced in a factory in 1726 by Adam Bernhard Bergrath (ABB).
Mittel Scharf Mustard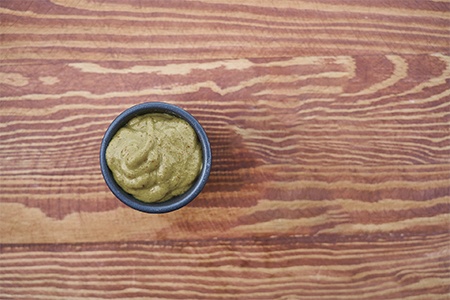 Mittelscharf mustard has your typical ingredients (for a German mustard): a mixture of yellow and brown mustard seeds as well as vinegar, sugar, eggs, pickle and apple juice, pepper, turmeric, salt, and butter. The result is a wildly popular option in Germany that's spicy (considered medium-hot).
Beer Mustard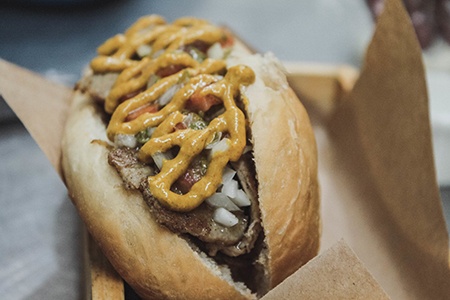 Spicy beer mustard is made in the standard fashion with the exception that the initial vinegar soak is also done by soaking the mustard seeds in a dark beer. Then you blend it with the typical ingredients like usual.
The result is a spicy mustard that has a light amount of sweet flavor due to the beer. It's the perfect compliment to salty dishes like a pasta for instance.
Creole Mustard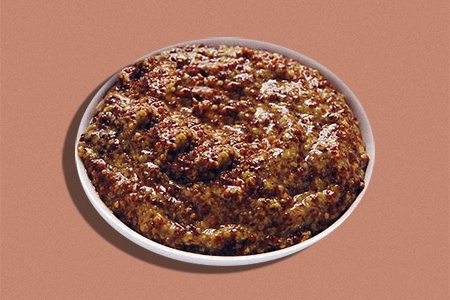 Creole mustard is one of the most popular mustard types in the Southeastern region of the United States. Of all the mustard varieties, it's the go-to for New Orleans cuisine.
What makes it different from Dijon mustard is the use of vinegar instead of white wine and the addition of spices such as horseradish.
Squirt or spread it on a po' boy sandwich, use it as a dressing or dip, or even a meat marinade. People even eat it with seafood. It's among the most versatile kinds of mustard.
Types of Mustard for Every Taste Palate
All the varieties of mustard are great for glazes, comeback sauces, port sauces besides being used on their own as dips and sauces. If you've never tried mustard before, maybe now you'll know where to start.
Now that you know about the different types of mustard, I hope you're ready to jump on your new journey.
You'll Also Enjoy: