21 Types of Couches & Sofas Pictured So You Can Choose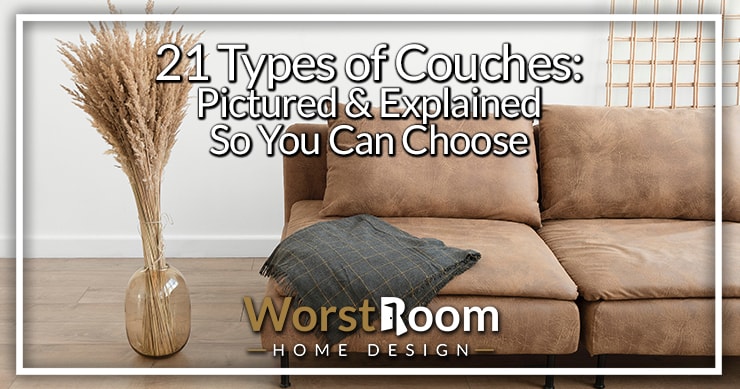 If you're like me, you want to have an idea of what the options are before heading out to the stores for a final decision. There are all types of couches available and we're here to demystify them.
When it comes to buying furniture for the house, the couch in your living room is just as important as the bed you're going to sleep in. We spend as much time on our sofas as we do the bed, computer chair, or any other staple in the home.
Today, there are many different kinds of couches on the market to fit whatever your needs are. It helps to know what they are so that you can pick one and not worry about it for a long time to come. Let's hit it.
21 Types of Couches & Sofas
Scroll through this whole list of couch shapes and you're bound to see something that catches your eye. Stop then and read the quick blurb about it and see if it can make sense in your living room.
1) Sectional Couches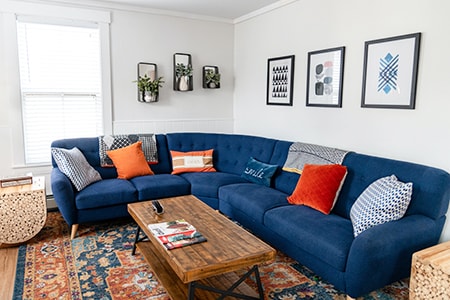 This is one of the most popular models since the 1950s when the world started to discover mid-century furniture design. A sectional is usually one section of a couch that has three or five pieces.
You can arrange each part in an arrangement that suits the architecture of the room. One of the advantages of buying a sectional is that you get to change the configuration every now and then and give the room a new look without having to get new furniture.
Most of the time, your sectionals come with fixtures that connect the pieces and keep them from breaking up or the entire couch sliding around. And since there are so many ways to arrange it, these couches come in many different designs and materials.
Most sectionals are huge, considering they make for more than one piece. And accordingly, they take up some space. But you can also get smaller sectionals and arrange them in a way that they don't clutter the room. These sofas usually come in L and U shapes.
These things have been around since the Victorian era although back then sectionals were quite basic in design. It was more like two little sofas that were pushed together to make a bigger one. Today, it's a whole other thing.
2) Slip-Cover Couches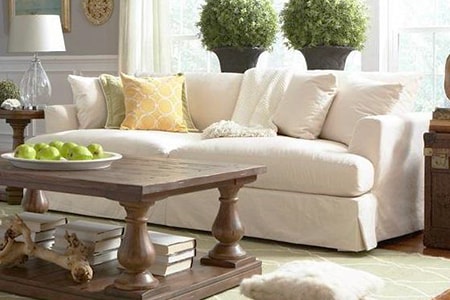 If your house is designed in the farmhouse or cottage style of interiors, this one's for you. A slip-covered couch comes with a removable cover made of cloth or fabric.
Its purpose is to protect the upholstery of the couch while making it easy for you to clean and maintain the sofa. The cover gives you a relaxed and comfortable look while keeping the surface safe from messy children or pets.
This design is also great because you can opt for white upholstery without having to worry about maintenance. You can also pick fabrics like cotton duct and twill for the cover.
Another advantage is that if you have a rotation of throw pillows and covers, you can change the entire look of the room without having to get new furniture. This is a great design that is affordable and easy to take care of.
3) Bridgewater Couch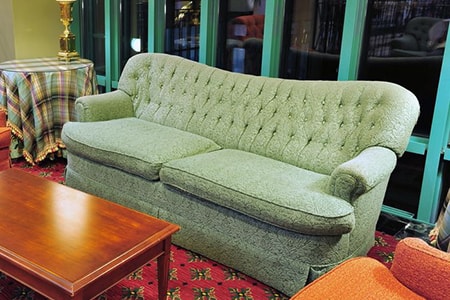 This is a couch with a simple design and a modest scale. It's often said that you can't go wrong with this design. That's because it features low arms, often rolled a bit to the side and a back that is softly rolled.
Add a tailored skirt to that setup and there you have it. A pretty sofa that's made for your comfort while you binge hours of content. As is the case with most designs today, it can be easily customized with two or three cushions to give it a casual look.
This design is also said to be friendly towards patterns—floral and stripe. Bridgewater couches are also great at blending with the rest of the decor. So, if you are looking for a standout piece of furniture, this is not your guy.
When it was first made popular, it was referred to as the English three seater and featured a rolled back with set-back arms and padded loose cushions. And yes, it had the tailored skirt to hide the legs of the sofa. But contemporary designs feature exposed legs too.
The idea of this design is to not overpower the rest of the decor like some of the other English designs. The Bridgewater is a great choice for those who want a three-person couch and like to keep the same pieces of furniture for a long time. It is casual, comfortable and versatile in terms of design.
And the best thing perhaps is that you can use any neutral fabric like velvet and rayon for a traditional look. That way it looks elegant but does not clash with whatever else in the room is your dominant piece of decor.
4) Camelback Couch
This is a sofa that's distinguished by its arched back, exposed legs, and scrolled arms. You know... like a camel. This is quite a popular shape for sofas and was introduced by the legendary Thomas Chippendale in the 18th century.
Over time, its shape has been upgraded with slipcovers and specific types of upholstery fabric that matches the 21st century. The couch itself has an upright structure and a signature high back which means this is not for you to casually lounge on.
You'll also find two arches on the back which proves once again that it's for a formal living room. This design has been around since the late 1700s and was very popular among the British aristocracy.
The camelback was considered an elegant design and the tight upholstery and shaped seat were a bonus. In fact, if you look closely, some models have claw-and-ball feet Queen Anne style.
Some of the modern designs also have just one or two humps and feature bold, graphic prints. These types of couches may seem old but they have their place in modern times.
5) Chesterfield Couch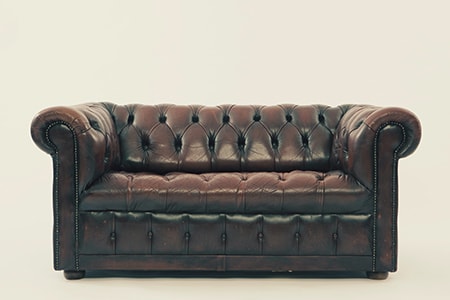 This is a hunky variety with high arms, diamond-tufted back and arms. It's a wraparound design with a deep seat that makes it cozy and well suited for families.
But remember that this couch takes up a good deal of space and design wise, you're going to have to give it some thought as to how you would balance the space with the rest of the furniture.
These styles of couches are quite popular for their quilted and tufted style. While some couches have the tufted style on the seating section too, some others feature it only on the back and the arms. The latter is a popular trend with other designs too.
This design was originally made in the 18th century after it was commissioned by Lord Philip Stanhope, the fourth Earl of Chesterfield since he wanted something for gentlemen to sit upright in. Well, you found it, sir.
6) Tuxedo Couch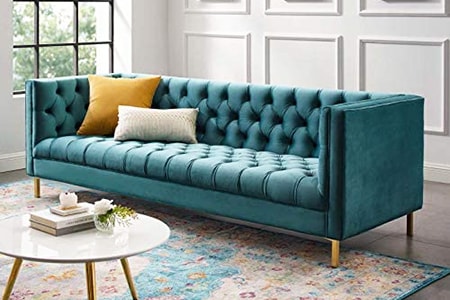 This fancy-sounding name is symbolic of a sofa with high arms and a back that cuts straight across. A lot of people don't find it comfortable (not unlike some tuxedo designs) because it has a little recline at the back.
But like a tuxedo, it looks pretty classy and fits just fine into design styles that advocate straight lines. This design is also applied to chairs and loveseats because of its popularity.
The design itself was born in the 1920s in the Art Deco movement, unsurprisingly, in a rich New York enclave in Tuxedo Park. So, you see where the name comes from.
Like the Chesterfield design, this couch also has arms and back which are at the same height to create a boxy look. If you're looking to make it modern, skip the tufts and add some cushions. It will give it a relaxed look.
7) Settee Couch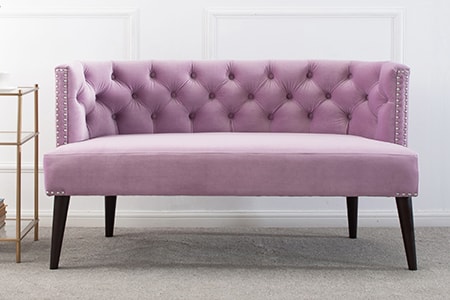 This is actually more of a wide chair and design wise, it is quite close to a loveseat, except settees have always been narrower than loveseats. This is another design that many find to be uncomfortable because they look like wide chairs that look like they belong in the dining room, except for the arms.
They are known for their classic look and charm. They are often thought of as a great fit for a foyer. But you can almost never seat even two people on these couches. In fact, you might want to look for petite settees if you don't have too much space.
Nevertheless, these are like scaled-down sofas that look great in a bedroom or office or any place that could use a big-ish chair.
8) Loveseat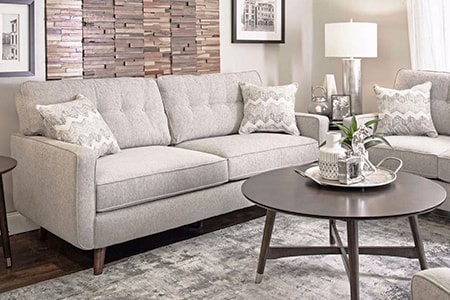 If you're looking to make your living room as cozy as possible, or especially if your room is smaller (and that's why they call these "apartment couches"), you can opt for the loveseat style. They contain generous space for two people, typically a couple (which is why they're called a loveseat!).
They sit as high and have deep seats so you have all of the room wanted to cuddle, pull your legs up, or even invite the pet to hang out. They're ofter arranged with other types of couches in an L-shape to help the furniture arrangement.
The loveseat is kind of like a contemporary version of the settee. It actually started as a seat for one, particularly ladies with large and fluffy skirts, and slowly evolved into what we know today.
9) Cabriole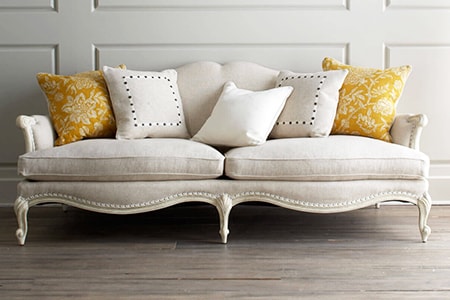 The cabriole couch isn't seen often these days, but they're very classy and upscale. They exude a sense of romance due to the curvature of the lines and decorative portions of the wood. If you have a room you want to be elegant, enchanting, and sophisticated, you want one of these!
10) Divan Sofa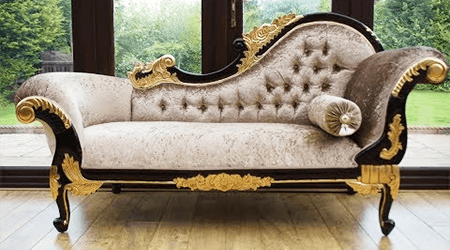 The divan couch types come from Persia and are very similar to the cabriole above and the chaise lounge below. Typically, they are pushed into a corner so the back and a side are against the wall.
The wooden frame can lift the mattress-like seat higher or was often removed and placed directly on the ground. You can think of them as an early prototype of the sleeper sofa and consider them one of the bed alternatives.
11) Chaise Lounge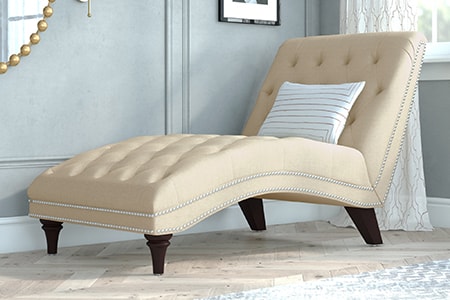 The chaise is similar to other couch styles on this list, but this one is more akin to a daybed mixed with a very comfortable and thick cushioned chair. The name actually means "long chair" in French but these couch shapes originally come from Egypt.
A chaise always will have a back in order to provide the reclining capability, but sometimes they have zero, one, or two arms. Typically you see these in rooms like a master bedroom these days.
Though they may make you think of wealth and aristocrats, they were commonly featured in psychologists offices in the Victorian era, called "fainting couches". These are, in my opinion, the coolest types of couches ever made.
12) Recamier Sofa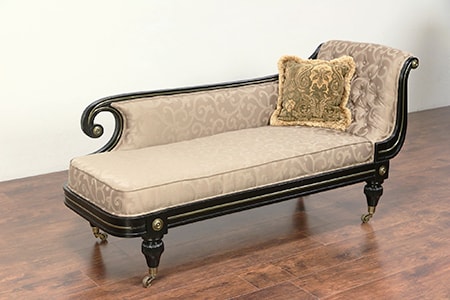 Like those above, the recamier couch can be used to seat multiple people or for one person to lay down on. Typically, they won't feature a back but will have two scrolled arms with pillows to help fill in the curvature when reclining.
13) Futon Couch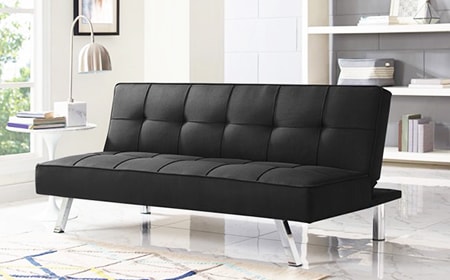 These Japanese styles of couches are popular around the world for their minimalist styles. During the day they function as couches. In the evening they can be tilted back and turned into a bed. The futon cushion can also simply be moved to the ground for a more sturdy and traditional surface.
Your typical fold-out or pull-out couch that has a bed in it, as we all know, has the worst "mattresses" if you even want to call them that. Any types of futons are superior in every way among the mattress alternatives.
14) Lawson Couch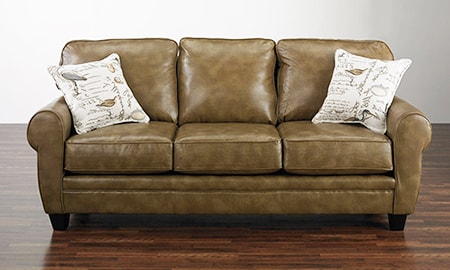 Very similar to the English roll arm couch, the lawson is all of that but with straight lines. The arms aren't curled, the back is straight, and all of the other typically more squared off. It features loose cushions that you can remove to clean under or search for the remote.
15) Rattan Couch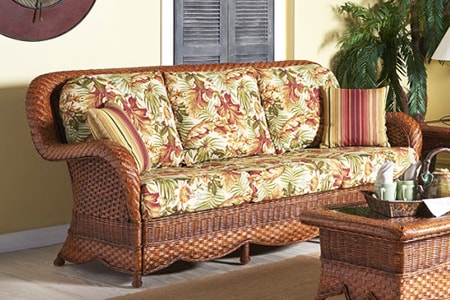 The most popular types of couches for outdoor areas are rattan couches. They're made from the wood of the rattan plant and are incredibly sturdy and durable, as long as you don't place too much pressure an any single one of the woven branches. I broke some as a kid, for sure.
Depending on the rest of your decor, these can look elegant and striking or relaxing, casual, and tropical. They can withstand the outdoors weather and sun and are perfect places for a meal or morning coffee.
16) Curved Back Sofa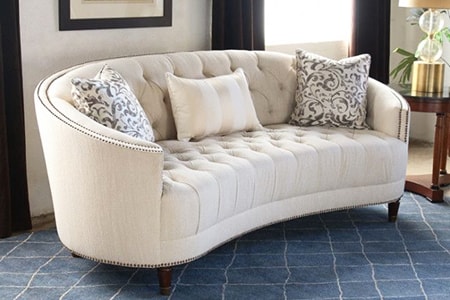 A more modern and friendly couch shape is the curved back sofa. The curve refers to the roundness of the back, which makes it better suited for being placed in the middle of a room instead of against a wall.
What's nice is they turn the people seated on it towards each other and a focal point and are great for inspiring conversation to occur when you have guests.
17) Mid-Century Modern Couch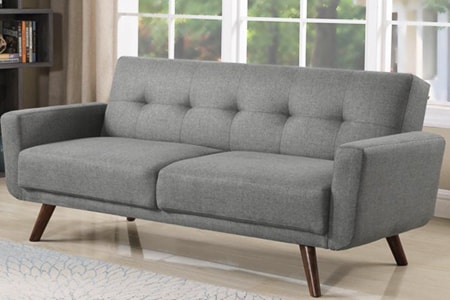 The mid-century modern couch displays all of the decoration trends you'd expect from between the 1930's and 70's. It's sleek, it's minimalistic, it's got plenty of straight and clean lines. The seat back and cushions are all tufted with buttons. It still looks great today.
18) Daybed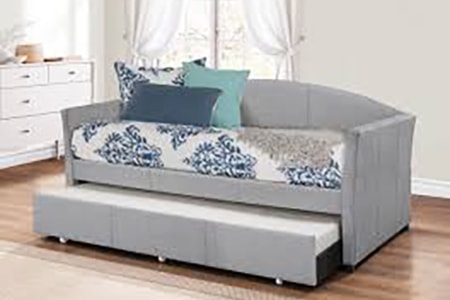 Some may call the daybed one of the couch alternatives, but it's still classified as a couch. Unlike other similar couch types above, these have two arms (most of the time) and a back. They also often have storage beneath them, either in a sliding drawer or with the seat raised up like a trunk would open. These are weird types of couches, but couches nonetheless. You'll just need some help to decorate your daybed like a couch.
19) English Rolled Arm Sofa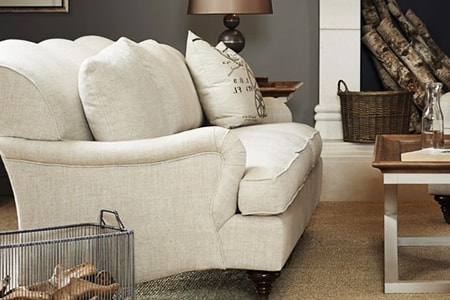 Sometimes called the Club sofa, the English rolled arm couch is often touted as "the forever style" in the sense that some interior decorators think it always works and always will, never going out of style. Whether or not I agree with that is another story.
It does have a lot going for it, particularly being able to be seen as casual but also as elegant and stylish. The deep seats, the upholstry, the low arms... all of these features show why it's still around even since the 1800's.
20) Knole Sofa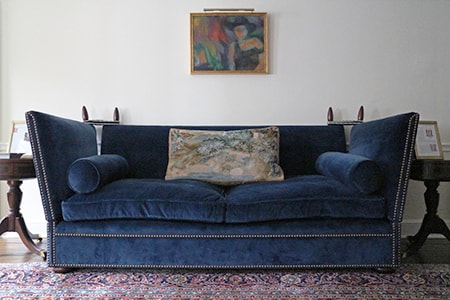 What makes the knole sofa a unique couch design are the tall backs that lack too much cushion. Like the pillow backed sofa below, it's meant to be accompanied by throw pillows to help bring some color and style to the design.
The tall backs and sides make it very feel inviting, safe, and private. The thick seat cushions make you never want to get up once you plop down into it. They're a favorite for an afternoon nap, so if you succumb to that frequently, buyer beware!
21) Pillow Back Sofa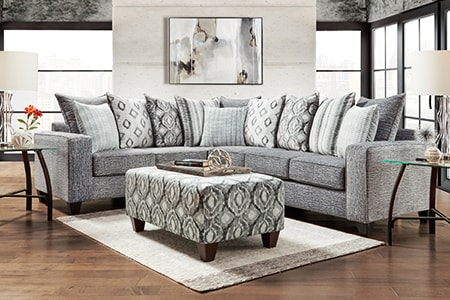 The pillow back sofa is very much like the knole couch above in that the tall back and sides lack much (if any) cushioning in them at all. They come with soft pillows designed to fit the back for you to lean into.
They aren't molded to uniformly fit, but are supposed to be fluffy and are allowed to be repositioned however you like.
Did You Choose Your Favorite Types of Couches & Sofas?
There are many other types of couches in the market. Some of them are hybrids of the models mentioned here. Some are improvisations of the vision these models presented. Some are small and many are gigantic. If you have someone deliver a giant sectional up two flights of stairs, then you should consider tipping the furniture delivery guys!
For instance, a house with chipped finishes invites a deconstructed sofa with a ton of throw pillows to celebrate the raw look. But we did cover the main options and a bit more above.
In any case, whether your design demands a scaled-down version of a sofa or a chunky one, there is no shortage of couch types on the market.
While some folks like to get their furniture reupholstered, if you're not on a tight budget, you will find something that matches the rest of the decor of your house rather effortlessly.
And thanks to the competitiveness in the market, you can pick any of these types of couches and designs and get them customized to meet your specific needs.
You'll Also Enjoy: