14 Types of Wall Paneling to Design Your Decor Style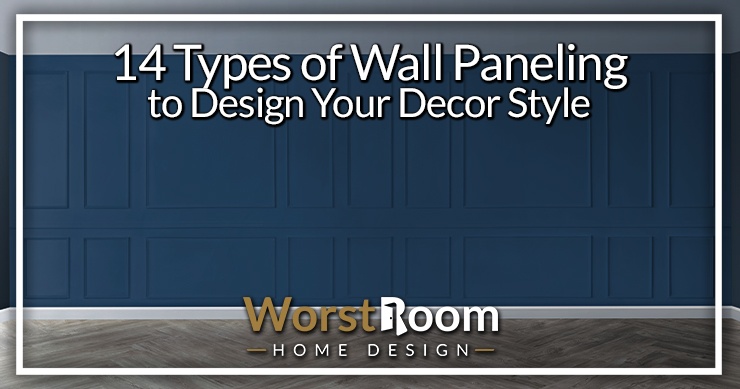 Did you know the original purpose of siding panels was to insulate the building? Today, that's not so much the issue with modern insulating materials taking care of this issue. Rather, all the types of wall paneling serves an aesthetic purpose, establishing the home's design motif.
14 Types of Wall Paneling
Modern siding comes in a range of materials, not just wood. Here are 14 types of paneling for walls in homes and businesses so you can design any types of walls you'd like to create the aesthetic your heart desires..
Natural Wood Panels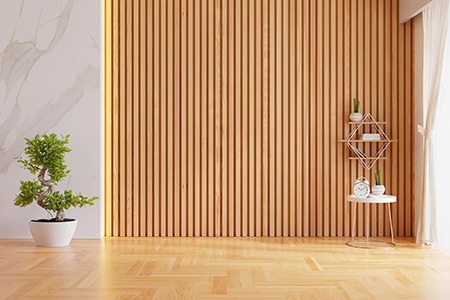 Wood is the classic choice for wall panels. It's versatile and comes in several options, including oak, cherry, cedar, and many other hard and softwood variations. There's something about wood siding that adds character to a room, bringing with it a unique décor motif that's traditional, awe-inspiring, and cozy.
Wood paneling offers natural insulative properties to the home, cooling it in the summer and trapping warmth during the winter. Wood panels are a significant investment for your home, but worth the money when you see the result. Considering the energy savings and how they offset your electricity costs, they are well worth the financial commitment to decking out your home with this material.
Wood panels enhance a room's acoustics, bringing a sense of privacy to the space. There's next to no maintenance, and wood panels last a lifetime with the proper installation and care. Wood isn't a great choice for sustainability, but several manufacturing brands claim they only use responsibly-sourced wood for their paneling products. It's the ultimate in paint alternatives for walls.
Medium-Density Fiberboard Wall Panels (MDF)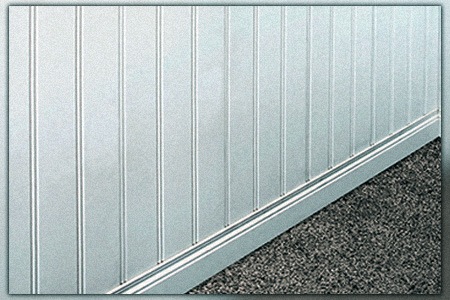 While wood is the classic choice of vintage wall paneling types, faux-wood MDF panels offer a more affordable choice while retaining the same design aesthetic. These drywall alternatives are a highly durable material bringing all the same insulative and acoustic properties of wood to your home at a more economical price point.
This recycled product is environmentally sustainable and available in several designs and colors. The smooth and consistent surface contrasts the unique structure and feel of the wood, but at a glance, it's challenging to see the difference if you don't know what you're looking at.
MDF is easy to adhere to or drill into walls, but it will crack if you place it under extreme pressure and stress. However, for all its advantages over wood, it does absorb moisture more readily, making it a mold risk.
If you intend on installing MDF types of wall paneling in a DIY job, ensure you have respiratory protection. The chemicals used in the manufacturing process make it prone to causing issues if you breathe it in when cutting or trimming the material.
PVC Wall Panels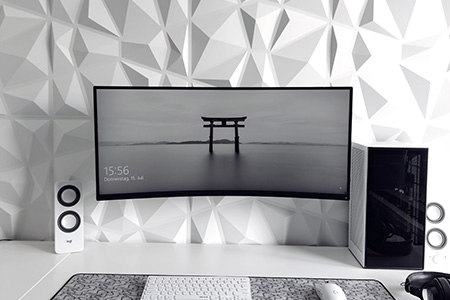 PVC panels are common in industrial locations. It's very cheap, consisting of construction with food-grade materials. So, it's no surprise that it's a top choice for commercial installations. They look a bit bland but offer excellent functional properties and good insulation for any room.
PVC is easy to clean and lasts a lifetime, even in high-traffic applications. This material is impact-resistant and holds up to moisture and chemical exposure without sustaining any damage. PVC panels typically come with a tongue-and-groove installation system, making them super easy to install and cutting down on installation time. The result is a seamless look that's clean and attractive.
Fabric Wall Panels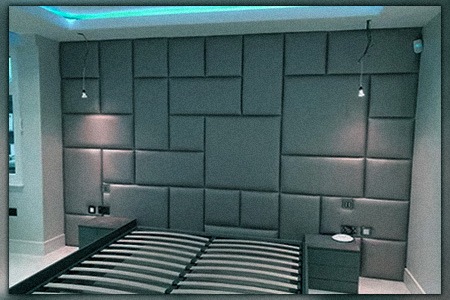 Fabric wall panels are great alternatives to wallpaper or painted walls. You get a soft, cozy look that's chic and somewhat retro. Fabric paneling is easy to maintain, but it's not very durable, and there's always the risk of it sustaining tears that ruin its aesthetic. There are all different types of wall panels you can get in fabric, but they really have a 70's and 80's feel. If that's what you want, then by all means!
Typically, manufacturing brands use 20% to 40% paper woven with polyester to create this lightweight, attractive panel option for your home. While it's not very durable, it's easy to replace and an environmentally-friendly choice. There are options available in silk, linen, and synthetic fibers.
Board-and-Batten Wood Panels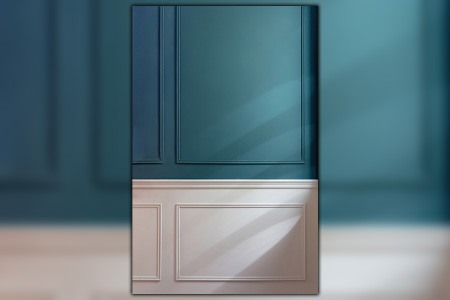 The board-and-batten types of wall boards combine thinner strips and wider boards, creating "battens." The result is a distinctive 3D pattern that's highly unique and sought-after in homes. The design also allows for seamless installation, creating a clean finish that's easy on the eyes.
There's no standard sizing for battens, but you have plenty of options to create any look, including a horizontal board structured in a grid pattern for a unique visual that's very striking. Battens require custom manufacturing to your specifications, so you won't find them as an off-the-shelf item available in stores.
Chipboard Wall Panels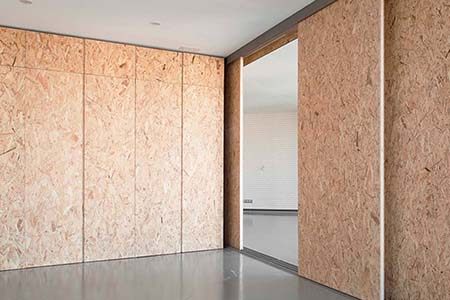 Chipboard, also known as particle board, is another affordable option, usually suiting commercial applications. While PVC is the better option, the low cost of chipboard makes it attractive. Chipboard manufacturing involves compressing thousands of wood chips using adhesive under a high-pressure process. The result is dense but lightweight boards that are easy to move around.
However, chipboard isn't very durable and is known for crumbling in corners and along edges. It's widely available for home DIY stores and commercially produced, and the low cost makes it an attractive option for sheds and outdoor areas. If you want the best chipboard panels, we recommend using the laminated variety of these types of wall paneling for extra strength and durability.
Tongue-and-Groove Wood Panels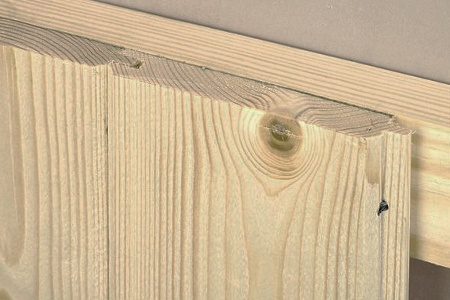 This type of interior siding for walls usually features design and construction with shiplap. Like the PVC installation we covered earlier, it offers simple installation. However, the wood creates a more pleasing design aesthetic for residential applications.
Instead of using rabbets, like traditional wood panels, these boards fit with a tongue-and-groove joint interlocking the boards. You get a clean look and a tight fit. However, unlike PVC, shiplap tongue-and-grove panels take a bit longer to install and cost much more than the plastic variety.
Raised Wall Panels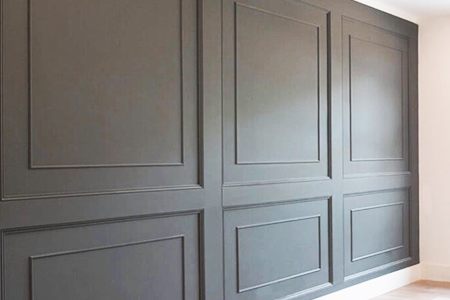 Raised wall styles offer a beveled, elevated panel framed with moldings and rails. These panels create a classic colonial design aesthetic that's easy on the eyes and a great alternative to wood panels for residential and office applications.
While the central panel usually features a design with MDF materials, and it doesn't adversely affect its overall look. When painted, it blends in with the surrounding wood elements.
Shiplap Wood Panels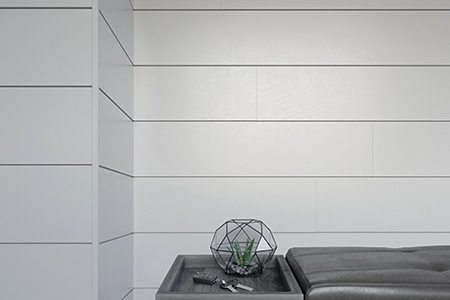 Shiplap wall paneling styles are a popular trend in residential and office paneling jobs. These panels feature flat boards and overlapping rabbet joints. A rabbet joint describes an installation system featuring a flat groove manufactured into the board's edge, allowing a snug fit.
However, there's a small gap between the boards, also known as a "reveal" in the industry. This gapped look adds rustic appeal to the design aesthetic. Depending on your design preference, you can install shiplap panels horizontally or vertically.
3D Wood Wall Panels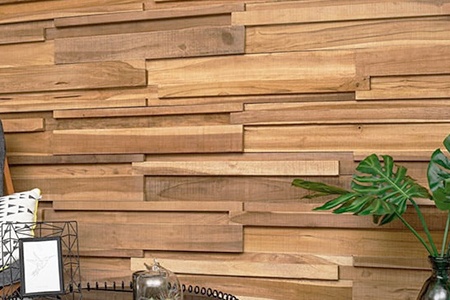 While most of the panels described so far, with the exception of battens, offer a flat, 2D look, 3D panels come in a range of designs for a unique look. They feature an irregular pattern in the thickness and of the boards.
As a result, the wall has an impressive visual design, making it a good choice for rooms where you want to create something different in the aesthetic effect of your paneling installation. These types of wall paneling are a bit more challenging to clean and harder to find a replacement for if one experiences damage.
Beadboard Wood Panels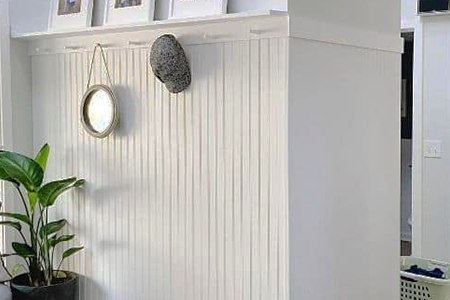 Beadboard is another traditional wood panel that's fairly common in siding applications. It features narrow wood strips with a small "bead" between the boards, creating a ridged effect in a vertical orientation. Beadboard features in "wainscoting" applications, but is different, and is used in the installation's lower three to four feet.
It's an excellent choice for walls featuring chair rails or other wainscoting borders. Beadboard wall panel styles offer installation as large sheets and individual boards with beadboard patterns mounted to the exterior.
Pallet Wood Panels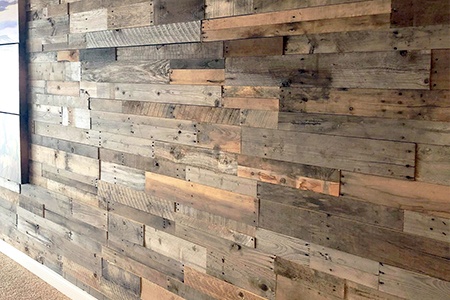 Pallet panels are part of the "reclaimed" wood trend circulating the internet. These wall paneling styles offer a rustic finish with an unfinished design aesthetic that looks great in residential applications. You can choose raw, treated, or painted pallet boards and finished or unfinished options.
The panels have uneven widths, making for a more challenging installation. However, it looks great when finished. You can get pallets from dealers or go past a shipping yard and pick up broken pallets they don't want to save on your project costs.
Vertical Thin Wood Slat Wall Panels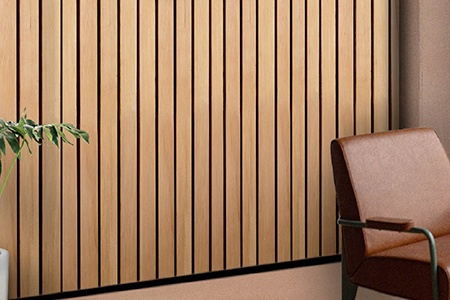 If you dream of a retro 70s look for your wall panels, we recommend you go with vertical siding. This aesthetic isn't for everyone, but it's a great choice for art and music studios. They feature a design and construction with genuine thin wood slats and are remarkably easy to install.
We love the look of these panels in a contemporary home, and they offer easier installation since they're thinner than traditional wood panels. You have options for pre-finished or raw panels, allowing you to customize your finish. The vertical lines can make a small room seem taller and larger, too.
Textured Gypsum Board Panels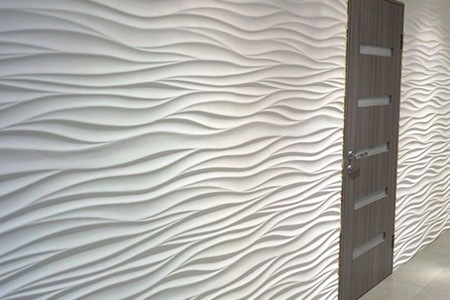 These panels feature a non-combustible gypsum core, featuring a paper backing, front, and edge. Some gypsum boards also feature fiberglass to make them sturdy and durable. Some people know gypsum boards as "plasterboard" or "drywall." There's many types of drywall boards you can use.
They're great in a range of installations and very versatile for use in residential and commercial applications. You can think of them as default wall board designs in which you can build atop. But you can also get them with interesting textures on the surface, too.
Depending on your needs, gypsum boards come in various sizes, including 8, 10, or 12 feet. You can cut the panels with a carpenter's knife and paint them any color, design modern drywall textures, and much more.
Types of Wall Paneling for All Interior Design Styles
As you can see, if you want to move away from the basic drywall on your interior walls, there are plenty of options to choose from. All of the above types of wall paneling can set the foundation for a brand new atmosphere and aesthetic in your home or business building. It's much easier to get this element right first and then bring in additional pieces of decor to compliment and build upon your idea.
You'll Also Enjoy: