How to Make Your Living Room Cozy - 27 Ideas to Max Out Comfort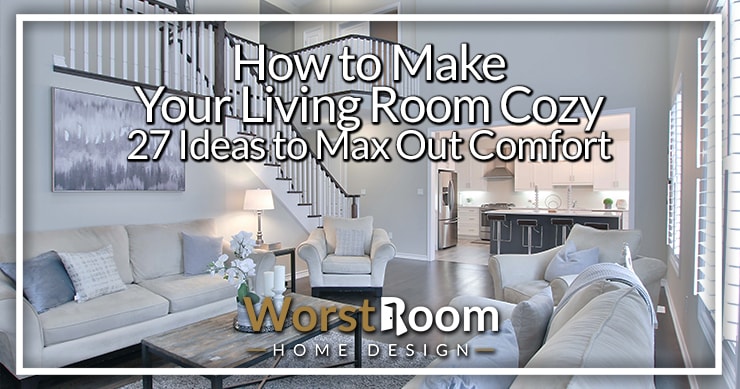 Knowing how to make a living room cozy isn't some special knowledge afforded only to interior designers. Follow these easy-to-use principals and you'll have the most welcoming room in existence.
The living room is the center of your home – the heart of the house. In the majority of homes, it's the most used room by far. You, your family members, and visitors spend the most time here and it gets the most foot traffic, too.
Making your living room cozy means making it welcoming, comfortable, and warm. No matter what style of decor you choose to follow, you can easily succeed by applying as many of our cozy living room ideas as possible.
So many people will be using this space for relaxing, chatting, watching TV, or warming up in front of the fire. Satisfying different people at various times is difficult, but thankfully the concept of cozy is more or less similar for everyone.
27 Cozy Living Room Ideas
Skim through these ideas one at a time and see which you can quickly apply. Some may take a little more effort and time, but there's plenty you can do right now as well.
1. Two-Tone Walls & Accent Walls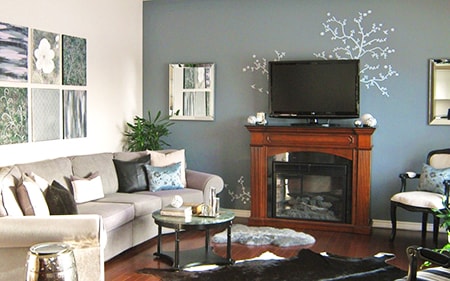 Painting one set of walls (those across from each other) in a warm and soothing color gives your living room a snuggly atmosphere. Consider painting the other set of walls a different but complementary color so you have two tones in the room.
Another option is to create an accent wall where you only paint one of them in a darker color. Painting a room entirely in a dark color is going to dull the room out. Doing it to only one wall will make your room look bright but cozy as well, anchoring the room away from the entry doorway.
2. Comfy Oversized Ottomans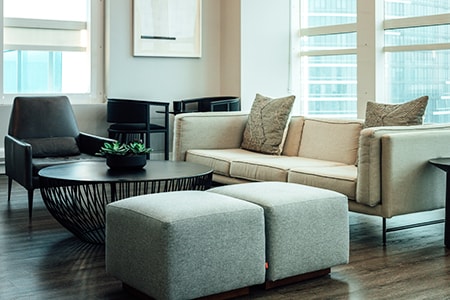 An oversized ottoman adds so much more enjoyment and comfort to your living room. Ottomans are great for kicking your feet up, and you can also place a tray on it to allow it to double as a coffee table. Ottomans are one of our suggested coffee table alternatives.
If you only have room for an ottoman or a coffee table, opt for the ottoman with a tray for when it's not in use. You can place your TV remotes, drinks, and magazines on it. And you can still have side tables next to your couches and chairs.
3. Sprawl Out With a Big Sectional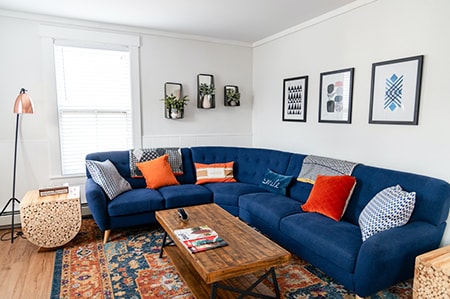 If your living room is large, then a sectional is the best way to use up the extra space. Every living room needs a sofa or couch, and no other option shouts coziness and comfort more than a big and comfy sectional. It begs people to come and sit and even lay down across them.
Place it away from the walls, in the center of the living room, facing the fireplace or TV. It makes your seating area intimate and welcoming, inspiring fun conversation. If you don't have room for a sectional, check out some other couch alternatives. If you can't go big, go fluffy and soft. Just remember to deodorize your couch every once in a while.
4. More Light Equals Calmness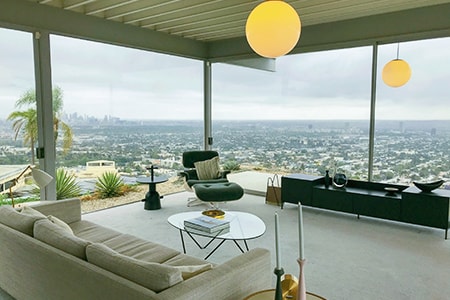 No matter how much you decorate your living room to make it look cozy, if there is a lack of light, it will still look and feel shabby. Nothing is more uninviting than a dreary room, so light it up, even with candle alternatives! If you're so inclined you can even have additional windows cut into the walls.
Make sure that your living room is getting enough natural light. Open the curtains first thing in the morning or when you're expecting some company. It'll lighten up even the smallest of places. In the evenings, close the curtains though, because feeling secure and private matters more at that time of day.
5. Intimate Seating Brings Us Together
If you have a living room that's not big enough for a sectional, arrange smaller single-seat couches and love seats or whatever other types of couches you have into an intimate circle so everyone is facing each other.
If a mantle or TV is the main focal point, you can still turn the seats halfway towards the each other while a part of the now semi-circle open for the fireplace, etc.
6. Colorful Throw Blankets Add Pizazz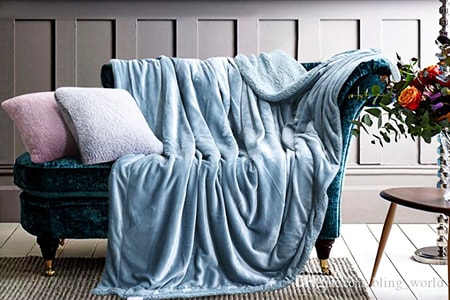 What says more homeliness and warmth than some fuzzy throw blankets draped around your couches and chairs, ready for use at any moment? Nothing that I'm aware of.
Having a couple of throw blankets or other types of blankets around makes the feel very inviting and casual, like you're allowed to put your feet on the couch, etc. The guests can feel the coziness glowing from the area, beckoning them in to relax.
Just choose the right colors! You can choose subtle colors with unique and complex textures or simple designs with bright (but warm) colors. Your guests will feel comfortable and relaxed, especially when the weather gets a little cold, at your place. Just make sure you know how to get rid of static on blankets.
7. Bookshelves Bring Confidence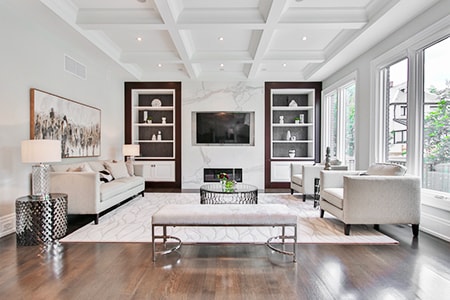 Adding a whole wall of books (or load them up with decorative trinkets) to your living room makes it look warm and creative. Books are home in and of themselves to most people, and they make them feel cozy. Imagine a cold winter morning, a cup of hot chocolate with your favorite book, wrapped up in a throw blanket sitting on your sofa
There is no scenario more perfect than this. And that's the imagery your guests will conjure up in their minds. If you are a book lover, then add your personality to your living room and invite others to take a look. Books are a perfect conversation starter.
8. Photos of Family Exude Friendliness
Your home should speak for itself that it's yours. Adding pictures of the family makes your space a little personal, and anyone visiting you will feel like they are welcomed with all the warmth, as these pictures will show them that you're letting them in your little personal space.
We recommend having family photos in frames on side tables and on the book shelf where they can be picked up and handled. It's more intimate and it keeps your wall space open for options we mention further down.
9. Warm Lighting Temperatures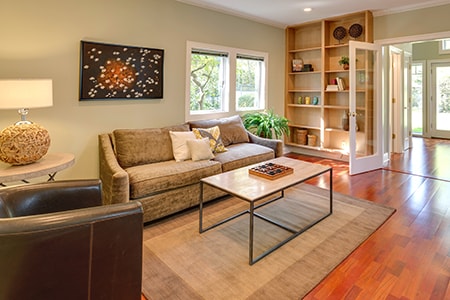 You can't keep your curtains or shade open forever. Usually, in the evening when it gets dark you'll want to cover up the windows with shades so you feel a sense of security and privacy. But now it's too dark.
There is a simple solution to this problem; you can light up your living room space with overhead lighting or some lamps' warm lights. Place some types of floor lamps and table lamps near the seats. Lamps will make reading and working easy for you in the living room.
The warm lights will add to the cozy atmosphere of your place, so make sure you're choosing "warm colors" in the range of 2700 K - 3000 K. The K stands for Kelvin and is a measure of "color temperature".
10. Personalize Your Living Room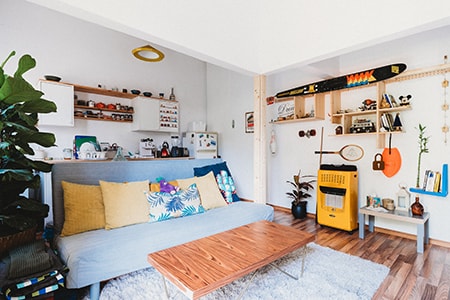 The people visiting you and you, yourself, are going to find the living room cozy if it showcases your personality. Filling it with things you enjoy makes such a huge difference. It's one place you don't want to practice minimalism. Think about the opposite of minimalism as maximalism and go maybe halfway that far.
A living room is a significant part of your home, and it must reflect your style. So take out all your favorite collection of items, and arrange them nicely on the shelves. Your guests are going to enjoy checking out things you are passionate about.
11. Rugs are a Must for our Feet & Eyes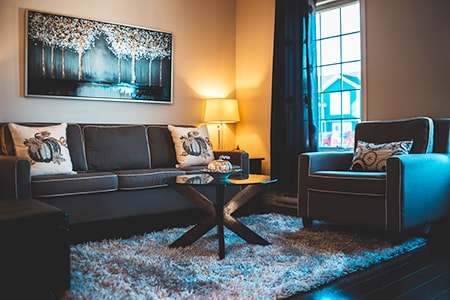 Most modern houses these days have hard wood floors or even cold marble tiles. They look elegant, but they certainly don't showcase any warmth. They're actually cold to our feet and eyes.
Add in a warm colored (go for a darker color) rug under the center of the room. The larger the better, with an elegant pattern. We recommend a short pile rather than a fluffy rug that will gather crumbs and pet hair and can't be vacuumed. Here are 9 types of rugs to help you figure out what you like.
12. More Throw Pillows!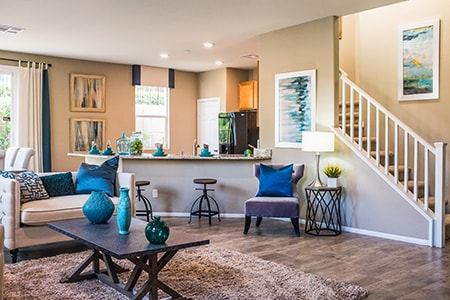 Pillows will add the needed comfort and pop of color in your otherwise dull living room. Adding pillows to your sofas is an excellent way of making the space warm and welcoming. One look in your living room and people will fall in love with the comfortable seating arrangement.
This also gives your guests something to do with their hands. Everyone loves holding a pillow in their lap, twirling it around, and feeling the textures when it's not their turn to speak. It makes us feel youthful as well.
13. Add Some Color Pop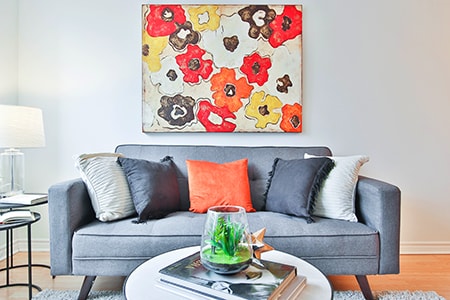 Add a pop of color around your sofa in the form of cushions, pillows, curtains, or rugs. Make sure that the colors you use pop out like yellow pops out in a white setting, royal or berry purple pops out in lighter color schemes, etc.
By doing this, you're diverting the attention from the height of your living room to the seating area where all of the action is. It also stops the room from being bland and boring, which causes tension and a desire to do anything else but sit there. It makes people want to leave the room, which is the opposite of cozy.
14. Plants Feel Inviting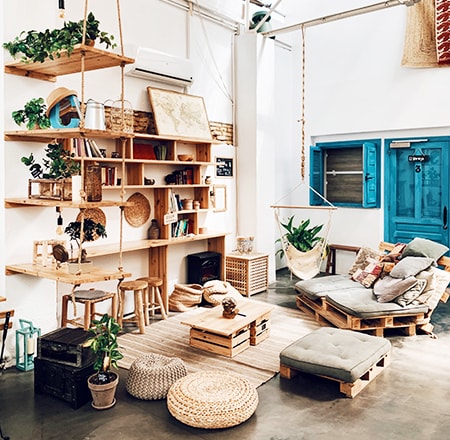 If you want your living room to look extraordinarily cozy and warm, add in tall plants. These tall plants are an excellent filler for the corners and vertical spaces of your house. Plants in your living room look and feel inviting by adding a touch of nature. Don't over do it, either, though.
I'd recommend using fake plants so all you need to do is dust them occasionally. If you want living plants, a good option is growing one of the types of ferns in wall mounted containers. They're resilient, don't make a mess, and always reminds us all of our mothers and grandmothers that always kept them around.
15. Flowers Add Brightness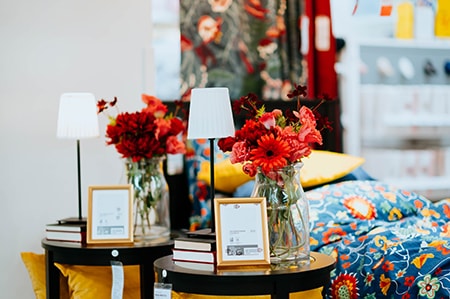 Flowers can brighten up your place like nothing else. Pretty flowers are a mood changer and can light up the spirit of anyone. You can either use fake flowers, pictures of flowers, or real flowers. Our vote always goes to the artificial flowers as being the most appropriate for most people.
In this case, I'd recommend having them on the outskirts of the room in various types of vases where people can see them and enjoy the affect they have on the atmosphere, without analyzing them and reminding themselves that they aren't real.
16. Rich Textures are Relaxing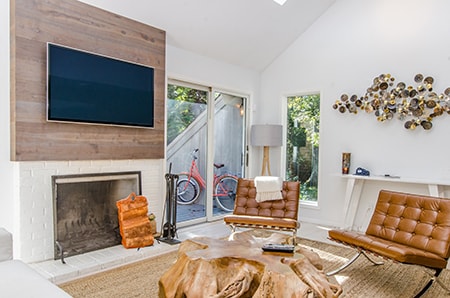 You probably already have your living room somewhat decorated and slightly cozy. But you're missing something you can't quite put your finger on. The quickest way to transform your room is to start spreading dashes of rich and complex textures around the room.
This means not only patterns within designs or colors but also complicated fabrics. The perfect ways to do this is through your use of throw pillows and blankets, lamp shades, curtains, and wall decorations. Be mindful of your color scheme as you do this.
17. Wood Puts Us at Ease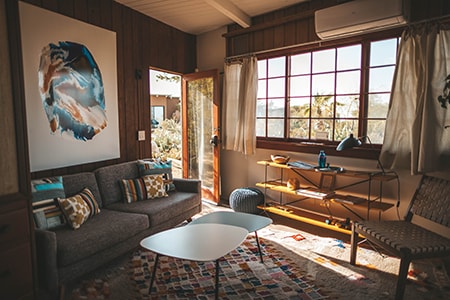 Using natural wood in a room that may otherwise be all synthetic leather and drywall can really bring a piece of peace back to a room. Wood is organic and puts us back in touch with nature, especially with the visual and acoustic effects it adds to the room.
You can achieve this through wood flooring, ceiling beams, or having an accent wall made out of planks. The options are endless. Your side tables, coffee table, and bookshelves can be made out of natural wood. You don't have to overdo it, but enough of it tips the color balance to the warm side.
18. Round Corners are Welcoming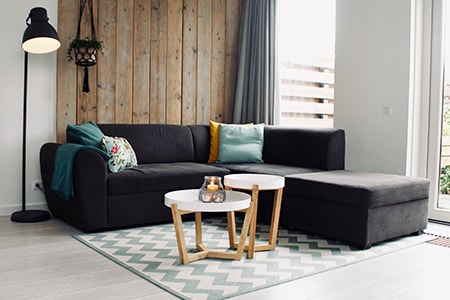 Hard and sharp corners on any furniture can feel threatening. They set us on alert as if there is risk around us. Relax yourself and your friends by choosing items that have rounded off edges and soft materials.
This is a very subtle, psychological thing but it's very real and makes a big impact. It's why we focused on it in our bedroom feng shui tips. Even the ancient ones knew about it, and of course it still matters today because we are still human.
19. Aim the Seats at Each Other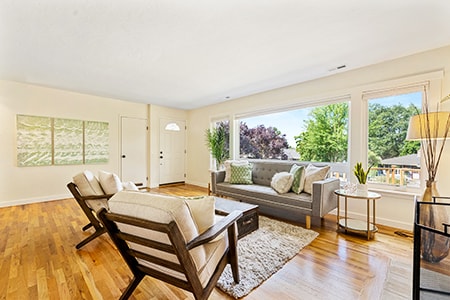 Arrange your furniture in such a way that the seats form a "conversation circle." If all of the seats are equidistant from the center (usually an ottoman or coffee table) then everyone will feel welcomed to enter and exit the conversation at any time.
This is all about feeling welcomed, casual, laid-back, and relaxed. You can leave a portion of this circle open and have that open part aimed at the fireplace and/or TV so you don't need to rearrange the furniture and people can multi-task.
20. Fireplace as a Focal Point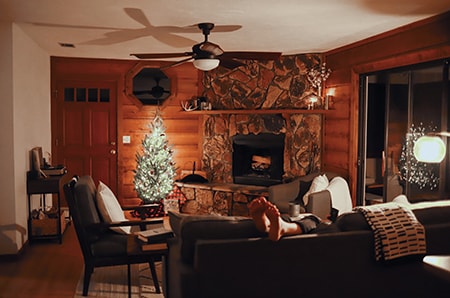 When going for cozy, especially in the winter months, having the fireplace as the focal point of the room is incredibly relaxing. What we don't recommend is having a TV placed on top of the mantle because it's typically situated way too high and draws away from the beauty of the fire.
With a fire lit up, you often don't care about anything else. You're content to sit there quietly, hearing the fire crackle and pop as you watch the flames dance, perhaps with a hot cocoa in one hand and a book in the other.
21. Big, Bold Artwork is Cozy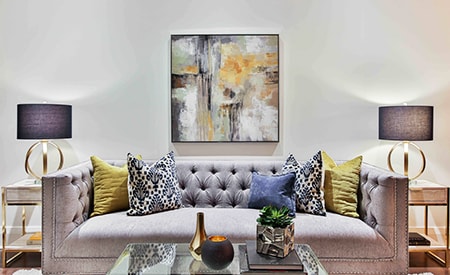 Using some large-scale artwork, paintings, or photography is a great way to open up a window into another world. If you choose the right landscapes, colors, or creatures to be represented in this art, you can absorb some of the warmth and comfort they exude out into your room.
Think about a nice sandy beach with a white wire fence and grass blowing in the wind with the ocean in the distance. Or a view of a flowing wheat field with a giant oak tree and the sun setting in the background. These are great, comfortable scenes you can bring into your living room.
22. Add a Ambient Floor Lamp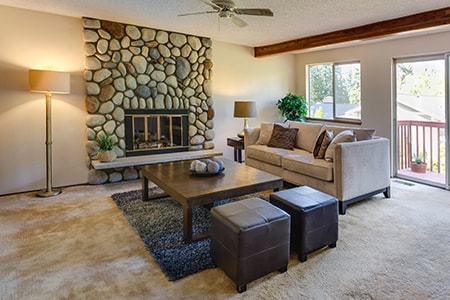 We already talked about using warm color temperatures. Combine that with a floor lamp that lights up the whole space with an ambient glow, and you're creating magic. Floor lamps can also fill up any empty space in the room that you're not sure how to use otherwise.
It can be used to pop some color into the room, with both the lamp shade and the color of the base itself. It can also just blend into the background. Whatever you need or want in a certain area, this can fill the role.
23. Textured Paneling Adds Richness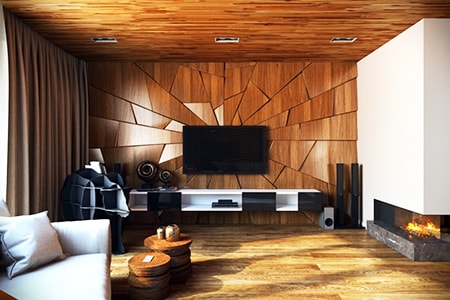 You can use any of these drywall alternatives to bring some textured paneling into your room. You can use natural wood paneling, have cork board where you can pin photos to it, or basically anything to offset the wall and make it a bit more three-dimensional.
Anything wall with texturing also serves to scatter the light and sound throughout the room so you get less bright spots or reverb in the room. We always recommend wood to bring some nature and warm brown colors into the room.
24. Console & Side Tables Let Us "Have Things"
You should provide plenty of console tables next to each seat so your guests can have drinks and snacks around. They can empty their pockets if they'd like and have their belongings close to them.
Even if they trust everyone in the room, they still feel more secure if it's within arm's reach and line of sight. If you want to really make a good impression, each table could have a phone charger ready to be used.
25. Floor to Ceiling Curtains Feel Secure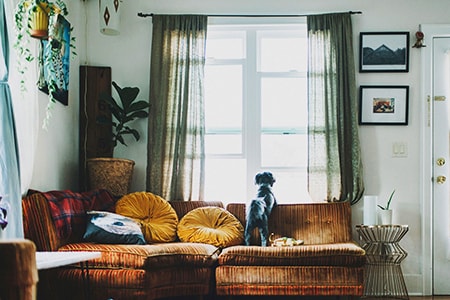 Any windows in the room can have floor-to-ceiling curtains to be pulled closed in the evenings. As we've mentioned, that helps you to feel secure, but the types of curtains you choose can be purposeful to bring in more textures, colors, and designs. Some ask if you should have blinds or curtains in your living room, and I say curtains due to the comfortable aesthetic.
The main thing is to choose them based on appearance and for their ability to provide privacy so that at night time everyone feels like they're safe in the room and intimately together without any prying eyes.
26. Add Quirky Conversation Pieces
An example of a conversation piece would be some kind of trinket passed down from your grandmother. Everyone will ask you about it, which can lead to a quick story about this item. Then you invite them to share stories about their grandmothers, and so forth.
Not only do they create reasons to keep the conversation flowing, but they're entertaining in their own right. If you have enough of them, your guests will feel like coming into your living room is an adventure of rich story telling, exciting escapism, and the love of family and hobbies.
27. Don't Be Minimalist in the Decor
This goes along with the idea above. Have as many conversation pieces, photos, artwork, and books as you want. Whatever you want to cram into your living room, do it. The more the merrier, especially if it's personalized and important to you. You can even go "maximalist" if you like it.
There's a concept of when a "space" becomes a "place" and that only happens by you creating experiences within it. So you need things to interact with, especially things that make the room yours and nobody else's. You can overdo it though. Just don't be too sparse.
That's How to Make a Living Room Cozy!
All these ideas are tried and tested in households across the planet. They're simple, and the real challenge is simply becoming aware of them so you can use them, which we've solved.
Make sure not to cramp up the room with everything all at once. Take your time; figure out how you can add your personality to your place. Every thing in the room needs to find it's right place and gain some history behind it.
That's how to make a living room cozy... by living in it with your things and creating special memories.
You'll Also Enjoy: