10 Wallpaper Alternatives to Bring Your Walls to Life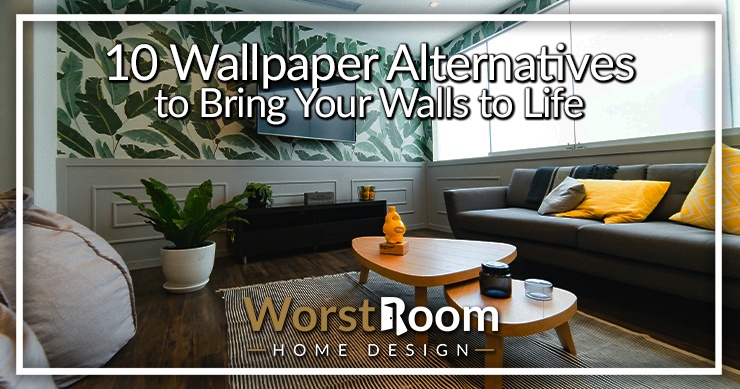 Are you thinking of giving your walls a new look? The idea of opting for wallpaper must have crossed your mind. But wallpaper isn't a very practical option if you're thinking for the long run, which is why you're looking at wallpaper alternatives, and rightly so.
Once you sign up for wallpaper, it's not going to be easy to turn your back. We've categorized some amazing alternatives to wallpaper that are much easier to work with and provide excellent results. Keep reading to find out more about them.
10 Wallpaper Alternatives
Looking for some unique ideas for decorating your walls? Here are some options that you can try. For other ideas you can check out our list of paint alternatives as well.
Book Pages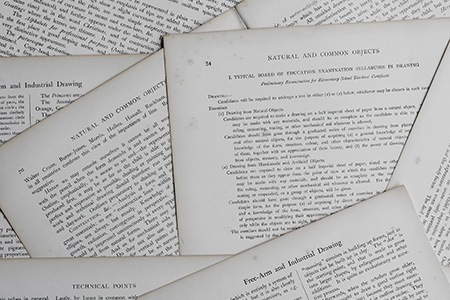 A unique way to cover your walls is by using book pages, preferably the old and faded ones. It brings a vintage vibe to your room and makes it look ethereal. Especially during the morning or noon, the bright light makes the wall look exquisite.
If you're an avid reader, this wallpaper alternative could create your dream wall. And the best part is, it's completely safe for your walls. You don't have to worry about wall damage like wallpaper, and you can remove them anytime.
It is an inexpensive process and requires minimum tools. Besides, with so many book pages around your room, you can always find yourself reading from them. Overall, it can be an interesting experience for you.
Old Maps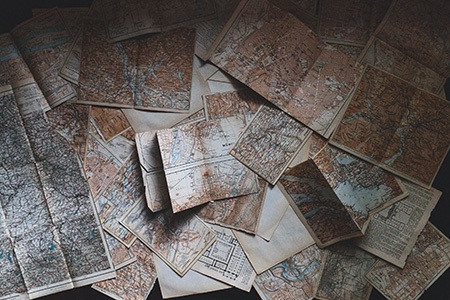 Are you a travel enthusiast by heart? Well, there you go Old maps can be the best wallpaper substitutes for you.
Even if you don't have old maps lying around your home, you can simply buy them in bulk from second hand stores or simply print them out3 Old maps can turn out to be excellent wallpaper alternatives. They look artistic and make the room look very dreamy.
You can learn a lot about different cities and geographical locations from these old maps. You can mark the areas that fascinate you and look up on the internet to study more about them. Ultimately, you will never get tired of "devouring" your walls.
Sheet Music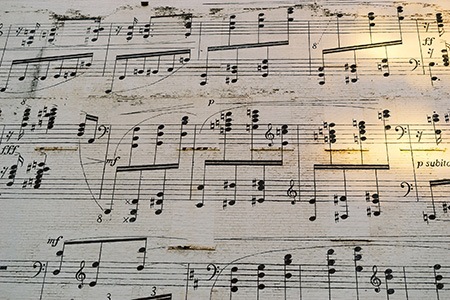 If you're looking for a very unique alternative for covering your walls, you can try choosing sheet music. You can find sheet music in plain white or black colors and even colorful ones from Pinterest.
If you're thinking of learning an instrument or some music pieces, this can be a useful hack for you. With all your music sheets on the walls, it can offer enthusiasm and a strong spirit to you.
Even if you're not thinking of taking music lessons, sheet music can still serve as interesting wallpaper substitutes for your room. You can try covering your walls in colorful sheet music or even in monochrome ones to bring a new look.
Besides, you can splash colorful paints on your plain music sheets using toothbrushes or by flickering the bristles of flimsier types of paint brushes. Later you can put the sheet music on your walls, and it can look unique.
Framed Prints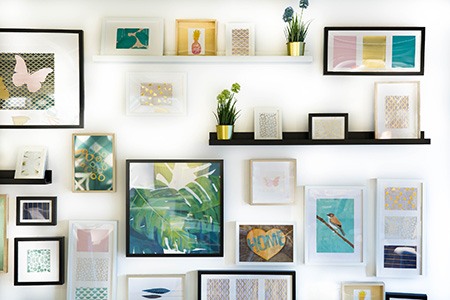 A popular method of decorating walls, especially among the young generation, is by using framed art prints or paintings. The reason why this method is so popular is that it's very easy and fun. It can make your walls look very creative and unique.
You can try going for frames of a single color or mix and match frames of different colors. If you're into fandoms like Harry Potter, Game of Thrones, Friends, DC Comics, Marvel Universe, etc., you can use framed posters according to your preferred theme and fill your walls.
You can also try getting ideas from Pinterest to decorate your walls. If you love quotes, fashion inspirations, artistic images etc., you can print and frame them to put up on your walls as wallpaper alternatives.
You can also print color palettes, famous paintings, popular artists, actors, etc., and frame them in different colors to bring a new and innovative look to your walls. If you ever get tired of your current framed prints, you can also change the prints, and your wall looks different every time.
Stencils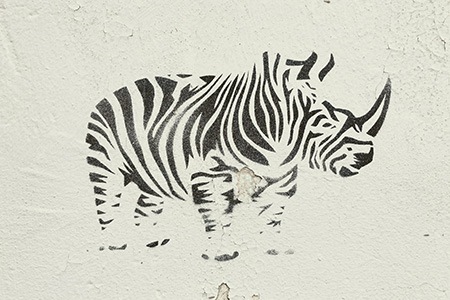 One of the most stylish ways you can transform your boring and dull walls is by stenciling them. It might be a time-consuming process, but the results are brilliant Plus, there are tons of designs to choose from and they can be applied to any types of drywall.
You can pick out stencils of colors and patterns in accordance with your room and furniture. It can look very splendid, and your guests will admire them too. As alternatives to wallpaper, stencils are very ideal and can look the same if done carefully.
You can try stenciling on all four walls or just stick to one wall. Another fun way you can try is by using stencils of similar color tones and different patterns on all four walls to create a more diverse look. This can be a fun way to decorate your room.
Since it consumes a lot of time, you can get it done if you have 4-5 people to help you out. You can try doing t alone, too, if you're willing to commit to a few hours a day. It can turn out to be a fun experience for you if you're done with school work and getting bored at home.
If you want it done more consistently and quicker, you can use a stencil roller, which is a type of paint roller. You can move a lot faster that way but it does get tricky going from line to line and making it match up.
Wall Decals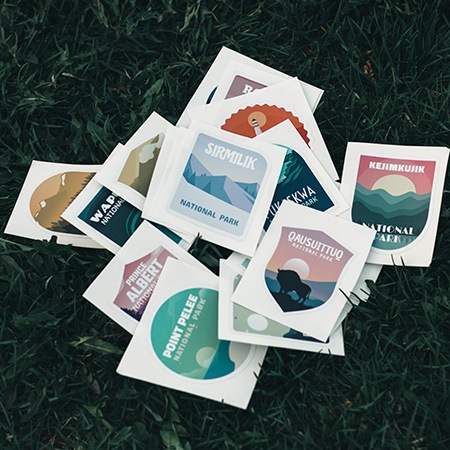 Another fun way of covering your walls is by using wall decals. Wall decals are usually temporary, and you can always change them when they've been around for a while. Your walls will feel brand new every time you change the decals.
Besides, wall decals can be lifesavers when you've got a big stain on your wall, and it won't go away. You can pick wall decals of different colors and patterns to cover your walls.
Moreover, you can try picking decals with impressive quotes and pictures to add a more stylish look to your walls. Using word decals as wallpaper alternatives has become a very popular choice in many homes in the past decade.
Since wall decals are temporary, you need a lot of time or labor to put them up and remove them. Just make sure that the decal is properly aligned at the time of applying it, with no bubbles trapped inside. And you're good to go.
You can even find companies that will print a single, high resolution image on a giant sticker you carefully apply to the entire wall. In this way, your entire wall can become one of your favorite photographs.
Chalkboards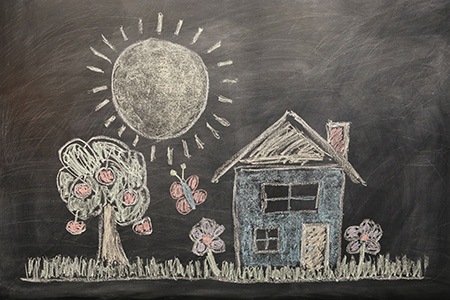 A smart way to cover your walls is by using chalkboards. You can fill your entire wall with a large customized chalkboard, or you could use large panels of chalkboards to lay down in segments like types of wall paneling.
Either way, this can be a creative way to cover your walls. You can fill the chalkboards with some random doodles or write some beautiful quotes from your favorite books or movies.
If you're an artist by heart, you can draw some fun pictures to add more creativity. You can also scribble equations and formulas if you love science. And the best thing is, you can always remove the doodles and add more whenever you feel like you need a change.
Besides, if you're someone who forgets things easily, you can just pin down notes on your chalkboard. It could be a to-do list, a mini calendar with important dates marked, or some random useful notes.
Fabric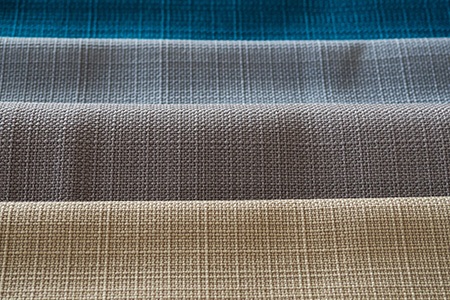 Looking for a unique alternative to wallpaper for covering your walls? Try using fabric for a change. Although the idea seems bold, why not give it a go and see how it turns out?
Most fashion enthusiasts love putting fabric on their walls since it gives a very smart look to the walls. You can cover your entire wall with the same fabric or mix and match between different patterned fabrics – whatever works for you.
Try sticking to neutral color tones and simple patterns rather than going for bright and flashing colors in your fabric wallpaper alternatives. You can use liquid starch for easy and effortless application on the walls.
The end result is brilliant, and no one would guess that it's fabric unless they see it up close. It will almost look like expensive types of wallpaper, and the best thing is you can always replace the fabrics from time to time.
You can find involved tapestries you enjoy and stretch them across the wall and tack them down so they stay flat. I'd recommend finding tapestries or types of bed covers that are large enough to cover the whole wall, but you can also tack them to a moveable panel if you choose.
Washi Tape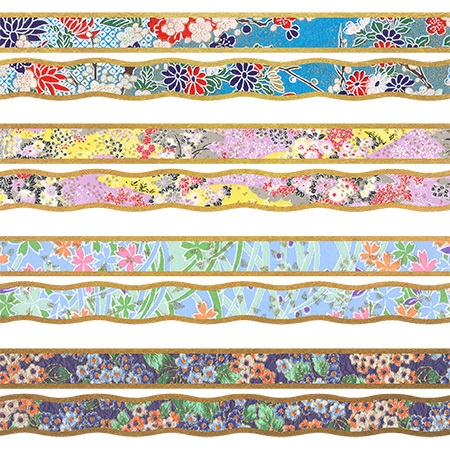 It doesn't have to be washi tape although you can find tape with decorative prints on them. That's why we don't recommend painter's tape or other types of tape. Washi tape typically will have black and white or colorful repeating patterns on them, like simple diagonal lines, for instance.
The advantage of this is that you can keep a uniform feel in your room as you tape the wall. We don't recommend covering the whole wall, but measuring out distances and creating another bigger pattern that covers the whole wall.
You can do this through the entire room though that may become visually overwhelming. Washi tape may stand out too much, so consider only using it as alternatives to wallpaper on an accent wall.
Write on the Wall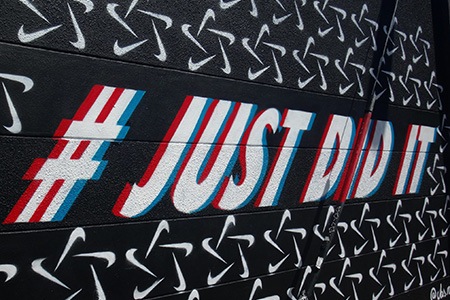 If you have a steady hand and pretty cursive, it can look really nice for you to take your favorite passage out of a book and transcribe it on the wall. Start in the top left and work your way across, and then move down to the next line, just like a sheet of paper.
If you run out of words, you can continue on to the next part of the book or simply repeat the same passage from the start. The choice is yours! You could leave a secret message at that point if you wanted, which is always fun.
Artistic people can just as easily draw out a landscape scene, or a bustling city skyline, or anything else you would enjoy seeing in your room. You can go full color but it's often better to use one color and just go for outlines of shapes.
Wallpaper Alternatives for a More Unique Wall Decor
With our suggestions, you can pick the best wall treatment for your home and enjoy creative wall designs every once in a while.
As you can see, there are countless wallpaper alternatives for you to try. From paper to fabric, you can try various fun and colorful methods to cover your wall. And the best part is that they're all temporary – which means you can always change them for a new wall look.
You'll Also Enjoy: