Unfinished Garage: Why & How to Finish the Project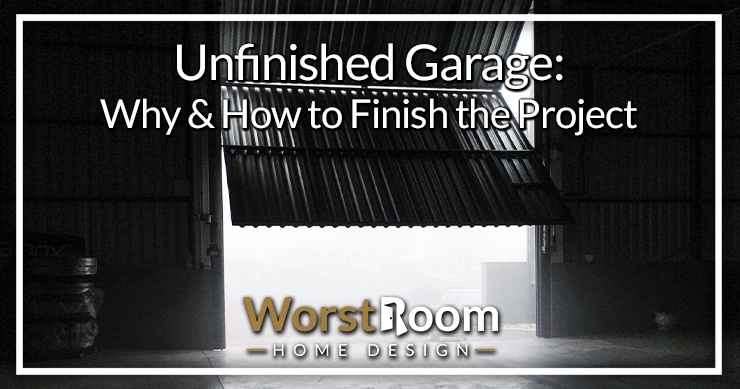 Have you just moved to your new home? We know the whole process is as messy and scary as it sounds. And doing the whole thing entirely on your own is next to impossible. So, how would you proceed, then? Well, a huge step closer to an organized home is systematically completing the unfinished garage.
People keep talking about dealing with bathrooms, kitchens, and floor renovations, but not about unfinished garages. So, here we want to show you the measures you must take to get your unfinished garages done too. Let's wait no further and binge on.
Reasons & Benefits of Finishing an Unfinished Garage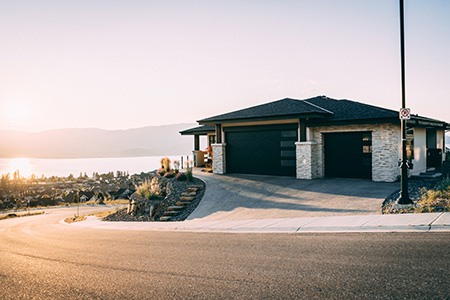 Before going through any of the garage decorating methods or steps, we want you to know the reason why you should do this. So, here, in this section, we'll tell you all the reasons and benefits of a perfectly finished garage.
Personal Satisfaction
Check out the results of some polls and surveys performed by some research groups and magazines:
Wall Street Journal once ran a survey that said 89% of homeowners were dissatisfied with their unfinished garages and want to fix it up.
Garage Living ran a survey that concluded that 20% of garage owners have such a mess in there that they can't even park their cars in the garage.
Chamberlain Group performed a study found that 55% of people that own a house use the garage door as the main entrance.
Impulse Research ran a poll that said 24% of homeowners are too embarrassed by the mess to leave their garage doors open for the neighbors to see.
Imagine walking through dirt, dust, dead bugs, and spiderwebs every time you leave or enter the house. You may not have to imagine it... We should treat our garage as another room in our home, not as a nasty attic or basement to store things in.
Extra Space
One of the most significant reasons to finish a garage is to save Space. When you clean up a garage, you can discover the space you have. Once you move in storage shelving and cabinets, and hang tools on the wall, move boxes to hanging racks, suddenly the floor space opens way up.
We all have a bad habit of storing garbage in the garage, but getting rid of it all will surely give you extra space. It takes discipline after to not start collecting junk again in there, though.
General Cleanliness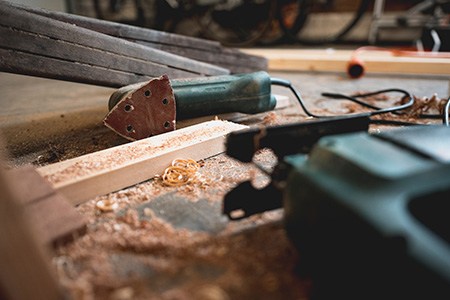 An unfinished garage simply means dust, pollution, molds, mildew, moisture, and increased temperature around the area. As a result, your family would get deprived of a healthy atmosphere and clean air circulation.
These molds and mildew will bring in several diseases and viruses, and you simply won't want that to happen. However, with a finished garage, you will feel light and comforted by seeing a clean and well-organized garage where you properly planned out your garage ventilation options in advance.
Property Value
It might be far away in the future, but if you ever plan on selling the house, a finished, decorated garage will drastically increase the property value. Every home buyer expects to buy a garage, but seeing an unfinished mess can actually be even more of a negative.
The reason is that the buyers then have to consider the money and time it will take to have the garage finished. Not only will it not boost your property value but they may negotiate down due to these costs.
Realtor.com ran a survey that said that the most desired feature in a home (38% of respondents named it the top concern) was having a sizable garage. People want to park their vehicles out of the weather and have room to work on home projects, store tools, and more.
Have a Functional Space
With the right types of garage doors, you can do a lot to make your garage more comfortable. You can have TV's, WiFi internet connection, refrigerators, a security system, and more. You can treat it as a woodworking or DIY space to work on projects, or you can turn it into a home gym.
I have a neighbor who turned his garage into a man cave and invites the men over to play cards and watch sports on the weekends. The options are many once you're organized. You can often have any of the above options while still parking your cars in the garage, too.
Smaller garages might require you to pull your car out into the driveway first and then move some items inside the garage around to get set up, but that's totally fine. It's better than not having the options to use the space at all.
The bottom line is that your garage should look as nice as the rest of your home so there's a seamless transition from one room to the next. That's why the next section here is all about getting started with cleaning out your garage.
Cleaning Tips for an Unfinished Garage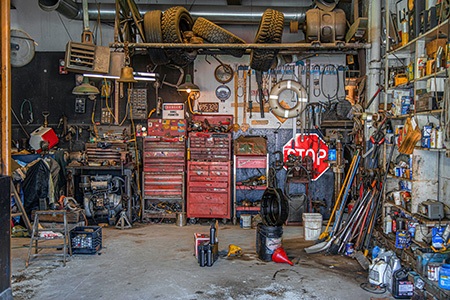 Before even thinking of a flawlessly orchestrated garage, you must plan on cleaning the garage thoroughly. This is the first step to having the types of garages you see in those beautiful pictures of finished projects. So let us show you some easy yet productive tricks on how you can make your garage shine.
Clear Up the Space
For starters, you need to clean all the crap and messes that aren't supposed to be in the garage. You can't deny that we tend to use the garage as a store room, especially for seasonal sports equipment. First, take those out and put them back in their actual places.
Storing extra and unnecessary stuff in the garage will take in a lot of space and eventually create a mess you can't ignore.
A great system for starting is to have 5 big boxes or plastic containers you can place items in. Label them for each of the following purposes:
Trash
Recycle
Dispose
Move
Donate
The 'dispose' container is for items like used oil containers or batteries that can be recycled but need to be taken to special waste collection centers. The 'move' box just means that you can take the items into other rooms where they can be more appropriately stored. Getting extraneous belongings out of your unfinished garage is the first step.
Tidying Up
Take a broom and start with dusting. While dusting, keep the doors and windows closed to avoid airflow. Once you're done, let the clean air in to refresh the entire environment. Clean the dust off of and align the garage door sensors while you're at it.
After sweeping the dust and dirt, get a bucket of warm water and add half a cup of baking soda and a cup of detergent. Scrub the floor using the solution and a hard mop or broom. This will keep the floors clean and shiny as new! Finally, let the floor dry and trust me, you would simply love the after results.
For tough stains, you can use hydrogen peroxide. It isn't harmful to plants or even to your flooring.
Grease Elimination & Crack Repair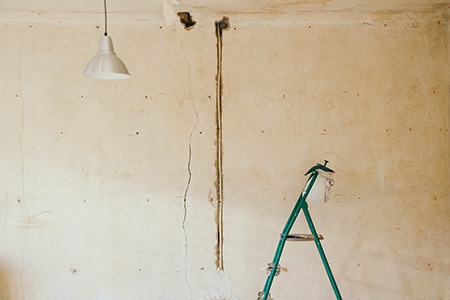 Vehicles and lawnmowers you store at garages make the garage floor slippery and greasy. Mostly, lubricant from oil drips is the main reason behind this, though sweating garage floors contribute to the problem.
For soaking that slippery layer out of your floor, clay cat litter is very effective. Start with applying a thick layer of that. However, keep in mind that the coating would need a minimum of 24 hours to sit to take out those greases.
The next day, you can sweep it up and give a regular wash with warm water, detergent, and baking soda. Once all this is done you can consider any garage floor crack repair that needs to be done. If you're going to paint and seal the garage floor, this is a must first for a flat surface that will stay that way.
Cleaning Mold
Mold, moss, moisture, and mildew are the last things you want in your garage. And sweeping or even regular washing is never enough. So, the best possible solution you have is to kill them.
For that, grab a spray bottle and make a solution using hot water, white vinegar, and hydrogen peroxide (two drops). Mix them well and then start spraying the areas. Scrub them off thoroughly and finally rinse them and let your floor dry.
Once you have this cleaned up it's important not to allow items back into the garage that can contribute to the problem, such as birds nesting and doing a number two up in your studs somewhere. Here's tips to get birds out of your garage and keeping them out.
Insulating Your Garage
Before you have the unfinished garage walls finished in terms of installing panels with slots to install racks to hang tools, and things of that nature, you should really consider the pros and cons of insulating your garage first. If your garage isn't insulated yet, and you already don't have drywall up (meaning you have exposed wall studs) this can be a relatively cheap and easy step to take now.
You'll find you'll have a much more steady and comfortable temperature in your garage to work on projects, treat it as a home gym, or hang out with your friends in there. It can help reduce the electricity usage in the rest of your home, too, assuming this is an attached garage we're talking about.
Professional Finishing
Cleaning the whole garage might be tiring at times, and it can even get impossible, especially if you're tight on schedules. So the wise thing to do is to lock the cleanliness. Now the question is, how are you going to do that?
Well, after cleaning the garage and removing the stains, you should consider applying a professional sealant to the floor. While DIY brands do not last over two or three years, a pro sealant will protect your floor for over five to six years.
It's hard to believe that home builders will go through the entire process of construction, then not finish the garage, and then have the audacity to describe the home as "completely finished". We shouldn't have to settle for that.
Seasonal Garage Cleaning Tips
If you live in a colder region, you must check the downspouts every once in a while during winter. This is because the lower temperature might damage the overall area.
During rainy days, try to stop rainwater from entering your garage. It's recommended that you check rain gutters and if you find any leaves or debris there, clean it off immediately.
Autumn leaves can invite molds, mildews, and moisture around the dwelling. So it's better to clean them beforehand.
The Broad Strokes of Finishing a Garage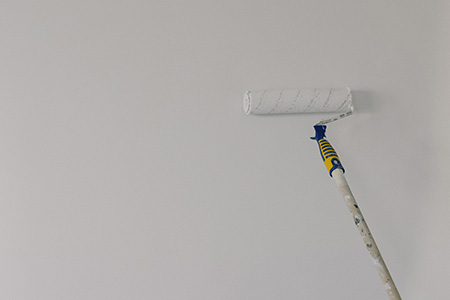 Decorating the garage should be done according to your budget. If you have a decent budget, we suggest hiring a professional and renovating the floor and unfinished garage walls.
However, some common aspects go with every garage as it moves from unfinished towards organized and beautiful and these aspects can help you decorate the broad strokes first to create a proper home for your vehicles and storage.
Painting
Start with getting the garage interiors painted. It's recommended that you don't use more than two colors to give the whole Space a classy look. Usually, grey and white or even black and white themes go really well with garages.
Cabinets & Shelving
Install some cupboards to give your garage a finished, organized, and firm look. The best option would be to go for wall cupboards; they're space-saving and look neat too.
Using the ceiling and walls for cupboards and storage racks appears pretty elegant and stylish. So, instead of hanging equipment on the wall, put them in the cabinets safely and systematically.
But as you fix up your unfinished garage walls, you'll install shelving and slotted types of wall hooks that help you reclaim so much more useable surface area. Getting all of your tools, especially the big ones or the ones you use most often out of tool chests and against the wall will give you more floor space too.
Space for Vehicles
If it fits your budget, consider installing car space divider racks to specify the areas for different cars. Regarding budget, arranging an air conditioning system would be another astounding step for your garage.
Install Bright Lights
Install as many bright lights as you can for the garage. White tubes, in many cases, would make the room brighter. If you want, you can also get pretty paintings and a TV to make your garage appear even more aesthetic.
Things to Consider When Organizing the Garage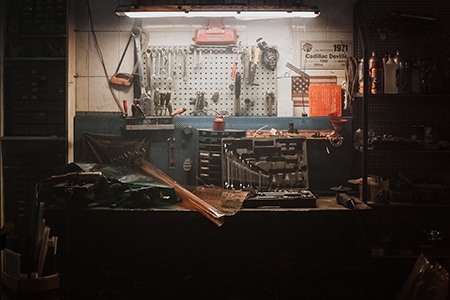 There are some things that you need to be careful about when it comes to organizing your garage. "Put it in the garage for now" this is a big no-no sentence for you from now on.
You need to understand this first, your garage is meant for vehicles and other vehicle appliances, not for garbage and unnecessary stuff. Here're a few more additional tips that'll surely come in handy.
Sweep your garage with a broom at least once a week.
Keep the windows open in sunny weather.
Don't let rainwater or dust enter your garages.
If possible, keep kids away from the garage during play time.
It's not hard to keep a garage clean and organized, as long as no person, animal, or nature is coming in behind you and creating a mess.
Monetary Value of a Finished Vs. Unfinished Garage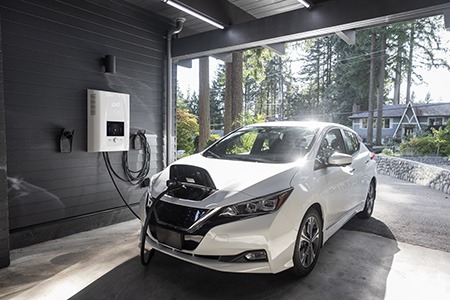 A finished garage is the latest and updated version of an unfinished one that increases the outlook and value of your overall house attire. So, without any further ado, let's dive into the differences between a finished and an unfinished garage.
Finished garages are stylish and advanced with a lot of facilities. In this way, a finished garage attracts clients more than an unfinished garage in today's roughly competitive market.
A finished garage gives you a lot of extra space and can even count in the total square footage of livable space in your home. However, unfinished garages require a lot of space and even waste a lot of your money.
The fact that finished garages save a lot of energy and work. The unfinished garage does the opposite. It drains a lot of your energy and even deteriorates the overall value of your home. It can even benefit your appliances, such as a freezer in your garage in Summer not having to work as hard.
An Unfinished Garage is Only Steps Away From Being Finished
It's definitely pretty stressful to own a messy home; however, finishing the garage will take you closer to living in a house that needs no modifications.
So, after going through this blog, we hope it's pretty clear why you need to get your unfinished garage to a destination of completion. However, you can still consult a professional to aid you with your work in getting your garage done.
You'll Also Enjoy: