13 Types of Desks to Match Your Productivity & Preferences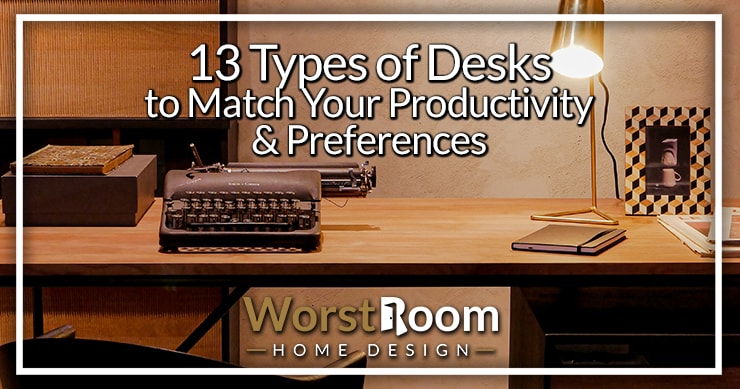 There are types of desks for every task. Whether you're writing, doing craft and arts, using a computer, or needing an all-purpose work space, you can find what you need. The right choice can effect your productivity and enjoyment, big time.
As it turns, a cluttered desk may not always be the sign of a genius—it could just be a sign that you're using the wrong desk for your purposes. There's no discounting the fact that a good desk can make life and work much easier. But how do you get yourself a good desk?
Well, to get a good desk, meaning one that perfectly fulfills your need, it's important to know the different types of desks and what they're best used for.
Knowing your escritoire from your credenza will also ensure that you don't have to fit your activities around the wrong desktop size and space; though their purpose is pretty much the same, not all desks are created equal.
13 Types of Desks
If you just scratched your head at the words 'escritoire' and 'credenza', you're in the right place! From armoires to credenzas to the humble writing desk, here's a lowdown on the different types of desks.
Writing Desks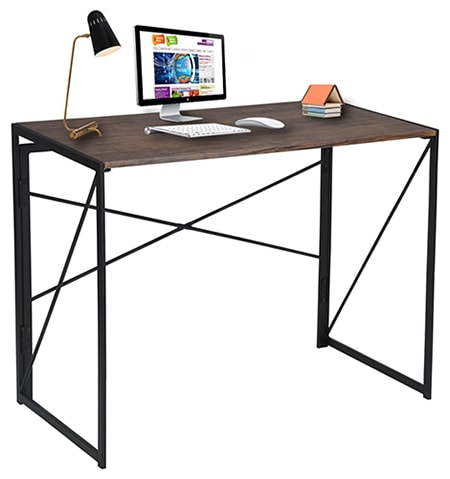 Given that a writing desk is the most simple and to-the-point desk out there, it may seem slightly ironic that these desks also go by the more fancy 'escritoire'. These desks are simple pieces of furniture with no frills attached, letting you pair them with your favorite chair and get your work done on the straightforward desk surface.
Writing desks are designed to provide a work surface, which means that though they come in different designs, finishes and styles, they generally don't feature drawers, in-built cabinets, or any of the other storage components that other desks offer, such as credenzas and office desks. You could almost consider them one of the types of tables.
Corner Desks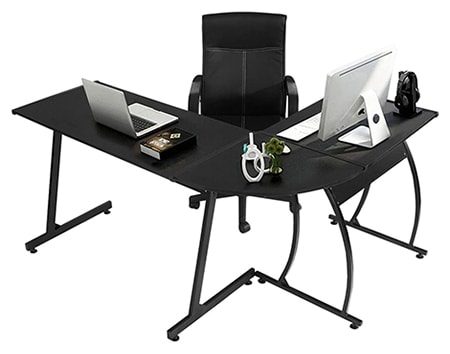 Whether in your home office or actual office, corner desks are excellent options for small spaces. These desks use relatively less foot space, occupying only a corner (as the name suggests!) and leaving the rest of the room spacious and open for other uses.
Corner desks come in a range of styles and sizes, from small setups to larger desktops to desks with shelves, so that your favorite books and important files are always within reach. Additionally, corner desks are popular for the leg space they offer—significantly more than normal desks.
Rolltop Desks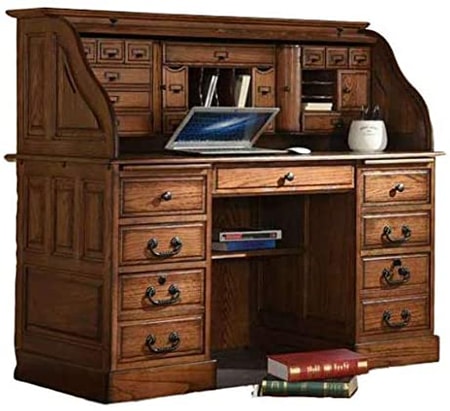 Rolltop desks are probably among the oldest styles of desks known to mankind, consisting of a desk covered by a lid that you can roll up to expose the desk or roll down to cover it—kind of like a how any of the garage door alternatives roll up near the ceiling.
Rolltop desks, apart from the old-school charm they ooze, offer excellent privacy, letting you hide away your workspace/personal items until you wish to display them. Some even come with a lock and key to secure your space.
All you have to do is roll down the lid to hide away those letters and confidential documents—a boon when you have to leave your work midway with no time to put things away but still want to ensure that your work isn't met with any unwanted views.
These desks not only offer a desk behind their rolltop facades; they also feature a ton of features that make organizing items a cinch, such as drawers and slots, leading to them being a hit among many despite the old-fashioned design.
Rolled up, these desks are extremely functional and efficient; rolled down, they become elegant pieces of furniture that really increase the aesthetic of the room, making you seem far more sophisticated than you might be.
Floating Wall Desks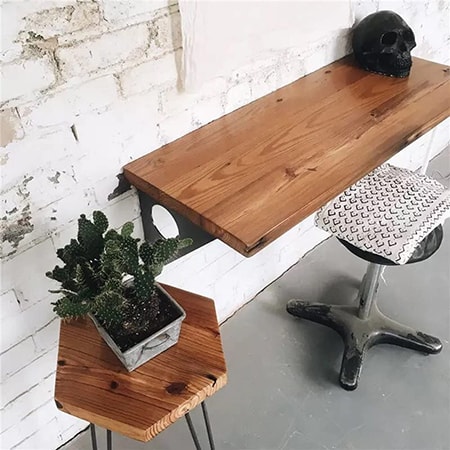 For those who value their floor space, floating desks are the answer! These desks are built into the wall, which means that they have fewer legs than other types of desks, and sometimes no legs at all. Some can even fold up against the wall for further space saving functionality.
Owing to this, they don't consume space unnecessarily and clutter or dominate the room—a fact that combined with their minimal design, clean lines, and sweet-and-simple aesthetic, is making them an increasingly popular option for home offices, especially small ones.
Executive Desks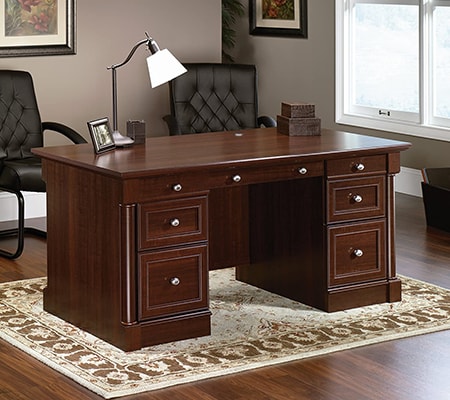 Large to the point of sometimes being oversized, dominating, and space consuming, executive desks feature a large desktop, plenty of drawers, more-than-sufficient shelf space, filing drawers, a space to put your printer...
You could fit all these in and still have enough space for your prized glass vase and that framed picture of your family vacation to Hawaii! Think of any CEO's office and you'll know exactly the types of desks we're talking about here.
If you have the required space (and budget), executive desks are excellent options for offices, at home or otherwise—they can be a one-stop shop for all things work related, with ample space to store all your books, documents, your entire computer system, and then some, all within easy reach.
Pair your desk with a large executive desk chair (many brands offer types of chairs built specifically for executive desks) for an extremely comfortable work station that commands respect and will likely cause people to stop interrupting you so much while you work.
Computer Desks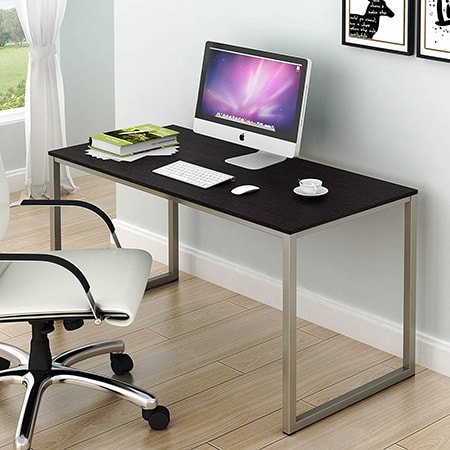 Computer desks are great for all your technological needs. Much simpler and smaller than an executive desk but bigger and more detailed than the writing desk, these desks can accommodate all your tech gear, with space for your computer, printer, speakers, scanner, CDs and DVDs, various types of video cables, and any other equipment that you need to fit in.
Additionally, these desks often come with specially-built keyboard trays that you can slide in when not in use and out while using; a feature that's mostly unique to these desks. Computer desks are easily the most common types of desks you'll find in the modern era.
Credenza Desks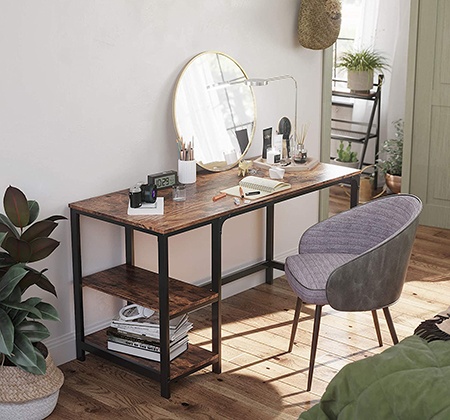 Credenza desks are a combination of cupboard-packed credenzas and desks, generally used in the living or dining room to store cutlery, crockery, and other glassware, or place dishes before they're served on the dining table.
Credenza desks are extremely fashionable without compromising on their functionality and utility. Despite their traditional use in the aforementioned areas, credenza desks can be just as useful in studies and home offices—if you don't mind the old-fashioned vibe and have the required space, that is.
Armoire Desks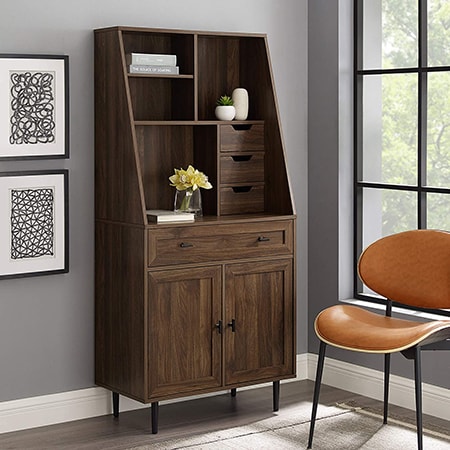 Practical yet elegant, these ornate desks are similar to rolltop desks, in the sense that they keep everything hidden away from view; like a clothes armoire, your stuff is kept inside till you want it out.
Some armoires come with roll-out keyboard trays, similar to computer desks, in addition to a couple of drawers to store your files, books, stationery and such. However, if ample desk space is what you're looking for, an armoire may not be the best option, owing to the limited desktop space.
Standing Desks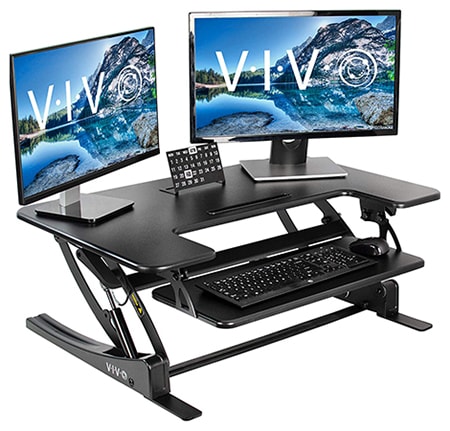 If you're someone who literally enjoys being on your toes while you work, standing desks are meant just for you. A standing desk is great for those who don't have to sit in front of their system for extended periods, or those who don't prefer to do so.
These desks are taller than other types of desks, so as to allow your monitor to be at eye level while you're standing. Many can move up and down to any height so you can sit or stand. And with a DIY adjustable standing desk, you can design the size however you like.
Such desks are especially great for those who use many systems simultaneously; you don't have to pull free of your desk using a wheeled chair that often has a mind of its own every time you want to switch systems (we know; the struggle is real!).
Standing desks are simple, functional and excellent for those who prefer not to become potatoes just because they're working long hours. There's a huge health benefit involved with these, so if you think it's right for you, give it a shot. Some people even put types of treadmills under their standing desk to exercise while computing.
Some, like the one above, are additions to your normal desk and elevate your monitors and keyboard so they are at the correct eye height for the standing position.
Dual-Sided Desks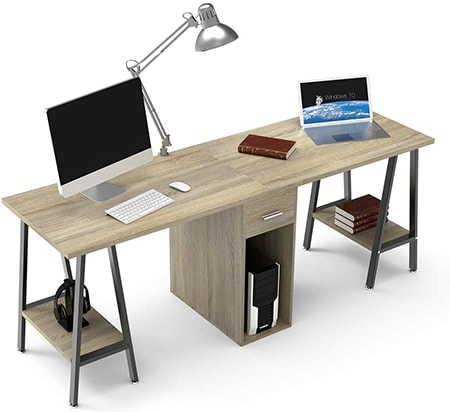 Dual-sided desks are meant for those who prefer an extra-spacious desktop or need to share their desk with a partner. As such, they can accommodate two chairs and two users, both with ample space to carry out their work.
Since these desks are meant to accommodate dual users and have a large workspace, they're designed to be extremely large; if your room isn't spacious enough, these desks can overwhelm the room and make it seem cramped and smaller than it is.
L-Shaped Computer Desks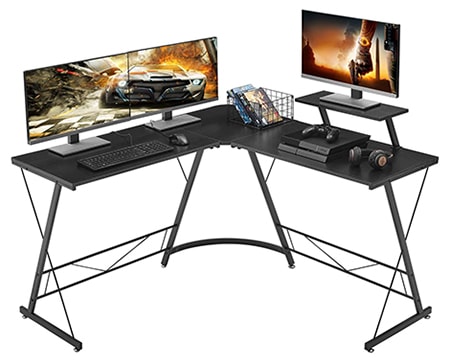 The combination of corner desks and computer desks, L-shaped computer desks are meant for spacious rooms and those who require plenty of space to work. These desks are excellent for innovatively-shaped offices, creating a nice focal point for the space.
These desks come in a range of finishes, designs, styles and different features, letting you pick one that truly fits your needs. These desks offer excellent room for your legs, more freedom and ease of movement and therefore, better efficiency.
Tucking them into a corner or at least against a wall can save a lot of space in your office for other activities, unlike something like an executive desk which is meant to
Pedestal Desks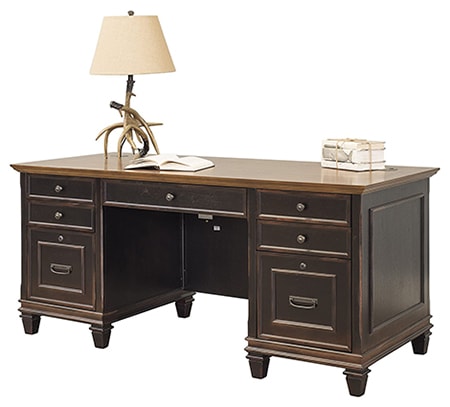 Pedestal desks have drawers in columns that act as their legs; some have shelves instead of drawers. Such desks are great for those who want to store a large amount of paper or numerous files. With storage and legs the same, these desks are quite efficient space savers.
Hallway Desk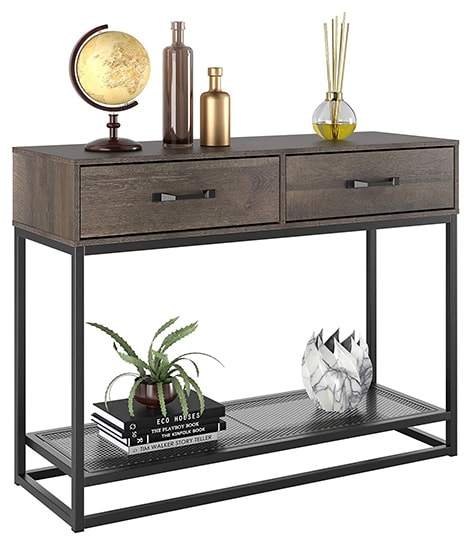 Hallway desks, as the name implies, are sleek desks that fit into hallways, often placed at the end of the passageway. These desks are for those who don't really need a desk, but more probably require a surface to quickly sign off on a document or take a few quick notes before heading out. These desks are more often decorative pieces, thanks to their petite nature and minimal storage.
Types of Desks for Every Need!
If you thought that equipping your home office was as simple as just getting a desk, you thought wrong. There are many different types of desks, each one serving a different purpose and meant for a different space/setting. The next time you want to pick out a desk, turn to our handy guide on the various types of desks and you won't be disappointed!
You'll Also Enjoy: