Where to Hang Wet Towels in a Small Bathroom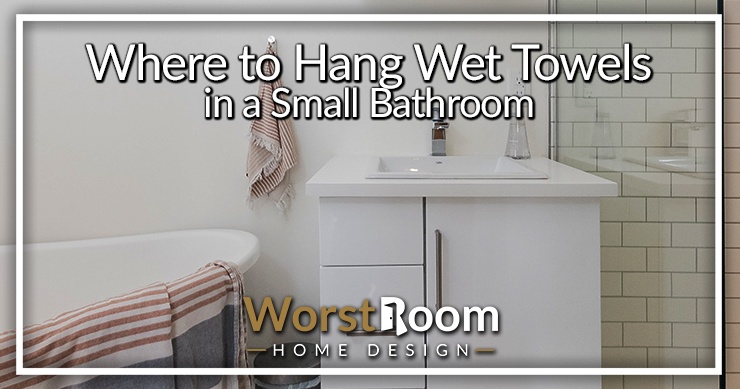 You're wondering where to hang wet towels in a small bathroom, right? A bathroom doesn't have to be huge to keep all of your belongings neatly organized. Tighter spaces are common within many households and they work just fine. It's all about your creativity to make use of the available space you have.
Most people worry about their wet towels in a small bathroom space, which certainly needs to be considered. Believe it or not, you don't need a big powder room to keep your towels, no matter if they are wet or dry. So, where to hang wet towels in a small bathroom, then?
There are numerous methods you can use to make your restroom functional. Today we are going to talk about some practical ways you can hang your towels in your compact privy. Keep on reading the article to discover the possibilities.
Where to Hang Wet Towels in a Small Bathroom
Don't stress out if you own a small restroom. The cramped space can be worked out in an ideal way with a little knowledge and resources. Below is a list of towel hanging ideas you can apply to take advantage of the situation and hang any types of towels in your smaller bathroom.
Towel Rings & Bars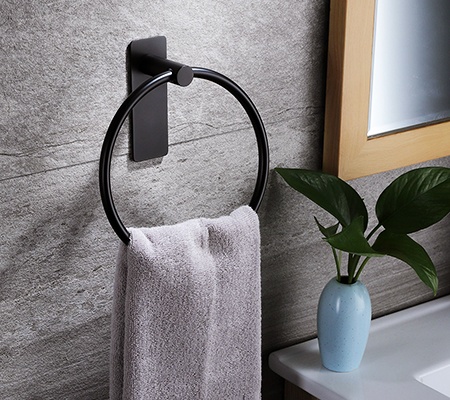 Let's start with the most common method to store towels inside a bathroom—a towel bar. You will likely find towel bars in most washrooms you visit. It is a convenient way to save space and yet hang the towels properly.
What's good about towel bars is that they can save space inside your bathroom, as it is not like a rack but rather a suspended item on the wall. They'll work with standard towel sizes for hand towels, wash cloths, and the like but putting a beach towel on them is not going to work.
Towel rings are another similar option that can utilize the space and make way for your towels. Rings can easily go over the sink and give you convenient access to the towels.
Wall Hooks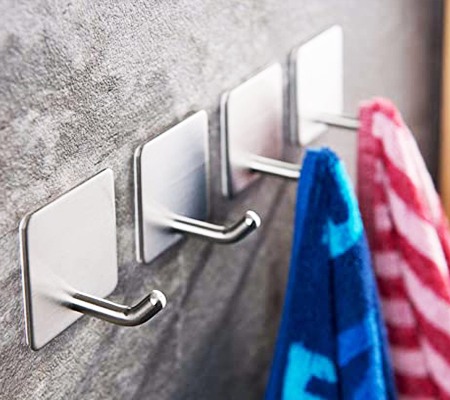 Are you trying to save space inside your bathroom? But you don't want to install a large fitting in your bathroom? Why not try out a wall hook for towels? This mechanism is one of the most ideal ways to hang your towels in a bathroom. Of course, if the restroom is small, this method will work even better.
Almost all types of wall hooks take up less space and require very little work during their installation, which you can do yourself. When you set up hooks on bathroom walls, you will realize how efficient it is to hang wet towels. You definitely don't want to put soaking wet items in the dryer.
Keep in mind that drying the towels on wall hooks will take a little more time than having them placed on the shower curtains, because they'll be bunched up a bit and won't have as much surface area exposed to the air.
You should also take care that the wet towels aren't touching your painted drywall or you'll introduce damage, mold, and mildew. If you have a wet room bathroom then the walls will be covered in tile and you won't have this concern.
Towel Racks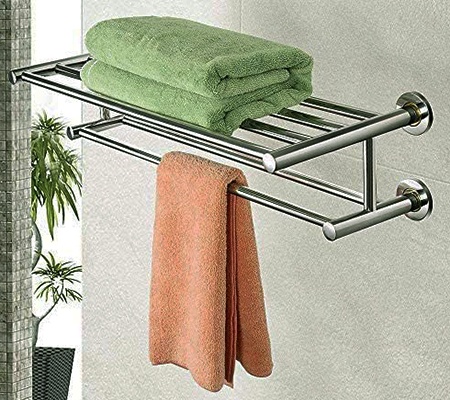 Unlike towel rings, a rack will give you more storage area. The good thing about towel racks is that they can be placed anywhere in your bathroom; it can be on your bathroom door or shower door. With towel racks, you won't have to worry about wasting wall space.
Simply set up a towel rack on the shower door or shower curtain alternatives to make things easier for yourself. Towel racks not only accommodate more towels but can also help dry the towel faster when put up against a shower door.
Towel Stands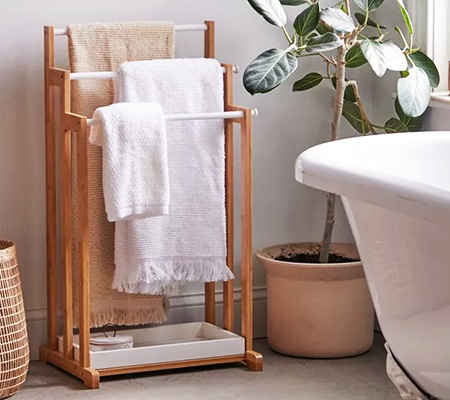 Putting a towel stand in your bathroom can ease your worries about wet towels. They offer the best solution for hanging wet towels in small to large bathrooms. Towel stands come in a vertical arrangement, which helps to save space in your bathroom.
Some towel stands come with handlebars and some are fitted with one while others have multiple bars to accommodate towels. Hanging wet towels on towel stands are an ideal way to air-dry the towels faster.
Towel Hangers on the Side of the Vanity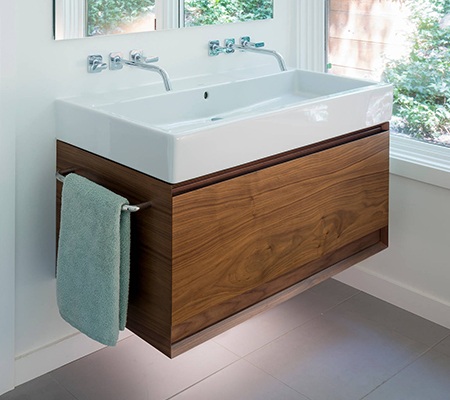 Being clever is what we prefer; here, you can make use of the vanity in your bathroom by placing racks or hooks on the side of it.
Placing hangers or hooks on the vanity side will make room to hang your towels without disrupting other spaces such as walls or over-sink areas. This installation can help dry the towels faster than placing them on a cabinet or basket.
Use the Shower Door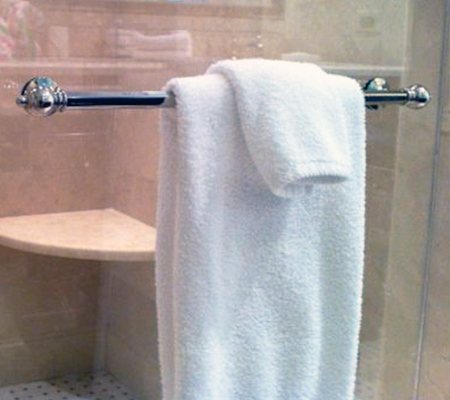 Everyone's answer for where to hang wet towels after a shower is to drape them over the shower door or on a hanger on the door. This method can be a little tricky because you might not reach the top of the door or even have hanger racks on them like with zero threshold showers with huge glass walls, but if you can, hanging towels by folding them over the top can work wonders. Some shower doors include a towel bar, as pictured above.
We're talking about the shower door or shower curtain rod, here, and not the bathroom door itself. You don't want to cause water damage to the door that leads into and out of the room. The shower curtain or shower door are great suggestions for where to hang wet towels in a small bathroom after a shower.
Shower areas with curtain hangers can also be utilized to hang the wet towels. Make sure to drape the towels neatly before you put them in such places; otherwise, they will look messy and won't get the air flow they need to dry off.
Bathroom Radiators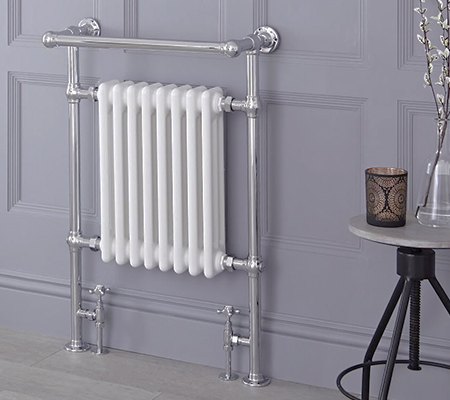 Having a radiator inside your bathroom comes with a lot of advantages. First, it helps to keep the towels warm, and second, it can be used to hang wet towels. Radiators come with many horizontal metal rods, meaning you can hang more than one towel.
One question you may have in mind is how hot does a radiator get? They can reach up to 180 °F for a hot-water radiator and 223 °F for a steam radiator. Since the towels will hang on a rack and not touch the radiator surface, you should have no fear of combustion until 764.6 °F (407 °C).
As radiators are made to be fitted on the wall, you won't have to worry about killing the much-needed space inside your bathroom. Some radiators come with racks on them to be used as towel warmers, and some towel warmers are made to double as both.
Hook or Hang Towels Below the Sink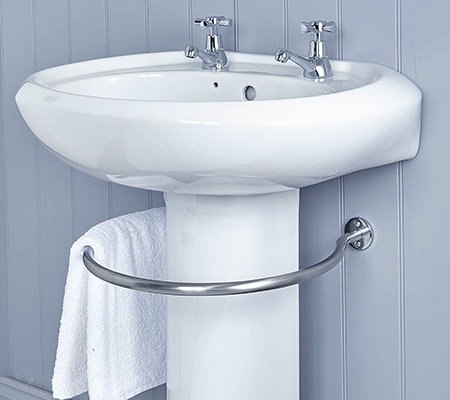 If the hanging towel seems distracting and you prefer not to hang wet towels on the wall, why not be discreet about it? The types of sinks without pedestals are the best place to hook some towels out of plain sight. Just below the sink, attach some hooks, and you are done. Don't place them inside any cabinets though, or they won't get the air flow needed to dry.
These hooks are similar to the wall hooks mentioned above. Gather your wet towels and hang them under the sink, and the chances are you won't even notice them. These hanging towel ideas are clever but don't add much to the decor.
This is what you wanted, right? You can also work things differently under the sink by adding small shelves and cabinets to organize your towels, too.
Where to Put Wet Towels in a Small Bathroom?
Now that you know the different processes of hanging wet towels in a small bathroom or powder room, what about putting them in a more sophisticated arrangement? Well, it's possible if you try the methods given below.
Creative Baskets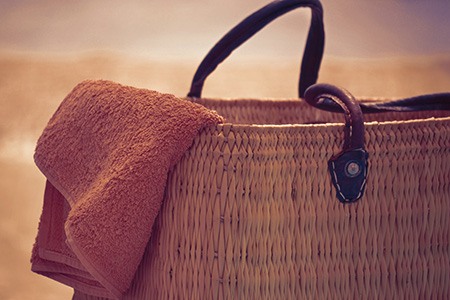 Now you might wonder why we want to include baskets in a bathroom simply because it can store the wet towels and dry towels separately in a smaller space. Baskets come in different shapes and designs. Nowadays, you can pick out eye-catching baskets that will enhance the beauty of your bathroom's interior.
Woven baskets are a good option and look striking too. You can keep 2 baskets on the ground or an elevated space of your choice. One for the wet towels and the other for the dry ones.
Shelving Unit Above the Toilet
Baskets can be a worthy pick to store towels, but there are chances that you might trip over them sooner or later. So to avoid such issues, you can be more inventive and make use of the space over your toilet. As long as you have standard types of toilets you can find these racks at most supermarket type of stores like Walmart and Target.
There are metal racks that you can find on the market, which can easily be set up over the toilet. Such racks are ideal for arranging towels and can also hang wet ones.
The space above any toilet is overlooked by most people, whereas it can be utilized with a shelving unit to make way for your towels without creating any distraction.
Bathroom Cabinets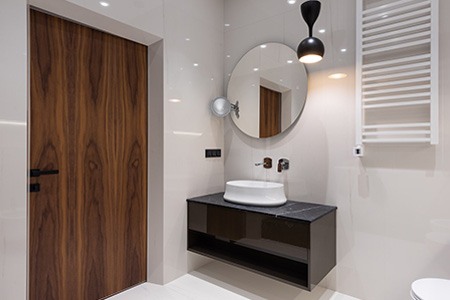 These options might sound like they need bigger space accommodation, but in reality, it's different. Bathroom cabinets are available in most bathrooms for storing much-needed toiletries.
Yes, we are talking about the cabinet that stores your toiletries. You can utilize it to store your towels as well. Without the need for additional materials, simply use the already-fitted cabinet inside your restroom.
To make room for towels, we prefer to remove some shelves from the cabinet and add some hooks to give it a more locker-like feel to it. To add to the creativity, you can replace the cabinet door with glass panels to enhance its visual aesthetics.
Towel Warmers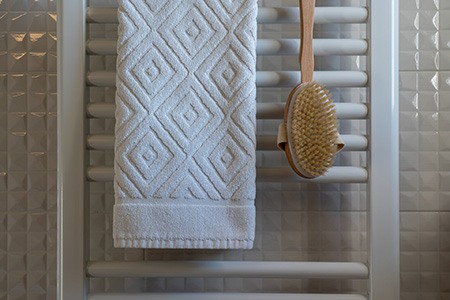 When it comes to storing towels, then towel warmers can be an ideal pick. Here you don't hang the towel but arrange it in an enclosed space.
Towel warmers help to dry the towel and keep them warm. So, having a towel warmer can be a lifesaver for a small bathroom.
Hampers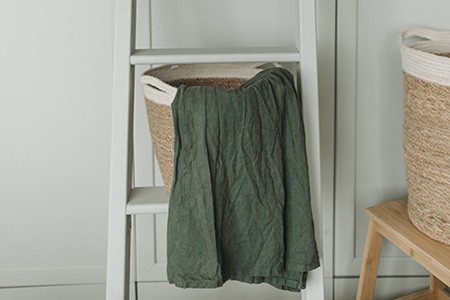 You probably have a laundry hamper at your disposal to store dirty clothes. But do you know that these hampers can be placed in your bathroom to accommodate wet towels too? Yes, if you've not given it thought, now is the time.
Towel hampers on the bathroom floor are a good way to store wet towels. Keep in mind that these hampers won't hang your towels; rather, just store them. So if you are planning to dry the towel, this is not for you. Try a hook instead.
How to Hang Wet Towels in a Small Bathroom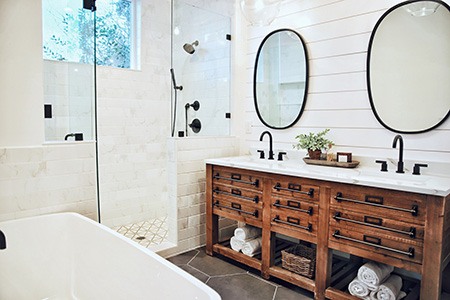 First thing you need to make sure your bathroom has the much-needed space to place hangers, hooks, cabinets, etc.
If it is a cramped space you are working on, then cabinets and shelvings won't work; rather, towel rings and wall hooks are going to be the best choice.
For example, if you use a towel ring, you must select a place to position it. Remember that these fittings have brackets and screws to hold onto the wall.
You can use an anchor or stud on the bathroom wall to affix the bracket. Screw the necessary components, and your towel ring should be ready to embrace the wall.
If you plan to avoid drilling and to hammer the wall, then better utilize the shower door. It is the easiest place where you can hang wet towels. This process might not be the prettiest out there, but it can accommodate wet towels and will help dry them faster.
That's Where to Hang Wet Towels in a Small Bathroom
Wet towels can be a pain in the neck, and accommodating them in a cramped powder room can be a challenge. You can easily get over this hurdle by using towel rings, towel bars, bathroom radiators, towel stands, and many other options.
Look at the other possibilities we mentioned here and pick out a method that will complement your bathroom space visually as well as without constraining moving space.
If you have been wondering where to hang wet towels in a small bathroom, you now have quite the list of options. No matter the bathroom size, you must be creative enough to utilize the available space.
You'll Also Enjoy: