What is Faux Marble? The Pros, Cons, & Affordability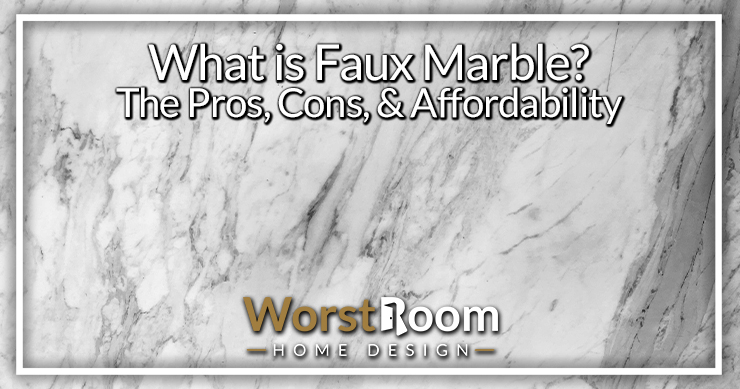 Not all of us can afford those gorgeous marble floors, countertops, and furniture. But that doesn't mean we can't have the same beautiful effect from some other material. Thanks to faux marble, you don't have to break the bank to give your house the look of natural marble.
Besides, this material comes in many different colors and patterns, allowing you to customize the appearance as per your taste. However, it also has some notable drawbacks since it's not real marble.
If you're considering using faux marble products for flooring or making walls, you should know every detail of the material before choosing.
To assist you in this, here we will cover everything you need to know about faux or cultured marble so that you can decide whether to go for it or not. Without further ado, let's get started.
What is Faux Marble?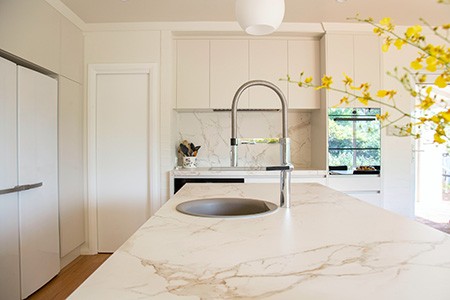 What is faux marble? It's an artificial material made from a specific proportional mixture of marble debris, resins, dyes, and many other building materials made to resemble the appearance of any of the real types of marble.
The materials and proportions might vary depending on the user's needs and budget. To provide a natural marble-like appearance, the finishing features various patterns and colors.
As natural marble is crushed and heated while making fake marble, faux marble has the essence of natural marble. However, it doesn't have the same effect or features as natural marble stone.
Other flooring and countertop materials like Corian, engineered marble, quartz, etc., also give the looks and feel of imitation marble. Yet, all these materials are different from each other in many manners.
What is Faux Marble Made of?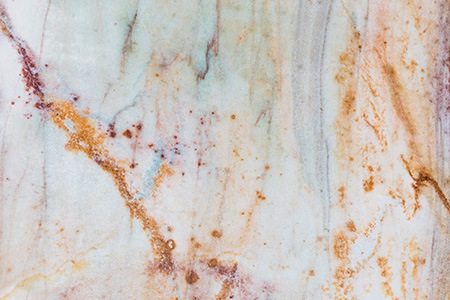 What is faux marble made of? As mentioned above, this slab blends many different materials and dyes. The main ingredients include pulverized natural marble stone, quartz, synthetic resins, stone powder, protective gel, sand, cement, colophony, dyes, plastic, and acrylic glue.
It's important to note that manufacturers sometimes use a mix of onyx, limestone, and granite instead of real marble dust to cut costs, which are the same annoyances you can find in types of granite countertops. To prepare faux marble, all these materials except for the dye and protective gel are mixed to achieve the desired texture.
Later, a special method is used to add different colors and create natural marble-like veins. Finally, the mixture is given the proper shape and left under high pressure to solidify.
The protective gel is then added to make the surface non-porous. Overall, this is the general process of creating faux marble. However, sometimes the materials and manufacturing process vary to create certain effects.
Features & Benefits of Faux Marble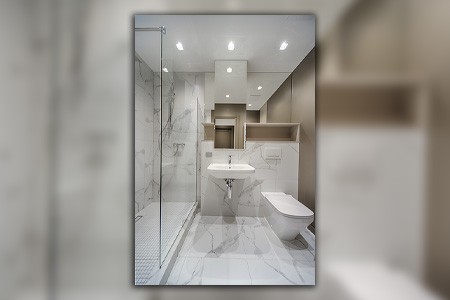 So, why should you choose faux marble over other similar materials? Check out the features and benefits of faux marble and decide for yourself.
Provides A Pristine Look
Giving your floors, walls, and countertops a high-end look like natural marble is a piece of cake with imitation marble. As 75% of this material is basically natural marble dust, it's difficult to distinguish fake marble from the real one.
Besides, faux marble is created by molding and adding dyes which makes it way easier to replicate the natural veins of quarried marble stone across the whole slab. Hence, it's the best option to create a pristine look without spending much.
Highly Durable
Another reason faux marble is a good alternative to the natural one is its ability to withstand wear and tear. Thanks to the strong building materials, it doesn't easily crack or chip under pressure.
Also, the protective gel on the surface keeps the stains away besides providing a clean look. You can expect faux marble to last for decades without losing its form.
Available in Various Shapes & Colors
As you know, fake marble is created in factories using a molding process. So, it's pretty easy to shape the material as per the user's needs. You get to customize the size for your walls and construction projects.
Faux marble is also available in numerous colors and patterns. It provides an elegant painted finish. Users can easily decide on any color and design that compliments their room decor.
Easy to Maintain
You'll love the convenience faux marble products bring with them. The material isn't susceptible to indoor or outdoor damage. It can maintain a clean and elegant look even with minimal maintenance.
Moreover, you can apply almost all types of cleaning products to imitation marble. Even strong disinfectants can't wear the surface. To clean it, all you have to do is spray the cleaning product and wipe it. Thanks to its smooth texture, all dirt and stains will be removed immediately.
Offers A Solid, Non-Porous Surface
Unlike other surface materials, faux marble is solid and non-porous. It can be used immediately after installation. As the surface already has a clear protective layer, you don't have to add anything extra.
Faux marble lacks grout joints like the traditional tiles. So, this solid surface won't create any problems while preparing food and cleaning. It also shows amazing resistance to stain. Altogether, fake marble surfaces are the perfect choice for kitchen, bathroom, and even flooring for closets.
An Affordable Alternative to Natural Marble
It's no wonder that faux marble costs less than most flooring materials imitating the looks of natural marble. Yet, you'll be surprised to know that faux marble costs around 40% lesser than natural marble, though some cultured marble can be even more expensive due to other positive factors it has over real marble, such as durability and ease of cleaning.
So, if you want to create a high-end look within your budget, imitation marble is definitely a better choice than granite, tiles, or quartz.
Drawbacks of Faux Marble
Now, let's see what problems you might face if you choose faux marble instead of other materials. The drawbacks of cultured marble include…
Varies in Quality
Not all manufacturers use the same raw materials to mold faux marble. Sometimes it becomes very difficult to find high-quality faux marble as the manufacturing process often varies.
You might end up with weak fake marble that easily cracks. Besides, repairing dents and chips is a hassle because of the resin and stone dust.
Scratches Are Difficult to Remove
Although faux marble floors can effectively resist scratching, it becomes almost impossible to remove once the surface is scratched. So, you must use non-abrasive cleaning brushes to clean this material.
Vulnerable to High Heat
One major drawback of faux marble is that it quickly gets damaged when exposed to high temperatures. It can easily get scratched and cracked under high heat and pressure.
That's why it's not the best material for your bathroom, where you often use hair styling tools and hot water.
Faux Marble Vs. Real Marble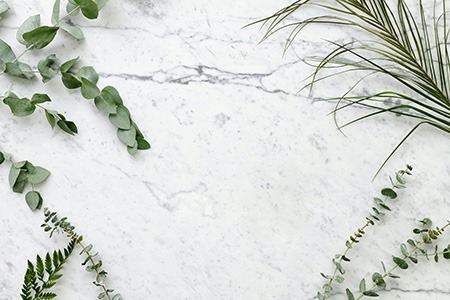 Both real and imitation marble is widely used for various projects. Each has its own pros and cons. So, you might want to know the differences between these two materials.
Below we have compared the two materials based on their key features. Let's take a look at the faux marble vs. real marble debate.
Appearance
Nothing can match the unique patterns, visual depth, and colors of real marble. The material has been used for decades to create the classiest looks for expensive houses and products.
Although faux marble mimics the appearance, it's easily distinguishable from the real one because of its plastic-like finish. Overall, real marble provides a superior feel to a place that's impossible to achieve with faux marble.
Cost
Real marble is cut out from natural stone quarries. The cost of extracting the material, transporting it, and shaping the stone is very high. On the other hand, faux marble combines relatively cheaper raw materials, and a mold cast is used to shape the material.
As the production cost is lesser for faux marble, it costs way less than real marble.
Durability
Faux marble is a solid material that can stand firm for years. It can effectively prevent chips, wear, dents, and cracks, especially near the edges. However, high heat and pressure can easily affect the material and lessen its durability.
On the other hand, the edges of real marble-made countertops can wear when hit by a heavy object. However, it's still a very sturdy material that lasts longer than faux marble.
Maintenance
When it comes to maintenance, natural marble is more demanding. You need to apply specific cleaners to maintain their shine. Any abrasive cleaning product can scratch the surface very easily. It can pick up stains and become dull after some years.
To prevent that, you have to apply good-quality glossy sealants. Imitation marble doesn't need any such product as the outer coat of this material is naturally glossy and resistant to stain. Unlike natural marble, it works with a wide range of cleaning products.
However, you should use non-abrasive softer cleaners to avoid the chances of scratches.
Heat Resistance
No matter how high the temperature is, natural marble won't absorb the heat and lose its shape. It shows excellent resistance to heat and other harsh weather changes. Natural marble patterns and colors don't fade away if exposed to high heat.
However, faux material can't hold up well against higher temperatures. It can quickly burn and get stained. The gel coat might also crack if exposed to high heat.
The 3 Types of Faux Marble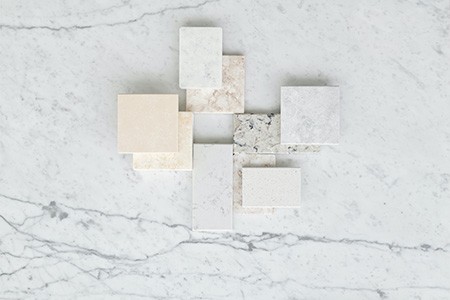 The different marketing methods may try to convince you otherwise but there are only 3 main types of faux marble:
Faux Stone
Painted Laminate
Faux Marbleizing
Faux stone is a polymer of pieces of marble and resin, as described above, that is molded into a fake marble slap. Painted laminate are types of tile essentially painted in such a way to mimc the look of the real thing. Faux marbleizing takes the marble resin and covers other materials such as concrete to create an outer shell that resembles marble while the interior is a cheaper material.
Where Would You Use Faux Marble in the Home?
Faux marble can be used anywhere real marble would be used. The most common uses are countertops in the kitchen and bathroom, though it has been used for the sides of kitchen islands, kitchen and bathroom backsplashes, tabletops, to cover any types of columns (structural or not), and even flooring.
People have resurfaced their tubs and shower surrounds with faux marble, created fireplace surrounds with it, fancied up their home entries, and much more. The opportunities are endless, but the most obvious application are for countertops.
Faux Marble, the Reasonable Replacement
So that was our take on faux marble. From its raw materials to notable features, now you know it all. Overall, it's a very good alternative to natural marble, especially If you're on a budget.
Faux marble has a great look and lasts for decades with little care. The patterns and texture of this material are also pretty close to real marvels. Just keep it away from high heat and don't drop any heavy pans on it. And you'll enjoy the luxurious appearance of it for a very affordable price.
You'll Also Enjoy: