11 Shower Curtain Alternatives for a More Unique Bathroom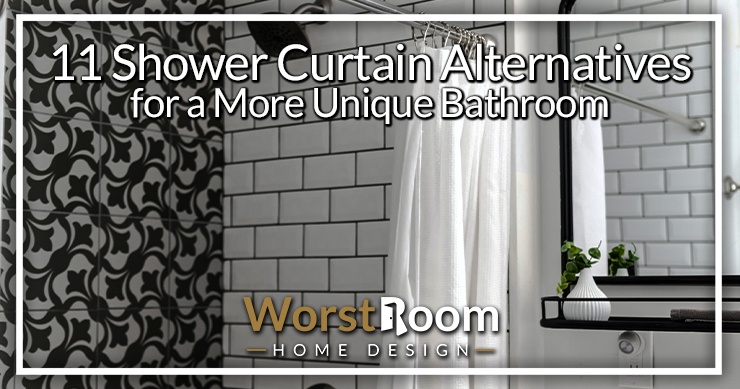 When showering, we want to feel refreshed afterward. For that to happen, it's crucial to create an ambiance, and something as simple as your shower curtain alternatives also plays a significant role here.
Regular PVC or vinyl shower curtains can make your bathroom look boring and may not add a lot to your showering experience.
There are plenty of options out there that can be great alternatives for your shower curtains, so you enhance the aesthetic of your bathroom.
11 Shower Curtain Alternatives
Hence, today we will be going into details about fantastic shower curtain alternatives that will completely transform your bathroom.
Simple Natural Linen Curtains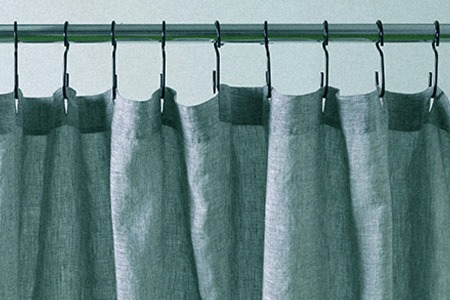 If you want to add a classy feel to your bathroom, it would be a great choice to substitute your vinyl shower curtains with a natural linen curtain. The change in mood that this curtain can bring is genuinely surprising.
Besides the curtains being a more aesthetically pleasing choice, it is also sustainable, which means you are also helping keep the planet cleaner, although it is a small change. You can modify them to match any shower curtain sizes you need, too.
Unlike your typical shower curtains, these linen curtains are in two parts and rest over the sides of the shower, which makes the bathroom look more spacious. A downside of these linen curtains is that they take a while to dry completely.
A Doorless Shower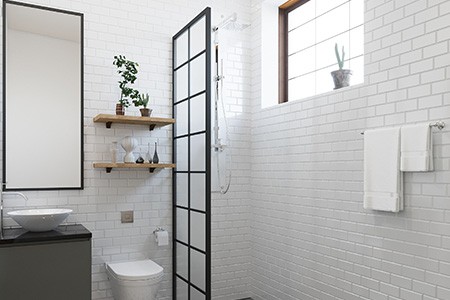 If you have a small bathroom, you might want to skip out on this one because this option is less an alternative to shower curtain; instead, it is just the elimination of the shower curtain situation altogether to form an open wet room.
People with large bathrooms may want to look at this one because having no shower curtain or door can make your bathroom seem even more prominent. That's the pro of a doorless shower (plus accessibility) but a con is you'll be letting your hot air and moisture out and dealing with cool drafts on your body.
However, if you have an open doorless shower, you should have a raised step around your shower to prevent any water leakage.
Although it is obvious, we must state that you shouldn't get a doorless shower for a small bathroom because the water will spray everywhere and leave a mess.
Sliding Panel Door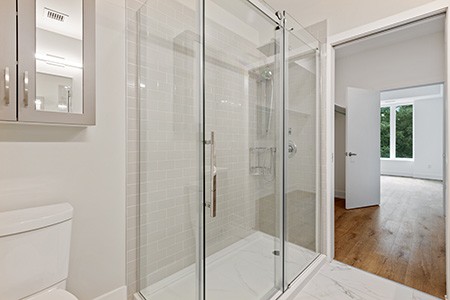 Installing a sliding panel door as a substitute for shower curtains is a fantastic idea regardless of the size of your bathroom. The sliding panel door ensures that no water is leaked out of the shower space, and it is excellent at containing water splashes.
When we said sliding panel door, you might have thought of dull-looking ones, but luckily there are many options amongst the shower curtain alternatives now.
You can go down to the market and find one that matches the tiles or shower tile alternatives, and of course the style of your bathroom. It is a great way to showcase your personality by adding a little pop of design.
Bamboo Curtains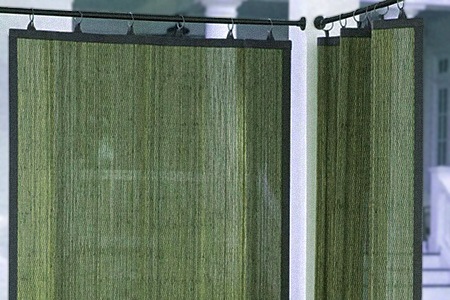 Showering in nature would genuinely be a soothing experience, but since it isn't practical for us to go to the woods for a shower, why not bring nature closer to us? For this, you can get bamboo curtains that have a natural feel to them which is hard to explain with words.
Since they are very light, the bamboo curtains let sunlight permeate through them, which will make your bathroom look much brighter.
They have a very soft feel and look far better than the PVC curtains. If you love the natural feel, you should get bamboo curtains that have leafy patterns.
It is a great alternative, especially if your bathroom has a bathtub shower; the bamboo curtains look even better there. So. to top it all off, bamboo curtains are an environmentally friendly option, which is always a plus point, especially with these types of bathtubs.
Shower Screens Made of Repurposed Wood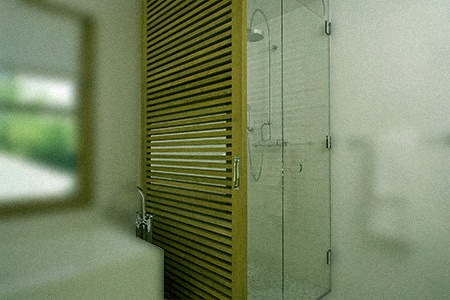 Out of all the shower curtain substitutes in this list, these shower screens made of repurposed wood have probably surprised you the most. If you are looking for a unique alternative to shower curtains, then this is a great option.
Two heavy wooden frames cover most of the shower space, leaving enough space for you to enter the shower. The wooden screens also have an intricate lattice detailing, adding a traditional touch to the bathroom's look.
We guarantee you that you will be flooded with compliments if you use these wooden shower screens as alternatives to shower curtains.
Since they are made from repurposed wood, these shower screens reduce wastage and also help the environment. However, you have to treat these wooden frames to have them installed for a long time.
Hemp Shower Curtains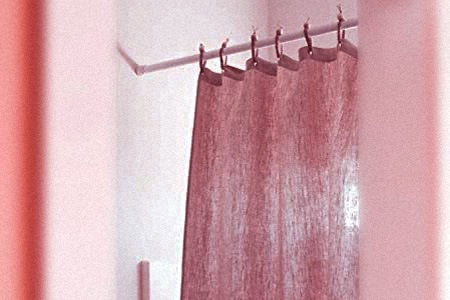 People rarely use hemp curtains for their showers, and we don't understand why. Hemp is a very light material, so light can easily pass through these shower curtain alternatives making your bathroom space appear brighter and more prominent.
This curtain gives a natural feel to the bathroom, much like bamboo curtains, and another great thing about them is that they are environment-friendly and sustainable.
You can find these hemp curtains in various colors, but we think the natural beige color looks the absolute best and has a touch of elegance to it. However, you can also go for any other colors from the neutral palette for a similar theme.
These curtains are incredibly fantastic for those who want a minimalist look because of their neutral colors and light material. Hemp curtains also look great in farmhouse or beach house bathrooms since they have that natural look.
Glass Doors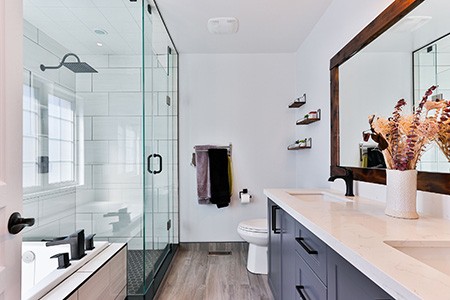 If your bathroom has a modern design, then a glass shower door might be the perfect choice for you. It looks very sleek, and when it is paired with modern tiles and fixtures, they look even better, especially paired with the right bathroom door alternatives.
One of the best things about glass shower doors is that they make your bathroom space appear more spacious because they are clear and do not close off the showering area from the rest of the bathroom.
You can install a glass door even if you have a small bathroom since they prevent any water splashes or leaks from flooding the rest of the bathroom.
Also, you may have your glass door frosted for privacy reasons, but we must add that they look the best when they are completely clear.
Simple Polished Cotton Curtains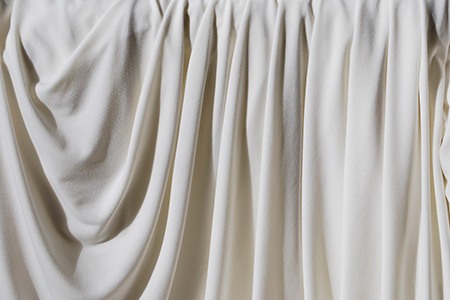 Cotton curtains are usually used for curtains around the house, so you may be a bit surprised to see them on this list. However, when cotton is polished, it has a specific weaving pattern that gives the curtains the ability to repel water.
You probably know how cotton has a soft appearance which gives it a natural look. However, do not be mistaken because polished cotton has good strength and will not tear easily. We think white cotton curtains look the best for showers, but you may get ones of your preference.
Fairtrade and organic cotton shower curtain alternatives are good for the environment as well, while polyester blends are not. Lastly, it would be best to be careful with washing cotton curtains because natural cotton tends to shrink upon washing.
Shimmering Shower Screen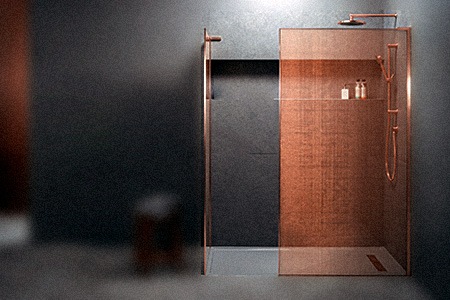 These frosted glass shower screens will add more of a personal touch if you can customize the patterns. Shimmering glass shower screens are great if you want to give your bathroom a little fancy touch.
You don't have to worry about water leaking out with these shower screens, although they can't always contain all water splashes.
We would suggest you go for a simple pattern with your shimmering shower screens over any crowded designs, so your bathroom looks classier.
Macrame Shower Curtains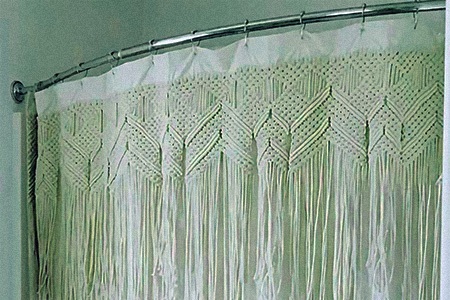 Not everyone will be interested in the look that macrame shower curtains give off, but if you want a bohemian aesthetic in your bathroom, then this is an excellent choice among the alternative shower curtain ideas.
These unique macrame-style curtains are made by a knotting technique rather than the conventional weaving of materials to make curtains.
The knotting gives the macrame curtains a very relaxed and boho appearance. These macrame shower curtains will match perfectly with your bathroom if your shower rugs, baskets, and various types of towels also follow the same color theme. Otherwise, these curtains will look a bit odd.
Shower Blinds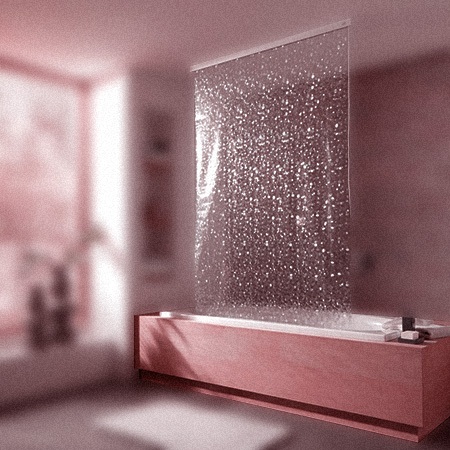 Until recently, shower blinds weren't a thing, but they worked just like window blinds but just for your shower. These are sometimes called rolling panels.
This is a very convenient option because if you want, you can get it entirely out of the way by rolling it up or having it hanging to your desired length.
However, before you roll up your shower blinds, you have to ensure that they are absolutely dry; if not, then mold could easily develop in the metal housing of the blinds.
Shower Curtain Alternatives for a Fancier Bathroom
As you can tell, there are plenty of alternatives to your regular PVC or vinyl shower curtains which all look better and are more elegant.
Since there are so many choices, you should carefully choose the one that goes perfectly with the theme of your bathroom.
Also, keep the size of your bathroom in your mind when you are choosing one of the shower curtain alternatives. You can choose anything from modern glass doors to natural bamboo curtains, and we must say all of them are better than the cheap-looking plastic shower curtains.
You'll Also Enjoy: