16 Types of Toilet Seats to Provide Perfect Comfort
You spend a lot of time in the bathroom. And, the comfort of your bathroom, especially your toilet, sets the mood for the day. You don't want to sit on any of the different types of toilet seats that are uncomfortable or falling apart.
Now you can make your bathroom time more enjoyable and take it to the next level by customizing your toilet seat so that it offers maximum comfort.
You may think that choosing a toilet seat is an easy task until you see the plethora of choices that are there to pick from.
The most important thing about choosing a toilet seat is that it must be compatible with your toilet and if you end up buying the wrong type, the toilet seat won't fit your toilet bowl.
16 Types of Toilet Seats
So, if you're on the lookout for a toilet seat that offers optimal comfort and also complements the decor of your bathroom and whatever types of toilets you have in the house, read our guide on the different types of toilet seats available so that you can find the best one for you.
Rounded Toilet Seat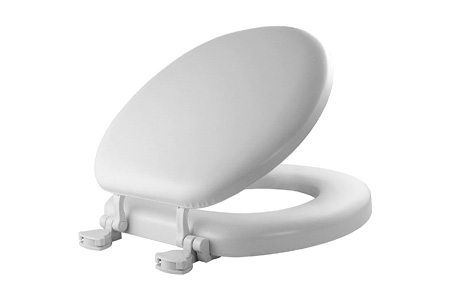 These are the most common types of toilet seats that are suitable for traditional, round-shaped toilets. These toilet seats are ideal for bathrooms that have limited space.
Typically, rounded toilet seat shapes measure around 16.5 inches from the center of the mounting holes to the front of the toilet bowl.
These simple, minimalist toilet seats are perfect for apartments and small homes and occupy less space compared to elongated seats.
Rounded toilet seats are best for small to average size people and especially great for potty training young kids.
Elongated Toilet Seat
These are pointed or oval-shaped toilet seats that are longer than round seats and measure around 18.5 inches. As you can already see, toilet seat sizes aren't universal.
Elongated toilet seat types are more comfortable than round ones; however, they take up more space. These toilet seats are suitable for large-sized bathrooms, but they're more expensive.
Elongated toilet seats are preferred by larger-sized or taller people, but they may not be suitable for potty-training little children.
If your toilet is close to the door, then it is advisable not to install an elongated toilet seat because there are chances that the door can hit the toilet and increase the risk of getting damaged.
U-Shaped or Open Toilet Seat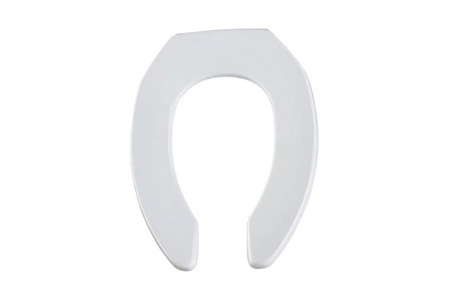 Usually, found in public toilets, the open toilet seat shapes have a U-shape, which makes it more hygienic, as the open front prevents the urine from dripping on the toilet and protects it.
U-shaped toilet seats offer more space, allowing you to wipe without touching the toilet seat or bowl and the shape also helps to prevent the spreading of diseases.
Wrap-Over Toilet Seat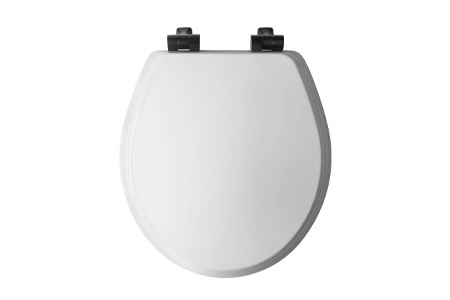 These types of toilet seats come with a lid that covers the toilet seat completely, which makes the seat modern, minimalist, and stylish.
Wrap-over seats make the toilet more compact and neat. Since it is protected by the top lid, it helps to maintain the seat more hygienically. People make choices to help the whole bathroom decor match, from these types of toilet seats to whatever types of bathroom sinks they have.
Square or D-Shaped Toilet Seat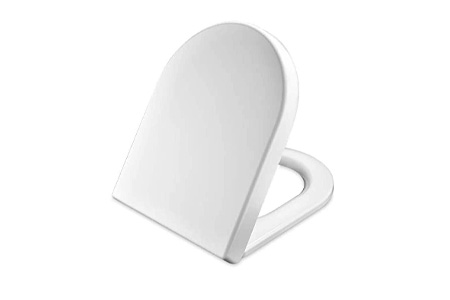 If you want a more contemporary look for your bathroom, then a D-shaped toilet seat or a square-shaped seat is a great option. These shapes are stylish, sleek and aesthetically appealing and look great in minimalist-style bathrooms.
Generally, these are soft-closed, angular seats that give a modern touch to your bathroom; however, you must make sure that your toilet bowl is compatible with these unusual shapes.
Plastic Toilet Seat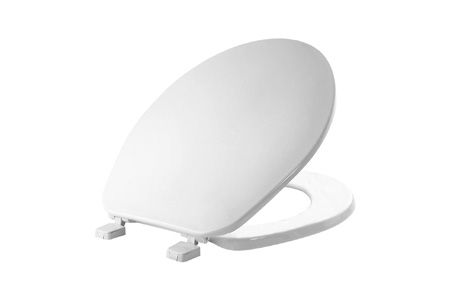 These are the most common choice when it comes to toilet seats. Plastic toilet seat types are inexpensive, flexible and easy to clean. Thermoset and thermoplastic are the main options of plastic used.
Toilet seats made of thermoset are more scratch-resistant and durable; however, more expensive. Thermoset toilet seats also look like ceramic, making them more aesthetically pleasing.
Thermoplastic toilet seats, on the other hand, are relatively cheaper and most entry-level toilets have thermoplastic seats. These have a glossy, shiny finish and are quite durable; however, they can get scratched easily.
The main drawback of using plastic types of toilet seats is that during the colder months, the seat can get quite cold, which can be quite uncomfortable, especially when you're just up from your warm and cozy bed. Also, if they are not used properly, plastic seats can crack or break.
Polyresin Toilet Seat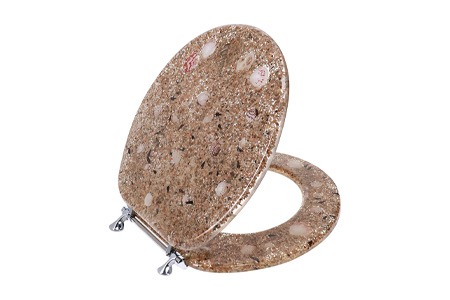 Toilet seats made of polypropylene or polyresin are more flexible and lightweight as compared to wood or plastic. These are also available in a wide range of designs and colors, which can add more color and pop to your bathroom to match your types of showers and other decor.
You can choose from a huge range of designs from clear toilet seats to holiday-themed seats to seats with cartoons. Polyresin toilet seats are great for kids' bathrooms.
Solid Wood Toilet Seat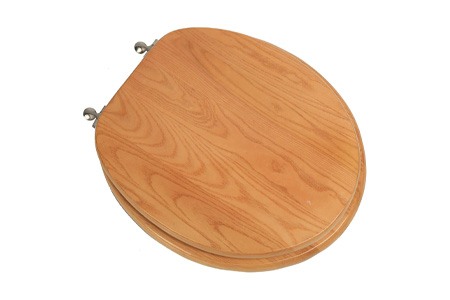 If you have a traditional bathroom, then you could opt for a wooden toilet seat to match the décor. While wooden seats are far warmer than plastic seats, they are not very durable and cannot resist a lot of wear and tear.
Solid wood toilet seats are quite comfortable. They are available in different kinds of wood such as pine, mahogany, oak, etc. and so their price range varies.
Wooden toilet seats are also available in a wide range of finishes from dull to matte to high gloss. Also, the wooden seat's lifespan depends on the kind of wood you choose and processing quality.
Another drawback of natural wood is that it can get damaged easily and it can warp or crack in a humid environment. If you get an enamel or veneer seat, though, there's not much difference between a plastic or wood toilet seat other than weight, and many wooden seats have hollowed interiors to help with that.
MDF Wood Toilet Seat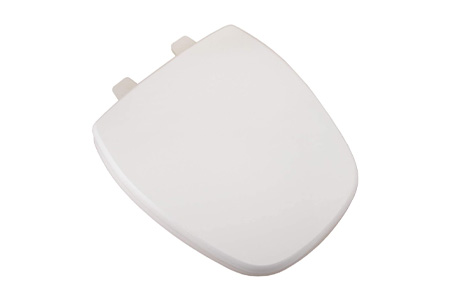 Made of pressed wood fibers, MDF wood (medium-density fiber board) toilet seats are comfortable, easy to clean and maintain. Since MDF wood seats are coated, they are heavier compared to other types of toilet seats.
MDF wood toilet seats are available in various color options and you can decorate them with designs and graphics. White-colored seats look very similar to plastic ones; however, MDF toilet seats are much warmer than plastic seats.
Soft-Close Toilet Seat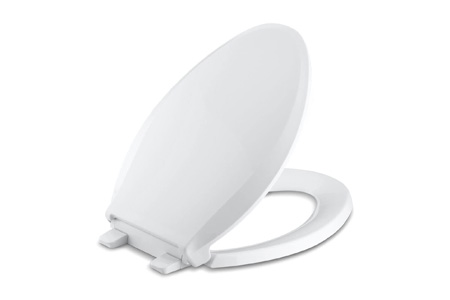 If you want a quiet toilet with a seat that does not slam down hard making a lot of noise each time you use the toilet, you can opt for a soft-close toilet seat.
The seat features a soft-close mechanism that allows the seat to close closely and noiselessly when you drop it.
A soft-close toilet seat is also beneficial if you have a problem bending close to the seat manually each time you want to close it.
These toilet seat types are also a great option for kids to prevent their fingers from getting trapped when putting down the seat.
Padded Toilet Seat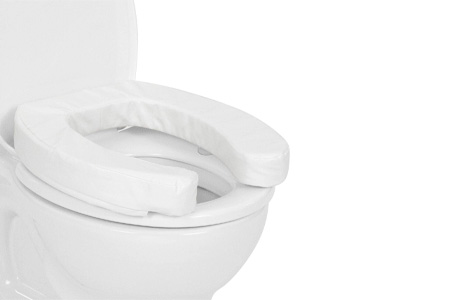 If you spend a lot of time in your bathroom, then you may want to invest in making your toilet seat extra comfortable. A padded toilet seat can enhance your comfort and take your overall bathroom experience to the next level.
Padded toilet seats are also warmer to sit on. However, padded toilet seats tend to have a shorter life compared to wood or plastic seats because, with use, the padded seat can split.
These are a great luxury, giving you plenty of cushion as you absolutely demolish whatever types of septic systems you have installed.
Ultra-Slim Toilet Seat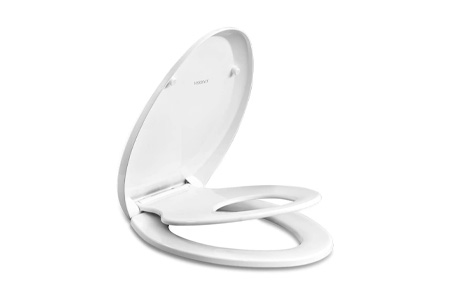 These toilet seats have a minimalist, sleek design and match any type of bathroom decor.
Ultra-slim toilet seats feature soft-close hinges and their sleek design tends to make your bathroom look much bigger than it is.
In terms of the design, ultra-slim toilet seats don't take up a lot of space and they look really great too. The one pictured above might seem to have some types of toilet flanges attached but what that really is is a child-sized toilet seat to help them when potty training on adult-sized toilets.
Smart Toilet Seat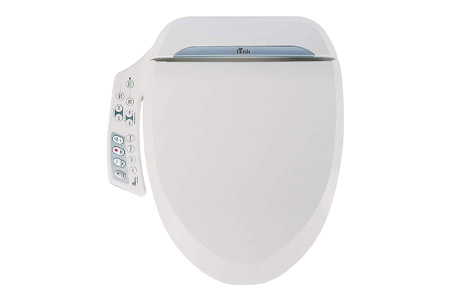 If you want luxurious types of toilet seats, then a smart toilet seat or bidet toilet seat is the answer. Smart toilet seats have everything that you could ask for and offer a range of advanced features.
These features include LED (day and night) lighting, heated seats, bidet cleaning, air-drying, deodorizing, automated cleaning, adjustable temperature and water levels and energy saving.
And, the best part is that the smart toilet seat comes with a remote that allows you to control all these functions.
However, a word of caution, your smart toilet seat is sure to delight you with all its features that you may want to stay in your bathroom all day long.
Quick-Release Toilet Seat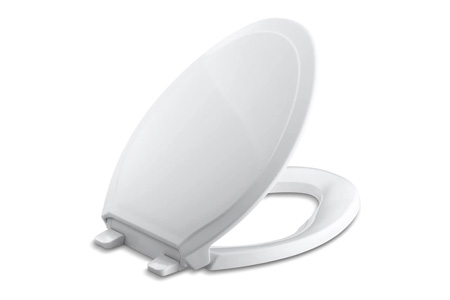 Cleaning your toilet seat can be a hassle, especially in all the hard-to-reach places. This is especially the case when the toilet seats are attached to the toilet.
This is where quick-release toilet seat types come in handy. These seats allow you to take off the seat and lid very easily, without the need to unscrew the bolts that attach the seat to the toilet.
Not only does a quick-release toilet seat make it extremely easy to clean the lid and seat or use any types of toilet plungers, but it also allows you to clean the nooks and crannies of the toilet bowl that you can't access easily in a regular toilet seat.
Raised Toilet Seat
If you find the height of a standard toilet seat difficult to lower yourself onto, then a raised toilet seat is a great option.
These are especially convenient and comfortable for people with disabilities, reduced mobility or seniors.
Some raised toilet seat models also come with grab handles that make it easier to sit and stand from the toilet, helping to prevent any accidents.
Colored Toilet Seat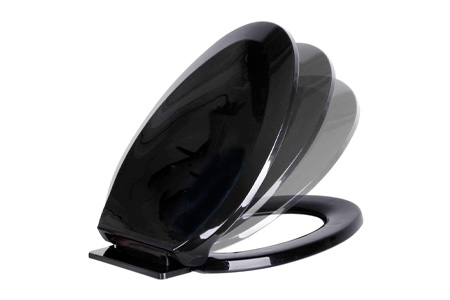 While traditionally, toilet seats are white in color or they're available in basic colors, nowadays, you can find toilet seats in a wide range of colors, designs and patterns.
If you want to add color to your bathroom or get creative, you can choose a toilet seat with images or patterns.
Kids are sure to love clear toilet seats with plastic pebbles, fish, flowers or other embedded objects. You can also design your own toilet seat according to your preference and even get it 3D printed.
Types of Toilet Seats for Every Bottom
So, as you can see there are loads of options of toilet seat types available and choosing the right one can help to make the time spent in the bathroom more pleasant and comfortable.
When shopping for any of the different types of toilet seats, take into consideration the shape of your toilet bowl, your bathroom decor and your personal preference and you're sure to find one that makes you really happy.
You'll Also Enjoy: