Finishing Cornhole Boards for a Smooth Surface
Cornhole is a great game for people of all ages. It gets you outside, and it can provide hours of gentle exercise and entertainment. If you built a set of boards for a party or to have around, you might know that finishing cornhole boards is an essential part of their creation.
Cornhole boards can go through a lot. So, it is essential to be thorough and thoughtful when adding a finish. On top of the physical well-being of the boards, finishing them also offers an opportunity to be creative with decoration. Here is everything you need to know about completing a cornhole board.
Why Should I Finish My Cornhole Boards?
Finishing cornhole boards not only impacts your boards' look and longevity but also your gameplay. A smooth board will lead to better gameplay. Since cornhole is usually an outside game, the boards are vulnerable to the elements and a finish lends protection.
Where Do I Get Cornhole Boards?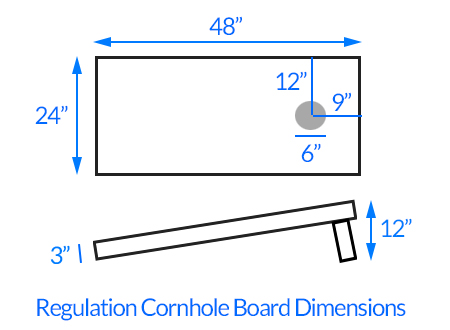 There are a few options if you want a cornhole board to finish. First, you can get a pre-made board that is ready for finishing from online or commission someone in town to make them.
Another option is making the boards from scratch. If you choose to make one, the boards should be two feet wide by four feet long on top, and the legs lift the rear around a foot off the ground. Reference our image above for exact regulation cornhole board dimensions.
There are plenty of possibilities when it comes to the type of wood you should use. Birch is known for its durability and lightness. If you are okay with spending some money, maple is a solid option, though it is difficult to stain.
What Do I Need To Finish a Cornhole Board?
Finishing a cornhole board is an easy woodworking task, ideal for all skill levels. To perform this task, you will need two unfinished cornhole boards, stain, wood paint, sandpaper, and a clear-coat finish. Depending on your design goals, you may also want decals for the boards.
How To Finish Cornhole Boards
It's not hard to achieve a great cornhole board finish. You simply need to follow a few steps carefully. Failing to do so may yield less-than-elegant results, or your board may wear out faster.
Sand all the Cornhole Board Surfaces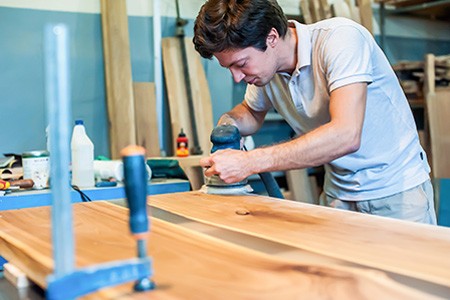 If you have a rough wooden cornhole board, the first step you need to take is sanding your whole board. Doing so will make paint application easier, and help your board last longer.
Start by using coarser sandpaper over a sanding block or any other types of sanders to smooth out the board and finer grain sandpaper to create a more refined texture. The coarse sandpaper should be around 100-grit, and the finest grit should be between 200 and 300.
After sanding, it is essential to clean off all of the sawdust. If you leave it, your paints, stains, and finishes will not adhere properly. The board will look its best if you continue to sand in between each layer of paint or varnish, continuing to clean the dust away as you go.
Decorate With Paint, Decals, or Stain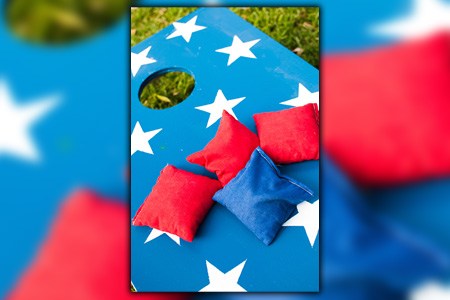 Now it is time for the creative part of finishing cornhole boards. You can decorate your cornhole boards however you want. Popular decor options include sports teams, retro vibes, and simplistic designs. Use paint, decals, and stains to make them look how you want.
Decals are an easy and fun option if you want a precise look on your board. For smooth results, add a thin layer of clear varnish. Always measure twice and apply the decal once since it is tough to correct decal issues.
Paint is a perfect way to add designs to your cornhole boards if you want a specific design you can't find with a decal. Your results will be cleanest if you apply the matching types of primer paint to your board before you add paint. Knowing how to paint cornhole boards is no harder than painting a wall.
Use painter's tape where needed when painting cornhole boards and get an even look by applying more than one coat. There are all kinds of paint out there now but at this point I'd suggest just using a high quality latex. It's easiest to apply, dries fast, and is very simple to clean up.
If you want a natural look, a wood stain is a beautiful way to go on a cornhole board. This substance maintains the look of the wood but adds one of a range of colors. Knowing how to stain cornhole boards is no different than any other wood. Wipe it on with a rag or a brush, don't leave on excess, and go for a second coat if you want a darker color.
Many people like to stain the wood and then add a decal or paint for a more complex look. When combining methods, be sure they are compatible.
Apply a Clear-Coat Finish
To finish your board, use a clear-coat finish over whatever the rest of your board is. Try two or three coats of polyurethane for optimum protection. In some cases, you may want as many as five to ten coats for a glossier finish for beanbags to slide over. Each layer of finish will need to dry before you add another.
Be sure to cover every surface, including the legs. Depending on your taste, choose between a glossy or satin finish. Read below to see the options you can choose from when it comes to your choices in how to seal cornhole boards.
Types of Finishes
Whether you decorate your board or not, it is a good idea to apply a clear coat sealant on top of the board. This layer will help protect your board and preserve the look of the wood or the decorations you create.
Water-based polyurethane is a great finish to add if you want to coat the boards while being able to see a design. It dries quickly, though it does not last as long as other options.
Oil-based polyurethane finishes last a long time. It can take several hours for each layer to cure, meaning you will have to allow a lot of time when using this option. Depending on the brand you use, this finish may have a slightly colorful tinge.
Polycrylic is a popular option for cornhole because it provides a slippery surface. This water-based option dries fast and makes it easy to see any designs you may have painted on.
Let the Finish Cure
Finishing cornhole boards ultimately comes down to patience at the very end. You may want to grab the boards and play with them as soon as they finish. However, the arguably most essential step is letting the finish cure for several hours before using them. Curing is when all the layers meld together to create a strong finish.
The amount of time required for curing will vary depending on the type of finish you use. In general, expect that curing will take at least 24 hours after the application of the last clear-coat finish. If you can, allow for much longer before putting them to serious use.
General Cornhole Board Maintenance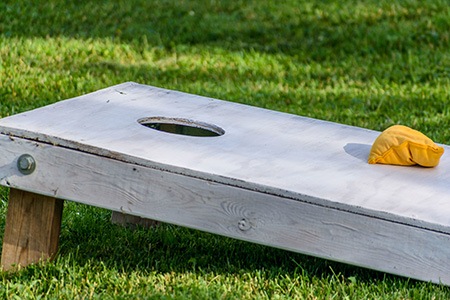 To maintain all of your hard work, you must take proper care of the boards. Avoid storing them outside since rain and other weather will damage the wood and finish, even if they're coated or stained. Even if you store them inside, you may need to occasionally refinish the boards.
For best results, refinish the boards whenever you notice signs of wear. Doing this will protect the wood from rot and other signs of wear. Be sure to sand as needed.
Safety First During Wood-Working Projects
As with any woodworking project, it is essential to create proper safety conditions. Many of the stains and paints you use in this project can be harmful when inhaled. Wood dust from the sanding is also not good to breathe in.
To stay safe, perform this task outside or in a well-ventilated area. Wear protective gear, such as gloves, goggles, and a face mask. It is a good idea to use a tarp for easier clean-up.
Tips & Tricks for Finishing Cornhole Boards
The key to a good cornhole board is smooth finish application. In addition to sanding frequently, be sure to apply paints and finishes evenly.
If you make your board for home use, you do not need to worry about conforming to regulatory standards. However, there are official regulations that you can try to adhere to if you want.
Should you choose to build your board from scratch, try making it with a partner since there can be many pieces to lift and coordinate. As a result, making a board can be just as bonding activity as playing the game.
How Do I Make Cornhole Beanbags?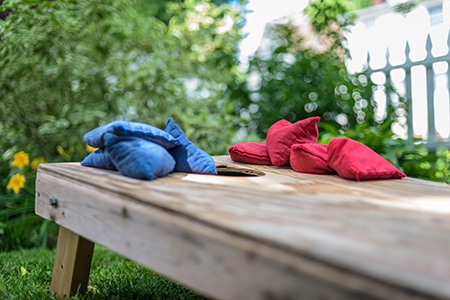 If you wish to make beanbags to match your custom cornhole boards, you only need to follow a few small steps. These bags need to be sturdy since throwing them repeatedly is part of the game.
Use canvas cloth as the packaging and fill it with resin or dried corn. Stitch the bags close with a tough thread. Some people prefer resin because it lasts longer and does not mold. You can sew them by hand or with a machine depending on your abilities.
Finishing Cornhole Boards Made Easy
Now that you know exactly what goes into finishing cornhole boards, you are ready to undertake this project. With some simple sanding, decoration, and finishing, you can have an exciting game that is ideal for the whole family. How do you want to decorate your cornhole boards?
You'll Also Enjoy: