19 Types of Headboards to Perfectly Suit Your Bed Decor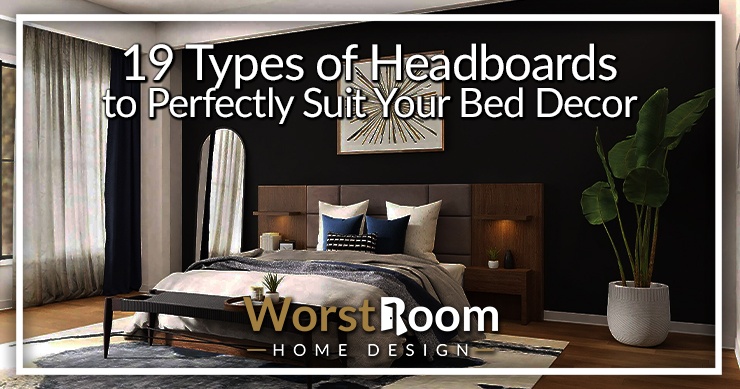 As a prominent piece of furniture in the bedroom, the types of headboards attached to your beds define the decor of the rest of your space. While it may not be an absolute necessity, a headboard can make or break the entire look of your bedroom.
Headboards come in a variety of materials, designs, mounts and sizes, making it tough to choose one. This article can guide you through the different types of headboards available. You can also learn about headboard alternatives next.
5 Types of Headboards Based on the Material
Headboards first appeared in ancient Egypt and then in Greece, exclusively created for the royalty and weatlhy. Now, it's something we all can have and choosing the right option to suit our style and taste will make all the difference.
The first set of headboard types are based on their material. Most of the headboards available these days are made of the following materials:
Wooden Headboard
Being the oldest material used in furniture, wood remains a popular choice among shoppers. It's a classic look that will never go out of style.
Most wooden headboards are made of a solid panel, but the functional and decorative ones are more accessorized to lend the desired look.
People usually choose natural-looking headboards that match their bed frames, for a more cohesive look throughout the bedroom.
But, in recent times, there has been a rise in painted wooden headboards that can define the color scheme of the room.
Metal Headboard
Metal headboards are found in more urban homes as the look matches more of the modern design styles such as industrial, minimalist, contemporary and vintage.
As metal is quite easy to work with, metal headboard styles may be as minimal as possible or come with a lot of swirls and embellishments. They can be made to fit any types of bed frames pretty easily.
The metals more commonly used are brass, wrought iron, stainless steel and aluminum. For the contemporary/industrial look, these are usually kept in their natural color or painted silver, nickel, or black, while those who sought the vintage look, opt for a gold or brushed gold.
Natural Fiber Headboard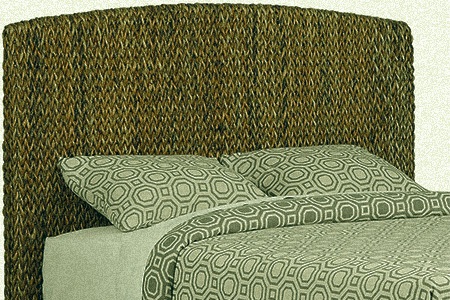 Natural fibers such as wicker, bamboo, seagrass and rattan lend a light, airy feel to the bedroom. These are more sought after for rooms that desire a beachy, resort-like feel.
These materials can also be part of wooden headboards, wherein the fibers are woven intricately through strong wooden frames.
Leather Headboard
After wood, leather is the most commonly used material in furniture. So, it comes as no surprise that headboards are made with leather as well.
While genuine leather can be highly expensive and may require a lot of care and maintenance, there has been a rise in synthetic leather headboards that provide the same aesthetic at a portion of the cost.
Fabric Headboard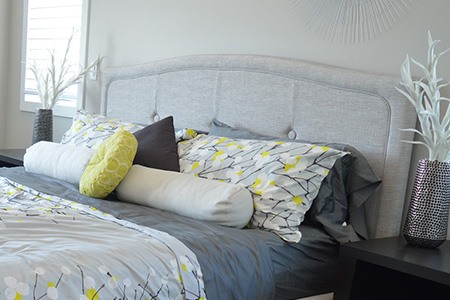 Fabric is a quite versatile material to be used in furniture, fabric. Not to mention, the cushioning comfort it can lend to your head.
With the various types of fabrics available and the variety of colors, shapes, and upholstery techniques, fabric upholstered headboards are very easily customizable to suit your needs.
3 Types of Headboards Based on the Mount
The next set of headboard types are based on the way they can be mounted alongside your bed.
Wall-Mounted Headboard
Wall-mounted headboards are attached directly onto the wall or any other flat surface behind the bed. As these are fixed permanently onto the wall, wall-mounted headboards are compatible with any type of bed frame.
These can be mounted either in a way that the bed frame lies in the center or can be used in a wall-to-wall way, where two side-by-side beds can share the headboard (like in kids' rooms).
Bed Frame-Mounted Headboard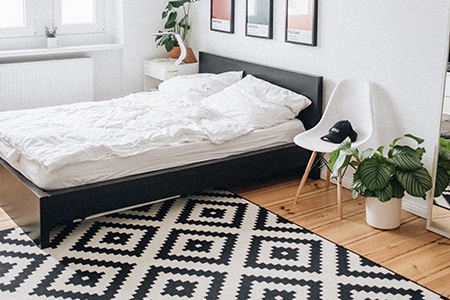 Some headboard types come with an option to be mounted onto the bed. This converts the bed and headboard into a single unit that can be placed even in the center of the room.
Here, compatibility between the bed frame and the mount is essential, concerning the size, looks and the brackets to attach them.
Free-Standing Headboard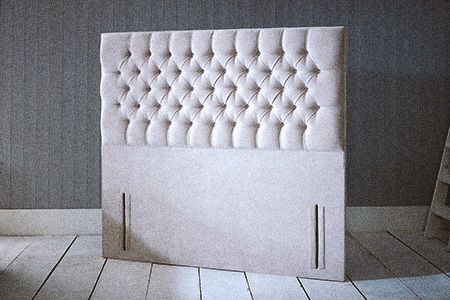 Free-standing headboards do not require any mounting. But they also come with the option to be mounted onto the wall or the bed if needed.
Most of the free-standing headboards can stand on their own and need not be rested against a wall.
8 Types of Headboards Based on the Design
Headboards also come in a variety of designs. Most of the designs can be broadly classified into one or more of the following:
Floor-to-Ceiling Headboard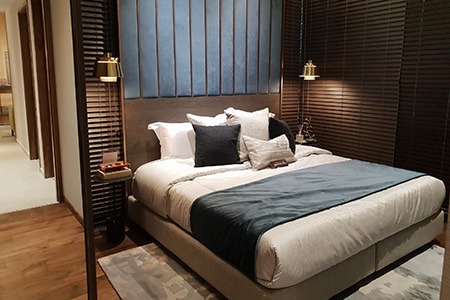 A floor-to-ceiling headboard is literally as its name suggests. It can be made of any material and design.
Some floor to ceiling headboards can take up an entire wall, thus making up the accent wall of the room. Beautifully upholstered floor to ceiling headboards also add an illusion of luxury to an otherwise simple bedroom.
Wingback Headboard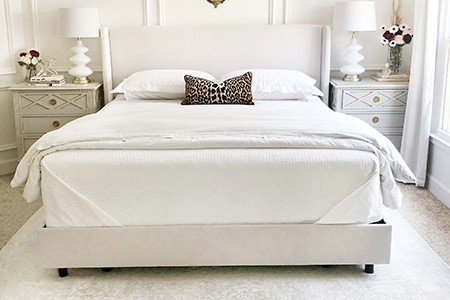 Wingback or winged headboard styles have a little shoulder on either side, to frame the bed within. These usually are upholstered with soft velvety fabrics for a more cozy feel.
The unique structured look can draw attention towards the bed, making it the focal point of the bedroom and balancing the bedroom feng shui.
Tufted Headboard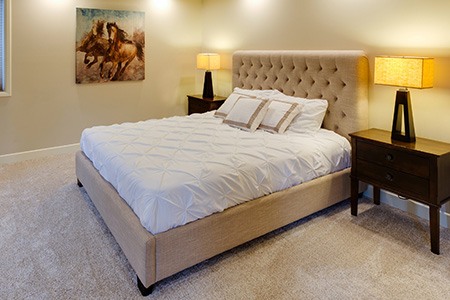 Fabric covered headboards may be embellished with tufting techniques to enhance the types of upholstery fabric and their ultimate designs.
Not only does the tufting add to the structural integrity of the fabric, but the buttons on the tufts can be an additional embellishment to experiment with.
With the right fabric and buttons, tufted types of headboards can instantly add a glamorous look to any room.
Panel Headboard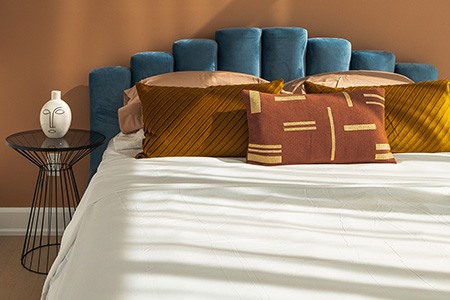 Panel headboards are made of two or more panels mounted parallelly onto the wall. These can be wooden panels or fabric-/leather-upholstered panels.
If you're a fan of geometric decor, panel headboards can be a great way to express your taste. Also, based on how they are mounted, they can make your room look wider or higher.
Slat Headboard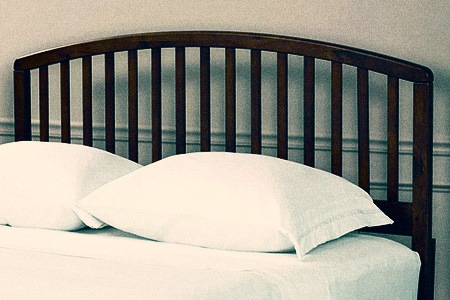 Similar to panel headboard styles, slat headboards are made of strips of wood or metal. These can be neatly spaced out to give a peek at the wall behind the bed.
Whether it's wide, natural wood slats, or narrow, painted slats, slat headboards are a classic, minimalistic design that can never go out of style.
Traditional Headboard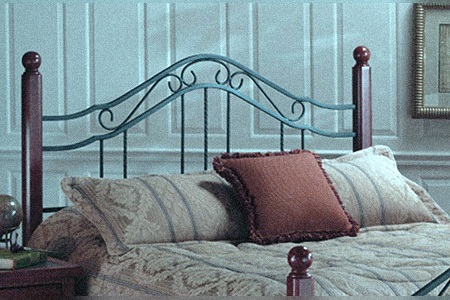 Traditional headboard types are usually made of wood, with European structure and design elements reminiscent of the 18th and 19th centuries.
These are usually mounted directly onto the bed frame, with elements that complement the features of the bed frame.
Traditional headboards usually have a lot of intricate and ornate carvings that can truly serve as the eye candy in the room.
Four-Poster Headboard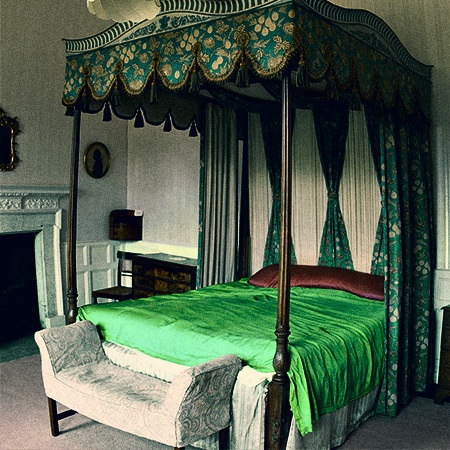 A four-poster headboard, as the name suggests, goes with a four-poster bed. This can be either attached directly to the bed or the four-poster frame.
As four-poster beds are huge and can take up a lot of space in the bedroom, the headboard can be as minimal or as embellished, to define the decor for the rest of the room.
Shabby Chic Headboard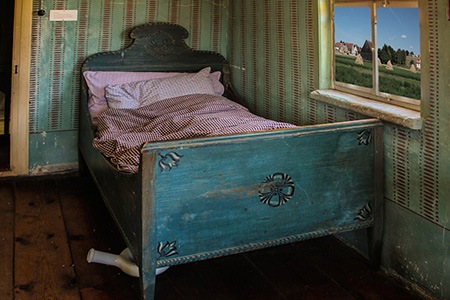 A more recent decor trend is the shabby chic or cottage core trend. This one is for those who look to add simple, yet romantic, decor elements.
A shabby chic headboard can be anything, from a distressed/repurposed piece of wood to a weathered log. Some people have even up-cycled old doors and windows and mounted these to their walls, to achieve this aesthetic.
3 Types of Headboards Based on the Functionality
Apart from the above classifications, some headboards also provide some much-needed functionality to the user.
Apart from the obvious need to serve as a headrest, some even provide storage spaces, which can be a boon to smaller rooms/homes.
Storage Headboard
As the name suggests, storage headboards come with built-in storage options. Storage headboards are mostly made up of wood and include shelves, drawers or compartments to hold items of importance.
As these can be quite heavy, these are usually freestanding, leaving enough space for the head of the bed.
Bookcase Headboard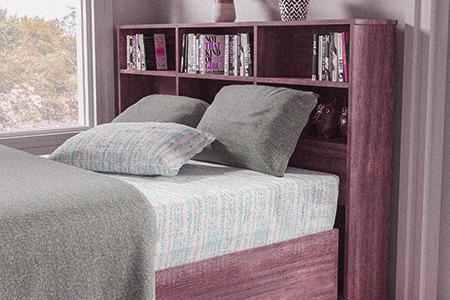 An extension of the storage headboard types, bookcase headboards are usually mounted onto the wall or freestanding, more often in the floor to ceiling size.
These are customized to have enough space in the center to fit the head of the bed. The bookcase shelves can hold not just books, but also photo frames and decorative items that add to the room decor.
Faux Headboard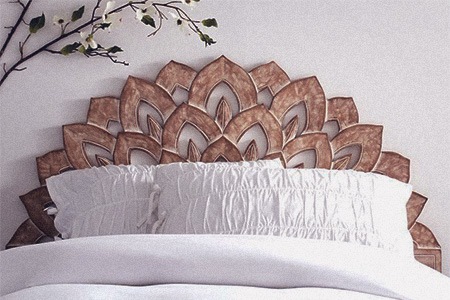 While all of the above are proper, tangible headboards, a recent trend has been to create conceptual art that gives the illusion of a headboard.
A trend popularized by some resourceful DIYers, these are a godsend to those in a cash crunch. Enter, the faux headboard.
Faux headboards are all the rage these days. From a bunch of open books taped onto the wall for the avid reader to an oversized painting for the art lover, a faux headboard can be just about anything.
For college-goers looking to amp up their rentals/dorm rooms, the most budget-friendly headboard is to hang up a tapestry or to paint directly on the wall.
Types of Headboards for Every Bed & Bedroom
With such a large range of options, you might want to first decide your budget, personal style and the functionality you need, to choose the best possible headboard for you.
It might seem like a lot of thought being put into such an everyday piece of furniture, but don't forget that you do spend a third of your life in bed. Get the perfect types of headboards for your rooms! Happy sleeping.
You'll Also Enjoy: