15 Types of Curtains to Match Any Decor & Need
There's many types of curtains depending on how you want to break it down. Today we'll show you all of the categories and each curtain type in them so you can get armed with all of the info you need to make the right choices.
Curtains are one of the most common pieces of cloth whether it is your home or an office space. More often than not, when we're buying curtains we mostly restrict our thinking to color, material and measurements. But there's so much more to this essential piece of decor.
Today, let's look at all of that in a sufficient detail and pick the types of curtains that gets your window space to match your personal style.
3 Types of Curtains Based on Opacity
The amount of light that enters the room is very important. Sunlight or the lack of it is a great factor in determining your mood. In fact, quite often we tend to regulate light in a certain space depending on the type of work we're likely to do in there. So let's start by looking into the opacity of curtains.
The first thing to remember when tackling opacity is that you want to focus on the task at hand. So think about the amount of light in the room you want at any given point in time regardless of the curtains being shut or drawn.
Sheer Curtains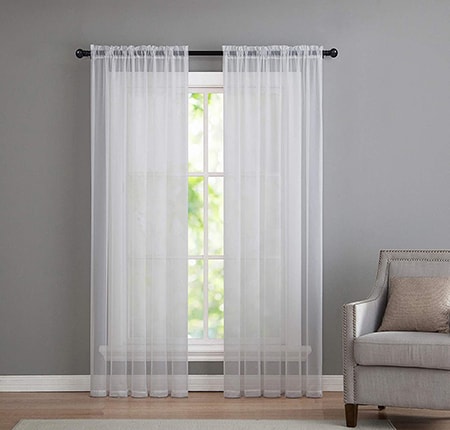 These curtains are made of semi-transparent fabrics. So they give you a lot of sunlight even when the curtains are closed and are also preferred by those who want the room to be ornate.
But this also means that sheer curtains are not the best option if you are looking for some privacy or deep sleep. You will often find them in living rooms and dining halls. They make for some classy drapery.
Sometimes, you will also see sheer curtains used as a lining in combination with thicker and more opaque curtains. This adds a little extra chic to the whole space while giving you the options and privacy you need.
Semi-Opaque Curtains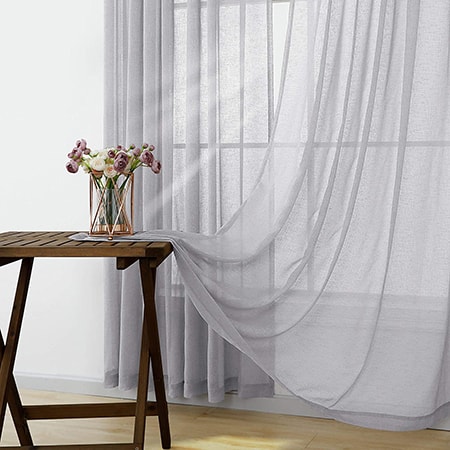 Now, you've heard of blackout curtains. They barely allow any light in the room and are best for somber spaces. They are great for a bedroom if you have pulled an all nighter and want to crash.
Semi-opaque curtains are between blackout curtains and sheer curtains. They allow some amount of sunlight even when they're closed but not as much as sheer curtains.
They are also preferred by those who want the privacy that sheer curtains don't provide. They're a moderate model so they work well in any part of the house (or office).
Blackout Curtains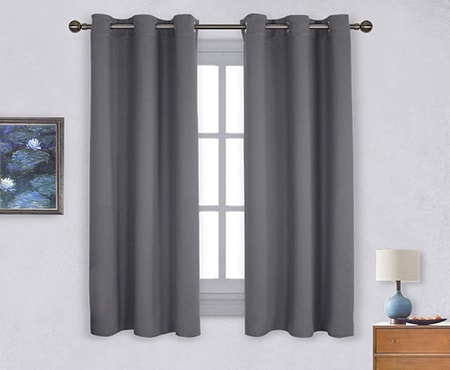 These, as mentioned earlier, allow the least amount of light into a room when the curtains are closed. Here's how to identify them. They are made of heavy raw materials and some even have a lining built into them.
Obviously, they provide maximum privacy and block out the most light (usually all of it). They are more functional than decorative but if you're lucky you can get a bit of both.
Blackout curtains are popular in bedrooms, dens, and theaters. If you want to make it pretty but can't find a good design, you can combine them with sheer curtains and create a polished, sophisticated look.
6 Types of Curtains Based on Panel Style
Now let's get into the specifics of the surroundings. Let's look at the different types of panels and what kind of curtains fit them best.
Single Panel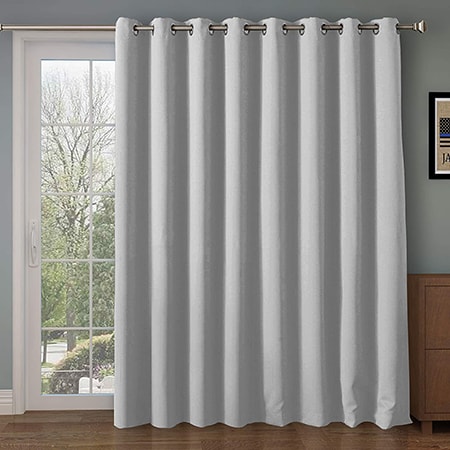 When you have just one panel, a single piece of curtain covers the entire window or sliding glass door alternative on one side. You can, however, choose to have two curtains and pull the panel from either side to draw the curtain.
Typically, since you have one curtain for this model, you can tie the curtain to one side and get an asymmetrical look. And that's not a bad thing. In fact, it is considered quite modern. That's why it's popular with casual and modern styles.
Panel Pair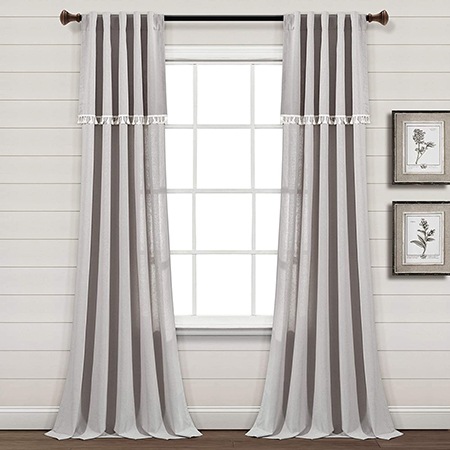 This is when you have two curtain panels and you can place curtains on either side of the window. This is a popular style among classic and contemporary curtain designs.
When you want to shut these curtains, you have to pull each panel together. And after drawing the curtains, you can tie them back and get a love symmetry at the window.
Notice in the picture above that these in particular (not all panel pairs) are pooling up on the floor. Many people ask "should curtains touch the floor?" and the answer is "if you want them to." They can just reach the floor or they can pool up as seen above.
Valance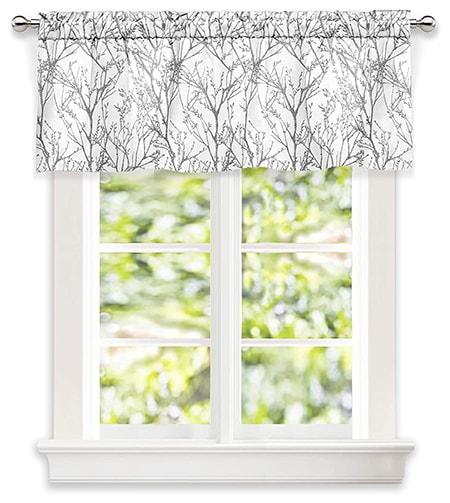 This is not the full curtain. The valance is that little decorative piece of cloth on the top of the curtains (like you see in movie theaters). It's a decorative item and is optional.
It's old school and can give your window an elegant or regal look depending on the design you choose. They're usually used to give the window a feeling of completion. This can be done with blinds or blackout curtains to give them a little style.
You can buy them separately or as part of a window treatment set, which is the next item on the list. Valences can even be used as bed skirt alternatives if you want something different.
Window Treatment Set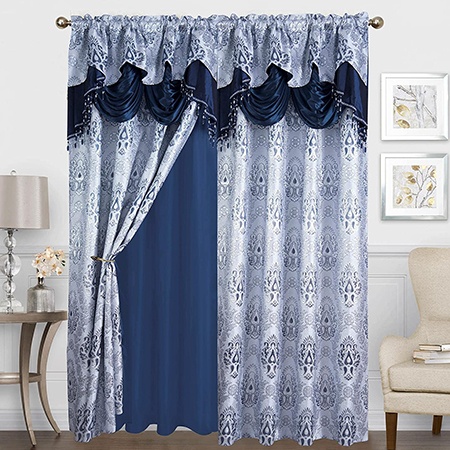 A window treatment set is pretty much the complete package. In most cases, it has two curtains and a valance. The most complete sets will include a sheer backing and tassels, too. It's like a combination of a semi-opaque curtain and a sheer curtain.
Sometimes, you even get accessories like tiebacks or a curtain rod along with it. If you know the measurements of your window and this is your style, you're pretty much sorted. Don't forget to consider one of the curtain rod alternatives to show how creative you can be.
Window Scarf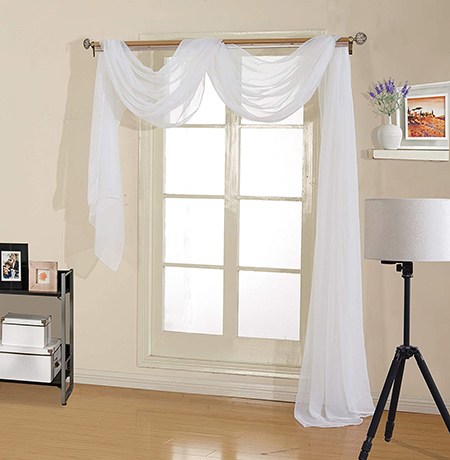 This is like a valance except it's long and the fabric is thin. It's also hung from the top of the window and is often used to create a dramatic look. It's really not all that functional. This can be a great idea in terms of hanging curtains on an arched window, though.
It's a fancy piece of decor that will enhance the look of the window and the room it is in. It is more of a style statement than anything else. Look into it though, you may really like them.
Liner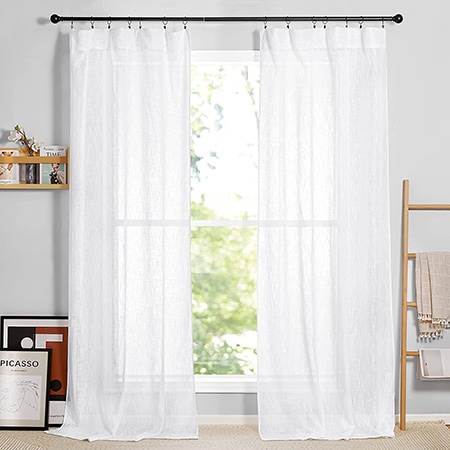 The easiest way to understand curtain liners is to think of them as sheer curtains. In fact, many people do add liners with sheer curtains. But, these serve the purpose of an add-on to your regular curtains.
The aim is to add versatility to the whole set. Curtain liners are great for privacy and allow some amount of light in the room. But they can be specialty items and be used to block noise, too, to some degree.
2 Types of Curtains Based on Materials
Now, fabric is a very important part of this exercise. The opacity and the style (which we will talk about in the next section) is determined by the fabric of your choice. There are countless curtain fabrics you could potentially use but realistically you're going to stick to the most common for the same reasons they're common.
Whether you want decorative curtains or strictly functional ones, this is an area you have to pay attention to. Light fabrics are used to make sheer curtains and heavier and thicker materials are used for blackout curtains. So, how to do that? Let's see.
Cotton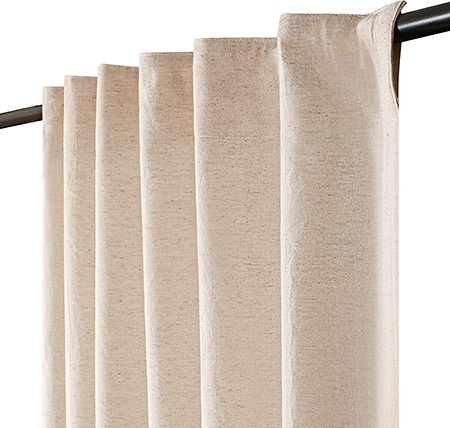 This is a very popular choice for many reasons. It's kind of sheer so the curtain allows a lot of light even when it is shut. It provides a decent level of privacy and is often used with other fabrics to create a simple window treatment set.
There are different styles of cotton curtains and are great for every room of the house. They are also easy to clean (phew!) and quite versatile. They are also durable and cheaper than several other materials. They can be dyed any color or have any pattern sewn in as seen in the other images on this page.
Linen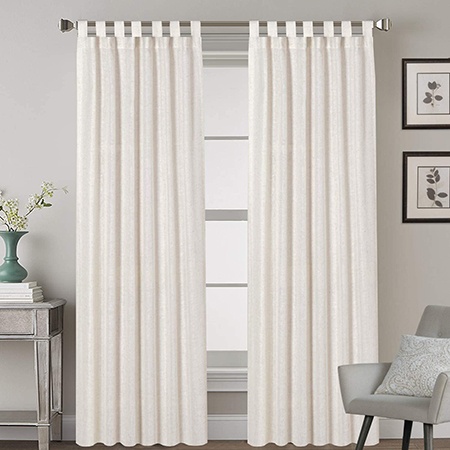 Linen curtains are heavier than cotton ones but still maintain a casual vibe. They also allow a decent amount of light and ensure adequate privacy. They're a bit difficult to clean when compared to cotton and are not great if you live in a dusty city. Linen is a magnet for dust.
4 Types of Curtains Based on Curtain Style
Before picking the curtain, you must settle on the vibe of the space. And nowadays, you can get a lot of input from the internet if you need help picking a style. Let's get you started on that. Make sure you consider how they might match your crown molding alternatives so you don't create a juxtaposition of style.
Casual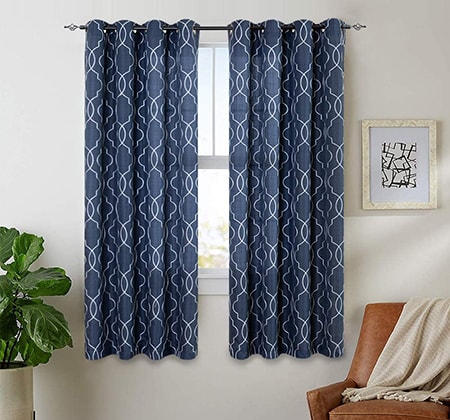 This is for folks who are not greatly into decoration. Valances and sheer curtains don't mean much in your world. All you want is a curtain on the window that works well for a bedroom to a bathroom to a kitchen. That's understandable.
Casual curtains are easy to pick and it is for those who don't take themselves or the space they're in too seriously. They have grommets or eyelets as top attachments and are hardly ever used with accessories.
Classic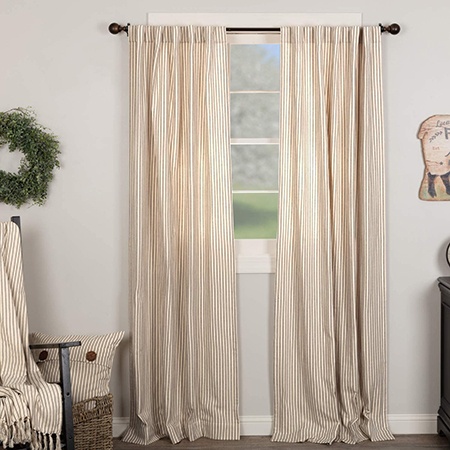 The advantage of classic curtains is that they go well with most rooms. They are, however, used with a valance or other similar accessories. The sheer curtains image above is of the classic style, without a valence. They're just a bit more intricate.
You can pick them individually and make a window treatment set of your own. As you might have guessed, they are timeless and seen in classical or bohemian style decors.
Contemporary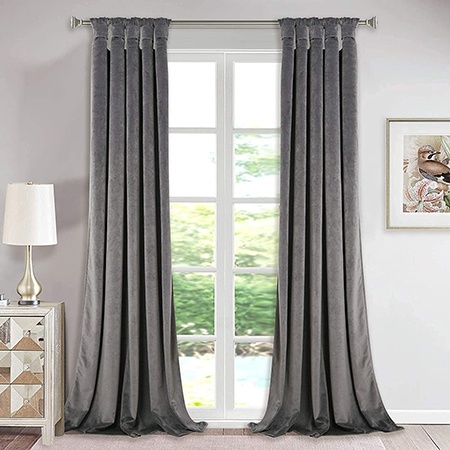 This is a modern interpretation of the classics. Contemporary style curtains are commonly found in earthy color tones. They're heavily inspired by nature and are sometimes bold and bright.
The idea is to provide a dash of color to the room. They're rich in texture and look sophisticated which is great if you think classic style curtains make you look pretentious.
Modern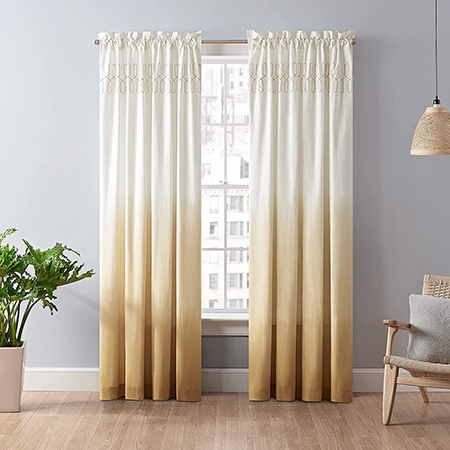 These are out and out modern designs and are minimal in style. They're often made of eco-friendly fabrics and come in solid colors. But sometimes, you will find them in bold patterns combined with abstract elements.
Like we said, modern. This is one of those models where you absolutely need to know the decor before picking the curtain. It's also pretty modern to dress windows without curtains too, if you want to investigate that.
Curtain Types for Every Need!
Don't think that because you're in a rental that you can't have curtains. Everyone can. We've talked about how to hang curtains in an apartment without putting holes in the wall because everyone should be free to decorate the way they see fit. And that starts with knowing your curtain options.
You can select curtains based on fabric, opacity and panel style. You want them to be functional but also something that gives you the right amount of privacy. And if that can happen with a little bit of style then why not, right? You'll find the right choice from the types of curtains mentioned above.
You'll Also Enjoy: