14 Types of Shelves That Give You Storage in Style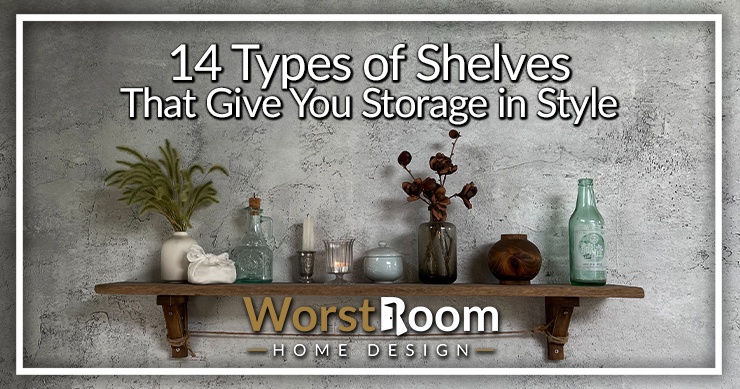 Whether it is a pantry shelf or a closet, the resulting types of shelves can end up being a disaster if you don't get it right. And there are many designs to choose from so that you get just the right space to fit the things that you want to place on these shelves.
It helps to have a basic understanding of this little household equipment when building a house or renovating one. And we will help you get just what you need. Let's begin.
14 Types of Shelves
It's not just about what you're going to put on them or the weight limits and all that. It's also about what looks good. I'd argue that's the most important. So scroll on through and find what you like visually, and then read and learn the details.
Fixed Shelves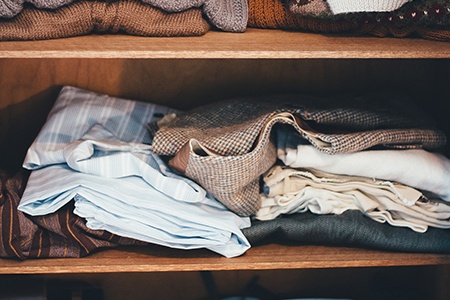 Fixed shelves are the most familiar type of shelves for those who are building a closet. While a lot of homes come with reach-in closets, you might want to have a hanging rack with a couple of shelves above or below it.
They are called fixed shelves because you cannot reposition them easily no matter the sophistication of the tools at hand. Newer homes contain fixed shelves made of wires but the older ones still use wood.
This design is so popular that you find them even in custom closets. It is not unusual to find the top shelf to be fixed and the middle and bottom shelves can be movable if you make that choice in the design phase.
These shelves are likely to be made of the same material as the outer structure of the closet like wood. Having the shelf styles match the rest of the structure really melds the design together.
These shelves are also called suspension shelves and they typically rest on a set of metal brackets. You can build a standalone shelf or combine them with multiple units.
The brackets are attached to the panel behind the shelf and are often found on either side of a door. Outside of the closet space, fixed shelves are perfect to store glass objects and are readily available in the market.
Floating Shelves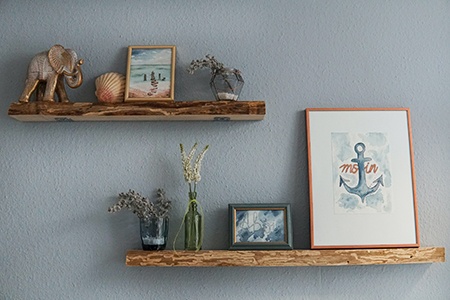 You've seen these types of shelves, certaintly. You might even have had some of these in your previous interior design arrangement. Floating shelves are very classy and have a personal style which makes them quite the eye candy while being functional.
This style of shelves is also referred to as torsion-box shelves and they can be built in many designs to give them a unique edge. They are a great way to showcase items while keeping the wall extremely organized.
Floating shelves are a great way of storing decorative pieces because you can be very flexible with the shape and size. And unlike fixed shelves, this design can be placed anywhere with a few nails, brackets or screws. Building floating shelves isn't that difficult, either.
Floating shelf styles are clearly visible but the equipment and hardware used to hold them together and mount them to the wall is never in plain sight, making them look like they are floating in the air. Hence the name.
These shelves are usually made using engineered wood and look more refined than a fixed shelf. The types of nails or screws used to hold the shelf together are also used to mount the entire structure on a wall or any other surface as long as it can handle the weight of the overall shelf.
You can get creative with the shape, size and color of floating shelves while making a fancy interior decoration statement. Combine these floating shelves with the modern types of track lighting and you'll have a real contemporary vibe going.
Adjustable Shelves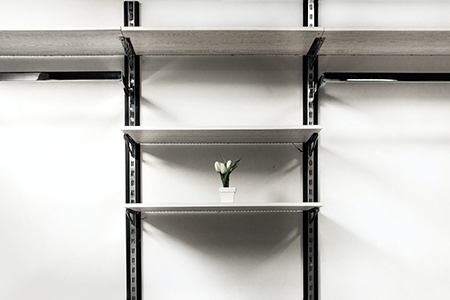 This is the opposite of fixed shelves, as the name suggests. Adjustable shelves are quite common because of the flexibility they offer. You will find a lot of these in custom closets.
These shelves are attached to the panels of the outer structure of a shelf and the motion is enabled with a bracket or a pin.
Since they are adjustable, you can change the setup as and when you please without having to worry about setting some time aside for a renovation.
There are some problems with this set up because of the movability. Children might accidentally move them and disturb the arrangement. It can also be a safety hazard depending on the object placed on the shelves.
However, that can be managed with the pin-in-place option that is available with all good adjustable closet systems. You can use brackets to keep the shelf in place while having the choice to lift and move them as per your needs.
Built-in Shelves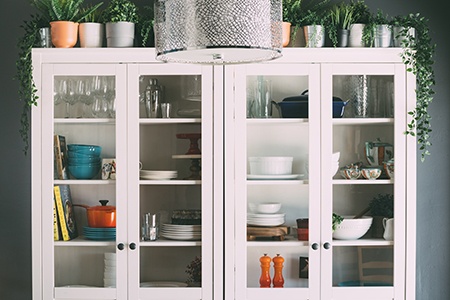 Built-in cabinets are quite popular in office setups. The premise in these spaces is to make room for hidden types of shelves that accommodate objects to be stored securely when not in use. This design enables you to place them in the corners of the room and allows you to save space.
Built-in shelves are very convenient and can be affixed or fit into a space by arranging the shelves. They are highly functional but tend to give the room a cluttered look and feel.
Top-Hung Shelves
These shelf types are often made with brackets of metal or wood and are hung from the ceiling or a wall. Top-hung shelves have an element of hanging shelves and are also used as a partition in an open-plan interior style of living.
Those who want a rustic or industrial look often opt for wooden shelves that are hung with knotted ropes from the ceiling. This gives any space a fun and casual approach.
Depending on the materials used, these shelves might not be able to take too much weight. So, a lot of people like to place top-hung shelves in the kids' room and place stuffed toys or small books on them.
Since the idea is so out of the box, you don't have to work too hard to make the shelf itself look good.
Rotating Shelves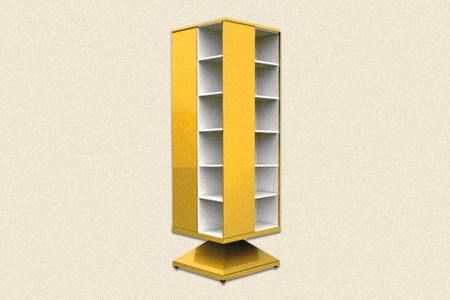 These shelves are used to maximize storage space to fit as many objects as possible in the front section. You might have trouble finding individual shelves like these but you will see them as part of a shelving rack.
Rotating shelves work a little bit like a lazy susan because the shelves are held together with pins and placed on a fixed structure.
There are four sides to each shelf and they can be manually turned so that they face the front section of the closet. Some of them can also be adjustable.
Corner Shelves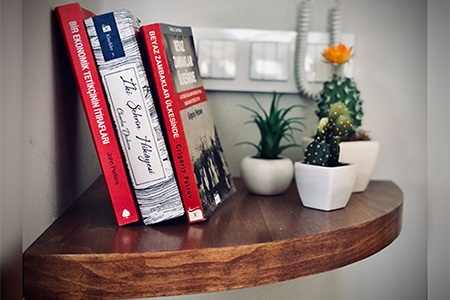 Whether you want fixed shelves or adjustable ones, corner shelves are not just important but give you a lot of choices.
There are four popular and different types of shelves for corners and they all have their unique functionality. Take a look below.
90-Degree Angle Shelves
These shelves are very common and also very affordable for corner shelves. They are made with two pieces and are joined together at right angles.
Angled Corner Cut Shelves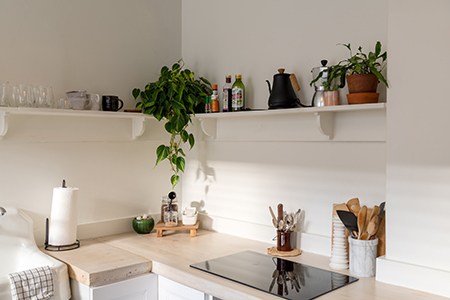 Angled corner cut shelves are cut from one corner to the other at 45 degrees such that they form isosceles triangles where the two fronts are at 45 degrees and the back corner is at 90 degrees.
These are a good candidate to place some small types of lamps on to light up the corner and radiate the light out into the room.
Curved Corner Cut Shelves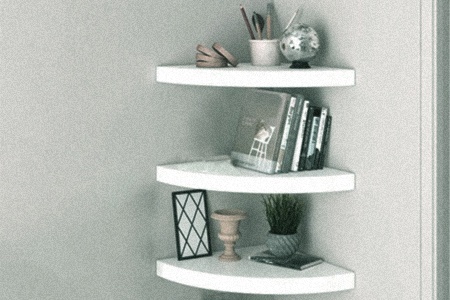 These shelves are made with a single piece and they have a gentle curve that is cut into the main shelf. This way, there is a smooth transition from one end to the other.
These shelf styles are visually very appealing and also create a lot of square inches for storage purposes.
Angular Corner Cut Shelves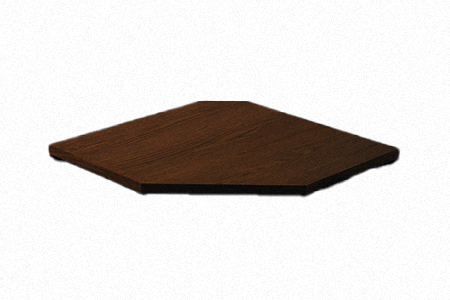 These types of shelves are very similar to the curved corner shelves above, with the only difference being that the curve isn't perfectly round but made up of a handful of straight lines. Usually the front facing line is at 45 degrees from the corner's two perpendicular lines.
Hanging Shelves
Hanging shelves are typically hung from a certain height which does not necessarily have to be the ceiling. Which means you can hang them from the bottom of a cabinet placed at a height.
A lot of hanging shelves come with glass doors and are found in the kitchen but they are extremely functional and provide extra storage space.
They are also found in garages and classrooms to store loose items like magazines and stationery items. Hanging shelves follow the same logic as top-hung shelves and need to be installed on load-bearing walls to avoid accidents.
Portable or Free Standing Shelves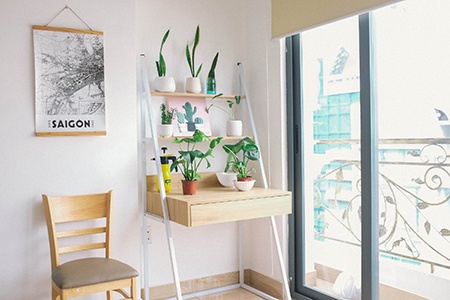 Portable shelf types work for aesthetic and functional reasons. As the name indicates, you can move them around to any area where you need storage options.
They come in many sizes, materials, colors and designs and are made for flexibility. In fact, some of them come with wheels too. They can be made with bamboo and look great in rooms that have very little decor.
Pull-Out Shelves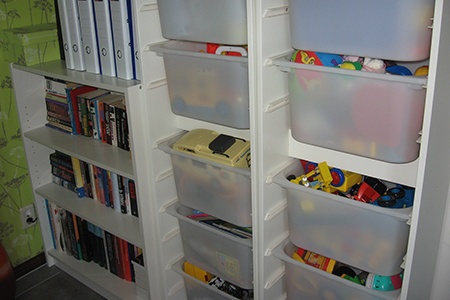 These are not very popular but they have been around for a while. Pull-out shelves are like racks that can be installed inside shelves and move with the help of sliders on both sides.
You will find them in closets and tables and have a flat sliding surface. Workstations and other types of desks with a pull out keyboard shelf are a good example of pull out shelves.
Types of Shelves for Every Room & Purpose
Apart from the design style, you can also classify shelves on the basis of materials like glass, steel, plastic and fabric too. You will also find shelf types on the basis of their usage.
For instance, bedroom shelves can be used for accessories and decorative items equally. Bathroom shelves are good for smaller items like jewelry and cosmetics. Kitchen shelves can be for china, crockery and spices.
The perfect types of shelves are the ones that are designed according to the space they inhabit and are made of materials with the weight of the objects they'll hold in mind.
You'll Also Enjoy: