The 5 Types of Bed Covers to Suit Your Comfort & Bed Style
It's a shame how most of us stick to using traditional bed covers most of our lives. There are many types of bed covers, and each type has something different to offer. By using only one type throughout our lives, we miss out on the benefits the rest can provide.
To make sure that you know what you're missing out on, we'll be sharing how different types of bed covers can provide different types of experiences. So, let's get started.
5 Types of Bed Covers
If you've been searching for some quality, durable, and comfortable bed covers, then read on to find the perfect bed cover for you. There's only 5 actual bed cover types, despite some articles telling you there's dozens. Here they are:
Bedspread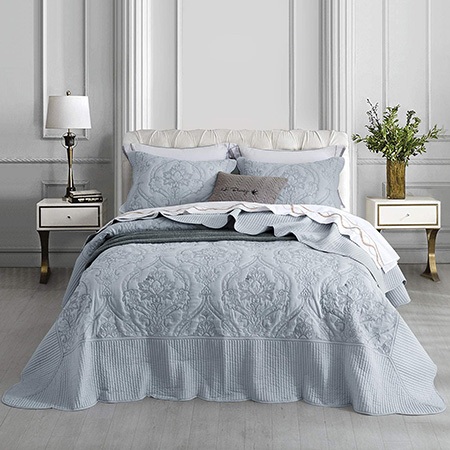 A bedspread is essentially a piece of cloth that can cover your bed in its entirety. Usually, bedspreads can cover your bed from top to bottom, all the way to the ground. The bedspread also covers the area where the various decorative types of pillows are placed.
So, if you're looking for bed covering that can cover your entire bed, a bedspread may just be the right option for you. If you like the old-school vibe of bed covers and want to stick to them, this is for you.
Bedspreads are mostly made with thin fabric. It's important to choose the right fabric when making a bedspread. Different fabrics have different wear and tear characteristics.
You don't want a bedspread that will tear with minimum usage. Then again, a bedspread that's too thick will only ruin the style.
This is why it's important to get a balanced fabric that'll provide the right amount of durability. Plus, each fabric offers a different texture. Whether you want a smooth or a rough texture depends solely on you.
These are usually made with wool, chenille, polyester, and cotton. However, you are free to choose from any other fabric if you wish so.
Coverlet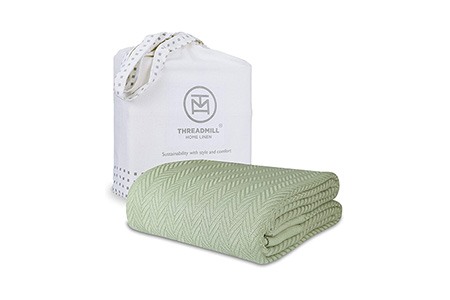 If you want something a bit more modern than bedspreads, then a coverlet is what you're looking for. These bed cover types will keep your feet warm. Many people confuse coverlets with duvets, but there is a distinct difference, which is that coverlets are thin and quilted and used with sheets while duvets tend to be fluffier with a removable interior so you can wash the outside. Duvets can be used without sheets for this reason.
Unlike different types of bedspreads that cover the beds from top to bottom, the coverlets cover only up to the end of the mattress. To set one up properly, you have to tuck the coverlet right under the mattress. So, the ends of it will rest between the mattress and the bed.
However, it's also a common practice to leave the coverlet hanging freely. This will give your bed a cozier and more comforting look. On the other hand, if you want a more tailored look, you should tuck it right in.
If you use duvet types of bed covers, you have to put the coverlet under the duvet but over the whatever types of bed sheets you have. These usually come pre-filled. They are meant to make your bed look better by covering the box springs.
One of the main differences between coverlets and other bedding materials is that they are much lighter. Plus, coverlets are usually much thinner. This is why these are considered the best bed covers for summer. As they gather and disperse less heat, using them is more comfortable.
Coverlets are great for decorating your room. They can provide a look that lies somewhere between modern and traditional, which is pretty unique. However, coverlets can sometimes be too thin for regular usage. In such cases, they can be coupled with a blanket or a duvet.
Due to their thin build, coverlets can be used as the sole bed accessory in areas with a warm climate. In warm areas, the necessity of many types of blankets and duvets is low or almost non-existent as well.
Coverlets are one of the most versatile types of bed covers, which is why it's possible to craft a coverlet out of different types of fabrics. Cotton, polyester, and woven jacquard are mostly used for creating coverlets, but you can choose any other fabric of your choice.
While making a coverlet, it's important to ensure two things. Firstly, a coverlet must be comfortable. It shouldn't absorb too much heat. Secondly, the coverlet has to be thin. Otherwise, it won't be user-friendly.
There are different styles to choose from too. You can choose from plain and simple coverlets to colorful and overblown ones. It all depends on your preferences, and there are no specific criteria to it.
So, we would recommend going with a style and design that will complement the rest of your room. It's a very decorative bed covering.
Comforter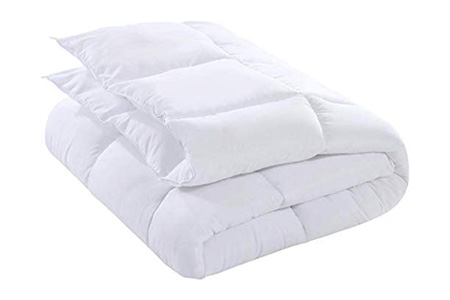 Comforters are one of the most common types of bed covers that you'll find today. It must be noted that the area where the pillows are kept isn't covered by the comforter. So if your pillows have turned yellow, it's probably time for new ones so your beautiful bed presentation isn't ruined.
These are essentially blankets that are spread across the bed and tucked right under the whatever types of mattresses you have, along with the bedsheet.
A lot of people confuse between duvets and comforters. Comforters are much lighter in comparison to duvets. Plus, these are thinner as well.
One of the main requirements of comforters is that they must be lightweight and easy to manage. As they are usually fluffy, they add an extra layer of comfort to the bed.
However, comforters aren't the best options for regions with a warm climate. Warm regions usually require no blanket or bed cover types, and a comforter can get very uncomfortable if used in such climates.
Comforters can be both easy and tough to purchase at the same time. While these are widely available on all sorts of online and offline markets, they come in all sorts of variations. So, choosing one amongst the thousands of offerings on the market can be daunting.
When looking for comforters, people mainly look for the right designs and colors. We would recommend you focus on the construction quality as well. Comforters can wear out rather fast if they aren't built right.
For instance, the filling inside a comforter is kept together by stitches. If the stitches aren't done right, then there's a huge chance that the filling will come apart or flow into sections it doesn't belong in. That's the only real part of these types of bedspreads that can get messed up.
Plus, there are different types of constructions, and each comes with different characteristics. There's down comforter, alternative down comforter, sewn-through construction, or baffle box construction. You'll need to choose whichever constructions fits you best.
Then again, comforters come with synthetic fibers or feathers for adding that extra bit of fluffiness. If these fibers aren't of good quality, the comforter won't feel comfortable in the first place.
Quilt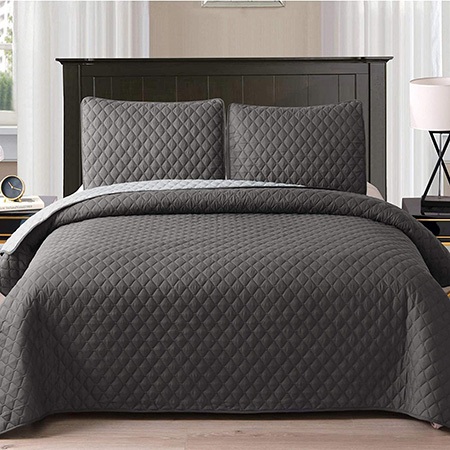 This is one of the most interesting and different types of bed covers that you can get yourself. A quilt is essentially three pieces of fabric stitched together. The top layer is called the top, the middle layer is batting, and the third is called backing.
The top layer of the quilt is the most complex one. This layer is created by joining different fabrics by stitching them. The stitching pattern is very complex and often unique. This very process of stitching different fabrics together is called quilting.
After that comes the middle layer, or the batting, which is filled with wool, cotton, or feathers. This is the main layer as it functions as the thermal insulation and facilitates heat retention.
Finally, the bottom layer is another patch of thick fabric, and the main function of this layer is to provide comfort as it rests against the user's skin.
Once all the layers are placed together, they are stitched together. Quilts are considered one of the most comfortable bed covers that you can get. However, this is only true if the climate is cold, as quilts can get very warm.
Quilts can be used as a top cover, just like comforter bed cover types. This is why the design and color of the quilts matter a lot. There's no need to use an extra cover or sheet on the quilt.
One of the main things you should consider while getting yourself a quilt is the size. Unlike some other bed covers, quilts can't be stretched or folded. They can be folded technically, but the fold won't lie flat. So, doing so will only create a lump on the bed.
So, you don't want a quilt that's either too big or too small for your bed. Even if an oversized quilt doesn't hamper your daily life, it'll surely stick out as an eyesore.
Duvet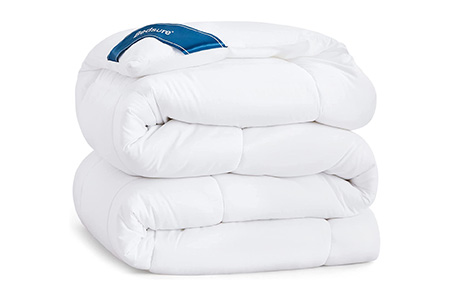 Last but not least, we have the duvet. Duvets are a bed covering filled with synthetic fibers or feathers and are fluffy on the outside. It sounds just like a comforter, right? The main difference between a duvet and a comforter is that the duvet is fluffier.
If you live in a cold-climate area and are looking for a fluffy alternative to your everyday bed cover, you should get a duvet. These look amazing when spread on a bed, and you can slip right under them when you want to get warm and cozy.
Duvets are amazing if you want to give your room a modern touch and get your bedroom feng shui just right. If that's what you're looking for, we highly recommend getting one of these.
Types of Bed Covers for Every Unique Decor Style
As you can see, there are many different types of bed covers. Each of these comes with a different set of functionalities. So, it's important to consider which type would suit you the best before making the purchase decision.
You'll Also Enjoy: